Dog Eat Dog
Last weekend we saw the Formula One teams start to unravel revealing what truly lies beneath the surface. Actions speak louder than words and there are three teams who clearly are not teams anymore and it is everyone for themselves. This is the crunch time of the season with every point being fought over by the drivers with team orders being ignored. Abu Dhabi produced drama last year and expect this year to have more controversy. The Netflix Drive to Survive series must be licking their lips as mayhem could be brewing.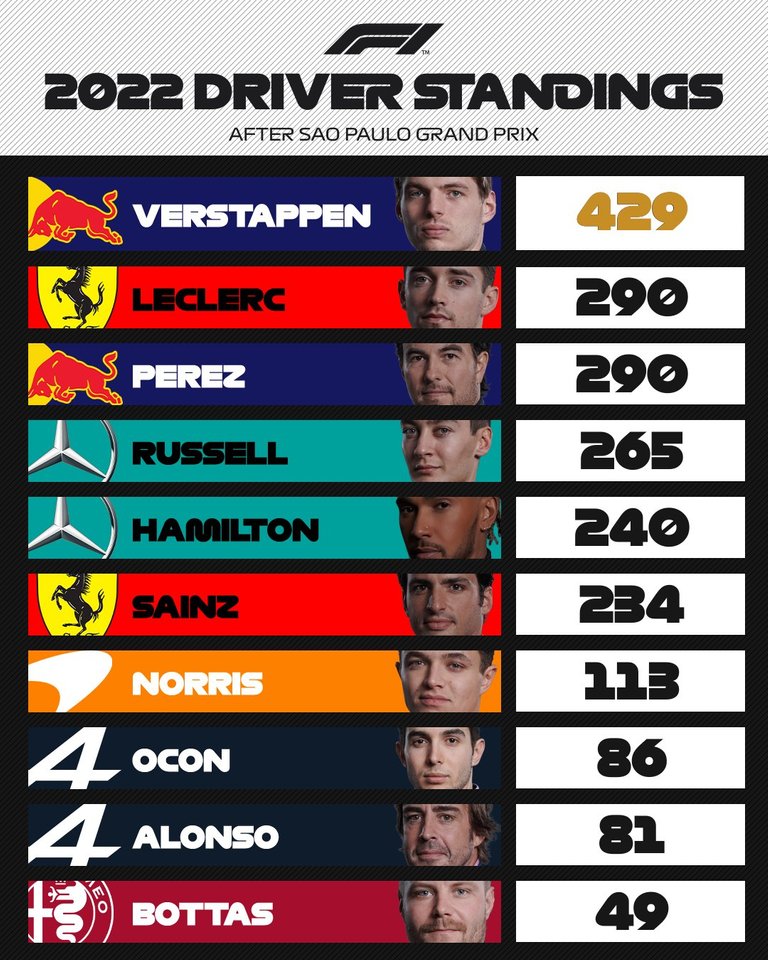 We just have to look at the driver standings in the Championship to see how close this really is. Forget Verstappen out front and look at Perez and LeClerc who are level on points in second position. Then the other battle is not so much in the Championship ,but an internal one being between Alonso and Ocon at the Alpine team. Both drivers want to beat each other and this is more about pride. No driver wants to be known as the 2nd driver in the team and no team orders will be listened too especially as Alonso is leaving to Aston Martin next season.
The successful teams of the past have always had one dominant driver and a second driver who supports the main driver. If we think back to Schumacher and Massi or even Hamilton and Bottas the second driver was successful, but never dominated the team. Their role was to play the team orders making sure the number one driver won.
Don't Miss This Weekends Final Race In Abu Dhabi As It Should be A Cracker.
Last weekend the divisions or cracks started to show in the teams as we heard certain comments over the team radios. LeClerc asked for assistance by swapping positions on track to try and secure an extra Championship point but the Ferrari team never listened as they didn't want to risk their Constructors position who they lead Mercedes my 19 points. Going into the weekend that lead was 40 points and has been trimmed by 21 points so this weekend could see them slip from 2nd to 3rd. The team is more important than the individual driver so team orders will be administered before any personal glory.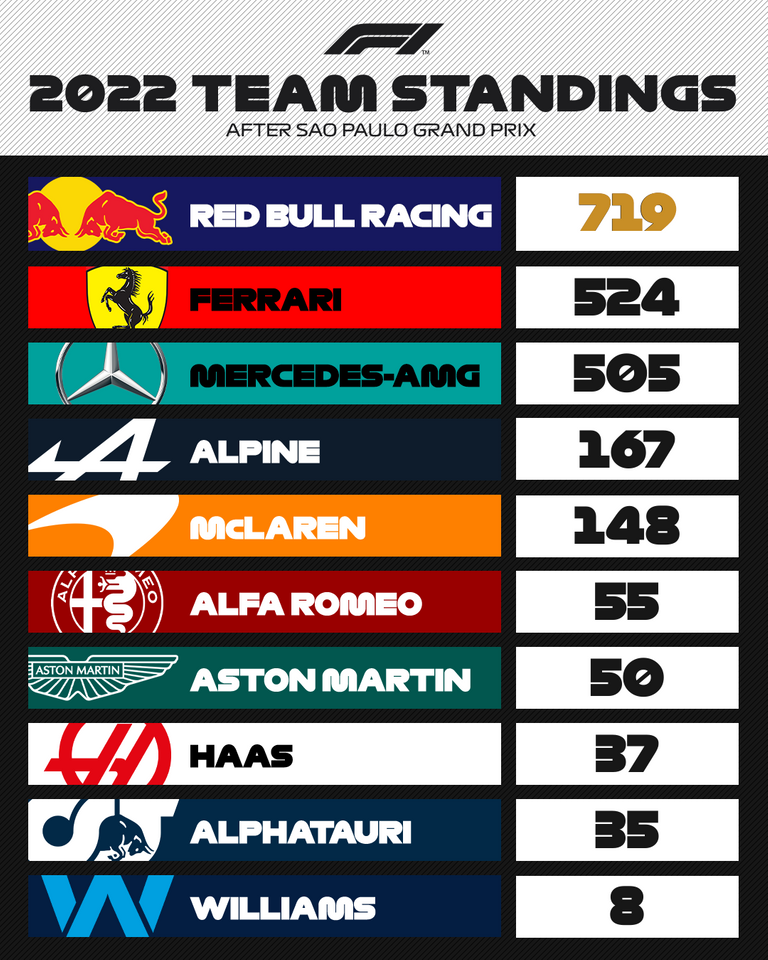 The Red Bull scenario between Verstappen and Perez was the real shocker showing massive divisions within the team. Verstappen's race engineer asked him to move over and allow Perez through so he could take a 1 point lead advantage into this weekend. This was denied by Verstappen over the team radio saying he has his own personal reasons for not abiding with their wishes. Perez has helped Verstappen achieve success winning two drivers championships by playing a supportive role being a blocker out on track and yet he still couldn't do one simple thing which would not have affected his race. Apparently that is all been sorted out but the feelings between the drivers will not have changed. Perez will be looking for a new team once his contract is up as there is no future for him at Red Bull whilst Verstappen is around. Perez is definitely a number 2 driver and will always be a back up to Verstappen.
The Alpine battle is different from the other two teams as Alonso doesn't want to finish the season behind what he would consider a rookie in Ocon. Ocon would be feeling the same way and would like to finish ahead of Alonso so these two will not back down. Last weekend they nearly crashed into each other twice with one occasion actually touching wheels. The head of the team had spoken to them on Saturday night with little effect as the team wants to stay ahead of McLaren in the Constructors Championship. Alonso is leaving for Aston martin next season so for him this is more personal than thinking of the team role.
This weekend at Abu Dhabi there is races within the race as not only teams are trying to save their positions they currently hold, but drivers are trying to finish 2nd in the Championship. This is a battle within a battle and should make for an interesting watch. Verstappen will follow team orders according to the team reports, but who knows if that will be the case. Mercedes have a good chance of catching Ferrari for the second spot which will round off a poor season in general for them and they will be going for the win.
There are a number of drivers who we will not see racing next season as they have either retired or lost their seats. Vettel retires and expect to see him find a role within a Formula One Team or when Audi take over Sauber in 2 years time as their team principal. Schumacher, Riccardo and Latifi have lost their seats and will be keen to see where the first two find a way back in. Riccardo is reported to have signed as a test/reserve driver for one of the teams and that hasn't been revealed as yet. Latifi was a paid seat and should never have been allowed to race and is in the same bracket as Stroll.
---
---