Hello And Goodbye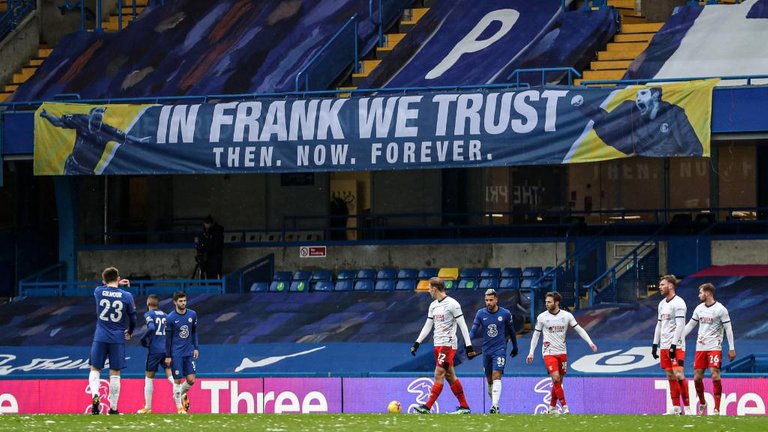 source
Frank Lampard was sacked today as Head Coach of Chelsea Football Club. The only thing that is wrong with that sentence is the word Head as he should never have been in that position in the first place. For me personally that was unfair on Lampard and what were the club thinking at the time.
There is no doubt he was a great player for Chelsea and knew the club inside out. At the time of his appointment we have to look at what experience he bought to the table besides being a player.
Frank retired from competitive football in February 2017 and took up his first role with the Chelsea Youth team as their coach or one of the coaches as they have more than one. This lasted exactly 1 season before moving over to Derby which also lasted exactly a season. At what point has Frank now earned the the right to come and coach the main team and take over as the manager of Chelsea?
At the time of his signing Chelsea had a transfer ban in place blocking any new player purchases so any improvement shad to come from their current squad and their youth team. Surely a seasoned pro who is a task master and someone who is a disciplinarian would have been more suited to this role than an ex team mate and friend.
What the Club has done is burnt him and have done him no favors by hiring him in the first place. This was his dream job and he needed to have the managerial skills learned over many seasons with other clubs through success and failure before even being considered. No ex player can just walk into a managerial role and think everything will be plain sailing.
Look at Sir Alex Fergusson who was never a great player himself and learned the hard way. He was literally one game away from being sacked at United before things turned around and then became the longest serving manager in Premiership history.
His Uncle is Harry Redknapp the stalwart manager who saved many a team from relegation and was known for making magic things happen out of nothing. The advice given out should have been do not touch that position as you are nowhere near ready and have no chance to succeed.
The crying at the press conference today shows two things which are the job meant a great deal to him and he knows it is now gone plus he has loads of growing up to do. This is his own fault for believing he can run before he can even crawl. He is only 42 and the managers who are younger than him who were succesful were never great players themselves.
Look at Jose Mourinho and what he did to leapfrog everyone. He was an interpreter for Bobby Robson and spent years learning the secrets of player management and different training styles to suit different players as no one is the same. You may be wondering about Pep Guardiola as that is also way different as he walked into managing a side he had recently left that was already established and on the up. Without a large bank account backing him Pep is like everyone else. he has different ideas which sets him apart, but it is the money that makes the real difference in the type of players he can buy.
The question is now what is next for Lampard and will he stay in management or not? What does he have to offer is the first question clubs should be asking as I don't believe he has learnt much. Compare him to someone like Steven Gerrard as they retired at roughly the same time and look what Gerrard has done with Rangers. Gerrard will be a decent manager just by the experience he has gathered over the last 3 years and is nowhere near the end product yet. His dreams of returning to Liverpool as head coach and succeeding are still on track and maybe in the next 5 or 10 years that will happen.
Chelsea used Frank as a stop gap which I do believe was unfair and should have kept him as youth coach and not let him leave to go to Derby back in the beginning. Ambition is always a good thing to have, but leaning the ropes is more important as that is what makes you into a decent manager. Frank I believe is done as a manager like Gary Neville a few years before him and expect to see him as a pundit on TV. Maybe a team will gamble on him, but he needs to dig deep and look beyond the Championship and get out of the limelight if he is to succeed.
---
---