Mercedes Success Also Became Their Enemy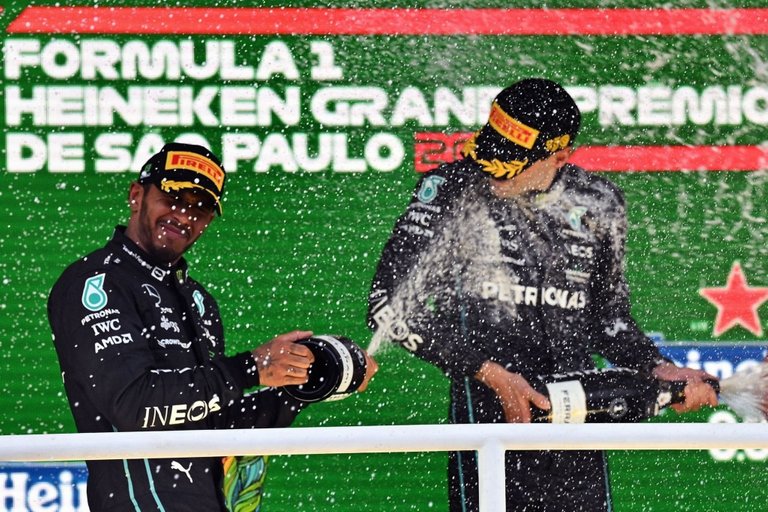 Over the last 8 years Mercedes have dominated Formula One and it took the FIA a couple of seasons to stop their dominance. The last Mercedes Grand Prix win was way back on the 5th December 2021. 2022 has been a horrendous year for a team that was used to winning everything, but not surprising considering they were fighting the establishment.
The FIA with the context of making the racing more competitive by reducing the down force pulled Mercedes back into the pack removing their dominance. This in my view goes against the sporting spirit in any sport as if you are the best it is for everyone else to up their game and improve. What the FIA did and the way they went about it was that obvious and would only light a fire within the Mercedes team to fight back.
A team that dominated the sport for 8 years was not going to take this lying down as they have been working on their car throughout this season. Two weeks ago week we saw huge improvements in Mexico with the performance of the Mercedes team as they had race pace. The porpoising effect that we have been accustomed to see on the straights which made the car bounce up and down has disappeared. This was the biggest stumbling block the team had this season as this never showed up during the wind tunnel testing.
The biggest benefactor from the FIA meddling with the car regulations was Red Bull who have dominated this season. Today nearly one year later the Mercedes team has finally hit the winners circle by dominating the Brazil grand prix finishing first and second.
This is a huge accomplishment telling their competitors that Mercedes is now back and that they have a massive fight next season. A team who won a title for 8 years consecutively doesn't just become bad overnight and it was only going to be a matter of time. That time is now up and expect to see Mercedes dominate next season and the following seasons to come.
The FIA have nowhere else to turn as next season the cars remain the same with no new regulation changes being introduced with the specifications remaining the same. Mercedes have most likely learned far more than the other teams about this car spec as they had to solve the porpoising mystery and had to back track so many times looking for solutions.
How much have they improved since the first race is all in the data with lap times highlighting by how much. Mercedes were lapped by Red Bull this season on a number of occasions with Red Bull lapping by over 1 second per lap quicker. That 1 second has now been pulled back through upgrades and development which has never stopped. The car is now a better racing car than what Red Bull and Ferrari have which is an extraordinary turn around.
Next week we see the final race at Abu Dhabi which considering last years result is the perfect venue for Mercedes to show what they are made of. This has been a long road for the team to travel being so far behind 21 races ago. The progress is not over as the race pace will only improve in the off season signaling that other teams need to up their game if they can.
Just to finish off Max Verstappen was asked to let his team mate through in order to help him finish 2 nd in the Championship. Verstappen already has his title this year so it means nothing yet he refused team orders.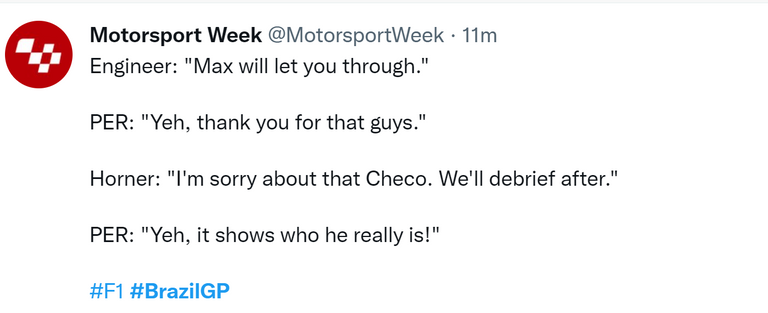 Verstappen would never have won in Abu Dhabi last year without Perez's help and he couldn't return the favor today which kind of underlines his character as he doesn't give a damn. This is going to change how the "team" works in the future as there is no team.
This adds more spice for next week and it should be a great finale with so much happening now.
---
---