Northern Hemisphere vs Southern Hemisphere What Did We Learn?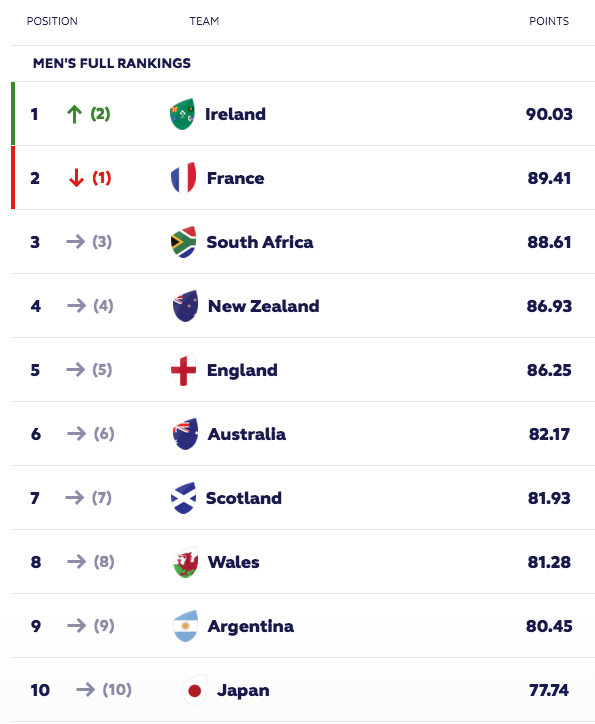 Don't be fooled and read anything into the rankings as we are still 14 months out from the World Cup. Australia are struggling along with England and a few others . New Zealand will be fine for the World Cup and still have them as firm favorites along with South Africa.
Last weekend we saw the final matches play out between the Northern Hemisphere Rugby teams playing their Southern Hemisphere counterparts. I think the only surprise result was that of Ireland beating New Zealand in New Zealand. This for any side to achieve is a special and rare result and for Ireland to achieve this they have to be taken seriously.
The Rugby World Cup is being hosted by the French next year so there is not that much time left for tweaking squads. These results now don't count for much but gives everyone a clear idea of how much work is still required.
The one team to experiment by blooding basically a whole new team was South Africa. This is nothing new as if we can recall back in 2018 one year out from the last World CUP they created 2 teams in order to rest key players and protect them from injury. South Africa lost the game with the reserve team playing, but uncovered 2 or 3 players that will join he main team.
With South Africa experimenting it was disappointing to see the other sides stick to their test line ups not really learning anything new. The All Blacks clearly need to reassess what they are doing and the coach is under fire. You don't lose a series to a Northern Hemisphere team at home and survive as this is seen as a complete failure.
Ireland desperately need to find another player who can cover for Johnny Sexton as if Johnny gets injured they are half the team as he is their playmaker. I just don't see Ireland making it through the 8 games at the World Cup as the depth of the squad will hold them back. Sexton will be a target as he is their talisman so they need to only have him for key games.
Australia like England we learned nothing and is the same old same old repeating itself. Australia are weak and have been for some time which doesn't say much for England who are much weaker than they were at the last World Cup and have gone backwards.
Wales like Ireland don't have the depth in their squad and any injuries will put them on the backfoot very quickly. The final game of their tour against South Africa showed how far behind they really are even though the series losing 2-1 didn't quite reflect this.
Scotland played Argentina and the final game ended in a thrashing which is what you would expect. Argentina have had so little time playing together as a team it has taken them 2 matches to knock the rust off. Scotland having won last week ended up learning very little from this tour.
These tours are designed to help teams learn and develop their squads for the World Cup. New Zealand were taught they have so much work still to do so one can actually argue and say this tour was a success as this is a wake up call. They play South Africa next for 2 matches in South Africa so we shall see if there are any changes. South Africa may experiment so it depends on the team selection as the World Cup takes priority.
I still say the favorites next year are France, New Zealand and South Africa as I haven't seen anything that has changed my mind. Will the New Zealand team have a new coach in place come two weeks time as there is clearly problems and cracks becoming visible.
---
---