Rugby World A Year In Review 2022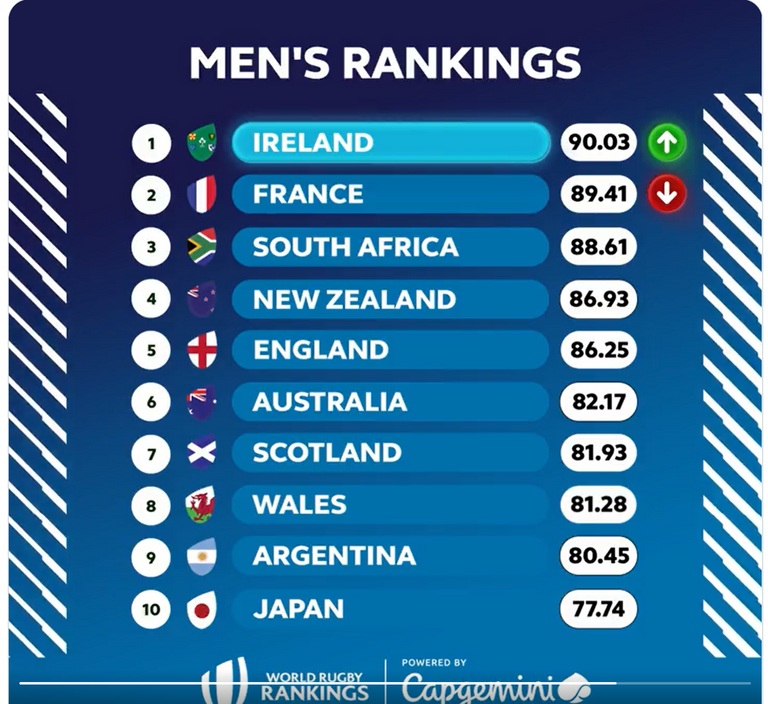 Less than one year out from the World Cup which starts on 8th September 2023 and concludes on the 28th October there are many teams in turmoil. The panic button was pushed last month with two coaches being replaced namely by Wales and England which for the latter was an odd choice.
This year was a strange year with many teams heading in reverse and not really building towards the pinnacle of the sport next year. the 4 year cycle between World Cups should see teams rebuilding changing what they got wrong last time out in Japan 2019.
New Zealand and England were the supposedly powerhouses of that tournament which South Africa won comfortably thrashing England in the Final. Since the last World Cup two teams have risen up the rankings being Ireland and France but I still see no major threat by these two for taking the title next year.
Ireland
Current number one on the rankings due to their series win in New Zealand which was the first ever side to achieve this. This was a massive achievement as no one team has ever done this before and probably will never happen again. The problem with Ireland is the depth of the squad and they also rely too heavily on one player being Johnny Sexton. I just cannot see them lasting by winning 6 games as that is what the World Cup takes to life the trophy. The Irish are still seen as outsiders and not a big threat for the title. New Zealand were weak and and complacent at the time resulting in a mixed performance.
France
Ranked 2nd for winning the Grand Slam this year having beaten Ireland to win the 6 nations. The French are their own worst enemy and always self destruct somewhere through pure stupidity. The last World Cup they threw a game by having a red card which cost them the match when they were in full control. The forward pack is too weak for set pieces and will be found out by the bigger teams. They have not progressed that much this year and have stagnated. They beat Australia by 1 point and South Africa by 4 points even though this was not the first team.
South Africa
Ranked number 3 and have spent the year building a squad to win the World Cup. Having key players out to injury has allowed the coaching team to add players experimenting in certain positions. This was highlighted going into matches without a recognized goalkicker which is not something any team would ever do. Handre Pollard has been missing for months and will be back next year. The team is in a process of changing their tactics which will be polished by 2023. We saw glimpses of this when they ran England off the park in their last match this season. They are still firm favorites for next year as they are the one team that has developed far more than any other team. They are not scared to lose in order to achieve set targets as the World Cup is the reward.
New Zealand
Have had a shocking year compared to previous standards achieved as they have been found out on so many levels. England are seen as weak yet they came back to salvage a draw when the game was already lost. South Africa beat them and then lost whilst experimenting. Ireland beat them 2-1 in New Zealand which highlighted how beatable they are. You can never write them off as they are always a threat, but they are not the team they once were. This team is beatable and are one game away from being thrashed as the wheels could come off at any time. Hanging onto their coach has done everyone a huge favor.
England
Slipping down the rankings at number 5 and regarded by many as low hanging fruit and offering no threats. Firing Eddie Jones will not save them this time around as they don't have the squad or players to make the difference. This is just too late to make changes as the coach coming in cannot perform miracles. After the last World Cup the word on the street was Eddie Jones was going to rebuild the team, but looking at the players there are only a few new faces. Having played 9 matches in 2022 they won 3 lost 5 and drew 1. They beat Wales, Japan and Italy and lost to anyone who had quality.
Australia
Ranked at number 6 and still dropping down the ranks which shows the struggles the sport is currently going through down under. Comparisons in many ways to England as they are not competitive any more. I do fear for them as they are that bad and teams ranked under them will see this as an opportunity. Scotland, Wales and Argentina could easily move above them.
The last remaining teams being Scotland, Wales and Argentina will always pose a threat on the day, but they lack quality. Wales changing their coach moving back to Warren Gatland should help and expect them to improve drastically in the coming Six Nations a few months away.
Whatever happens next year we shall definitely see more running rugby moving away from the kicking game. Teams that don't adapt will only be feeding teams that have runners which is where the game is going to change.
---
---