Seriously Embarassing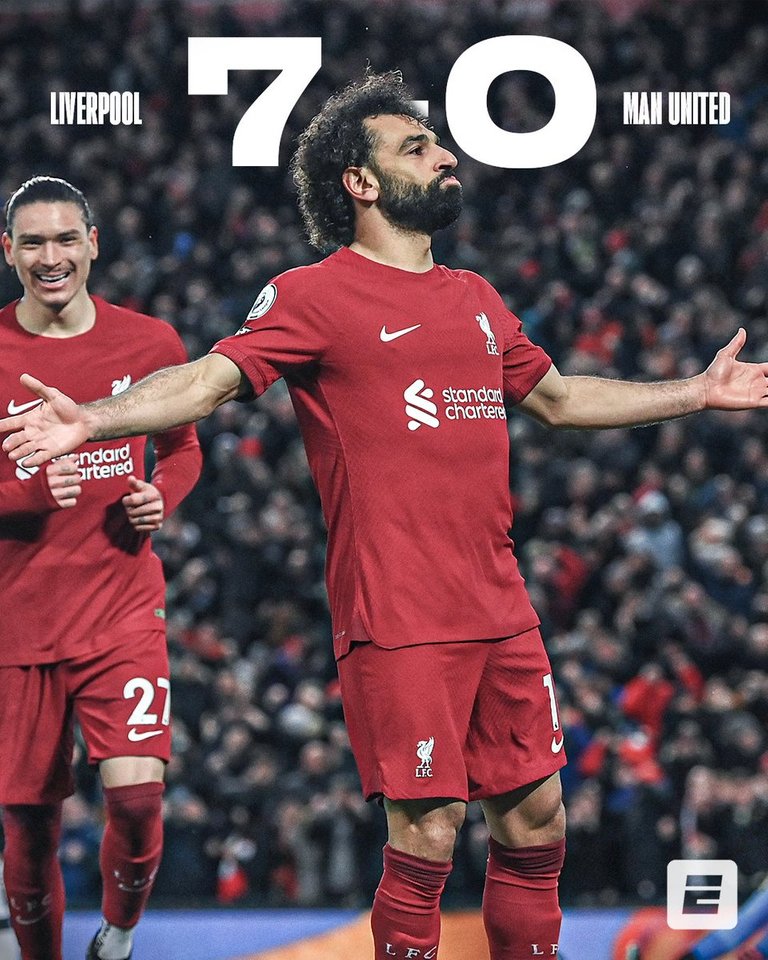 I have played in games before where we have inflicted serious hidings over our opposition, but we were always favored to do so. I hate to know what it feels like when you are expected to win and get thrashed off the field as this is going to take time to recover from mentally.
One has to laugh when you see a score line like this as this is the joint worst result Manchester United have ever experienced in their history. The last time United conceded 7 goals was 1926,1930 and 1931 so this is a 92 year wake up.
Liverpool have been struggling the entire season with this result now they should be able to kick on and finish in the top 4. The question is will United finish in the top 4 as they do look vulnerable.
The characters on the United team showed exactly who they are as they could easily have had 4 players red carded for their. Bruno Fernandes pushing the touch judge is an automatic red card which should have happened as this is unacceptable behavior.
Roy Keane summed it up as the senior players went missing in the second half and is the worry going forward. Will there be a hangover for the remainder of the season as this was no ordinary defeat.
As a club Manchester United as a team has made progress this season and that cannot be taken away. If you look at the table United have made their own luck but the for and against goal difference is now only 6 in the positive. Compare those stats against Arsenal and Manchester City and they are 34 and 41 which shows a gulf in class and where United are lacking.
Great teams bounce back from disappointment and this being Ten Haag's worst defeat in his managerial career he is now going to be tested like he has never been before. This is unchartered territory and can easily be the start of United's season unravelling.
I think this is a reality check to how far United still have to improve and are are nowhere near the finished article. Those calling for a Premier title challenge will be shocked as they were not being realistic. Liverpool on the other hand can use this to boost confidence levels which have been lacking for some reason as a good team does not become bad overnight.
The English Premier League highlights week in and week out that any result is possible as there are no easy games. The bottom club Bournemouth were seconds away from an upset against Arsenal as the winner from Nelson was scored with the last kick of the game.
With 12/13 games left to play the title challenge is not over yet as Arsenal travel to the Ethiad stadium taking on Manchester City on the 26th April. That for me is the title game and whoever wins that will win the League as 5 points difference right now can turn very quickly.
Liverpool 2 weeks ago were fighting for nothing as the top 4 was looking out of reach and now Tottenham are looking vulnerable along with United. The final run in may look simple, but every club is fighting so there is now added pressure to perform.
The Premier League has possibly 6 teams where teams need to go and win or draw in order to lift the trophy unlike other leagues where there may be only 2 or 3 only. Whatever happens over the next couple of months this should be really interesting as there are no gimme games which is great for the neutral spectators.
---
---