Sports Washing For Saudi Arabia Buying Newcastle United?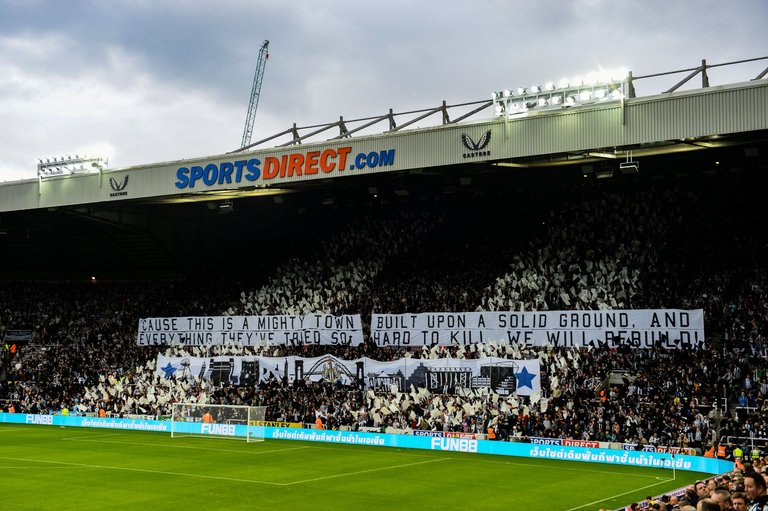 The big question is why would an invest fund buy a football club knowing many actually don't make profit. Newcastle needs a fortune spent on the club and there are no guarantees. Many believe this is Saudi Arabia buying good publicity and can see why this could just be that. Another term for a new word called sports washing, but I will get to that later in the post.
I am sure every football fan was aware that Newcastle Untied was sold a few weeks ago to a Saudi Arabian investment conglomerate. The price tag of £305 million pounds is somewhat of a steal as this club is a sleeping giant. The loyal fanbase is where the value lies and the owners know this is one club they have no worries about filling every seat for every match. Turning a profit is another thing knowing you have to rebuild the entire squad and profit is what an investment fund surely would like to see or do they really? This is the perfect tool for Saudi Arabia to show how nice they are to the Newcastle fans buying their support.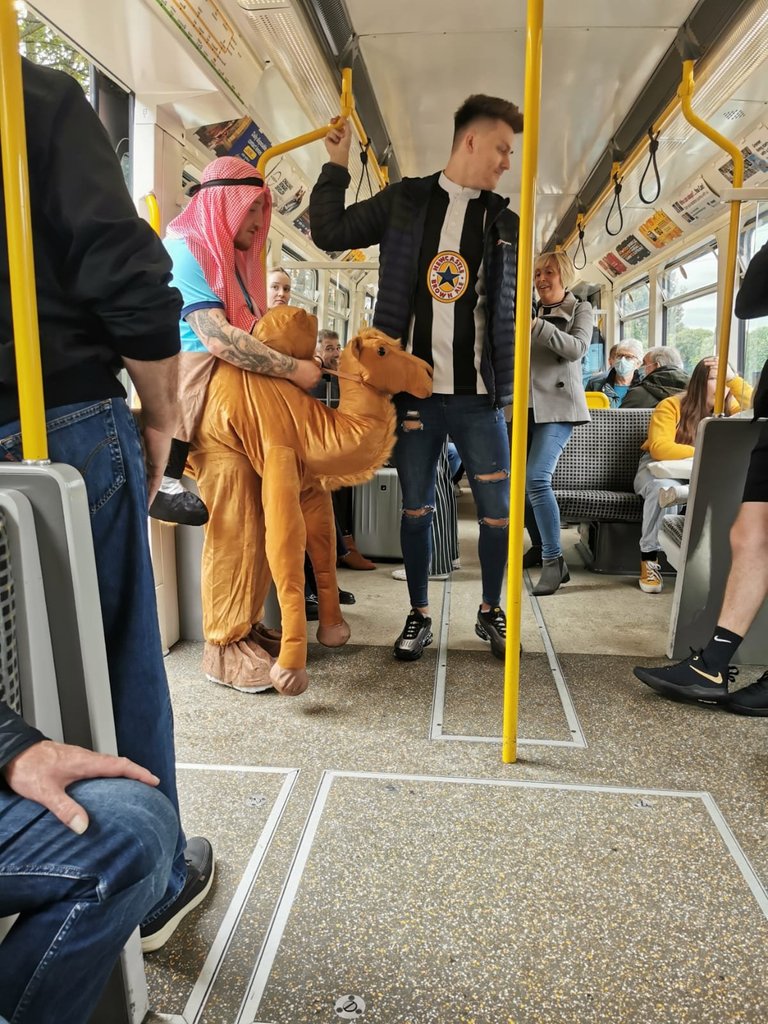 Newcastle fans may have a new mascot in Humphrey the Camel. Funny how many dressed up to welcome the new owners. This is good publicity for them as it shows the fans have accepted them.
If we travel back to the 2018/2019 season only 12 clubs out of the 20 in the Premiership made profit. Just because you are in the Premiership it is not a given you will make profit. The 12 clubs that year were in the top 30 earners in Europe which is quite scary knowing how some only scraped home. Some made it literally by a few million and that puts them in the top 30!! This tells us more clubs lose than they earn making it into a hobby for money laundering or possibly sports washing.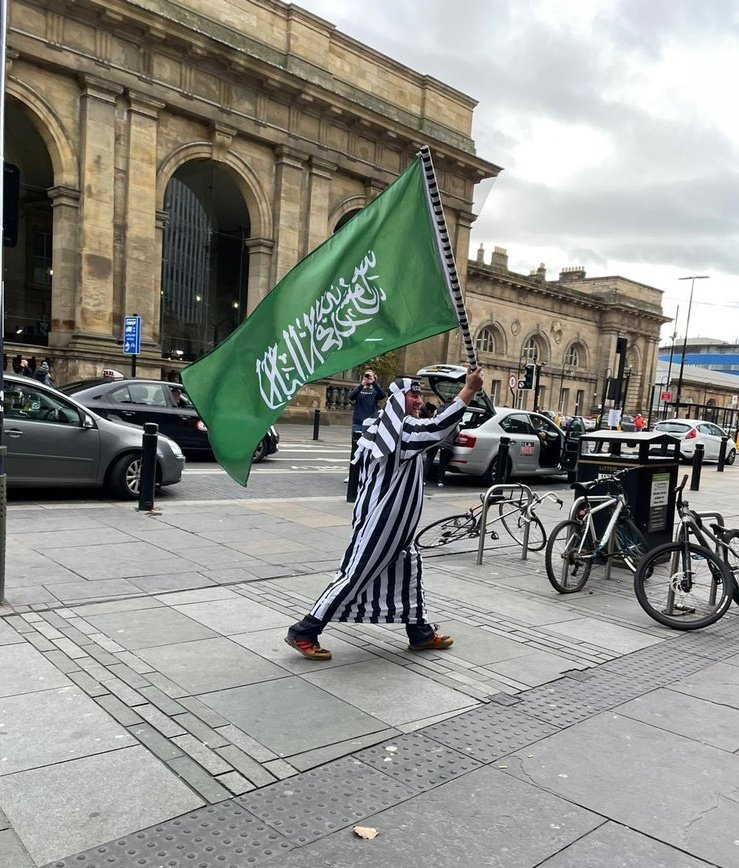 Football is a business after all and fans would rather their teams were winning trophies whilst shareholders would like to see dividends from their investment. Most clubs spend a high percentage of their turnover on players salaries and can be as much as 75% of the total incomings.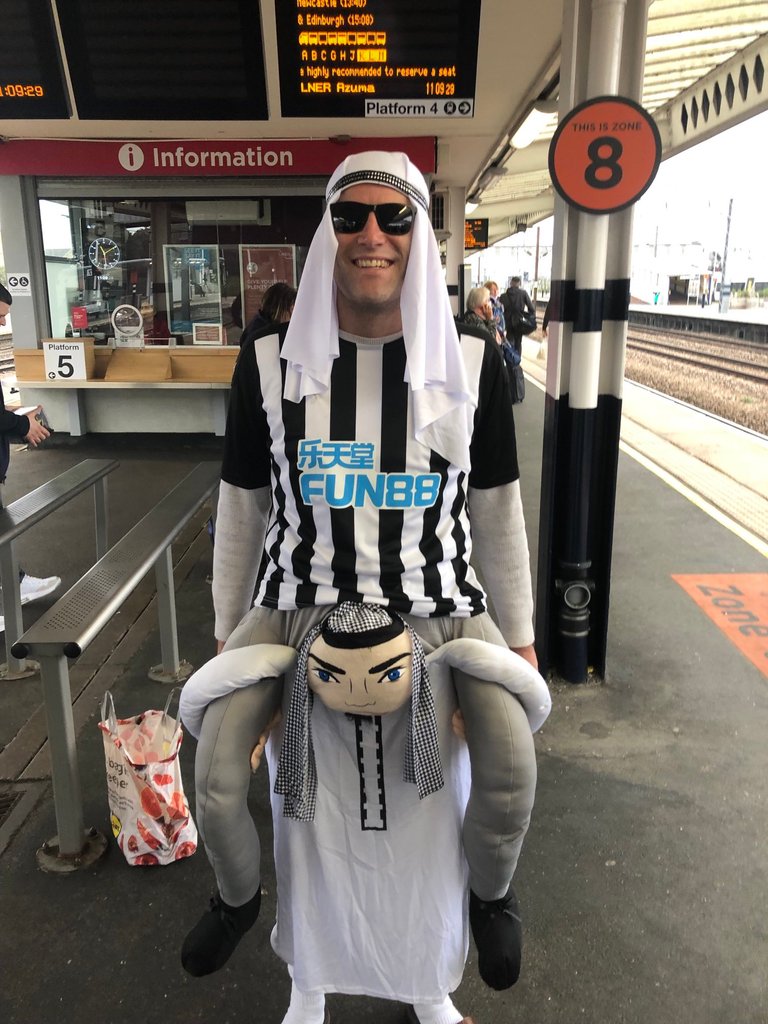 Mike Ashley the previous Newcastle owner raked in £23 million in 2018/2019 which is not a fortune considering the risk he faces each season. The thought of relegation has always been a concern each season just by the way he ran the club.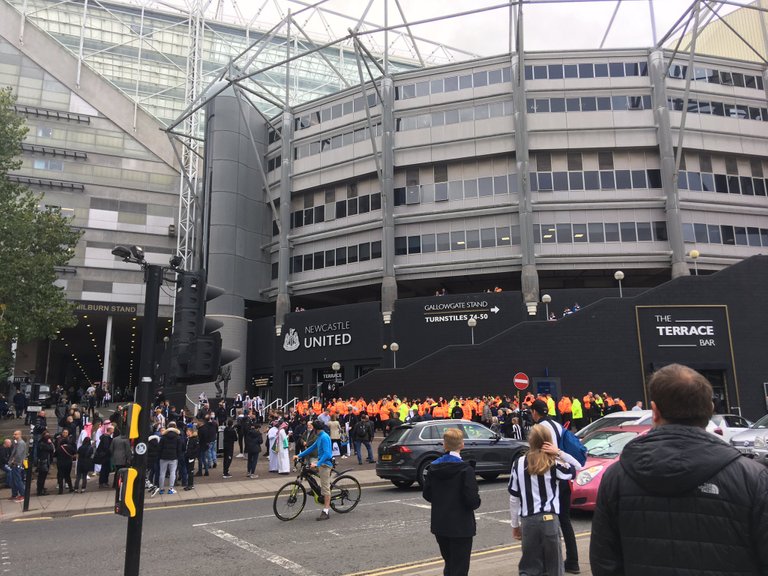 Plenty of dish cloths from home here as many dress up for the day. That is what we used when dressing up like Arabs, but it looks like this lot went to town and some haberdashery store did booming trade prior to kick off.
In 2019 the club had revenue of £178 million with players salaries swallowing 53% or £94 million. They never had a decent squad so you can imagine if he purchased two or three decent players that would be a high risk with no profit to show at the end of the season. I can certainly understand keeping the hands in the pockets and relying on the squad to keep you up each season.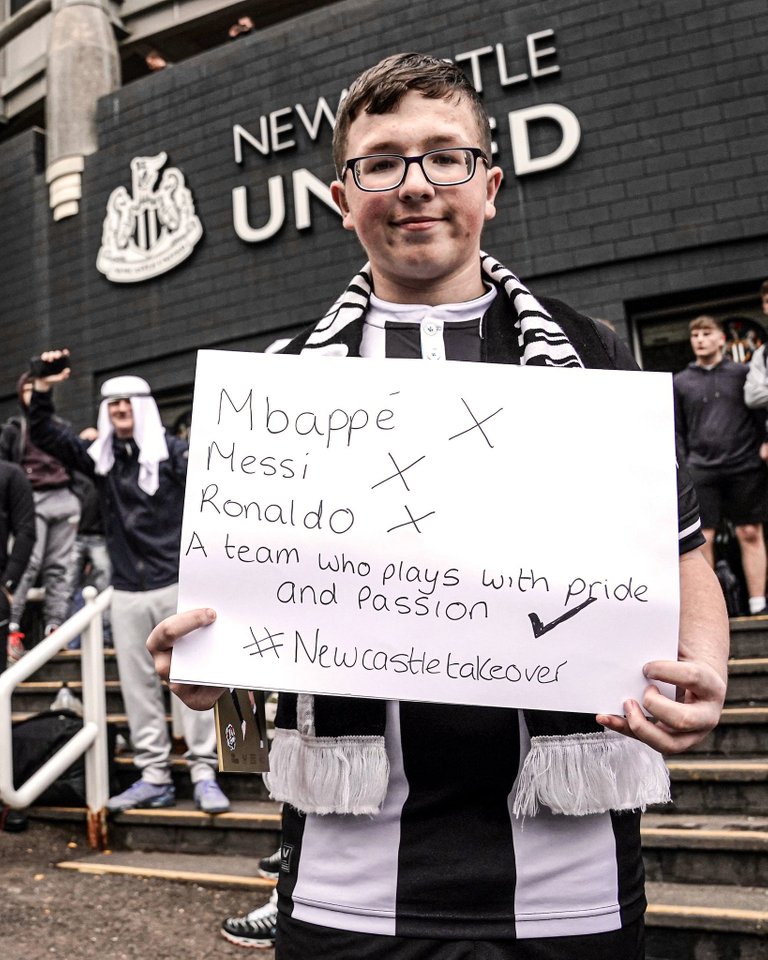 Careful what you wish for as just look how poor Manchester United are as they have individual talent, but are not a football team playing as a team. it is all about combinations mixed with talent and not one or the other. Will Manchester United turn it around or will the team fall apart as there is no guarantee.
When you think about it the owners need to be rich and in many cases see this more of a hobby than a business and the money is made when you sell the club depending on what you have established.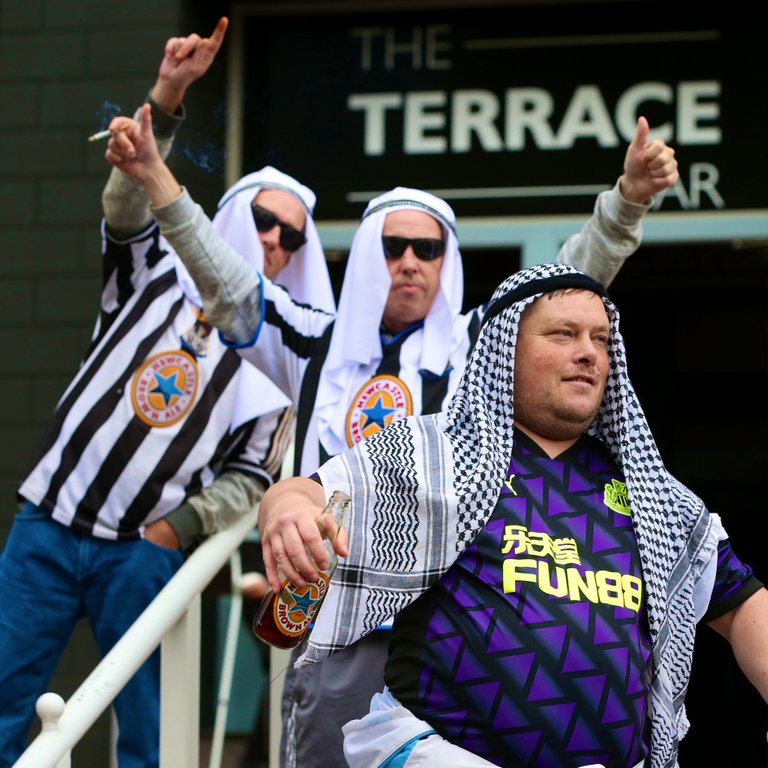 in 2020 we could call the season as write off regarding profits and one season owners would have had to dig deep knowing the fans would not assist in club expenses as they were not being allowed to attend matches. This must have been the final straw for Mike Ashley as the profits made over the last 5 years were all taken away by covid.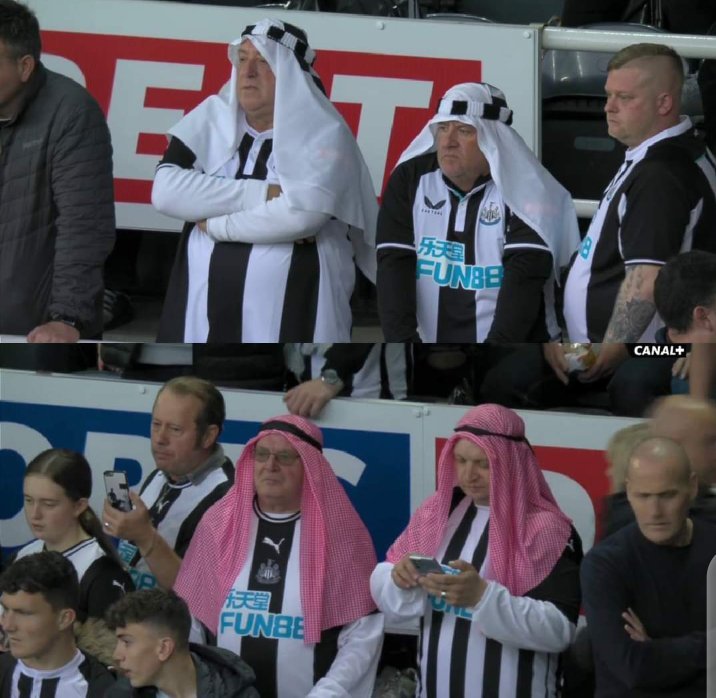 The club debt stood at £144 million all owed to Mike Ashley for spending to scrape through the relegation battle from the year before. This is nothing compared to the likes of Man Utd who had debts of close to £250 million being financed by payments costing £2 million pounds per month. That year a club of that size Man Utd only made £26 million in profit. Mike Ashley wasn't doing so bad after all with what he had.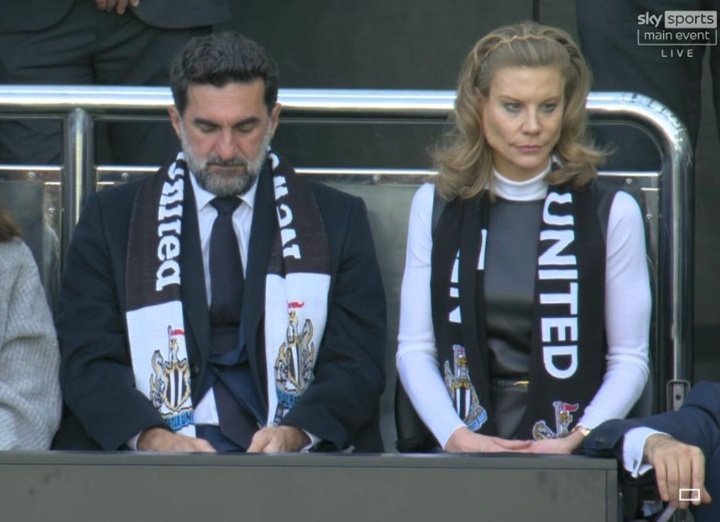 Part of the team of investors at the match on Saturday.
St James's Park can seat a little over 52 000 fans and this is still not enough room and could sell this ground 5 x over. The Geordie support base is huge and this is a club they will generate decent profits once the squad and management has been sorted out. This is a business after all and spending £300 or £400 million would not make financial sense unless they are sports washing.
What is sports washing you may ask lol?
This is a term used by a group or country that uses a sport as a tool to help their public image. Saudi Arabia definitely could be spending quite a bit lol with all their human rights violations over the years. The Saudis public image is far from one of wow look at me, but more of disgust and
has a very low international image from their past demeaners.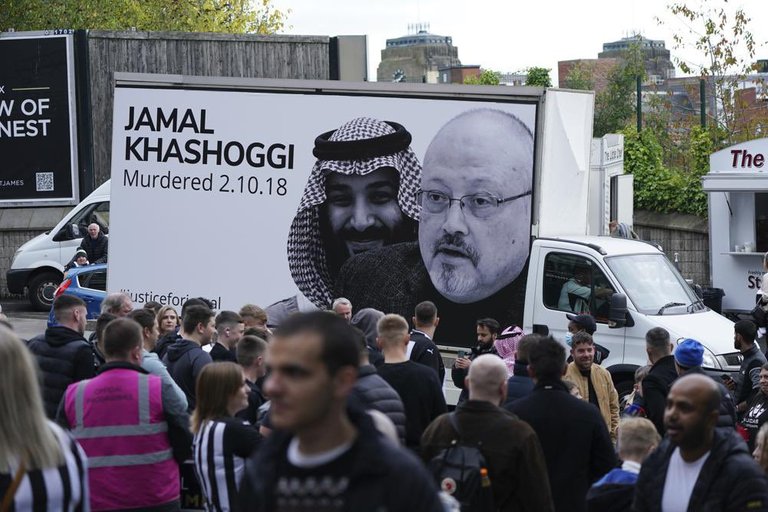 This surely has to be all about public image as who would buy a football club as a business when there a re so many other better investments out there. Considering this is an investment fund buying the club one has to ask the questions as this makes no logical sense unless you are a football fan not worried about the money you are spending.
The new owners at the ground have stated they will take their time making changes as this is a business and change has to be made slowly. Steve Bruce may stay or he may go that all depends on the budget that is being handed over for a January shopping spree which looks more like a relegation battle right now. This is why maybe Steve Bruce will stay on for the remainder of the season. We will know in January if it is a business or another sports washing we are witnessing. Personally I would guarantee they are trying to buy back some good publicity which is another term for costly propaganda.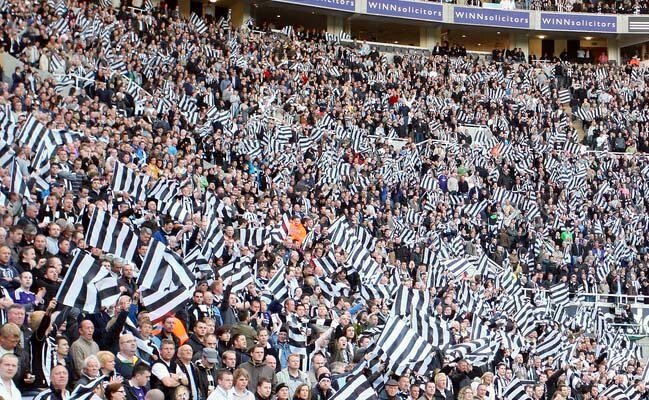 Happy bunch these days as they know the teams fortunes will turn around with millions being spent soon.
Even though we have seen sports washing on numerous occasions before like Muhammad Ali and Joe Frazier with the rumble in the jungle being fought in Zaire sponsored by a dictator. This is all about public image and trying to look good when the opposite is happening. It is regarded as unethical but who is going to complain when your club has been bought and will be turned around with Arab money.
---
---