The Unicorn - Battle For The Top Designer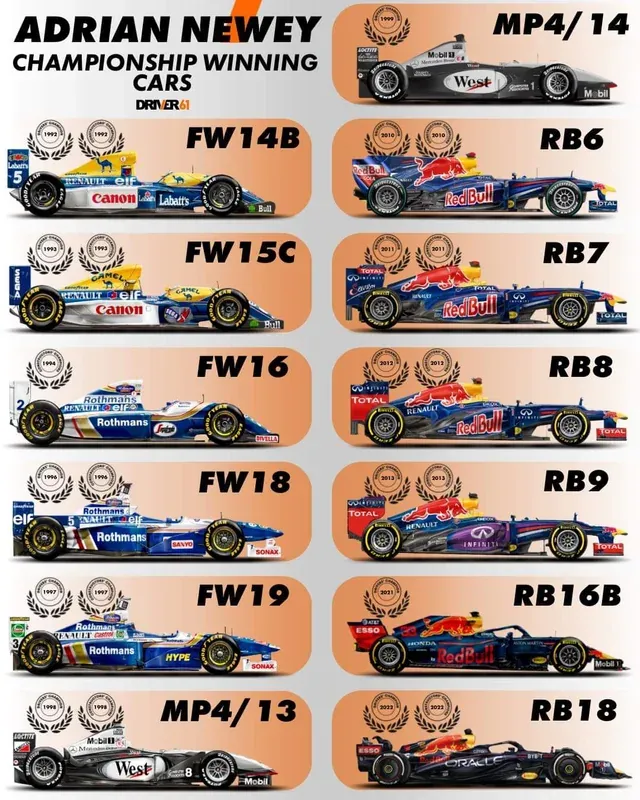 When we think of Formula One what first comes to mind is the drivers and yet the ones who control the championship are the designers and brains behind the team. The design is everything which can turn an average driver into a World Champion just by giving him the right car.
Over the last two seasons the World Championship has been more about the car as Red Bull are that far ahead. Mercedes were dominant for 8 years changed a few things and are now back in the middle of the pack licking their wounds trying to work out what went so wrong.
Adrian Newey has been dubbed the "Unicorn" as he is that special in what ideas he brings to the table. He is still old school in that all his designs are first drawn on paper which in many ways gives him a better understanding.
If we look at his achievements you can understand why he is that important and why Red Bull are so successful.
1992 Williams FW14B 10 out of 16 races won winning both drivers and constructors titles.
1993 Williams FW15C 10 out of 16 races won again winng both the constructors and drivers Championship titles.
1996 Williams FW18 winning 12 out of 16 races again winning both titles.
1998 McLaren MP4-13 9 out of 16 races won giving the team the Drivers and C
Constructors Championship.
2005 McLaren MP4-20 10 out of 19 races won yet the team never won the title.
2010 the Red Bull 19 (model) won both the drivers and constructors championship with 9 wins from 19 races. This also included 15 pole positions which shows how dominant this car was.
2011 Red Bull RB7 12 out of 19 races won winning both drivers and constructors titles.
2013 Red Bull RB9 13 out of 19 races won again winning both titles.
2022 Red Bull RB18 17 out of 22 races won again winning both constructors and drivers titles.
Quite a resume with 23 titles won so far and looking like another 2 titles this year which will bring him to a total of 25 titles. Adrian Newey is the brains that out thinks his competitors and what makes the overall difference.
There was a gap of 10 years between his titles but that was more about a combination of factors with Mercedes having the best power unit plus the best facilities. Don't underestimate Toto Wolff's background is tech and software and he bought startup companies during the dot.com era which formed the basis of their testing facilities.
The latest rumor around the paddock is that Adrian Newey is heading to Mercedes at the end of this season which cannot be ruled out. I say this as Red Bull poached 50 mechanics 2 years ago from Mercedes so taking the head designer would definitely be pay back.
Mercedes can afford to pay whatever to acquire the services of Adrian Newey as they have never been under pressure with their budget cap like Red Bull have.
Every season the focus in the media has all been about the top drivers and where they are going the next season however this year it will be about where is Adrian Newey going and can Red Bull hang onto him. Having established a winning car which would have won 2 world titles he may be ready to move on as his career path suggests this is what happens looking for new challenges. Holding onto the best brains is very difficult and unless he is given a percentage of shares in the team I see no point in hanging around.
Formula One is about reaching the pinnacle in the sport as no one remembers who came second as it is all about winning titles. Lewis Hamilton praised Adrian Newey last week during an interview saying what a superstar he is and this could be part of the buttering up process. Will it or won't it happen or is this just a rumor to spread fear amongst the Red Bull camp as it most certainly will.
---
---