Yes Men And Being Blind To The Truth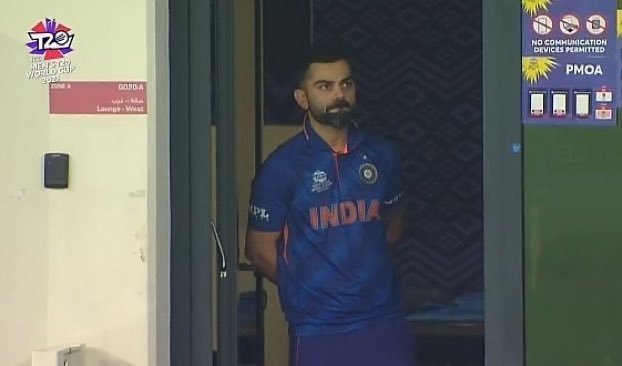 In the hot seat and under serious pressure. The expectations were that high 1 week ago and now an early exit looks imminent. Relying on others to slip up is not taking control of your destiny.
Today I watched the T20 World Cup match between New Zealand And India which New Zealand won without breaking sweat. This was a crunch match considering both teams lost their opening games to Pakistan. Only the top 2 qualify for the semi finals so whoever won this game would be in the top 2 having a better chance of qualifying.
This wasn't what got to me though as it was the commentary during the match that wasn't calling the game as it was. My thinking is the commentators won't say anything bad about the Indian team and their selection because they are more concerned about their future paychecks.

During another match during the week Mark Nicholas and Simon Doull two commentators were talking on air about the Indian media. Simon Doull was asked who he thought would win the World Cup and he said his favorite was Pakistan. They both chuckled as the Indian press didn't want to hear that answer as they expected him to say India. He said his answer didn't go down too well.
India have played badly in all aspects of the game from batting to bowling and fielding. No one during commentary has said anything bad about poor shot selection or bad bowling. The idea of possibly having their "loyalty" questioned is a serious concern as they are definitely treading carefully with their words. Other matches they say what they want calling it as it is but when India is involved they are like Church mice.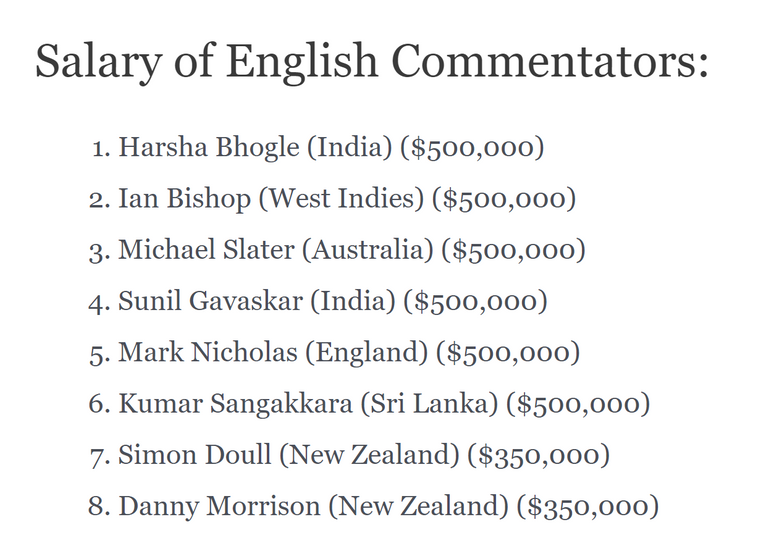 Dugout commentators earn between $500 000 and $700 000 so getting the nod and being in favor is very lucrative.
I think seeing how much the commentators earn for 6 weeks every year shows how important it is to keep their hosts happy. There has been nothing said questioning form or team selection and this is so fake. You would think if you weren't watching and were only listening any of the Indian matches that they actually had a chance of winning even when they were being thumped.
There is no question the Indian team has performed way below their capabilities and possibly hearing the truth is what they need. Everyone pussy footing around them telling them how great they are is not going to hit home and is doing them a disservice. The truth hurts but it snaps you out of dreamland as just maybe you are not as good as what you think you are. The players have been talked up so much over the last 2 months they think they are invincible.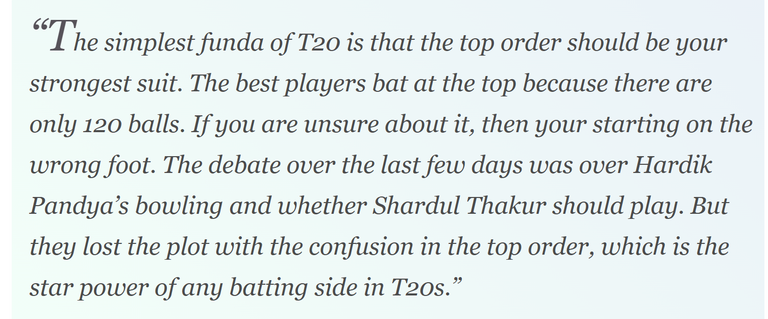 Ex Indian cricketer Virender Sehwag hit the nail on the head as their selection leaves too many questions unanswered
The team selection is questionable if selecting on form as there are too many who are struggling. They have played too much cricket over the last 6 months and is impossible to play at this level for so long without a break. The players aren't suddenly, bad but too much cricket has made them below average players due to burnout.
---
---