Russia is a terrorist country. Russia is a country that destroys sports. Росія - це країна терорист. Росія - це країна яка знищує спорт.

Russia is destroying the sports infrastructure. Today, the "Metalurg" stadium in the city of Bakhmut, Donetsk region, was damaged. The Paralympic athletics team trained at the stadium, and the Kramatorsk football club, which played home games of the First League here.
Why destroy sports facilities? Why destroy stadiums? This is not the first stadium to be hit by a rocket or bomb or shells. Russia destroys everything that can make Ukrainians healthy and athletic. Russia destroys children's sports schools and sports halls in Ukraine. Russia is destroying secondary schools. Russia destroys in Ukraine everything that Ukrainians may need for development.
Children probably also played in this stadium, because usually children's tournaments are also held in such stadiums.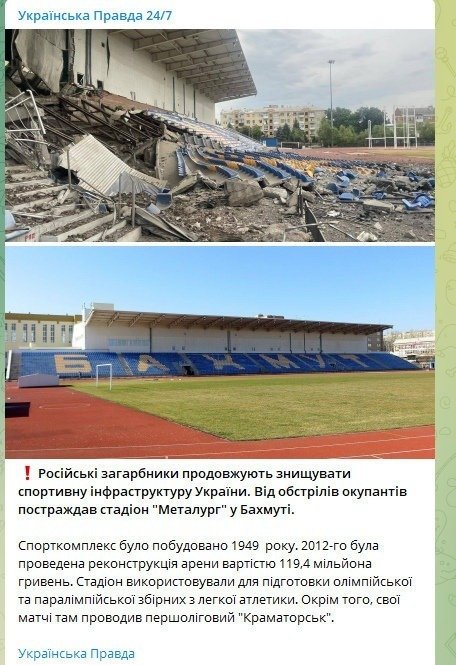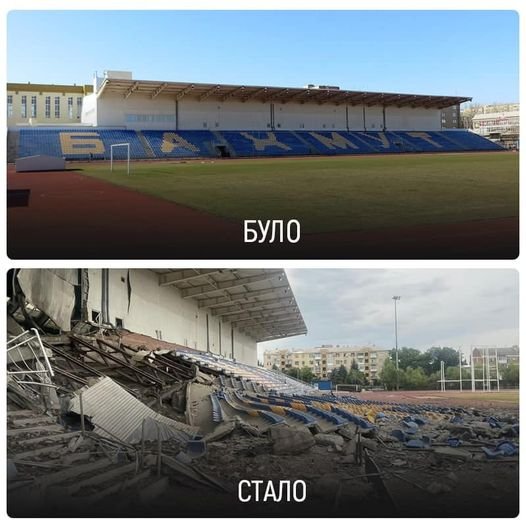 Фотографія з https://t.me/ukrinform_news
Росія знищує спортивну інфраструктуру. Сьогодні постраждав стадіон "Металург" у місті Бахмут Донецької області. На стадіоні тренувалися паралімпійський збірні з легкоатлетики, та футбольний клуб Краматорськ, який грав тут домашні ігри Першої ліги.
Для чого знищувати спортивні споруди? Для чого знищувати стадіони? Це вже не перший стадіон, який отримав удар ракетою чи бомбою, або снарядами. Росія знищує все, що може робити українців здоровими та спортивними. Росія знищує дитячі спортивні школи, та спортивні зали в Україні. Росія знищує загальноосвітні школи. Росія знищує в Україні все, що може знадобитися українцям для розвитку.
На цьому стадіоні, мабуть, грали й діти, бо зазвичай дитячі турніри теж проводять на таких стадіонах.
---
---