Momentum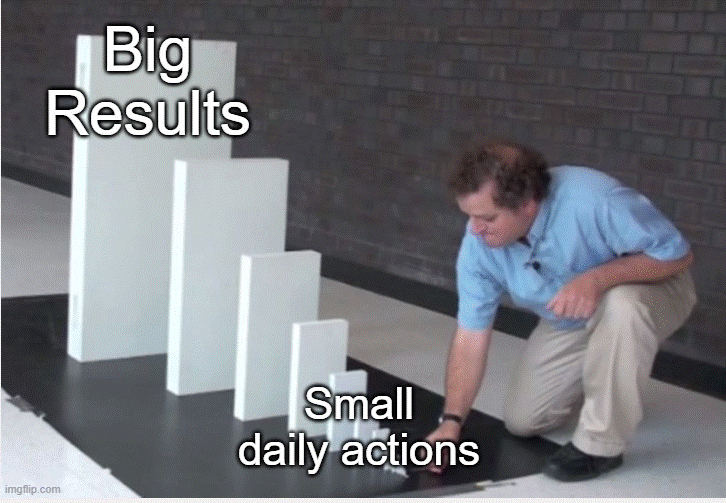 A couple of weeks back my favorite football team, the Minnesota Vikings, found themselves trailing 33-0 at halftime against the Indianapolis Colts. Thirty minutes of gametime and one overtime period later, they found themselves holding the record for the largest deficit ever overcome in the history of the NFL when they kicked a field goal to win 39-36. I saw some crazy stat after the game that teams leading by 30+ at halftime were like 1500-0-1 dating back to like 1940 or something. I mean, it's hard to actually get behind by 33 points let alone come back and win.
So what changed? How could a team that just spent a half doing everything wrong come back and win?
Momentum.
Obviously the team had to play better and the other team had to play worse, but still. 33-0?!? You shouldn't be able to come back from that. But watching the second half you could feel the momentum building. They scored once, then again, then a third time and all of a sudden the belief was there. The momentum they built up just helped steamroll the Colts and they couldn't find a way to stop it.
For you soccer fans, you understand about this very well. The score may say 0-0 but you know when the momentum is building and building one way or the other, and it's just going to be a matter of time until that goal comes. It's almost like one team is playing downhill and with the wind while the other team is desperately trying to avoid the inevitable, even though they have the same number of players on the field.
That's where we are with Hive and LeoFinance. We're in the momentum-building phase. Right now the economy sucks and we're in the middle of a nasty bear market, but the pieces are coming together behind the scenes. #Hive just completed it's latest hard-fork. Among other things, they implemented some tools to help draw in developers called HAF. This will make it easier for devs who don't know Hive to build their dApps on top of it. They won't even need to worry about talking to the blockchain. HAF will do it for them. It's basically like having a phone with a translation app on it. You can talk in your own language and the phone will translate to whoever you're talking to. That might open a few doors.
#Leo, on the other hand, is in the process of getting their new UI out for LeoFinance and LeoThreads. Once implemented, they believe that it will basically be as user-friendly as being on Twitter. They are also streamlining onboarding new accounts so that users will be able to join without knowing anything about keys and resource credits and the rest of it. They'll be able to join and start "threading" immediately and can learn about the rest of the stuff later on as they get more familiar with Leo. I'm sure they'll also be seeing lots of #threads talking about what Hive and Leo really offer so the natural inclination will be to dig a little deeper.
THIS is where our momentum begins. From the depths of a bear market it's up to us as the community to keep flooding the airwaves with material. We are a thriving community who understands the awesome potential #Hive brings to the table. We just need to get that ball rolling and build that momentum until we break through into the mainstream world and show people the light.
Too many people are being censored or losing access to what they thought were "their" accounts. In Canada this last year we saw a government freeze bank accounts because they didn't agree with their citizens opinions. This stuff just keeps happening and it keeps getting glossed over by the mainstream media because they are in on it. They deem which actions are acceptable and which are not. Not the individual. The system. Hive solves this and it's time to let the world know.
And it all starts here. Commenting, threading, posting, voting, engaging with the tools Hive and Leo are providing us. Most of us love being here. We love getting on our computers and reading, threading, writing, playing games, whatever. For a lot of us, it's a big part of our lives. But it's all well and good to do it in the privacy of our own homes and keep it to ourselves, it's another thing to show our passion for it to the rest of the world. That is where we need to get.
Everyone has heard the saying from Field of Dreams, "If you build it, they will come". But with Hive it's, "If you use it, they will come". If we start building some momentum (in the midst of a bear market mind you), the transactions will keep climbing and climbing and the rest of the world won't be able to continue to ignore it anymore. People will finally start asking the question "What is Hive?" and when they find out the answer I believe the floodgates will finally open.
10 comments, 2 threads a day. Simple. Engage. Not only will you benefit but all of us will benefit as well and we'll start building the momentum for when the bull finally comes back around.
Hive is the Way.
Thanks for reading.
Posted Using LeoFinance Beta
---
---