Argentina survives the penalty shootout against France to become 2022 World Cup Champions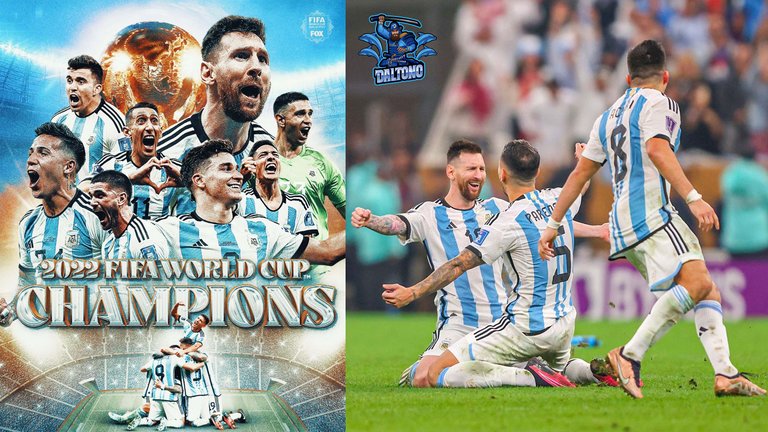 We have made it to the end 🌟⚽️🏟️🏆
What a month it has been. When the 2022 World Cup in Qatar started, I had no idea that I would watch nearly every single match. Fast-forward to present time and I can say that I successfully covered every single World Cup match in my blogs. This past month maybe some of the lowest post rewards I've had in quite a while, but it's some of the most fun I've had. So, I'm okay with it and don't regret spending so much time and effort on the World Cup. I hope many of you have enjoyed my post-game summaries.
With that part out of the way, we can start talking about the finals. Only two teams remained to battle it out for the chance to be World Cup champions. The final match was set and boy was it a great matchup. Lionel Messi and Argentina vs Kylian Mbappé and France. The French, a team looking to repeat as champions. Argentines, a group of players looking to win their first World Cup since the 80s. Both of these nations knew what it is like to win a World Cup final, but they also both knew about losing a World Cup final.
I was torn as to which team I'd give my full support to. Even as the game started I could not make a choice. I wanted both teams to win, but we all know only one can go home as World Cup champs. I think Messi is one of if not THE greatest players ever. I also believe that Mbappé will rise to a similar level and may even surpass Messi's achievements.
Enough of the what-ifs. I think it is time we discuss the full details of what happened in the Argentina vs France match.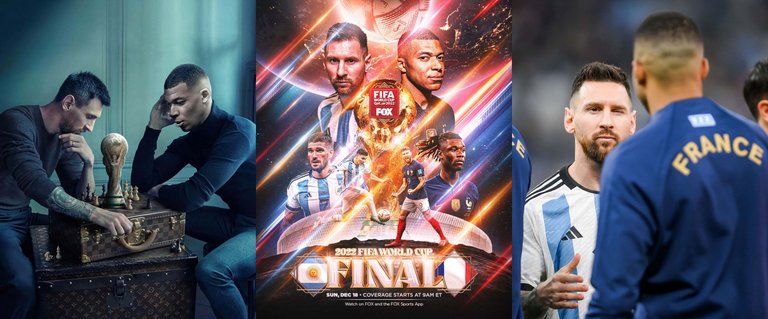 Let's recap the Finals of the 2022 World Cup in Qatar...
---
Argentina🇦🇷 vs France🇫🇷
The beginning stages of this match were in favor of Argentina. They put pressure on France's defense and had several shots early. France struggled to get into Argentina's territory for quite a while.
In the 21st minute, a huge play happened. Ángel Di María was fouled by Ousmane Dembélé inside of the box. Argentina was awarded a penalty kick, which was of course taken by Messi. To no surprise, Messi was able to beat Lloris by carefully picking out an unreachable lower corner shot. Messi is now the first player to ever score in every knockout stage match at a World Cup.
https://twitter.com/FOXSoccer/status/1604497456183615489?s=20&t=vTAIm1NSNt27mWt8jkhlnw
https://twitter.com/FOXSoccer/status/1604497740419203072?s=20&t=4tCc7dx5IDW1oypqQjZLHw
France was struggling to create attacking chances and needed to make some adjustments to the way they were playing. Argentina seemed to be in complete control of the match. This was even more evident when Argentina got out on a dangerous break. After a few lovely passes, it was Ángel Di María who scored the second goal for Argentina, this one in the 36th minute. Di María had not started the previous 3 matches for Argentina, despite being one of their most well-known players. Good thing the coach gave him a chance in the finals.
https://twitter.com/FOXSoccer/status/1604501199604047872?s=20&t=5Xh76DOdGCN7Lq2EPQem-Q
It was not looking good for France. They still have zero shots to Argentina's total of six at this point in the match. Argentina dominated possession and France all of a sudden was not looking to be the team they had been all tournament long. France made two first-half subs in an attempt to shake up the way the game was going. Dembele and Giroud were sent off in favor of Kolo Muani and Thuram.

By the time halftime arrived, France was so far out of this match. Argentina was in favor in basically every single stat category. As a viewer, it was pretty clear to me that Argentina planned to win and France was scrambling to find a way to change that.
Argentina may have had a two-goal lead, but they have been known to blow leads like this many times before. Much like in the past, it happened again. France began to find their groove, specifically Kylian Mbappé who proved he can lead his team to victory again.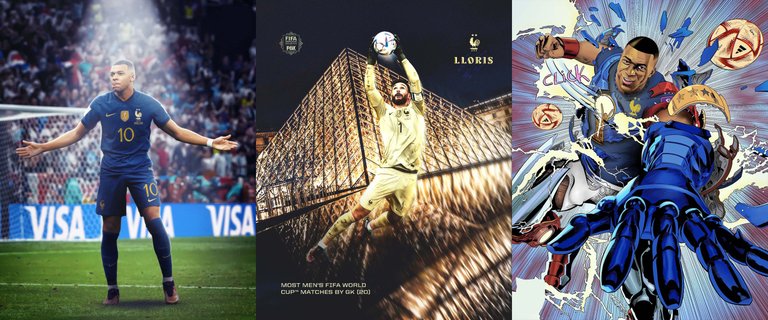 France was awarded a penalty and Mbappé successfully scored in the 80th minute. Just a minute later Mbappé scored a second goal and the game was miraculously tied with just over 10 minutes left in the match.
https://twitter.com/FOXSoccer/status/1604517582358384640?s=20&t=RY4_KoDhYidNXBmMJ4bdUQ
https://twitter.com/FOXSoccer/status/1604517928036179968?s=20&t=RY4_KoDhYidNXBmMJ4bdUQ
https://twitter.com/FOXSoccer/status/1604518311055728644?s=20&t=RY4_KoDhYidNXBmMJ4bdUQ
All of a sudden the momentum swayed over toward France and Argentina looked like they were in serious trouble. The tides had turned and the winner of this match was once again uncertain. After 90 minutes of play, the match was tied 2-2. On to extra time we went.
Through one-half of extra time no goals. Messi made a difference in the second half of extra time. This goal was nearly taken away for offsides but was confirmed to be a goal.
https://twitter.com/FOXSoccer/status/1604529420735500288?s=20&t=_vgHIvrPmS_AniItZ1diQQ
https://twitter.com/FOXSoccer/status/1604529794607185920?s=20&t=_vgHIvrPmS_AniItZ1diQQ
https://twitter.com/FOXSoccer/status/1604529824403292161?s=20&t=_vgHIvrPmS_AniItZ1diQQ
It looked like Argentina had found the edge once again and would be the winners of this match. France said no thank you and continued to apply immense pressure. Eventually, France was fouled inside of the box once again and Mbappé took his second penalty kick of the night, which he scored! That's a hat trick for Mbappé and the game was once again tied.
https://twitter.com/FOXSoccer/status/1604531369987678208?s=20&t=37jBdODg_yBpgsjXKEdLsQ
https://twitter.com/FOXSoccer/status/1604531653354758146?s=20&t=37jBdODg_yBpgsjXKEdLsQ
France nearly took the lead before time expired, but Argentina's goalkeeper Emiliano Martínez made an incredible save that kept this game even. This was the greatest save of the match, perhaps even the whole World Cup. After extra time, the match was still tied 3-3 and it was on to a penalty shootout.
https://twitter.com/FOXSoccer/status/1604533083633586181?s=20&t=icCH46NjIlZ1ditVCWnLeQ
---
Here are the results of the penalty shootout:
✅ 🇫🇷 1️⃣ 🇦🇷 ✅
❌ 🇫🇷 2️⃣ 🇦🇷 ✅
❌ 🇫🇷 3️⃣ 🇦🇷 ✅
✅ 🇫🇷 4️⃣ 🇦🇷 ✅
---
France missed a few of their kicks and Argentina made all of their attempts. The result was a bombastic conclusion to a great World Cup tournament. Lionel Messi can now leave his international squad full of joy knowing the fact that he and Argentina are the 2022 World Cup champions!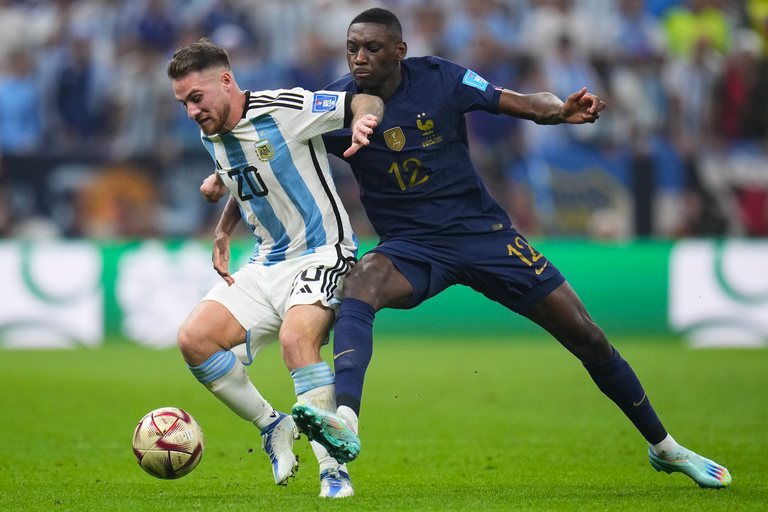 Result: 3-3 in favor of Argentina after penalties
---
Messi and Argentina take the World Cup
We really couldn't have asked for a better World Cup final. The headlines are no exaggeration. This was the best World Cup match ever. Messi and Mbappé both put on their best performances of the entire tournament. It was back and forth until the very end. Of course, it all had to come down to a nail-biting penalty shootout.
I'm very happy for Messi and his friends down in Argentina for their victory. I feel for France barely losing as they did, but they played very well and should be proud too. I have a feeling France will be coming back in 2026 ready to win the World Cup once again. As for Messi, he says he will never play another World Cup match.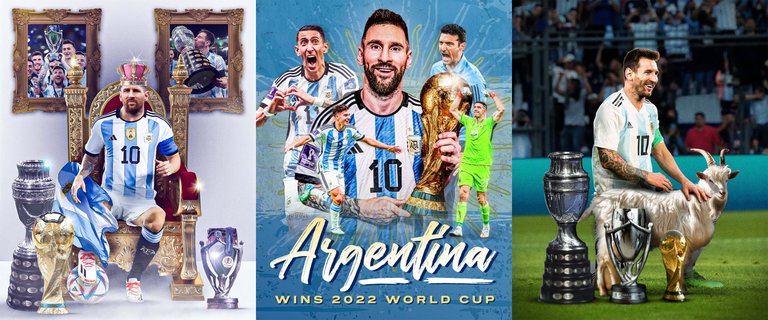 Do you agree that this was the best end to a World Cup in the history of the game?
I know I do and I am both happy & sad that the World Cup is finally over.
---
You can see all of my World Cup posts by following
---
---
---

My NFTs: https://inji.com/@daltono/nfts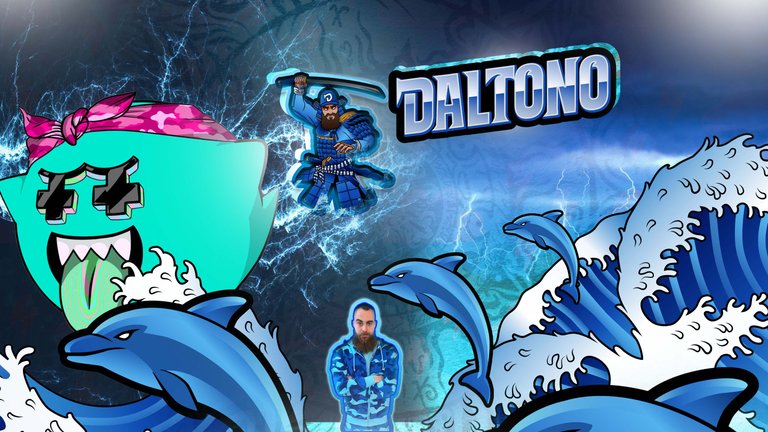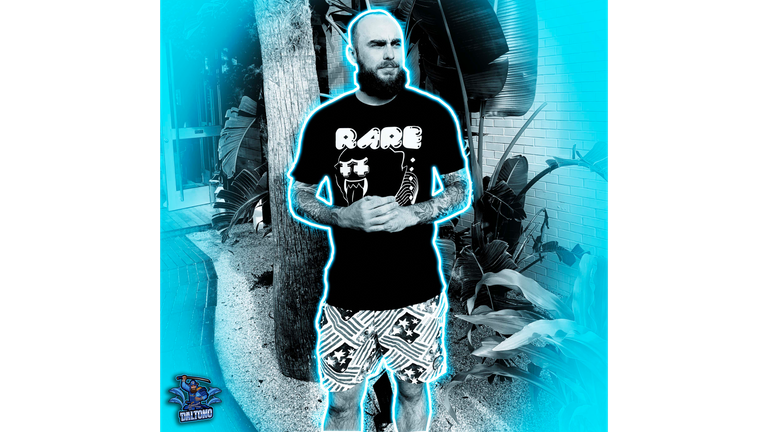 ---
---