Croatia defeats Morocco to win 3rd place at the 2022 World Cup in Qatar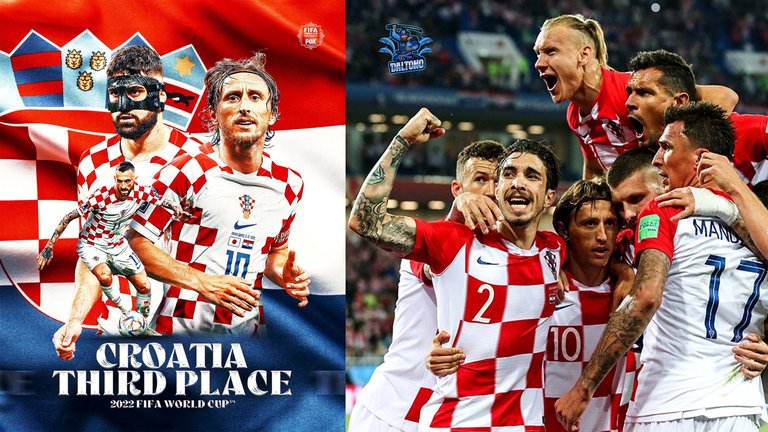 Two of the best defenses 🌟⚽️🏟️🏆
After Morocco lost to France and Croatia lost to Argentina, this left the two losing teams to play against each other for third place. This is the second to last match of the 2022 World Cup in Qatar.
Croatia and Morocco both have been known more for their tremendous defense rather than their offense at this tournament. That doesn't mean the teams can't score, but they are more likely to be focused on preventing the other team from scoring.
This is without a doubt the less exciting of the two remaining games. With that said, it was not going to be a boring match and both teams would surely play their hearts out.
Let's talk about how it all went.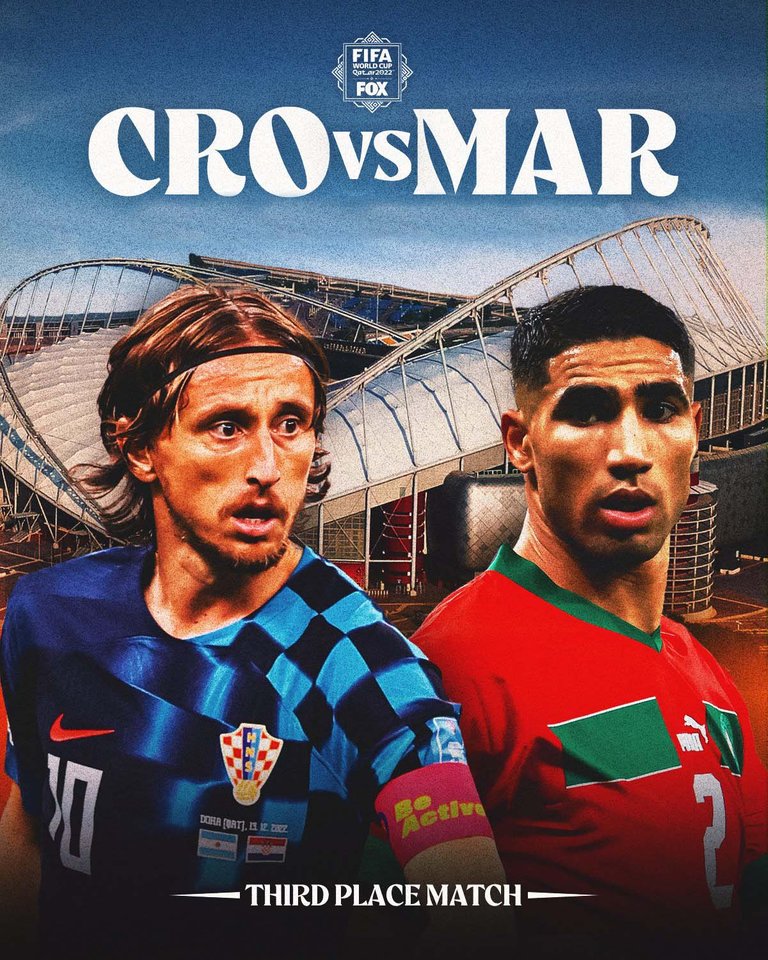 Let's recap the third-place match of the 2022 World Cup in Qatar...
---
Croatia🇭🇷 vs Morocco🇲🇦
The start of this match was full of excitement. Although both teams were thought to be defensive-oriented, it was the total opposite to begin things. Croatia and Morocco both scored a goal within the first 10 minutes of play.
First, it was Croatia who was able to score off of a wonderful set piece. The kick lead to a header which lead to another header turned goal. What a play by Joško Gvardiol to score in the 7th minute.
https://twitter.com/FOXSoccer/status/1604131576123629572?s=20&t=sac_UTd8LcbFsyS2uEEWqg
Just two minutes later, Morocco responded in a big way. In a very similar fashion, the goal came off of a free kick, except this one was deflected by a Croatian player and then headed by Morocco. It was Achraf Dari who tied the game in the 9th minute.
https://twitter.com/FOXSoccer/status/1604131928432463873?s=20&t=IakKmXkvN3MNsbUVqWGPjg
Croatia continued to expose Morocco in transition. It took a while, but Croatia scored a second goal in the 42nd minute. It was a shot hit to perfection by Mislav Oršić.
https://twitter.com/FOXSoccer/status/1604140435731288071?s=20&t=5FfAtl3W3ZJ5hBdgfYXqrw
Going into halftime, Croatia was up 2-1. Once kick-off for the second half was underway, both teams were right back to forcing the ball into the opposite end of the pitch as much as possible. Throughout the second half, there were many instances where the referee's calls were questionable. The main ref hadn't worked a match for over a month and then randomly got the third-place match. A bit odd to me, but I didn't look much further into it.
There were no goals scored in the second half. That means that Croatia was the victor and Morocco would have to accept going home in 4th place. Croatia got 2nd place at 2018's World Cup and 3rd place in 2022. Morocco made it further than any other African nation ever had previously. I believe both teams should be very proud of their achievements.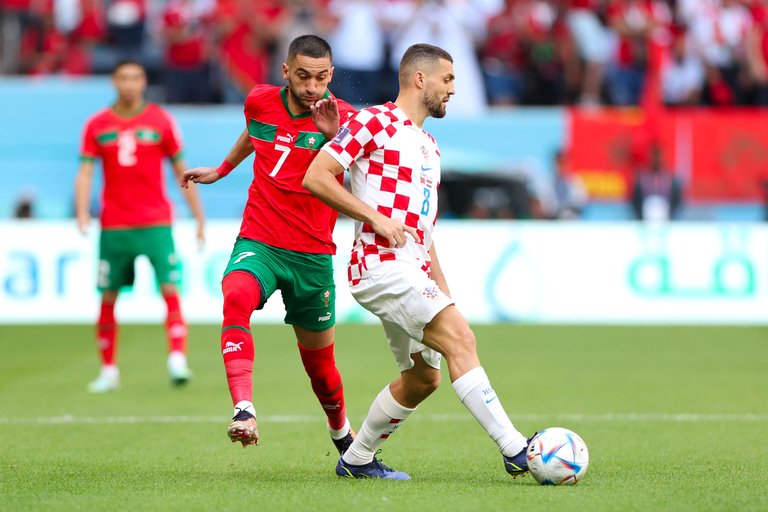 Result: 2-1 in favor of Croatia
---
It's almost over ⏳
Now only one match remains. Argentina will face France in the finals and it is looking to be the best match of the tournament. I am hoping that Messi and Argentina win it all, but if I was betting my money would be on Mbappé and France.
Don't forget about the @hivebuzz World Cup contest https://peakd.com/hive-102201/@hivebuzz/wc2022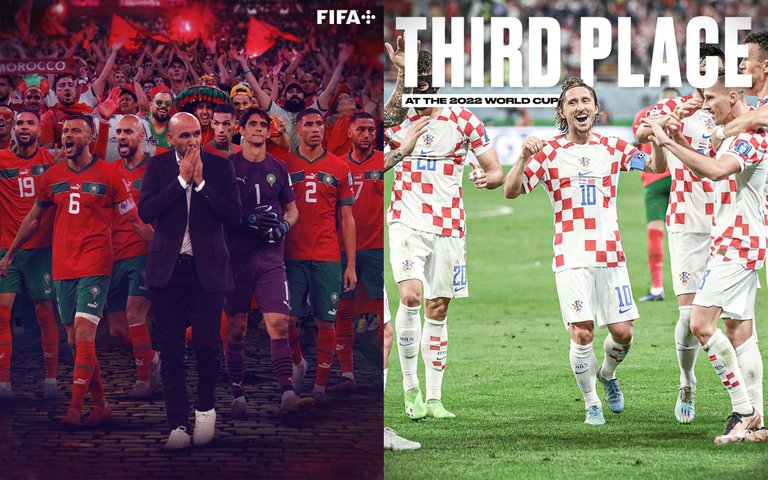 Who do you think will be World Cup champions this year?
Comment below, Argentina or France.
---
You can see all of my World Cup posts by following
---
---
---

My NFTs: https://inji.com/@daltono/nfts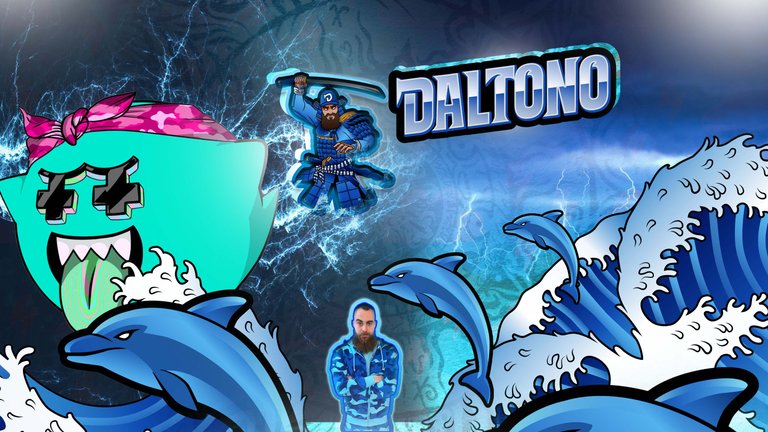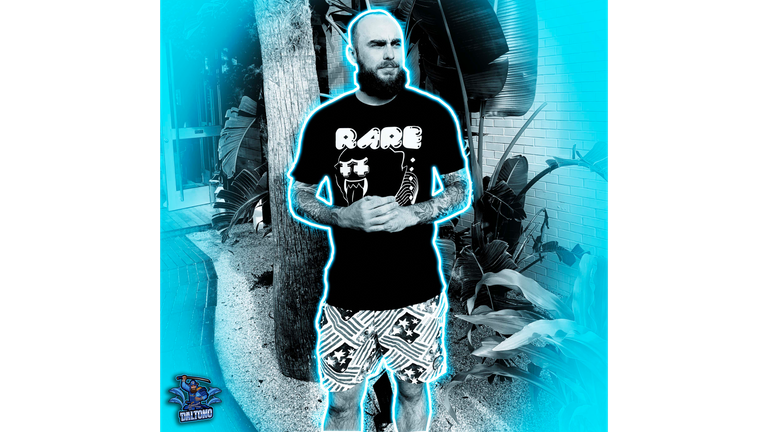 ---
---