Croatia stuns Brazil after another penalty shootout win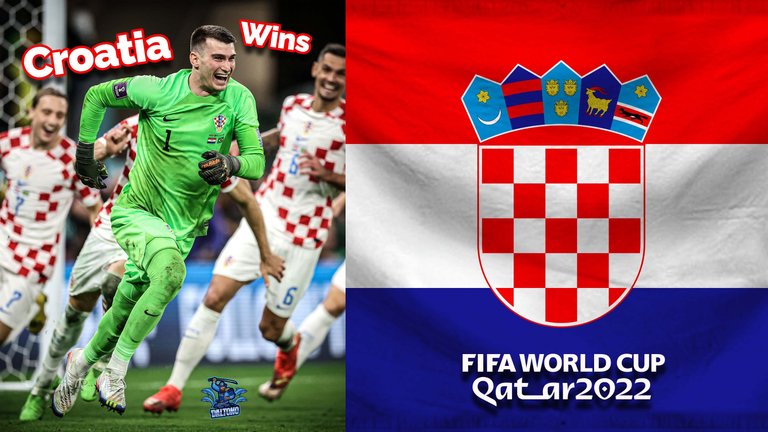 Welcome to the Quarter-Finals 🌟⚽️🏟️🏆
We are nearing the end of the World Cup, but before that can happen there are still a few more matches to be played. We've saved the best for last, as only the most potent teams remain.
The first quarter-final match was between 2018 World Cup runner-ups Croatia and the #1 ranked international team Brazil. These are two of the strongest defensive teams through this World Cup so far. Each one has only given up two goals total up until this point. Brazil has more weapons on offense and is certainly a deeper team, but Croatia has experience playing (and winning) during some of their biggest matches.
Personally, I really wished to see Brazil win this match. I was confident that they would, but as we all know so well after watching 50+ matches at this world cup, nothing is guaranteed and anything can happen.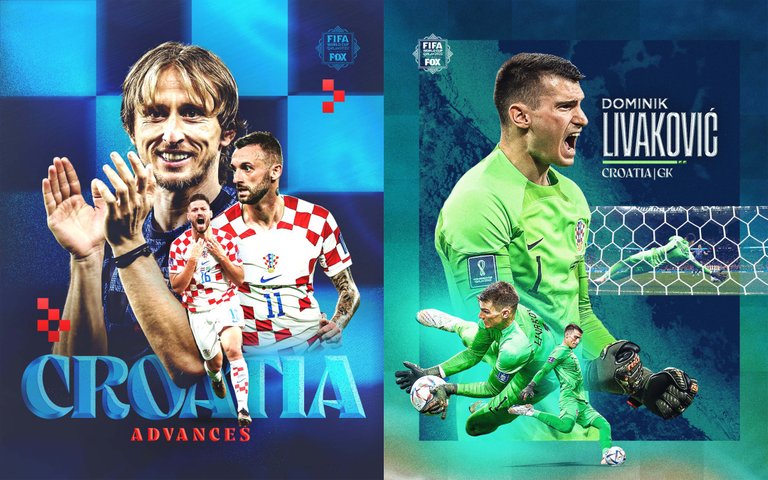 Let's recap another game from the knockout stage of the 2022 World Cup in Qatar...
---
Croatia🇭🇷 vs Brazil🇧🇷
This match started as even as it gets. Croatia didn't seem intimidated at all and Brazil remained poised despite the pressure to remain the best. Back-and-forth things went through the majority of the first half. By the time halftime arrived, still, nobody had scored. There weren't even any major chances for either side. Croatia definitely had hung with Brazil through the initial 45, but I wondered if they'd be able to do the same in the second half.
Once we reached the 90th minute, the match was still scoreless. Brazil had 8 shots on goal and several of them nearly resulted in goals. Croatia's goalkeeper Dominik Livakovic made multiple saves that kept his team in this match. Croatia had zero shots on goal throughout regulation. On to extra time, these two teams went.
In the 105th minute, Brazil's #10 Neymar scored the first goal of the match. This strike ties Neymar with Pele's 77 total goals scored for Brazil. One more and he will pass Pelé and be at the top by himself. Have a close look at this brilliantly orchestrated goal that gave Brazil the lead.
https://twitter.com/FOXSoccer/status/1601264088696459266?s=20&t=WKbdMQM6aQY9y1rUVgCmuQ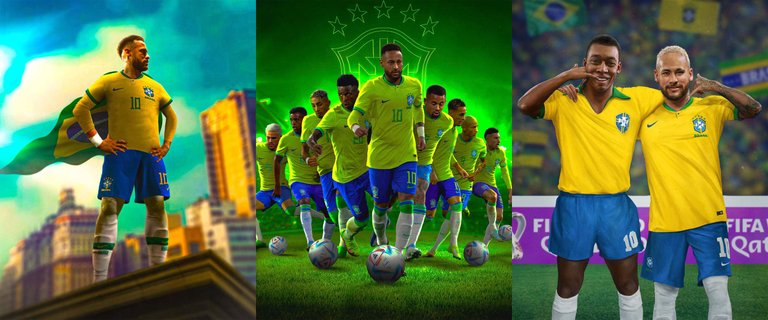 https://twitter.com/FOXSoccer/status/1601264740998807553?s=20&t=WKbdMQM6aQY9y1rUVgCmuQ
Croatia somehow managed to keep its composure after that heartbreaking goal. They went into the second half of extra determined to find an equalizer. In the 117th minute, they did just that when Bruno Petković blasted a shot from the edge of the box. It doesn't get much better than this, Brazil was shell-shocked.
https://twitter.com/FOXSoccer/status/1601268279066218496?s=20&t=Tx0LROi8wER380Poy5c0wQ
At the end of 120 minutes, the score was even and the next stop would be a penalty shootout. Croatia and Brazil both are teams that are very used to winning in penalties. They both had won their last 3 penalty shootouts, but one would have to lose this time.
---
The results of the penalty shootout were:
✅ 🇭🇷 1️⃣ 🇧🇷 ❌
✅ 🇭🇷 2️⃣ 🇧🇷 ✅
✅ 🇭🇷 3️⃣ 🇧🇷 ✅
✅ 🇭🇷 4️⃣ 🇧🇷 ❌
---
As a Brazil fan, I am pretty sad that Croatia knocked them out. Brazil had this game in the palm of their hands, but their defense just failed them at the very end giving Croatia the chance that they needed to get the match to go to penalties. Croatia moves on to the next round where they will face Argentina.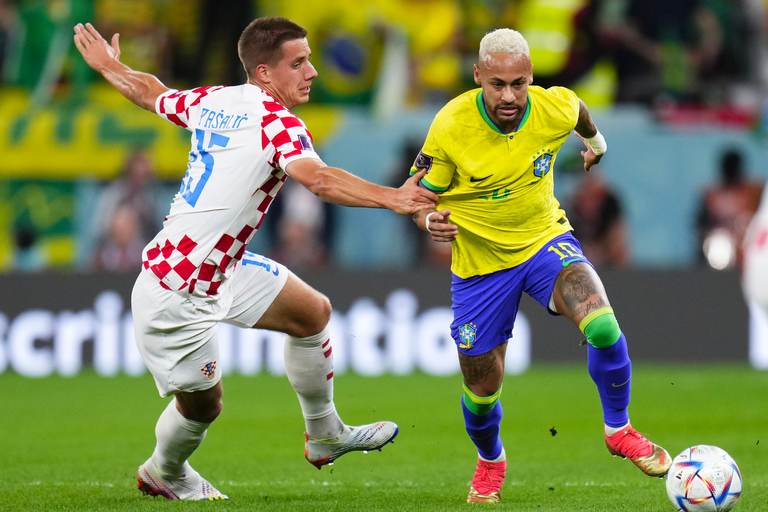 Result: 1-1 in favor of Croatia after penalties
---
Brazil falls to Croatia
Not many expected this outcome, but true fans of the sport knew that it was entirely possible. This surely spoiled Neymar's goal that tied Pelé. Although Brazil is stacked and played very well, Croatia just would not accept being put to bed early. It will be interesting to see if they can continue winning in this tournament as they advance to the semi-finals. There is still a chance that we could see a rematch of the 2018 World Cup finals in Russia which of course was Croatia vs France.
Don't forget about the @hivebuzz World Cup contest https://peakd.com/hive-102201/@hivebuzz/wc2022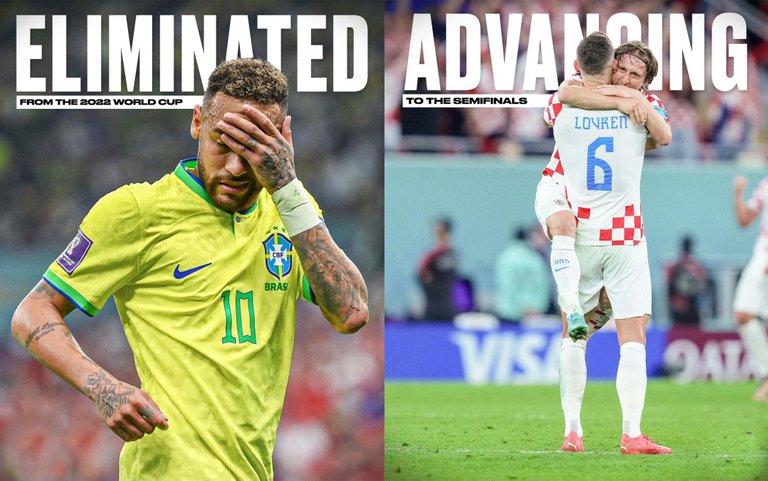 Stay tuned for my post tomorrow where I will be breaking down the Netherlands vs Argentina match.
Feel free to drop a comment if you're happy/sad that Brazil is out.
---
You can see all of my World Cup posts by following
---
---
---

My NFTs: https://inji.com/@daltono/nfts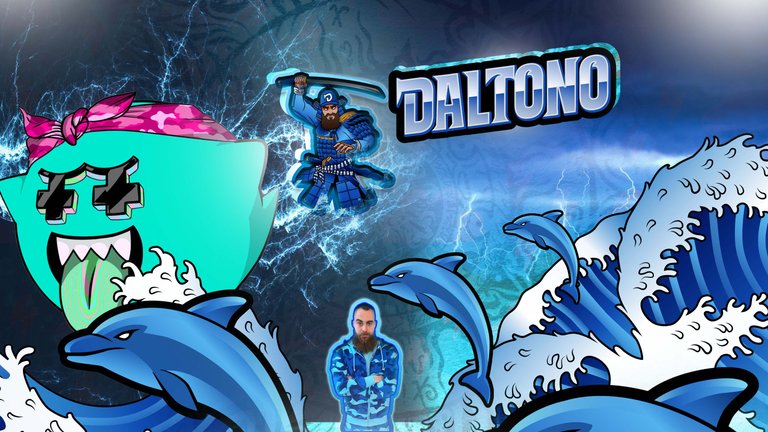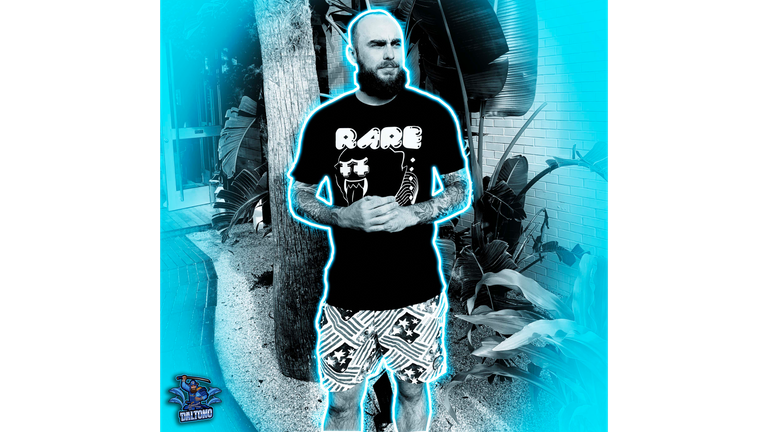 ---
---