I created a Cincinnati Bengals livery for my Ferrari F12berlinetta in Gran Turismo 7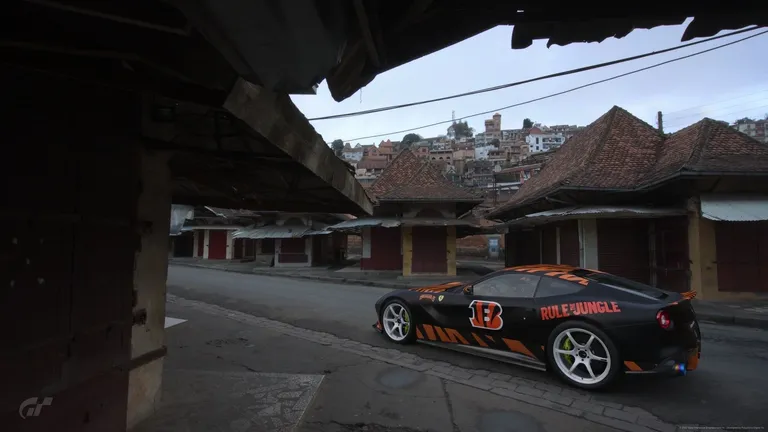 Arabe Rahezavana - Antananarivo, Madagascar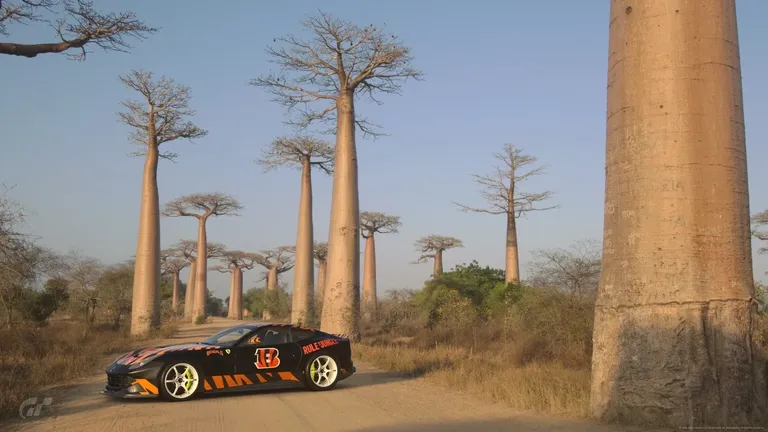 Allée des Baobabs - Toliara, Madagascar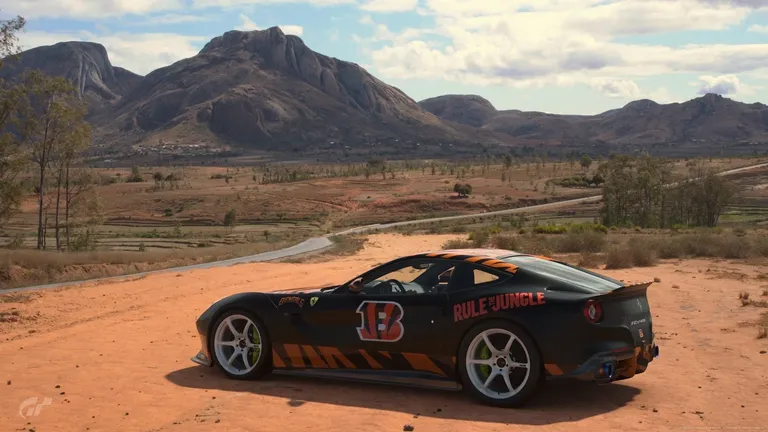 Route Nationale 7 - Fianarantsoa, Madagascar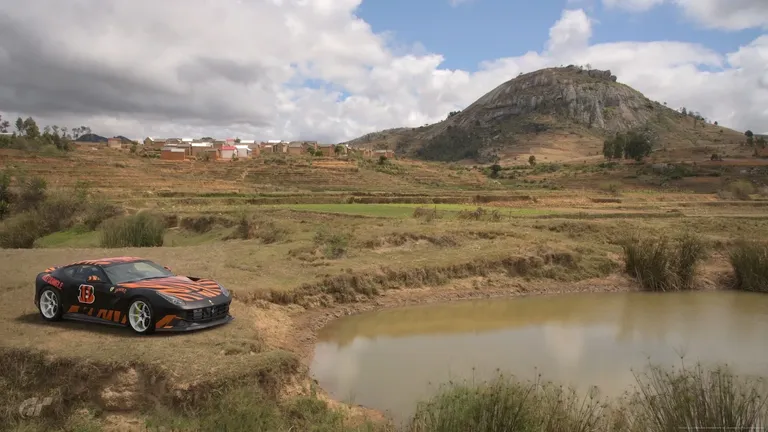 Talata Ampano - Fianarantsoa, Madagascar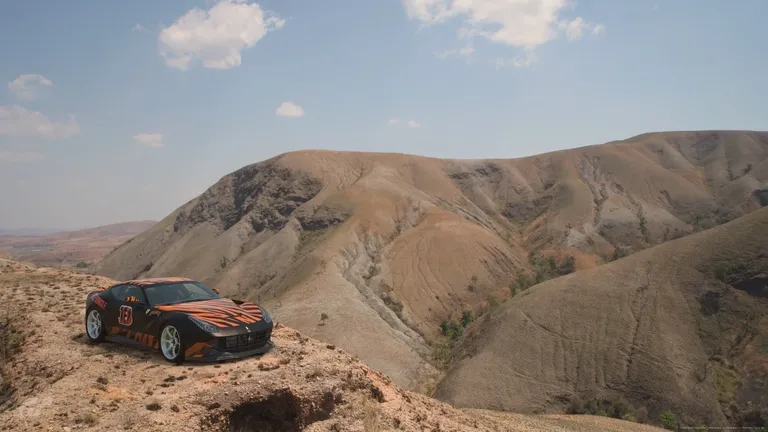 Route Nationale 34 - Antananarivo, Madagascar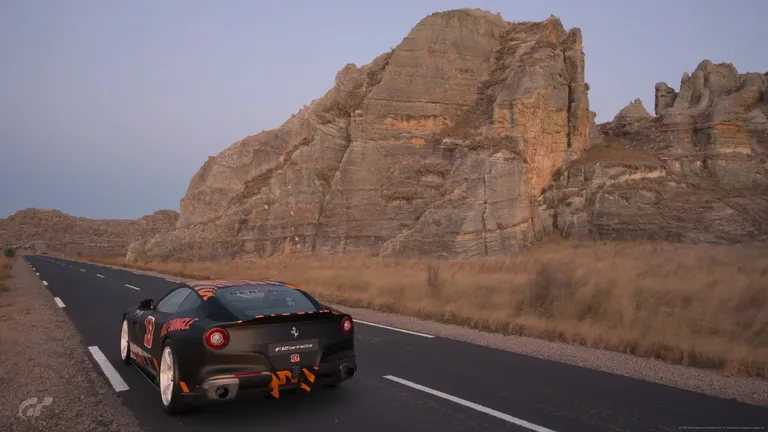 Isalo National Park - Fianarantsoa, Madagascar
Ilakaka - Fianarantsoa, Madagascar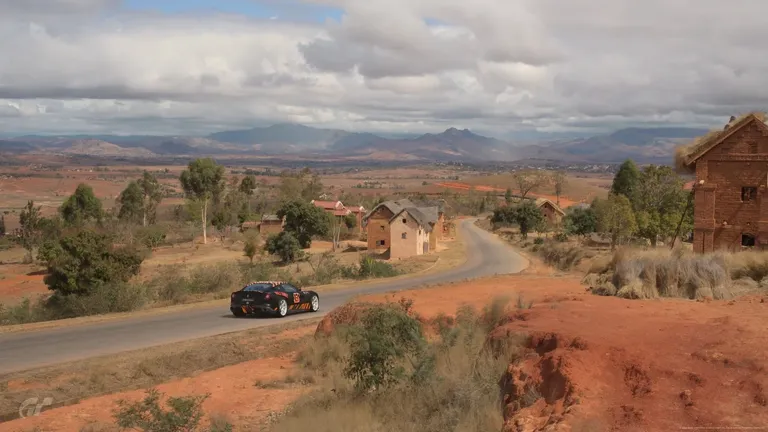 Route Nationale 7 - Fianarantsoa, Madagascar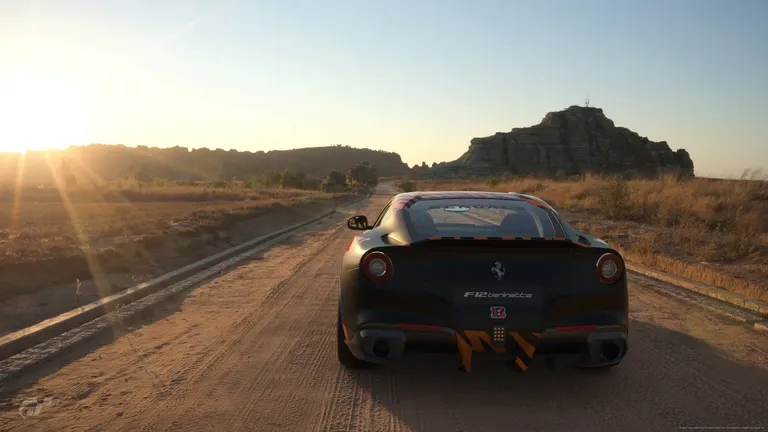 Isalo National Park - Fianarantsoa, Madagascar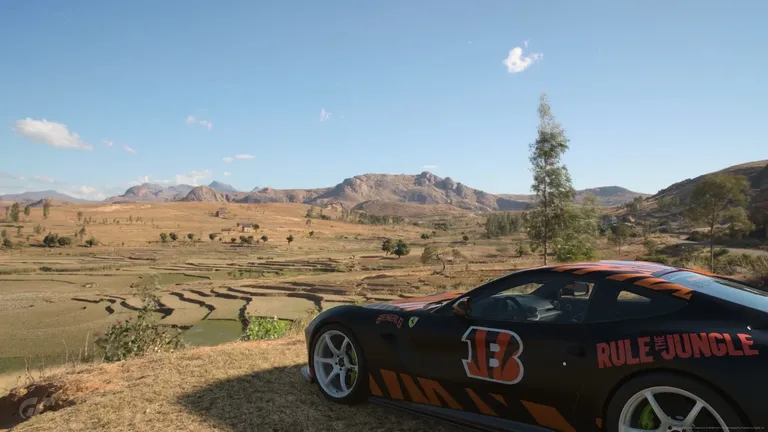 Mandrarano - Fianarantsoa, Madagascar
Something brought me the urge to finally show my undriven F12 Berlinetta some love. The car had been sitting in my Gran Turismo 7 garage for almost a year, it was starting to collect virtual dust. I had mostly relied on my F8 Tributo as my go-to Ferrari. Then I thought the other day, why not have two maxed-out Ferraris?
I came up with an idea for my livery design, bought all of the upgrades I wanted, then executed the plan. The result was a deadly Cincinnati Bengals F12. The Bengals are not my favorite NFL team, but I have always loved their team colors and they are my favorite to win Super Bowl LVII.
---
Before I talk about my custom car, let's discuss a bit of the history behind the novel F12 Berlinetta.
---
Ferrari unveiled its mighty new flagship, the F12 Berlinetta, in 2012 at the Geneva Motor Show. The successor to the 599 TB Fiorano featured a newly-designed base structure whose space frame and body shell combined 12 different types of aluminum alloys. The 3362 lb front mid-mounted engine came in the form of a naturally aspirated 6262 cc V-12 producing 729.8 HP and 509.9 ft-Ib of peak torque, making it the most powerful Ferrari road car to date.
Impressive numbers, to be sure, but Ferrari spent the majority of its development effort on the car's architecture. The F12 Berlinetta was 1.9 inches shorter, 0.8 inches narrower and 2.5 inches lower than its predecessor, with a wheelbase that measured 1.2 inches less. The engine sat 1.2 inches lower than the 599, and the dual-clutch 7-speed F1-Matic gearbox utilized a transaxle layout - both of these features helped to lower the center of gravity by 1.0 inches and established a nearly ideal front/rear weight ratio of 46:54.
On the road, the F12 Berlinetta, despite its elegant good looks, was an absolute beast. It ran from zero to 62.1 mph in a phenomenal 3.1 seconds, getting to 124.3 mph in just 8.5, and topping out at a blurring 211.3 mph.
With its improved handling balance, it set a new fastest road car lap around the Fiorano test track, besting the
599 GTO by a full second.
With refined aerodynamics, advanced electronic devices, and a brake cooling system that trickled down from its Formula 1 race car, this prancing horse deserved to be the flagship for what is arguably the most revered and recognized company in automotive history.
---
My F12 is even more powerful than the ones out of the Ferrari factory. I spent nearly $200k on the best performance upgrades.
Here are the final specs:
927 hp
567 ft/lb torque
2487 lb
---
I captured a collection of 10 photos of my Bengals F12. All of which were in the beautiful location of Madagascar. I decided upon this country in Africa due to the fact that it is well-known as being quite the animal kingdom.
The Bengal tiger is found mostly in India, but I had envisioned a more desert-like landscape with sandy shades of orange. The Madagascar tiger is a descendant of the Bengal tiger that was introduced to Madagascar at some point in. history. They are similar to their ancestors but darker. They are the apex predators of Madagascar.
So although you will not find an actual Bengal in Madagascar, I still feel as though the locations fit my vision for this design.
Speaking of the livery, I kept it simple. I went with a solid black car and then added orange and black tiger stripes in various parts of the car. With the remaining open space, I added the Bengals logo and a bit of text to match. "Rule the Jungle" is a popular slogan that signifies the high standards and energy the Bengals expect to see on the field, in the stands, and in all areas of their organization.
I was going to give this car black rims, but I was being driven nuts by the white outline of the B logo. So I decided to white out the rims and I totally love the result. White rims (when clean) just look so damn good to me anytime I see them in real life. Of course, they are a bit odd for a Ferrari, but I think I pull it off quite nicely.
The Ferrari badge on the side is always yellow, so I matched the Brembo brake calipers with that same race yellow. I don't think it throws off the design one bit, in fact, it just makes it seem that much more powerful because car enthusiasts know what that color means to Ferrari.
I probably should have made a Memphis Grizzlies or Miami Dolphins design first since they are my favorite team, but something possessed me to go with the Bengals as my first sports team livery. As I said, I expect them to make a deep playoff run and possibly even win the Super Bowl. They came very close last year, losing the final game to the Rams out in LA. I think this time they will be seeking vengeance and that will propel them to win Cincinnati their first Super Bowl ever.
Let me know what you think of the design or if you have any ideas that you would like to see me execute in the GT7 livery editor. If something catches my attention, I very well may take the time to get creative.
Thanks for viewing more of my Gran Turismo Scapes photography!
---
For the best experience view this post on Liketu
---
---