The Rabona Chronicles #11: A heart-stopping ending
After a short break in the chronicles we are back to write the end of season report. It has been a few seasons of absence in which the club has taken an important step forward in the development of the infrastructures. The focus has been on improving the club at the expense of spending huge amounts of money and ending several seasons with a negative balance. The surprising promotion two seasons ago forced us to take a step forward and improve infrastructures that were far from the level required for the Division 1. This is the situation at Real Valladolid after the end of this season.


Virtually all facilities have been upgraded in these off-seasons in terms of post-season reporting. So the easiest and simplest thing to do is to review the current situation of each and every facility. At what level each one is at and whether they are under construction or individually shut down.
1.- Stadium: level 10
2.- Catering: 8
3.- Shop: 0
4.- Hotel: 9 to 10
5.- Parking: 9 to 10
6.- Office Building: 8 to 9
7.- Building Yard: 8 to 9
8.- Youth Academy: 9
9.- Training Centre: 6 to 7
The improvement has been considerable. Almost all facilities are at level 9 or even 10. Now it is time to lay these foundations and accumulate money for future improvements in the medium term.


Several interesting players have come through the youth ranks these seasons. The most prominent are undoubtedly Tim Schwaiger, a 17 year old defender with 66 OS who will soon be our marshal in defence and Felix Kraemer, an 18 year old midfielder with 67 OS who should give us a lot of joy next season as he leads the team in midfield.
The players we had to decide whether or not to continue in the team were these. Spoiler: none of them will remain at the club:
1.- Domenico Ferri - Defender 26 yearos old - 16211 RBN - Not renewed.
2.- Simon Ruggiero - Midfield 22 - 6787 RBN - Not renewed.
3.- Wei Sheng - Forward 35 - 14747 RBN - Not renewed.
This time the decision was easy. None of the three is already a major player at the club and their salary burden needs to be lightened. The club is grateful to all three for their work and sacrifice to achieve the club's objectives over the last few seasons.


A tough end to the season that was decided on the last day of the season. After a good final run, we reached the last matchday out of relegation but with the obligation to win in our last match to avoid depending on other results. That's how we are in the standings going into the last matchday:
12.- Real Valladolid - 26 points - Goal Diference -22
13.- L1L Dawgs Elite - 26 - GD -38
14.- Galo Doido - 25 - GD -22
In the end, we were not able to achieve permanence. Despite going 0-1 up and being with an extra player from the 12th minute, we ended up losing 2-1. Galo Doido's 2-0 win against a Montpellier1919 team that didn't even show up for the game sends us, after two seasons, to Division 2.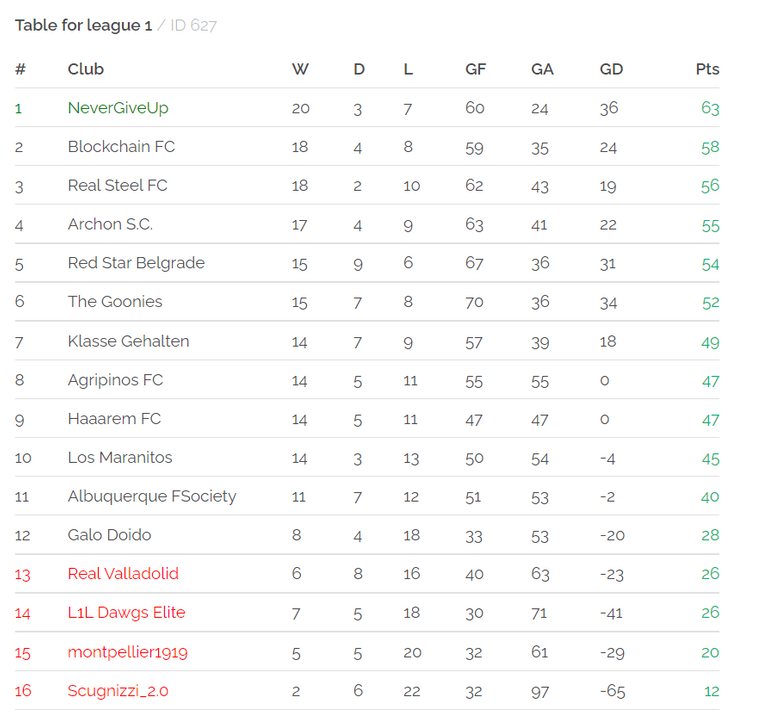 A lot of expenses in the last seasons to, as I have explained before, adapt the level of our facilities to the new division. Something that would have to be done sooner or later, but we have done it much earlier than expected, so the financial reserves have been spent these last few seasons. Nothing to worry about as a large part of the funds were already saved in the club's coffers. As a result, the financial results of the club this season have been as shown in the income and expenditure figures: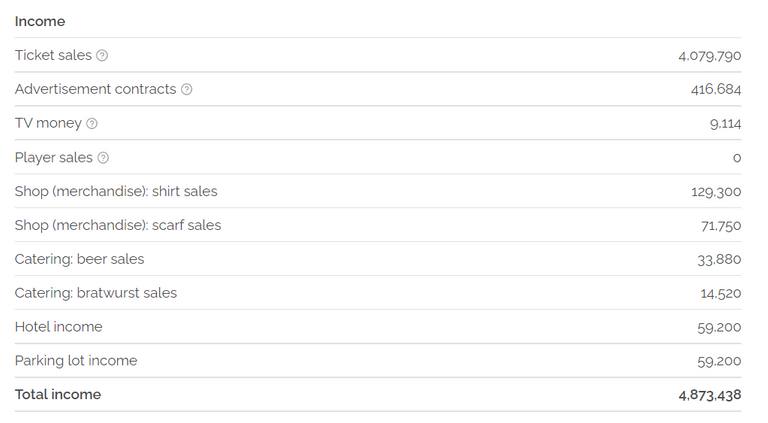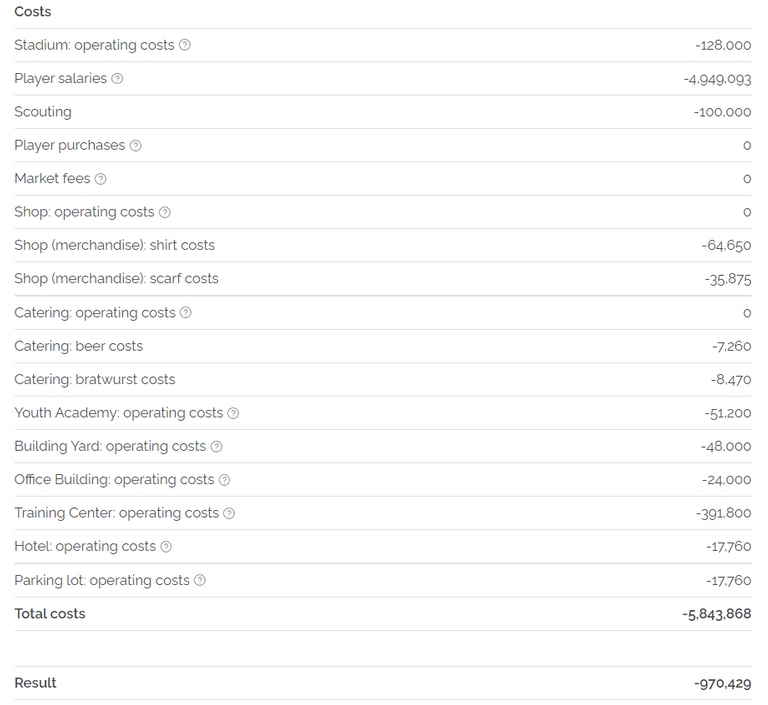 A tough season in which we have fought until the end but in which we have not been able to achieve our objective of staying in the league. It has been two seasons of learning and improvement and now it is time to focus on recovering the lost category and coming back stronger.

If you like soccer games and want to try rabona you can do it through my referral link and you and I will receive an extra to help us in the game.
You can join also the curation program runing by @ivarbjorn. All the info is here.
All images credited to rabona.io. Cover image made in canva.com and headers with cooltext.com
---
---