Práctica, Jóvenes infantes puliendo su talento en el fútbol sala, San Fernando De Apure. [ESP|ENG]

---
Práctica, Jóvenes infantes puliendo su talento en el fútbol sala, San Fernando De Apure.
Practice, young children polishing their talent in indoor soccer, San Fernando De Apure.
---
Un gran saludos amigos de

Hive

y compañeros de

Full

Deportes

, Hoy les traigo un post muy motivador para mi gente de full deportes para aquellos chicos que van iniciando en el deporte para que vean que todo es disciplina y constancia.

A big greeting friends of

Hive

and fellow

Full

Sport

Today I bring you a very motivating post for my people of full sports for those kids who are starting in the sport to see that everything is discipline and perseverance.
---
---
●❯─────────────────Video─────────────────❮●
---
---
---

---
Pues hoy fuy a unas de las canchas de fútbol sala acá en San Fernando De Apure la cancha es llamada la mogollón queda en la urbanización el tamarindo en esta cancha estaban los chicos infantes de 5, a 12 años de edad teniendo una pequeña práctica de fútbol sala, lo mejor de todo que estos chicos se preparan desde muy temprana edad para este hermoso deporte que es el fútbol sala muy conocido en el mundo a nivel general pues la práctica que estaban haciendo era algo que llaman acá en mis tierras toque de pase y disparó al arco ellos estaban haciendo este entrenamiento para mejorar su habilidad de pase, disparó, y reflejos del el portero es muy bonito ver que los jóvenes buscan su pasión y no se quieren perder en las calles y estoy de lo más contento con esto que vi el día de hoy más por el deporte. Me disculpan el corto contenido de imágenes pues solo iba pasando de paso y vi a los chicos entrenando y les quise traer este hermoso contenido.

Well today I went to one of the indoor soccer fields here in San Fernando de Apure, the field is called the mogollon is in the urbanization of the tamarind in this field were infants boys from 5 to 12 years old having a small practice of indoor soccer, The best of all is that these kids are being prepared from a very early age for this beautiful sport that is futsal very well known in the world in general because the practice they were doing was something they call here in my land passing touch and shooting at the goal they were doing this training to improve their ability to pass, shot, and reflexes of the goalkeeper is very nice to see that young people seek their passion and do not want to get lost in the streets and I am very happy with what I saw today more for the sport. I apologize for the short content of images because I was just passing by and I saw the kids training and I wanted to bring you this beautiful content.
---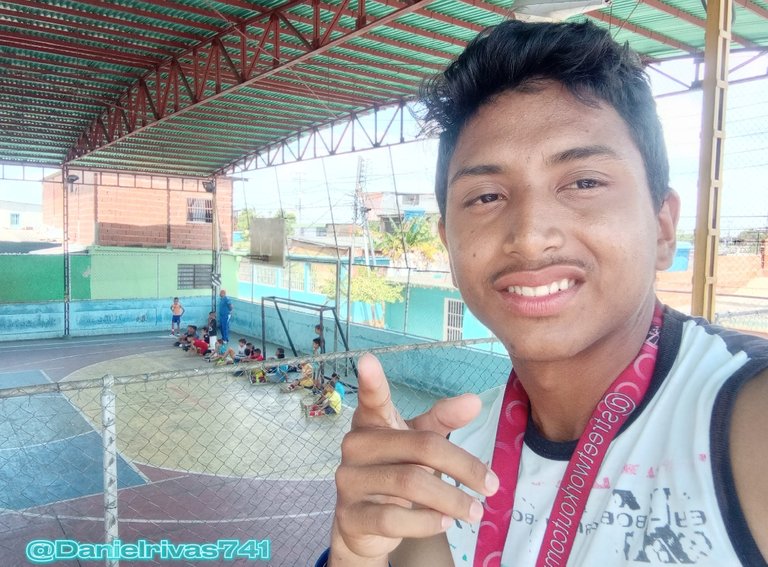 ---
Agradecimientos
Acknowledgments
---
''Un agradecimientos a la gente de HIVE y de full deportes por ver mi contenido espero y les allá gustado mucho nos veremos pronto en otra edición hasta pronto muy pronto.''

''A big thank you to the people of HIVE and full deportes for watching my content, I hope you liked it a lot and I'll see you soon in another edition.''
---
---
***
| Créditos | Credits |
| --- | --- |
| Cámara | Camera |
| @danielrivas741 | @danielrivas741 |
| Musicalización La musica usada en la intro del video esta libre de derechos de autor | Music The music used in the intro of the video is copyright free |
| Daniel Rivas - Creando Contenido de Calidad | Daniel Rivas - Creating Quality Content |
| --- | --- |
| Gracias por leer mi publicación | Thanks for reading my post |
| --- | --- |
| Gracias por ver mi video | Thank you for watching my video |
| --- | --- |
| ¿Quieres saber más de mí? | ¿Want to know more about me? |
| --- | --- |
Sport is the best way to live life
Social Media
@danielrivas741 - Creador de Contenido Original
---
---
---
---
---
---
---
---
---