4 Ejercicios Básicos Front Lever Para Principiantes | 4 Basic Front Lever Exercises For Beginners [ESP🇪🇸|🇺🇸ENG]

4 Super Básicos De Front Lever
4 Front Lever Super Basics
---
Un gran saludos amigos de

Hive

y compañeros de

Street Workout

Community

, en esta oportunidad les traigo una rutina de 4 ejercicios básicos de front lever con liga al nivel principiante muy buenos para comenzar con el front lever y irte acostumbrado a la postura y ir también progresando poco a poco en el front lever.

A big greetings friends of

Hive

and colleagues of

Street Workout

Community

, in this opportunity I bring you a routine of 4 basic front lever exercises with garter at beginner level very good to start with the front lever and get used to the posture and also to progress little by little in the front lever.
---
---
●❯─────────────────Video─────────────────❮●
---
---
---
Palanca frontal
Front lever
La zona superior del cuerpo hay muchos ejercicios que te dotan para adquirir una fuerza increíble entre ellos están los ejercicios para el front lever y las programaciones. Los ejercicios del front lever como por ejemplo la retención a intento de front lever que son una de las bases del front te ayuda adquirir una fuerza increíble en la parte superior del cuerpo. Las programaciones front lever como front lever tuck, retención de front lever con liga y dragón flag, son ejercicios que también te ayuda adquirir fuerza en tu espalda que es una de las bases del front lever .

There are many upper body exercises that equip you to acquire incredible strength among them are the exercises for the front lever and programming. Front lever exercises such as the front lever tuck, which is one of the basics of the front helps you gain incredible upper body strength. Front lever programming such as front lever tuck, front lever hold with garter and dragon flag, are exercises that also help you gain strength in your back which is one of the foundations of the front lever.
---
---
Aguante De Front Lever Máximo Tiempo
Front Lever Endurance Maximum Time
El te ayudará a mantener la tensión en la parte alta de espalda mediante la activación de las escápulas, este movimiento es fundamental para poder elevar el tronco, que en fases iniciales será con las piernas flexionadas después con las piernas estiradas. Al realizar este movimiento en aguante con liga vamos corrigiendo poco a poco y nos vamos acostumbrando ¿Te preguntas que se trabaja y que beneficios tiene? Al ser una palanca frontal requiere mucha fuerza de los músculos del hombro, espalda, pecho, brazos, abdomen, lumbares y glúteos. En su realización se muestra la resistencia muscular de cada uno de estos sectores del cuerpo y a estar haciendo retención de front con liga estaremos corrigiendo al máximo. Se recomienda hacer aguante de front lever con liga al máximo tiempo 4 series.

It will help you to maintain tension in the upper back by activating the scapulae, this movement is essential to lift the trunk, which in initial phases will be with bent legs then with straight legs. When we perform this movement in a league we will correct little by little and we get used to it. Do you wonder what it works and what benefits it has? Being a front lever requires a lot of strength of the muscles of the shoulder, back, chest, arms, abdomen, lumbar and buttocks. In its realization shows the muscular resistance of each of these sectors of the body and to be doing front retention with garter we will be correcting to the maximum. It is recommended to do front lever hold with garter at maximum time 4 series.
---
---
Dragon Flag
Dragon Flag
Dragón Flag Beneficios del dragon flag Los beneficios de un dragon flag bien ejecutado son variados: Al trabajar con el peso del cuerpo como resistencia, el desarrollo de la fuerza, la coordinación la flexibilidad. Aporta a la reducción de grasa abdominal, además de tonificar y definir la zona. ¿Te estás preguntando para que es bueno el dragón Flag?cuando nos ejercitamos con el Dragon Flag se logra una gran activación y control de la musculatura del core (abdominales y músculos estabilizadores) pero también se implica a los dorsales, psoas, cuádriceps, glúteos, bíceps… que también saldrán beneficiados otro punto beneficiados es que nos ayudará mucho para el front lever ya que estamos haciendo como un front lever pero sin tener los brazos estirados a los principiantes se le recomienda hacer de 7 Repeticiones y 4 series.

Dragon Flag Benefits of dragon flag The benefits of a well executed dragon flag are varied: By working with the weight of the body as resistance, the development of strength, coordination and flexibility, it contributes to the reduction of abdominal fat, in addition to toning and defining the area. It contributes to the reduction of abdominal fat, in addition to toning and defining the area. Are you wondering what the dragon flag is good for?When we exercise with the Dragon Flag we achieve a great activation and control of the core muscles (abdominals and stabilizer muscles) but also involves the dorsals, psoas, quadriceps, glutes, biceps ... that will also benefit another beneficial point is that it will help us a lot for the front lever as we are doing as a front lever but without having the arms stretched to beginners is recommended to do 7 repetitions and 4 sets.
---
---
Dragón FlagCon Extensiones De Rodillas
Dragon FlagWith Knee Extensions
Dragón Flag con extensiones de rodillas Esta es una variante del dragón Flag Trabajomos los mismos músculos Pero te ayuda en la lumbar y tener una fuerza y resistencia descomunal pues sentirás como va subiendo tu nivel poco a poco se recomienda hacer de 10 Repeticiones a 4 series.

Dragon Flag with knee extensions This is a variant of the dragon flag. You work the same muscles but it helps you in the lumbar and have a huge strength and endurance because you will feel how your level is going up little by little.
---
---
Retención De Tuck Front lever
Front lever Tuck Retention
El front lever en Tuck te ayudará aque te vallas acostumbrando al front pues es un ejercicio donde tienes que tener fuerza de jalón hay algunos tipos de front lever tuck. Estás el front Lever para principiantes que es tratando de meter tus piernas en el pecho. Esta el front lever avanzando que está en sacar un poco las piernas, este ejercicio, movimiento, y truco, es horizontal Los músculos a trabajar son los siguientes: los músculos de hombros y los del pecho estos son. Deltoides posteriores, y los pectoral mayor y menor, lo del brazo, cabeza del tríceps, flexores de muñecas y dedo, pronador redondo, pronador cuadrado Los músculos del core: recto del abdomen y oblicuos externos, estos son algunos de los músculos que se trabaja con el front lever tuck el front lever tuck es unos de los ejercicios base para comenzar a tener front lever y sus progresiones. Para más información sobre el front lever tuck

https://workout-temple.com/es/calisthenics-exercises-list/tuck-front-lever/

The front lever tuck will help you get used to the front because it is an exercise where you have to have pull-up strength, there are a few types of front lever tuck. There's the beginner front lever which is trying to pull your legs into your chest. There's the forward front lever which is about pulling your legs out a little bit, this exercise, movement, and trick, is horizontal. The muscles to work are the following: the shoulder muscles and the chest muscles these are. Posterior deltoids, and the pectoralis major and minor, the arm, triceps head, wrist and finger flexors, pronator teres, pronator quadratus. The core muscles: rectus abdominis and external obliques, these are some of the muscles that are worked with the front lever tuck the front lever tuck is one of the basic exercises to start having front lever and its progressions. For more information on the front lever tuck

https://workout-temple.com/es/calisthenics-exercises-list/tuck-front-lever/

.
---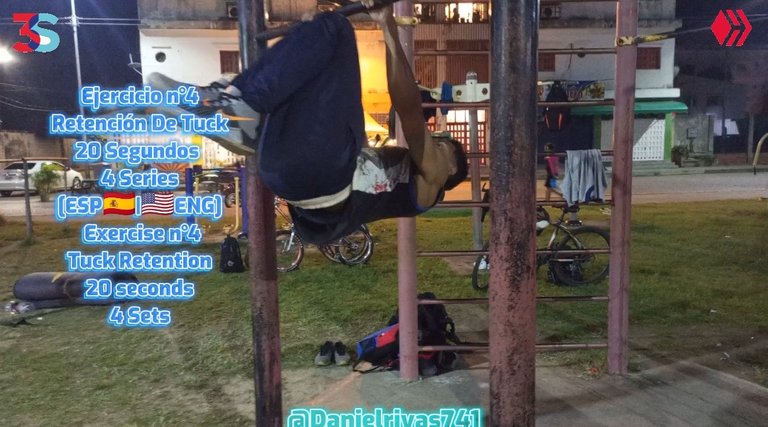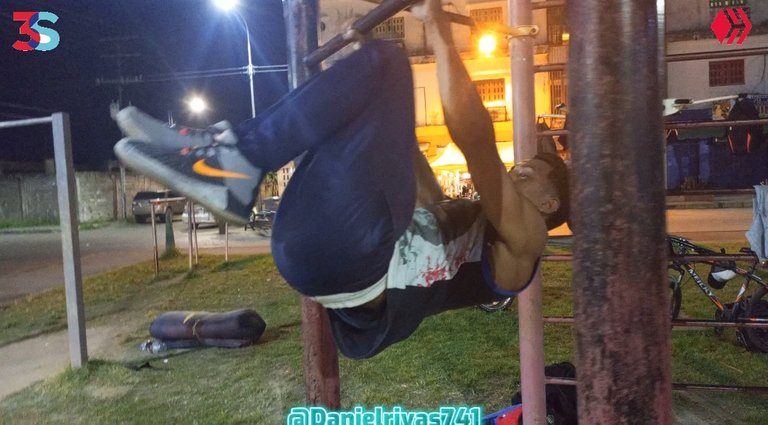 ---
''Gracias por ver mi contenido, espero les sirva de mucho y recuerden, no hay ganancia si no hay esfuerzo, con mucho cariño para ustedes amigos de Hive espero que les guste , nos vemos en una próxima entrega''

''Thank you for watching my content, I hope you find it useful and remember, there is no gain if there is no effort, with much affection for you friends of Hive I hope you like it, see you in a next installment''
---
---
| Daniel Rivas - Creando Contenido de Calidad | Daniel Rivas - Creating Quality Content |
| --- | --- |
| Gracias por leer mi publicación | Thanks for reading my post |
| --- | --- |
| Gracias por ver mi video | Thank you for watching my video |
| --- | --- |
| ¿Quieres saber más de mí? | ¿Want to know more about me? |
| --- | --- |
✳ ∙∙·▫▫ᵒᴼᵒ▫ₒₒ▫ Daniel Rivas ▫ₒₒ▫ᵒᴼᵒ▫▫·∙∙✳
Sport is the best way to live life
Social Media
@danielrivas741 - Creador de Contenido Original
---
---
---
---
▶️ 3Speak
---
---