Análisis y resumen de la Ligue 1 - Nantes vs PSG. / Ligue 1 review and summary - Nantes vs PSG. [ESP-ENG]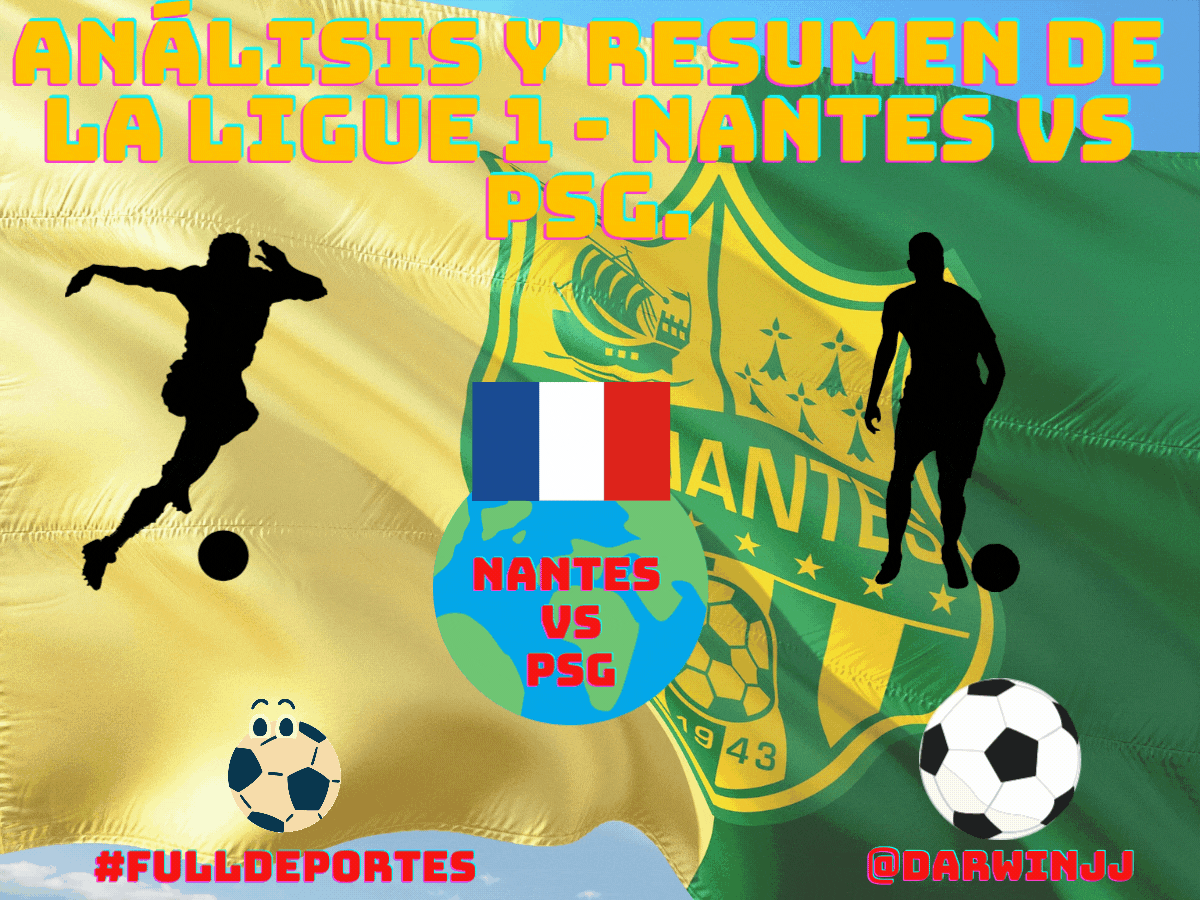 Las imágenes, los diseños y las letras han sido creados en Canva / Images, designs and lettering were created in Canva. Link/Canva. Imagen de fondo/ Background image --> Pixabay: Nantes

---
Hola amigos bienvenidos. / Hello friends welcome.
---
---
---
El día sábado 19-02 se jugó un partido interesante entre el Nantes y el PSG, este último venía de ganarle al Real Madrid, al observar la alineación inicial del partido podemos ver que iba con la disponibilidad de la mayoría sus figuras principales, aunque algunos entraron en el segundo tiempo, para nadie es un secreto la calidad de jugadores estrellas que tiene este magnífico club, pero el resultado final del partido sería algo no esperado para los seguidores del fútbol.
On Saturday 19-02 an interesting match was played between Nantes and PSG, the latter had just beaten Real Madrid, looking at the starting line-up of the match we can see that they had most of their main players available, plus those who entered in the second half, it is no secret the amount of players that this magnificent club has, but the final result of the match would be something not expected for football followers.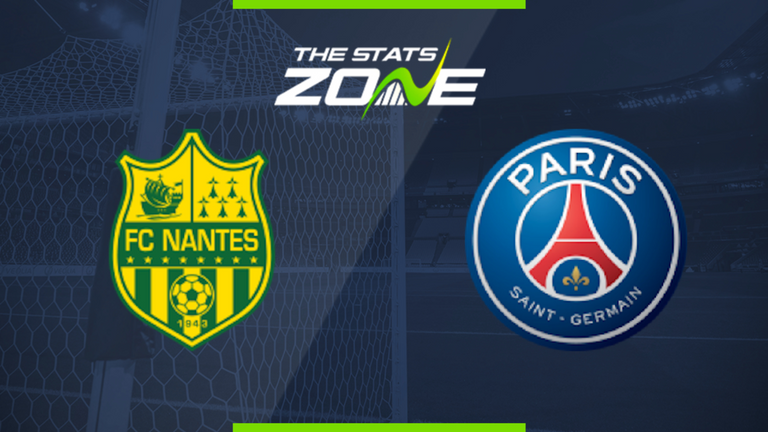 Fuente/Source: Thestatszone
---
Como mencioné anteriormente el líder de la Ligue 1 llevo a la mayoría de sus principales jugadores titulares a excepción de los lesionados, algunos de los habituales vieron acción en la primera mitad y otros en el segundo tiempo, pero los arriba eran los 3 grandes de París, como lo son Neymar, Messi y Mbappe, también vimos a Keylor de titular, además de Kehrer y Wijnaldum desde el principio.
As I mentioned before the Ligue 1 leaders brought most of their main players except for the injured, some of the regulars saw action in the first half and others in the second half, but the top three were the big 3 from Paris, such as Neymar, Messi and Mbappe, we also saw Keylor starting, plus Kehrer and Wilandum from the start.
---
De lo que no cabe duda es que fue un Partido atípico y donde las cosas no salieron bien para el PSG, pero desde mi punto de vista destaco algunas jugadas o elementos del Nantes y el nivel de efectiva que presentó el Club Nantes de cara al arco, que fue quien salió victorioso. A continuación veamos un breve resumen del partido y los factores que destacaron para que el marcador final favoreciera al Nantes.
There is no doubt that it was an atypical match where things did not go well for PSG, but from my point of view I would like to highlight some of Nantes' moves or elements and the level of effectiveness that Club Nantes presented in front of goal, which was who came out on top. Here is a brief summary of the match and the factors that made the final score favour Nantes.
---

---
Primer tiempo. / First half.
Los goles de Nantes llegaron todo en el primer tiempo, el primero en el minuto 4, después de una gran ataque a toda velocidad de Moses Simon donde dio la asistencia para que anotara Kolo, más tarde Messi pateó al arco, pero el arquero la atajo, en el minuto 16, el gol llegó después una jugada de conjunto donde el balón llegó a los pies de Merlín y desde la parte interna del borde del área saco un gran disparo, más tarde el tercer gol llegó por medio de un penal, luego de una mano de Wijnaldum, el encargado de patear fue Blas, de esta formaba el Nantes ganaba 3 a 0.
The Nantes goals all came in the first half, the first in the 4th minute, after a great full speed attack by Moses Simon where he gave the assist for Kolo to score, then Messi's shot on goal, but the goalkeeper saved it, in the 16th minute, The goal came after a play of several touches, where the ball arrived at the feet of Merlin and from inside the box he took a great shot, then the third goal came through a penalty, after a handball by Wilnaldum, the kicker was Blas, in this way Nantes won 3-0.
---
---
Segundo tiempo. / Second half.
El segundo tiempo inicio con un gol de Neymar (47m), esto después de un gran pase de Messi, unos minutos más tarde Mbappe casi marca, pero el arquero del Nantes la saco, en el minuto 47 el PSG ganó un penal, debido a una falta dentro de área a Mbappe, pero Neymar cobro de una manera muy sutil y el arquero logro atraparla, en el transcurso del partido ambos presentaron oportunidades, pero no hubo más goles, una de esas jugadas fue el disparo de Mbappe en el minuto 72, pero se fue por encima del travesaño.
The second half started with a goal by Neymar (47m), this after a great pass from Messi, a few minutes later Mbappe almost scored, but the Nantes goalkeeper saved it, in the 47th minute PSG won a penalty, due to a foul inside the area to Mbappe, In the course of the match both had chances, but there were no more goals, one of those was Mbappe's shot in the 72nd minute, but it went over the crossbar.
Resulatdo Final. / Final result.
---
---
Estadisticas Finales. / Final Statistics.
---

---
---
Ambos clubes realizaron un partido atractivo debido a las oportunidades que ambos generaron, pero una de las claves fue la increíble actuación del portero Lafont, también me pareció que Moses Simon fue uno de esos jugadores importantes, es un jugador explosivo y veloz, aunque la victoria se debe al nivel de acierto y el trabajo de conjunto. Por otro lado, la posesión de balón del PSG no fue suficiente para ganar el partido, en el segundo tiempo jugaron Di María, Hakimi e Icardi, pero no pudieron dar la vuelta al partido.
Both clubs played an attractive game due to the chances they both generated, but one of the keys was the incredible performance of goalkeeper Lafont, I also thought Moses Simon was one of those important players, he is an explosive and quick player, although the win was down to the level of finishing and teamwork. On the other hand, PSG's ball possession was not enough to win the game, in the second half they played Di Maria, Hakimi and Icardi, but it was not enough to turn the game around.
---
Ahora el PSG marcha primero con 59 puntos y el Nantes está muy cerca de puestos Europeos con 38 puntos en el 6.º puesto, este partido deja mucho de que hablar en vista del próximo partido de Champions League, ya que parece que hablamos de 2 clubes diferentes el primero que le ganó al Real Madrid y otro que perdió con el Nantes.
Now PSG are in first place with 59 points and Nantes are very close to the European places with 38 points in 6th place, this match leaves a lot to talk about in view of the next Champions League match, as it seems that we are talking about 2 different clubs, the first one beating Real Madrid and the other one losing to Nantes.
Tabla de la Liga de Francia. / French League table.
---
---
De esta manera me despido, espero cumplir con las expectativas y ser del agrado de quienes leen esta publicación.
In this way I say goodbye, I hope to meet the expectations and be to the liking of those who read this publication.

---
---
Written in Spanish and translated with www.DeepL.com/Translator (free version)
Las imágenes, los diseños y las letras han sido creados en Canva / Images, designs and lettering were created in Canva. Link/Canva. Imagen de fondo/ Background image --> Pixabay: Nantes

---
---