Analizando y opinando de la actualidad de Mineros de Guayana y la Vinotinto. / Analysis and opinion on the current situation of Mineros de Guayana and the Vinotinto.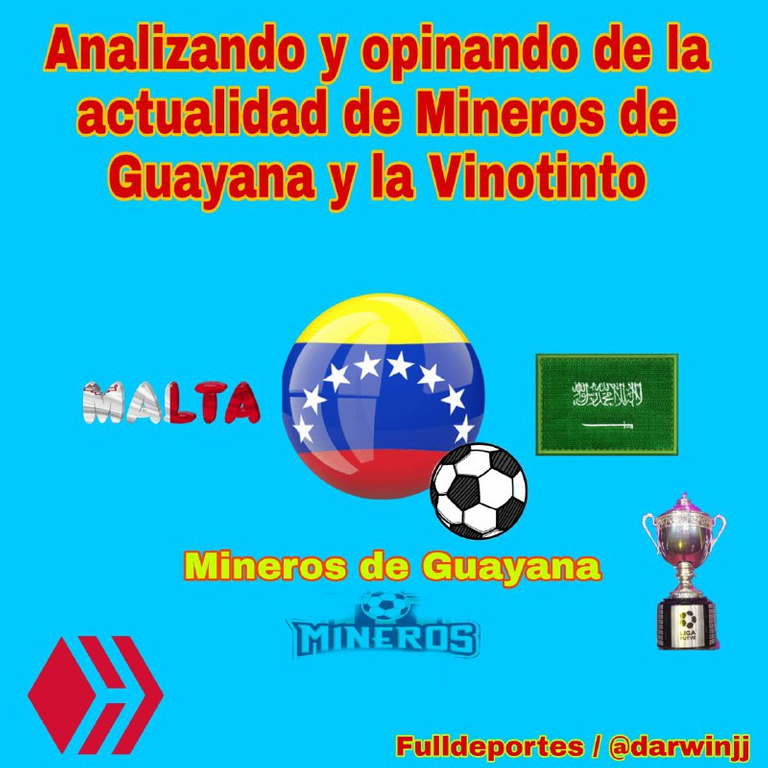 Las imágenes, los diseños y las letras han sido creados en Picsart / Images, designs and lettering were created in Picsart. - Los logos de clubes son Stickers Picsart / Club logos are Picsart Stickers.

---
Hola amigos bienvenidos. / Hello friends welcome.
---
En esta oportunidad continuaré analizando la actualidad de Mineros de Guayana, anteriormente ya había realizado un análisis donde mencionaba las fortalezas y debilidades, pero actualmente no hemos visto una mejoría a la hora de obtener los resultados, además de esto haremos un análisis y daré mi opinión de la selección Venezolana de Futbol.
In this opportunity I will continue analyzing the current situation of Mineros de Guayana, previously I had already made an analysis where I mentioned the strengths and weaknesses, but currently we have not seen an improvement when it comes to obtaining results, in addition to this we will make an analysis and I will give my opinion of the Venezuelan Soccer team.
---
Analizando la Temporada actual de Mineros de Guayana. / Analyzing Mineros de Guayana's current Season.
---
Ya casi estamos cerca de finalizar la primera ronda de partidos del Futve y se aproxima la segunda vuelta, hasta lo que va de temporada, Mineros de Guayana tiene 4 victorias, 2 empates y 8 derrotas; con 14 puntos en la posición número 15, de los cuales 2 victorias han sido de visitantes contra Portuguesa y la Universidad Central; de local las victorias fueron frente a Deportivo Lara y Puerto Cabello, mientras que ha empatado 2 veces, la primera de visitante y la segunda vez de local.
We are almost near the end of the first round of Futve matches and the second round is approaching, so far this season, Mineros de Guayana has 4 wins, 2 ties and 8 defeats; with 14 points in position number 15, of which 2 wins have been away against Portuguesa and Universidad Central; home wins were against Deportivo Lara and Puerto Cabello, while it has tied 2 times, the first time away and the second time home.
---
Analizando el ultimo partido ante Estudiantes de Mérida de vístante. / Analyzing the last game against Estudiantes de Mérida .
---


Fuente/Source: Todoporelfutbol. Captura editada en Gimp / Capture edited in Gimp.
Ahora, haciendo un análisis general, creo que hace falta fortalecer todas las líneas o hacer respectivas correcciones en las diferentes líneas, defensivas, medio-campo y ataque, ya que momentáneamente o circunstancialmente no vemos automatismo o juego fluido, a pesar de que hay buenos jugadores en cada una de las líneas, en el último partido Mineros de Guayana enfrento a Estudiantes de Mérida de visitante, donde salió derrotado 2 a 0, a pesar de la derrota vimos que el club Negriazul llego varias veces, presento varias jugadas peligrosas, pero no pudo marcar, por otro lado, Mérida si aprovecho sus oportunidades.
Now, making a general analysis, I believe that it is necessary to strengthen all the lines or make the respective corrections in the different lines, defensive, midfield and attack, since momentarily or circumstantially we do not see automatism or fluid play, despite the fact that there are good players in each of the lines, In the last game Mineros de Guayana faced Estudiantes de Mérida as visitors, where they were defeated 2 to 0, in spite of the defeat we saw that the Negriazul club arrived several times, presented several dangerous plays, but could not score, on the other hand, Mérida took advantage of their opportunities.
---
Sinceramente creo que no fue un mal partido, el portero realizo buenas intervenciones Graterol, además de eso Mineros recibió varias tarjetas amarillas en los primeros de minutos del primer tiempo y fallo un penal, más allá de todo eso, en el partido Mérida se aprovechó de las debilidades defensivas, ya que en algunas de las llegadas o goles se ve que Mineros de Guayana en la defensa llego a desordenarse o presentar mal posicionamiento, además de no cubrir tantos espacios para evitar las llegadas y la libertad del rival. Por ahora solo queda ver como cierra la temporada a tan solo un partido, el cual se jugara en casa ante el Madeira, donde sería bueno ver una mejoría para así no seguir hundiéndose en el fondo de la tabla.
I sincerely believe that it was not a bad game, the goalkeeper made good interventions Graterol, besides that Mineros received several yellow cards in the first minutes of the first half and missed a penalty, beyond all that, in the game Merida took advantage of the defensive weaknesses, since in some of the arrivals or goals it is seen that Mineros de Guayana in defense became disordered or presented bad positioning, besides not covering so many spaces to avoid the arrivals and the freedom of the rival. For now it only remains to see how the season closes with only one game left, which will be played at home against Madeira, where it would be good to see an improvement so as not to continue sinking to the bottom of the table.

---
La realidad de la Vinotinto y su próximos partidos. The reality of the Vinotinto and its upcoming games.
---
Para nadie es un secreto que la Vinotinto comienza un nuevo proceso con Pekerman, lo cual ha causado mucha expectativa, al ser un técnico con recorrido y experiencia, actualmente se han pactado un amistoso contra Malta que se jugara hoy, además de Arabia Saudita, también existieron rumores de otro amistoso ante un gigante Europeo, pero hasta ahora nada está confirmado, lo que si queda claro es de la importancia de estos partidos para la selección, ya que en los últimos tiempos se llegaron a perder oportunidades de reunir al grupo en fechas FIFA, es vital siempre mantener a estos grupos, por el hecho de que cada vez que una selección obtiene el roce y la preparación se ve el aumento de nivel y compenetración de equipo.
It is no secret that the Vinotinto begins a new process with Pekerman, which has caused much expectation, being a coach with experience and experience, currently have agreed a friendly against Malta to be played today, in addition to Saudi Arabia, there were also rumors of another friendly against a European giant, but so far nothing is confirmed, What is clear is the importance of these matches for the national team, since in recent times opportunities to gather the group on FIFA dates have been lost, it is always vital to maintain these groups, because every time a team gets the rubbing and preparation, the level and team understanding increases.
---
Esto ya lo hemos visto cada vez que la Vinotinto llego a tener roce o jugar contra selección de más nivel, se llegó a ver una leve mejoría en el nivel, pero la ausencia de partidos o jugar contra una selección de bajo nivel, les afecta, ya que no hay un crecimiento o aumento de nivel, por muy sencillo que parezca es necesario tener estos partidos. Otra realidad es que Malta no es una selección con grandes jugadores, pero que viene de otra confederación y es bueno jugar contra selecciones que tenga otro estilo o juego desconocido, así que no lo veo mal del todo.
We have already seen this every time that the Vinotinto got to have some exposure or play against higher level national teams, a slight improvement in the level was seen, but the absence of matches or playing against a low level national team, affects them, since there is no growth or increase in level, no matter how simple it may seem, it is necessary to have these matches. Another reality is that Malta is not a team with great players, but it comes from another confederation and it is good to play against teams that have another style or unknown game, so I do not see it bad at all.
---
Analizando y comparando rivales. / Analyzing and comparing rivals.
Realice un análisis a las plantillas de Malta y Arabia Saudita, en las cuales se puede ver que no hay muchos jugadores en grandes clubes y el valor de los jugadores es inferior al de los Venezolanos, según, Transfermarkt el valor de la plantilla de Malta es de 8.68 Millones, la de Arabia Saudita es de 28.8 Millones, además de eso estas selecciones tienen la mayoría de sus jugadores en el torneo local, en el caso de Arabia Saudita, Transfermarkt indica que todos juegan en la liga de su país y por el lado de Malta solo 5 juega en el extranjero.
I made an analysis of the squads of Malta and Saudi Arabia, in which you can see that there are not many players in big clubs and the value of the players is lower than that of the Venezuelans, according to Transfermarkt the value of Malta's squad is 8.68 million, that of Saudi Arabia is 28.8 million, besides that these teams have most of their players in the local tournament, in the case of Saudi Arabia, Transfermarkt indicates that all play in the league of their country and on the side of Malta only 5 play abroad.
Malta.
---


Malta. Fuente/Source: Transfermarkt. Captura editada en Gimp / Capture edited in Gimp.
---
Arabia Saudita.
---


Arabia Saudita. Fuente/Source: Transfermarkt. Captura editada en Gimp / Capture edited in Gimp.
---
Mientras que Venezuela tiene una plantilla con el valor de 62.15 Millones y casi la totalidad de los convocados juegan en el futbol del exterior, aunque esto parezca que es un rival superior, debemos ser realistas y saber que un equipo o selección depende del juego grupal y una gran conexión en los jugadores, para lograr eso se necesita trabajo, por eso en ocasiones vemos en las diferentes confederaciones como selección que con jugadores de menos nivel o categoría logran llevar a sus selecciones a grandes cosas, esperemos que Pekerman pueda lograr eso.
While Venezuela has a squad with a value of 62.15 million and almost all of those called up play in foreign soccer, although this seems to be a superior opponent, we must be realistic and know that a team or selection depends on group play and a great connection in the players, to achieve this work is needed, so sometimes we see in the different confederations as a selection that with players of less level or category manage to take their selections to great things, hopefully Pekerman can achieve that.
Venezuela.
---


Venezuela. Fuente/Source: Transfermarkt. Captura editada en Gimp / Capture edited in Gimp.
---

Elementos o factores que pueden ser positivos en la seleccion. / Elements or factors that can be positive in the selection process
---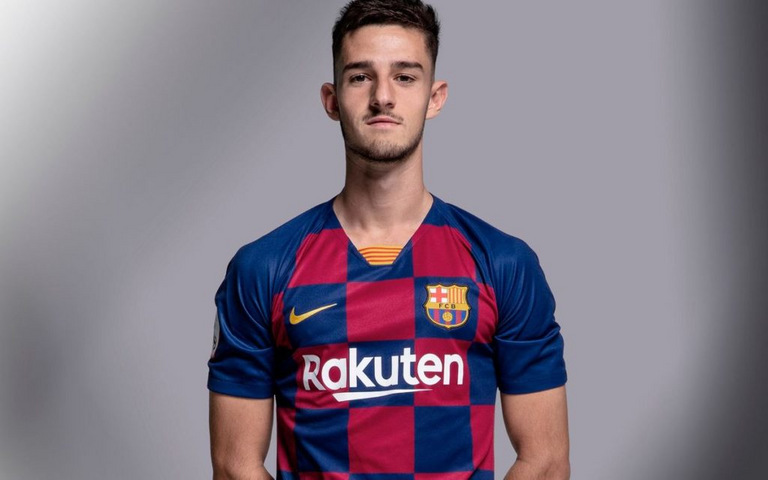 Alejandro Marques. Fuente/Source: vpitv
Algo positivo es que ya es una realidad y hay un verdadero acercamiento a jugadores Venezolanos con doble nacionalidad o que se formaron en otro futbol desde sus inicios, esto es positivo porque podemos ver el aporte de grandes piezas con potencial y experiencia, tal es el caso de Alejandro Marqués, a pesar de que actualmente juega en la segunda división, el talento, experiencia, juventud y buen juego aun está presente en el jugador, lo mejor seria que todo eso se trasladara a la selección.
Something positive is that it is already a reality and there is a real approach to Venezuelan players with dual nationality or who were formed in another soccer since its inception, this is positive because we can see the contribution of great pieces with potential and experience, such is the case of Alejandro Marques, although currently playing in the second division, the talent, experience, youth and good game is still present in the player, it would be best if all that is transferred to the selection.
---
Además de esto hay otros jugadores que están regresando como Peñaranda, que es un buen jugador, pero ha disminuido su nivel y rendimiento por diversos motivos, en conjunto con las lesiones que le han afectado en su carrera; con esto también podemos resaltar a las categorías menores donde hay buenos jugadores y esperamos que logren seguir escalando en élite del futbol y no repetir el caso de los sub-campeones Venezolanos, al final el tiempo dirá que si todo este nuevo proyecto dará resultados y poder ver a Venezuela en su primer mundial.
In addition to this there are other players who are returning as Peñaranda, who is a good player, but has decreased his level and performance for various reasons, along with injuries that have affected him in his career; with this we can also highlight the minor categories where there are good players and we hope they manage to continue climbing in elite soccer and not repeat the case of the Venezuelan sub-champions, in the end time will tell if all this new project will give results and be able to see Venezuela in its first World Cup.
---

---
De esta manera me despido, espero cumplir con las expectativas y ser del agrado de quienes leen esta publicación.
In this way I say goodbye, I hope to meet the expectations and be to the liking of those who read this publication.
---
---
Written in Spanish and translated with www.DeepL.com/Translator (free version)
Imagen principal / Main image: Las imágenes, los diseños y las letras han sido creados en Picsart / Images, designs and lettering were created in Picsart. - Los logos de clubes son Stickers Picsart / Club logos are Picsart Stickers.

---
---