El Futve continua dinámico y la actual visión de la Liga. / The Futve continues to be dynamic and the current view of the league.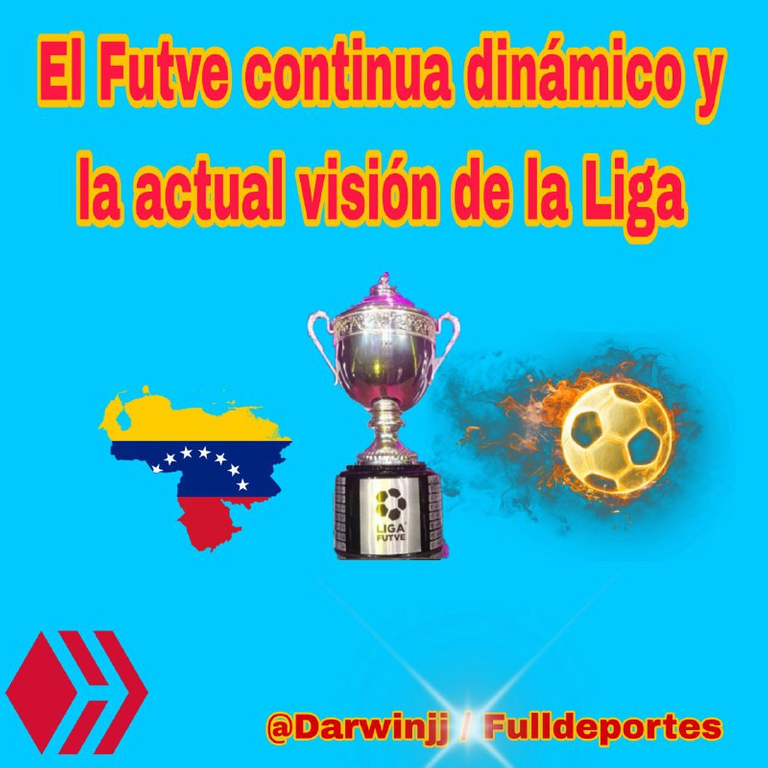 Las imágenes, los diseños y las letras han sido creados en Picsart / Images, designs and lettering were created in Picsart.

---
Hola amigos bienvenidos. / Hello friends welcome.
---
En esta ocasión les hablaré nuevamente del Futve, principalmente de la actualidad de la última jornada, además de la visión y perspectiva positivas de la liga.
On this occasion I will talk to you again about Futve, mainly about the current events of the last day, as well as the positive vision and perspective of the league.
---
El fútbol nacional Venezolano en las últimas semanas nos ha mantenido atentos y entretenidos, siempre hay opciones de este lado del mundo, a pesar de la ausencia por pretemporada de las grandes ligas de Europa, el día de ayer 29 de julio no fue la excepción, por el hecho de que se jugó el clásico de Venezuela (Táchira vs Caracas), más allá de la rivalidad entre estos dos, había otro factor que podía impulsar a obtener buenos resultados y es tratar de ubicarse entre los primeros 4 puestos, en busca del pase a la Copa Libertadores.
Venezuelan national soccer in recent weeks has kept us attentive and entertained, there are always options on this side of the world, despite the absence of the big leagues in Europe due to preseason, yesterday July 29 was no exception, due to the fact that the Venezuelan classic (Táchira vs Caracas) was played, beyond the rivalry between these two, there was another factor that could push them to seek good results and that is to try to place among the first 4 positions, in search of a pass to the Copa Libertadores.
---
En la parte alta el Zamora marchaba como líder y en el segundo puesto se encontraba el Monagas, pero los 2 grandes de Venezuela siempre tienen objetivos altos, aun asi quien va mejor es el Táchira que está en el cuarto puesto, mientras que Metropolitanos iba de tercero, pero luego del partido entre Zamora y Metropolitanos, este último ha ganado, por lo tanto, se han alterado los puestos, el primer lugar es de Metropolitano, luego le siguen Zamora y Monagas.
At the top, Zamora was the leader and Monagas was in second place, but the 2 big Venezuelan teams always have high goals, but for now only Táchira is in fourth place, while Metropolitanos was in third place, but after the match between Zamora and Metropolitanos, the latter won, therefore, the positions have been altered, the first place is Metropolitano, then Zamora and Monagas follow.

Fuente / Source: Google. Edited in Gimp.
---

El clásico de la liga Futve / The Futve league classic.
---

Fuente / Source: Google
Volviendo al tema, después del empate de ayer el Caracas no pudo acortar distancias y marcha quinto en la tabla, ubicándose 4 puntos por debajo del Deportivo Táchira, el partido de ayer se presentó bajo un marco aceptable de aficionados, pero desde mi punto de vista, esperaba una mayor asistencia; en el partido se pueden destacar varias cosas, pero desde mi perspectiva me quedo con la actuación de Edson Tortolero y la defensa del panameño Ariano; creo que el Táchira estuvo más cerca de ganar el partido, este resultado me parece positivo para el Caracas FC de visitante.
Now back to the main topic, after yesterday's draw Caracas could not close the gap and is fifth in the table, 4 points behind Deportivo Táchira, yesterday's game was presented under an acceptable framework of fans, but from my point of view, I expected a higher attendance; in the match several things can be highlighted, but from my perspective I would like to highlight the performance of Edson Tortolero and the defense of the Panamanian Ariano; I believe that Táchira was closer to winning the match, but the result seems to me positive for Caracas FC as a visitor.
---

Zulia y Mineros buscan un puesto en la siguiente fase. / Zulia and Mineros are looking for a place in the next phase.
---
Por otro lado, la lucha en la parte intermedia y baja se mantiene, en este caso el Zulia y Mineros empataron 1 a 1, en un escenario que no considero el más apropiado, además del terreno inestable por las lluvias, aun así Mineros presentó muchas oportunidades y casi saca la victoria en el final del segundo tiempo. Por ahora Zulia si está consiguiendo el objetivo ubicado en el puesto 11, mientras que Mineros está en la posición 13, pero a falta de 8 jornadas todo es posible.
On the other hand, the fight in the middle and lower part is still going on, in this case Zulia and Mineros tied 1-1, in a scenario that I do not consider the most appropriate, besides the unstable terrain due to the rains, even so Mineros presented many opportunities and almost got the victory at the end of the second half. For now Zulia is achieving its goal and is in 11th place, while Mineros is in 13th place, but with 8 rounds left, anything is possible.

Fuente / Source: Google. Edited in Gimp.
---

Mi perspectiva de la Liga. / My perspective of the League.
---
Independiente de los problemas y las dificultades existentes en el Futve, hay varios factores positivos que en el último año ha estado presente, como lo son los talentos que en cada temporada salen al exterior, algunos con experiencia en las inferiores de la selección, es decir son parte de un proceso formativo, tal como los jóvenes que jugaron el torneo Esperanzas de Toulon, competición que actualmente tiene otro nombre. Con esto hago referencia a que el Fútbol nacional tiene que aportar a Venezuela y otras latitudes.
Regardless of the problems and difficulties in the Futve, there are several positive factors that in the last year have been present, such as the talents that in each season go abroad, some with experience in the lower levels of the national team, that is, they are part of a formative process, such as the young players who played in the tournament Esperanzas de Toulon, a competition that currently has another name. With this I make reference to the fact that national soccer has to contribute to Venezuela and other latitudes.
---
Las personas deben de conscientes del nivel de los clubes, aunque en muchas otras ligas de Sudamérica tienen un nivel aceptable, la liga Venezolana en ocasiones logra destellos superando a otros clubes de Conmebol, obviamente hay mucho que corregir para mejorar, pero ya las bases están construidas, solo hay que progresar, en cuanto a metodología de trabajo, para obtener resultados y seguir exportando talentos a las diferentes ligas del mundo.
People should be aware of the level of the clubs, although in many other leagues in South America they have an acceptable level, the Venezuelan league sometimes achieves flashes surpassing other Conmebol clubs, obviously there is much to correct to improve, but the bases are already built, we just have to progress, in terms of work methodology, to obtain results and continue exporting talents to different leagues in the world.
---

Visión de la Liga Futve a corto y largo plazo. / Vision of Liga Futve in the short and long term.
Estos últimos párrafos son parte de mis críticas constructivas, basándome en las problemáticas del Fútbol en Venezuela, quizás podemos ver a nuestra liga como una liga formativa y exportadora, pero también sigue siendo una opción para jugadores experimentados que quieren recuperar el nivel, tanto nacionales como extranjeros que desean dar nuevamente el saltó, tal como hemos visto a jugadores de la selección de Panamá, África y de otras partes, los cuales han impulsado su carrera o mantenido el ritmo futbolístico.
These last paragraphs are part of my constructive criticism, based on the problems of Soccer in Venezuela, perhaps we can see our league as a training and exporting league, but also remains an option for experienced players who want to recover the level, both national and foreigners who want to make the leap again, as we have seen happen to players of the national team of Panama, Africa and elsewhere, which have boosted his career or maintained the pace of soccer.
A corto plazo puede esto último que mencione puede ser la visión del Futve, pero a largo plazo el objetivo es el mismo que en cualquier liga del mundo, seguir creciendo, formando talentos y aumentando el nivel para conseguir buenos resultados a nivel internacional.
In the short term this may be the vision of Futve, but in the long term the objective is the same as in any league in the world, to continue growing, training talents and increasing the level to achieve good results at international level.
---

---
De esta manera me despido, espero cumplir con las expectativas y ser del agrado de quienes leen esta publicación.
In this way I say goodbye, I hope to meet the expectations and be to the liking of those who read this publication.
---
---
Written in Spanish and translated with www.DeepL.com/Translator (free version)
Imagen principal / Main image: Las imágenes, los diseños y las letras han sido creados en Picsart / Images, designs and lettering were created in Picsart.

---
---