Mineros de Guayana y la siguiente vuelta del Futve. / Mineros de Guayana and the next round of the Futve.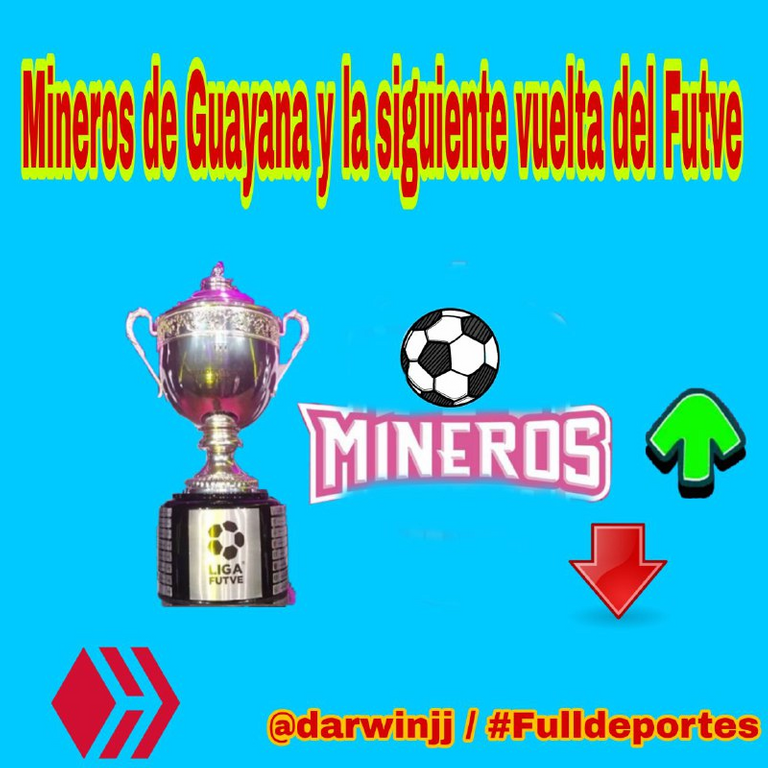 Las imágenes, los diseños y las letras han sido creados en Picsart / Images, designs and lettering were created in Picsart.

---
Hola amigos bienvenidos. / Hello friends welcome.
---
En esta oportunidad tengo el gusto de hablar nuevamente de Mineros de Guayana y la segunda ronda de partidos de la primera división de Venezuela, donde actualmente el club marcha en posición 12 de la tabla, de mantener esa posición entraría en la siguiente fase que otorga clasificación a torneos internacionales.
In this opportunity I am pleased to talk again about Mineros de Guayana and the second round of matches in the first division of Venezuela, where the club is currently in 12th position in the table, if it maintains that position it would enter the next phase that grants qualification to international tournaments.
---

El partido ante Estudiantes y los próximos partidos. / The match against Estudiantes and the upcoming matches.
Recientemente Mineros de Guayana jugó en casa y empato 1-1, ante Estudiantes de Mérida, partido en el cual surgieron 2 goles a larga distancia y de mucha calidad, de ambos lados el partido presentó momentos interesantes y Estudiantes también sobresalió en los minutos claves, pero destacando los elementos o puntos interesantes del negriazul, vimos que hubo un mejor rendimiento, también una distribución de responsabilidad con el balón, se vio más unificado y compacto.
Recently Mineros de Guayana played at home and tied 1-1, against Estudiantes de Mérida, a match in which 2 long distance goals of great quality were scored, on both sides the match presented interesting moments and Estudiantes also excelled in key minutes, but highlighting the interesting elements or points of the "negriazul", we saw that there was a better performance, also a distribution of responsibility with the ball, it looked more unified and compact.
---
Pero aun así hay mucho que mejorar y se viene una seguidilla de partidos difíciles que afrontar, el primero de ellos ante el Caracas FC, el cual fue suspendido, posteriormente Táchira y el Deportivo la Guaira; es decir, Mineros de Guayana debe tratar de obtener la máxima cantidad de puntos posibles, de lo contrario pone en riesgo la clasificación a la siguiente fase e ir en ascenso, ya que la liga consta de 16 equipo y al menos debe tratar de mantenerse por encima del puesto 12.
But even so, there is still much to improve and there is a series of difficult matches to face, the first one against Caracas FC, which was suspended, then Táchira and Deportivo La Guaira; that is, Mineros de Guayana must try to obtain as many points as possible, otherwise it risks qualifying to the next phase and going up, since the league consists of 16 teams and at least it must try to stay above 12th place.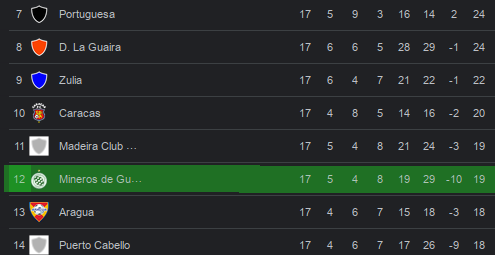 Fuente/Source: Google . Editado en Gimp / Edited in Gimp
---

Los refuerzos más recientes para la plantilla. / The most recent reinforcements for the squad.
Desde hace días se hizo el anuncio de la salida de algunos jugadores, pero también se han integrado varias piezas importantes a la plantilla, esto en busca de reforzar algunas líneas, además de mejorar su rendimiento y juego; pero también hay otros clubes que están teniendo grandes fichajes, entre ellos el Caracas FC, que adquirió a Juanpi añor, pero volviendo a hablar del negriazul, vamos a analizar sus más recientes fichajes.
Since days ago the announcement of the departure of some players was made, but also several important pieces have been integrated to the squad, this in search of reinforcing some lines, besides improving their performance and game; but there are also other clubs that are having great signings, among them Caracas FC, which acquired Juanpi añor, but going back to talk about the negriazul, let's analyze their most recent signings.
---
Yaimil medina.
---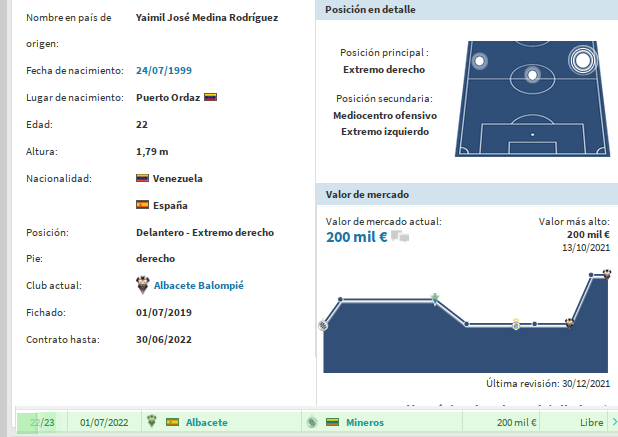 Fuente/Source: transfermarkt. Editado en Gimp / Edited in Gimp
Aunque no hay mucha información o presentación oficial, pero ya es un realidad que algunos están en la ciudad entrenando y transfermarket ya confirma el fichaje, en el primer caso tenemos la integración de Yaimil Medina, jugador que salió de Mineros al futbol Español, ahora veremos su regreso, este jugador puede crear jugadas de mucho peligro, es rápido y sabe dar el último pase o centro al área, además de ser extremo, también puede tener peso similar al de un 9 en el área, sin duda es un jugador que puede llegar a ser clave.
Although there is not much information or official presentation, but it is already a reality that some are in the city training and transfermarket already confirms the signing, in the first case we have the integration of Yaimil Medina, player who left Mineros to Spanish soccer, now we will see his return, this player can create plays of great danger, he is fast and knows how to give the last pass or cross to the area, besides being a winger, he can also have weight similar to a 9 in the area, no doubt he is a player who can become a key player.
---
Sergio Villarreal and Kuki Martins.
---


Fuente/Source: transfermarkt. Editado en Gimp / Edited in Gimp.
Otro jugador que se integra es el extranjero Sergio Villarreal, el cual puede aportar en el medio campo, además de eso tiene experiencia en las inferiores de la selección de Colombia; proveniente de Real Estelí FC de Nicaragua, en esa misma linea es posible ver al Kuki Martins, este último no aparece como traspaso, pero también se encuentra entrenando y la directiva ha mencionado que es una realidad contar con este jugador, su última experiencia en Estudiantes no fue la mejor, pero es un experimentado jugador con pasado en equipos de Portugal y en las inferiores de la selección de Portugal.
Another player that is integrated is the foreigner Sergio Villarreal, who can contribute in the midfield, besides that he has experience in the lower national team of Colombia; coming from Real Esteli FC of Nicaragua, in the same line it is possible to see Kuki Martins, the latter does not appear as a transfer, but he is also training and the board has mentioned that it is a reality to have this player, his last experience in Estudiantes was not the best, but he is an experienced player with past experience in teams in Portugal and in the lower national team of Portugal.
---
De esta forma Mineros de Guayana busca mejorar en esta vuelta de la liga Futve, en las próximas semanas veremos la relevancia de estas piezas, el siguiente partido será de visitante ante el deportivo Táchira, de esa forma podremos medir el nivel y como han encajado estos jugadores en el equipo Guayanés.
In this way Mineros de Guayana seeks to improve in this round of the Futve league, in the coming weeks we will see the relevance of these pieces, the next game will be away against Deportivo Tachira, that way we can measure the level and how these players have fit in the Guayana team.
---

---
De esta manera me despido, espero cumplir con las expectativas y ser del agrado de quienes leen esta publicación.
In this way I say goodbye, I hope to meet the expectations and be to the liking of those who read this publication.
---
---
Written in Spanish and translated with www.DeepL.com/Translator (free version)
Imagen principal / Main image: Las imágenes, los diseños y las letras han sido creados en Picsart / Images, designs and lettering were created in Picsart.

---
---