Trying a new variation of Bs boardslide with shoveit out 🛹[Esp/Eng]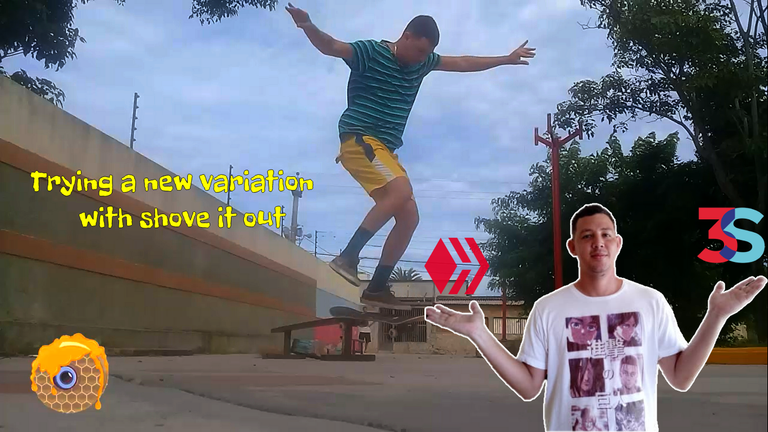 ---
🛹Hello Hive Community🛹
🛹Hola, Comunidad de Hive🛹
Today I was skating and doing some boardslide to warm up, and my friend Ramon wanted to try boardslide shove it out. I master this trick well and I was able to do it several times, but it occurred to me to do it for the other side.
Hoy estaba patinando y haciendo algunos boardslide para calentar, y mi amigo ramón quería intentar boardslide shove it out. Este truco lo domino bien y pude hacerlo varias veces, pero se me ocurrió hacerlo para el otro lado.
And while Ramon was trying that new trick I was also learning one, boardslide shove it is easy once you get the hang of it so I thought the same about this trick. You can see that it's easy but at first I felt a little uncomfortable because I wasn't used to it, I'm sure that if I were more confident when putting my feet in, it would have fallen.
Y mientras ramón intentaba ese truco nuevo yo también aprendía uno, boardslide shove it es fácil una vez que lo controlas así que pensé lo mismo de este truco. Se ve que es fácil pero al principio me sentía algo incomodo porque no estaba acostumbrado, estoy seguro que si fuera ido mas confiado a la hora de meter los pies lo fuera caído.
I hope you enjoy the video and I promise that for the next session I will drop it.
Espero disfruten del video y les prometo que para la próxima sesión lo caeré.
Edit: @davixesk8 "David"
Happy by LiQWYD https://soundcloud.com/liqwyd
Creative Commons — Attribution 3.0 Unported — CC BY 3.0
Free Download / Stream: https://bit.ly/3SAYpQJ
Music promoted by Audio Library
---
---