World Baseball Classic 2023 ~ Japan vs USA ~ Storybook Ending!
I don't do many sports posts on Hive. In part because I don't watch a lot of sports these days. I've gradually stopped watching most sports over the past 10-15 years. But one sport I still do follow and watch when I have the chance is baseball. I love baseball. Baseball has always been popular in the US and Japan, in Central America, and some other places. With the World Baseball Classic (WBC), we have the game going global. This is the World Cup of baseball, and every time we have one it is just becoming more and more popular.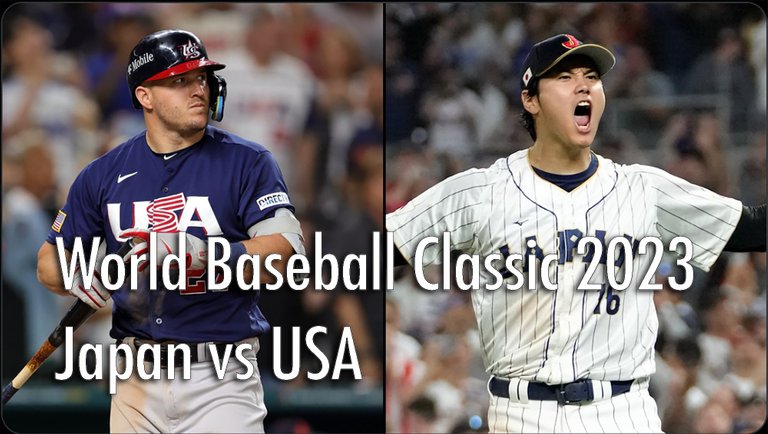 This 2023 WBC has been amazing. Every single game was great. In past WBCs some of the national teams have been relatively weak, but I think this year every team was playing at the top of their game. Mexico, Cuba, Dominican Republic, Venezuela, Puerto Rico, South Korea. These teams we might have expected to do well and they did—but we also had some great performances from the Italian team, from Colombia, from Israel. Great Britain played some great baseball, as did Australia and the Netherlands. It's wonderful to see so many countries sending great baseball teams.
But really, no one has been better than Japan.

As beloved as baseball is in America, it is not even close to how loved the game is in Japan. Baseball is close to a religion for many in Japan. It might be comparable to how popular baseball once was in America, back in the heyday of the game, from Ruth's era to Mantle's when it really was America's favorite game and was unmatched by anything else.
In this tournament we saw Japan's passion. Every player was at the top of their game. No one more so than Shohei Ohtani, who is the top baseball player in the world today, maybe even already one of the best players of all time. Ohtani is not only an amazing hitter, but also an amazing pitcher, a combination that we haven't seen since Babe Ruth. Even the Great Bambino could only keep that up for two years, a length of time that Ohtani has already surpassed.
You may think I'm biased, but most watchers of the game agree. He is either the number one player on most lists or within the top few spots. He might not finish his year as an Angel because every single team in MLB wants him—he will be fielding very high offers from everyone, we're talking 500 million+, possibly up to 600 million, which would make him the highest paid player ever.
In this series he played like he had something to prove. He always plays great, but in this tournament he took it to another level. He pitched under 2.00 for the entire series and hit above 400. He was instrumental in every win Japan had during the tournament.
But let's talk about the last game, the final between Japan and America.
If Ohtani is the best player in baseball today, Mike Trout is the second best player. Trout is a superb hitter—he is the best hitter in the game in fact. He is also Ohtani's teammate during the regular season, so he has seen Ohtani's pitching closeup many times. He's probably faced Ohtani during practice. I think it's fair to say both players know each other pretty well.
It all came down to them. We entered the ninth with the USA down by one and Ohtani pitching. He's the superstar, so it was no surprise the game would be put in his hands at the end. He quickly got himself in trouble by walking a guy, but then regained control when the next hit into a double play. Two outs and the game on the line. Then we got what everyone was hoping for but didn't really expect, at least not in this way: Ohtani vs Trout.
Two outs. The game on the line. And the two best baseball players in the world facing each other. This is the stuff of Hollywood movies.
Ohtani's first pitch is a 88mph slider that goes just outside: ball one. For the second pitch he throws a fastball straight down the line at over 100 mph: strike! Ohtani has the fastest pitch in baseball and it was on full display here. His third pitch was another fastball that hit 99.8, but just barely outside: ball two. Another fastball straight down the line, again 99.8: strike two. 2 and 2. Then we did get a bit of a wild pitch that bounced off the ground for ball three. Full count 3-2.
You couldn't have scripted this better. The tension was so thick you could have cut it with a knife.
Ohtani winds up and throws. His slowest pitch at only 87mph. A sinker that seems to be going to the inside corner of the strike zone but then turns to hit just outside. Trout chases it, swings, and misses. Strikeout!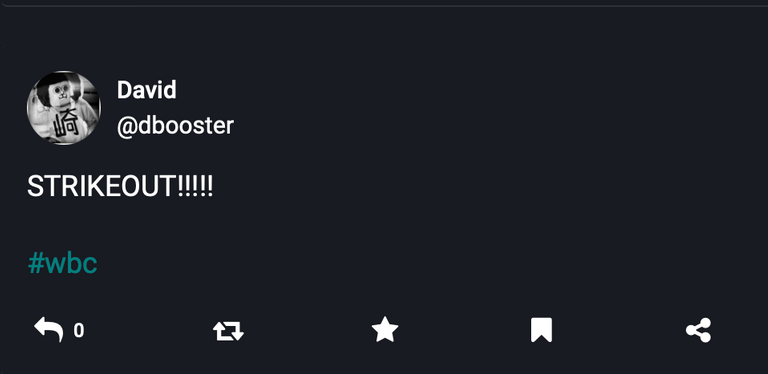 I was tweeting during the game on Mastodon and going just a little nuts
That was possibly the perfect end to an amazing game. That ending elevated what was just a great game to an epic game. That ending will be showed on Greatest Games of All Time highlights for years to come, not only in Japan but in America as well. That was a storybook ending.
Trout promises he will be back for round 2 next time. Let's hope so.
You can watch the amazing showdown here:

For years the baseball championship in America has been called the World Series. This may be because the New York World newspaper wanted to sponsor the championship game starting in 1903, hence the name. It could be typical American hyperbole, using extreme language to make the event sound even more impressive. The precursor the the World Cup was the British football championship which was referred to as the Football World Championship despite being only British teams. Maybe putting "World" in front names just sounds good in English. Or it could be American arrogance, which is probably what most people assume these days.
Whatever the case may be, the WBC is now the true World Series, or should be. @bozz mentioned this in a post, and I completely agree. I for one hope it keeps growing. If it became more frequent—might we hope every single year?—I would love it. This series is for baseball what the World Cup is to soccer/football.

Anyway, it was a good game. Even if you aren't a baseball fan, I'd urge you to watch the ninth inning, or at least that last face-off between Ohtani and Trout. That was pure magic, which is what baseball is all about.
❦
| | |
| --- | --- |
| | David LaSpina is an American photographer and translator lost in Japan, trying to capture the beauty of this country one photo at a time and searching for the perfect haiku. |
---
---