[ENG + ESP] Real Madrid defeats Real Betis with a goal by Carvajal!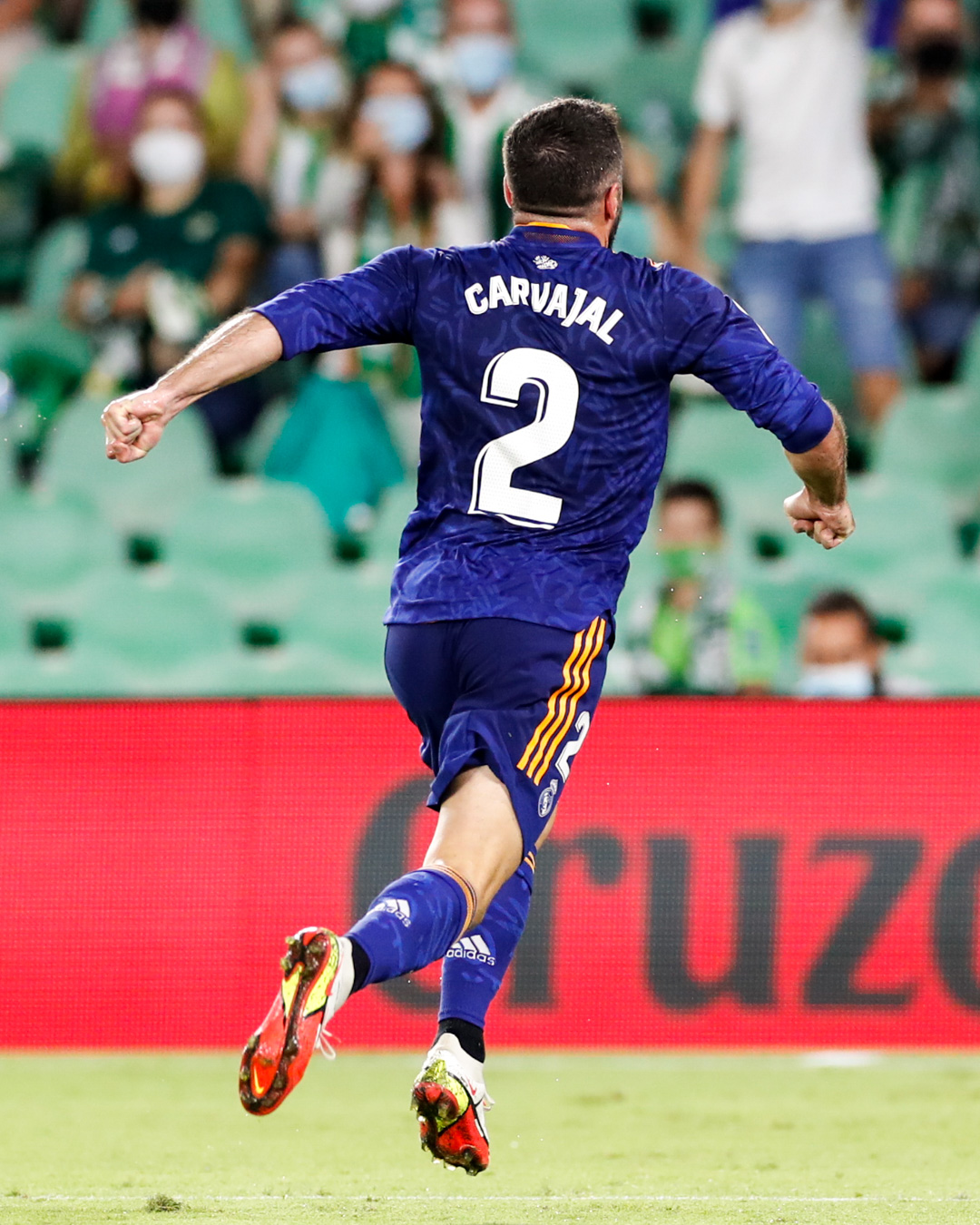 Source
English
Español
---
Yesterday I was able to watch the match between Real Madrid and Real Betis and I was very happy about it because last week I couldn't watch any football matches so I really wanted to watch at least 1 this week.
The football matches so far have been all from national league competitions, the international tournament, the Champions League, hasn't yet started. In the Spanish league, the favorites to win this season are the 2 teams from Madrid, Real Madrid, and Atletico Madrid, which by the way was the champion last season. I believe Barcelona could also be considered a candidate but the impact of losing Messi without signing a major star will probably affect them in the short term. That is why I believe the 2 teams from Madrid have more chances of winning the league, especially Real Madrid if they end up signing Mbappe.


It didn't take much time for Real Madrid to have a disappointing result this season. In last week's match, they tied against Levante, which is a minor rival, and that was certainly a match they should have won. If it wasn't for Vinicius' spectacular performance they would have lost that match.


This week's match was with a better rival, Real Betis, and I was expecting a better performance from the team and a well-needed victory. I was happy to see Vinicius in the lineup because he certainly deserved that after scoring 3 goals in the first 2 matches coming from the bench. I also liked seeing Miguel Gutierrez as a left-back because he is a young promising player and needs to gain experience on the pitch.


I wasn't happy seeing Isco in the lineup though. This is a midfielder who had some great seasons in the past, but in the past 3 years or so his performance has decreased tremendously and there doesn't seem to be a solution for this. Every time I see Isco playing I know Real Madrid will have a lot of trouble in the match because he is not only very slow while running, he also slows down the counter-attacks, and he does a terrible job helping in the defense. I don't think he is a good player for today's fast-paced football.
How was the match?
Right at the beginning of the match Real Madrid almost scored a goal but Benzema's shot went out by mere centimeters. This goal attempt happened thanks to Vinicius who made an amazing play on the left side of the pitch. Vinicius and Benzema have been the 2 best Real Madrid players in these first 3 matches, with the added merit for Vinicius because he started on the bench on 2 of those matches.


After the first few minutes where Real Madrid was a bit better mainly thanks to the danger caused by Vinicius, Real Betis began to take control of the ball and slowly became the dominant team. During the first half, they were the best team in my opinion, they have more goal attempts and they also had more passes and more ball possession.


Real Betis problem was that even though they were playing a bit better, they were incapable of properly finishing their attacking plays. Each of their shots was easily stopped by Courtois and the mos dangerous one was a free-kick by Canales around the 27-minute mark.


Something important that allowed Betis to take control of the match in the first half was that after Vinicius proved how dangerous he could be in the first few minutes, he eventually started to be covered by 2 Betis' players and this resulted in Vinicius having much more difficulties in creating good attacking plays.


Gareth Bale was playing on the other side of the pitch but he wasn't very active in this match. He did some crosses but nothing more. I was honestly expecting much more from Bale but it is not a surprise to see him causing little to no danger despite being an attacking player.


The presence of Isco was also detrimental in my opinion to Madrid's aspirations. As I mentioned before, this player can hardly be considered an elite player anymore, and it is not good for the team to put him on the pitch, especially in the lineup. Slow, weak, and incapable of producing danger with his passes or shots, and also incapable of helping his team while defending. Today's football is with very fast moves and requires physically strong players and sadly for Isco, he cannot be considered a competitive player with today's standards. The only reason he was playing was that both Modric and Kroos were unable to participate in this match.


Real Madrid will need to sign a couple of competent midfielders in the next year or 2 because Modric is getting very old, and Isco will obviously leave the team when his contract finishes. I am sure that when Real Madrid decides to hire new midfielders, they will be physically strong players capable of providing good performance in fast-paced plays. Slow players like Isco aren't very valuable nowadays, this might change in the future but right now that's how things are.


During the majority of the first half, Betis was better and I even started to think that they deserved to win the match. Luckily for Real Madrid, the first half ended with a tie with no goals and this will allow both teams to revisit their strategies and try something different in the second half.


Vinicius had 2 players preventing him from successfully creating attacking plays, and Benzema and Bale were a bit uninspired, especially Bale. Another problem Real Madrid is suffering is the low performance of the players occupying the right-back position. They almost lost the last match thanks to mistakes by Lucas Vasquez, and Carvajal has been injured for a few months so it is normal for him to have a low performance. The right side of Madrid's defense is the weak one thanks to this situation.


I was very disappointed with how Real Madrid played in the first half. I believe the team should be able to play much better even if both Kroos and Modric aren't on the pitch. This is something that Ancelotti will have to work on and this cannot be solved by the potential signing of Mbappe.


During the second half, Real Madrid started to create attacking plays by crossing the ball into Betis' area and hoping for a header goal. There were a couple of good chances with headers from Benzema and one of those even ended up being a goal but he was in an offside position so the goal wasn't valid.


This match looked like it could very well end up as a tie just like the previous one but luckily for Real Madrid, in one of the many attacking plays they had in the second half, Benzema ends up crossing the ball into the area once again, and this time, Carvajal appears and scores with a cool volley goal around the 61-minute mark. This goal certainly improved his low performance from the first half, and in the end, allowed his team to win this match.


Real Madrid improved a lot during the second half, and the goal certainly gave them a lot of confidence. The entire match was very even, but I believe that in end, Real Madrid's victory was fair. Their improvement in the second half was noticeable and it justified the final 1 goal advantage.


It was good for Real Madrid to finish this match without receiving any goal, after receiving 4 goals in the first 2 matches I am sure most people were getting worried about their defensive performance but I think they still need to continue improving because Betis could have very well scored in the first half.
What's next?
In the next 2 weeks there are going to be national teams matches and I am not sure I will be watching those. The most important event that might happen in the next few days is the rumored signing of Mbappe for Real Madrid. It is clear Real Madrid needs a new world-class striker and Mbappe is the obvious choice. Not only that, LaLiga also needs new important players after losing Messi and Sergio Ramos this year, and having lost CR7 back in 2018. If Mbappe signs for Real Madrid, he will be the main player of not only that club, but also of the Spanish league. I hope this signing ends up happening and the transfer window is about to close so this should be confirmed any day now.
Ayer pude ver el partido entre el Real Madrid y el Real Betis y estaba muy contento porque la semana pasada no pude ver ningún partido de fútbol, ​​así que tenía muchas ganas de ver al menos 1 esta semana.
Los partidos de fútbol hasta ahora han sido todos de las competiciones de las ligas nacionales, el torneo internacional, la Liga de Campeones, aún no ha comenzado. En la liga española, los favoritos para ganar esta temporada son los 2 equipos de Madrid, Real Madrid y Atlético de Madrid, que por cierto fue campeón la pasada temporada. Creo que el Barcelona también podría ser considerado candidato, pero el impacto de perder a Messi sin fichar a una gran estrella probablemente los afectará a corto plazo. Por eso creo que los 2 equipos madrileños tienen más posibilidades de ganar la Liga, sobre todo el Real Madrid si acaban fichando a Mbappé.


El Real Madrid no tardó mucho en tener un resultado decepcionante esta temporada. En el partido de la semana pasada empataron ante el Levante, que es un rival menor, y ese fue sin duda un partido que debieron haber ganado. Si no fuera por la espectacular actuación de Vinicius, habrían perdido ese partido.


El partido de esta semana fue con un rival mejor, el Real Betis, y esperaba una mejor actuación del equipo y una victoria muy necesaria. Estaba feliz de ver a Vinicius en la alineación porque ciertamente se lo merecía después de marcar 3 goles en los primeros 2 partidos desde el banquillo. También me gustó ver a Miguel Gutiérrez como lateral izquierdo porque es un jugador joven y prometedor y necesita ganar experiencia en el campo.


Sin embargo, no estaba feliz de ver a Isco en la alineación. Este es un mediocampista que tuvo grandes temporadas en el pasado, pero en los últimos 3 años su rendimiento ha disminuido enormemente y no parece haber una solución para esto. Cada vez que veo jugar a Isco sé que el Real Madrid tendrá muchos problemas en el partido porque no solo es muy lento mientras corre, también ralentiza los contraataques y hace un trabajo terrible ayudando en la defensa. No creo que sea un buen jugador para el fútbol vertiginoso de hoy.
¿Cómo estuvo el partido?
Justo al comienzo del partido el Real Madrid estuvo a punto de marcar un gol, pero el disparo de Benzema se fue por escasos centímetros. Este intento de gol sucedió gracias a Vinicius que realizó una gran jugada en el lado izquierdo del campo. Vinicius y Benzema han sido los 2 mejores jugadores del Real Madrid en estos 3 primeros partidos, con el mérito añadido de Vinicius porque estuvo en el banquillo en 2 de esos partidos.


Después de los primeros minutos en los que el Real Madrid estaba un poco mejor gracias principalmente al peligro de Vinicius, el Real Betis comenzó a tomar el control del balón y poco a poco se fue convirtiendo en el equipo dominante. Durante la primera parte fueron el mejor equipo en mi opinión, con más intentos de gol y también tuvieron más pases y más posesión de balón.


El problema del Real Betis era que, aunque jugaba un poco mejor, era incapaz de terminar bien sus jugadas de ataque. Cada uno de sus tiros fue detenido fácilmente por Courtois y el más peligroso fue un tiro libre de Canales alrededor del minuto 27.


Algo importante que permitió al Betis tomar el control del partido en la primera parte fue que después de que Vinicius demostró lo peligroso que podía ser en los primeros minutos, finalmente comenzó a ser cubierto por 2 jugadores del Betis y esto resultó en que Vinicius tuviera muchas más dificultades para crear buenas jugadas de ataque.


Gareth Bale jugaba en el otro lado del campo pero no estuvo muy activo en este partido. Hizo algunos centros pero nada más. Honestamente, esperaba mucho más de Bale, pero no es una sorpresa verlo causando poco o ningún peligro a pesar de ser un jugador atacante.


La presencia de Isco también fue, en mi opinión, perjudicial para las aspiraciones del Madrid. Como mencioné antes, este jugador ya no puede ser considerado un jugador de élite, y no es bueno que el equipo lo ponga en el campo, especialmente en el once titular. Lento, débil e incapaz de producir peligro con sus pases o tiros, y también incapaz de ayudar a su equipo en la defensa. El fútbol de hoy es con movimientos muy rápidos y requiere jugadores físicamente fuertes y, lamentablemente para Isco, no puede ser considerado un jugador competitivo con los estándares actuales. La única razón por la que estaba jugando era que tanto Modric como Kroos no pudieron participar en este partido.


El Real Madrid necesitará fichar a un par de centrocampistas competentes en el próximo año o dos porque Modric está envejeciendo e Isco, obviamente, dejará el equipo cuando termine su contrato. Estoy seguro de que cuando el Real Madrid decida contratar nuevos centrocampistas, serán jugadores físicamente fuertes capaces de ofrecer un buen rendimiento en jugadas vertiginosas. Los jugadores lentos como Isco no son muy valiosos hoy en día, esto podría cambiar en el futuro, pero ahora mismo así son las cosas.


Durante la mayor parte de la primera parte, el Betis estuvo mejor e incluso comencé a pensar que se merecían ganar el partido. Por suerte para el Real Madrid, la primera parte terminó con un empate sin goles y esto permitió a ambos equipos revisar sus estrategias e intentar algo diferente en la segunda parte.


Vinicius tenía 2 jugadores que le impedían crear jugadas de ataque con éxito, y Benzema y Bale estaban con poa creatividad, especialmente Bale. Otro problema que está sufriendo el Real Madrid es el bajo rendimiento de los jugadores que ocupan la posición de lateral derecho. Casi pierden el último partido gracias a errores de Lucas Vásquez, y Carvajal lleva unos meses lesionado por lo que es normal que tenga un bajo rendimiento. El lado derecho de la defensa del Madrid es el más débil gracias a esta situación.


Me decepcionó mucho cómo jugó el Real Madrid en la primera parte. Creo que el equipo debería poder jugar mucho mejor incluso si Kroos y Modric no están en el campo. Esto es algo en lo que tendrá que trabajar Ancelotti y no se puede solucionar con el potencial fichaje de Mbappé.


Durante la segunda parte, el Real Madrid empezó a crear jugadas de ataque cruzando el balón al área del Betis y esperando un gol de cabeza. Hubo un par de buenas ocasiones con cabezazos de Benzema y una de ellas incluso terminó siendo gol pero estaba en posición de fuera de juego por lo que el gol no fue válido.


Este partido parecía que bien podría terminar en un empate como el anterior pero por suerte para el Real Madrid, en una de las tantas jugadas de ataque que tuvo en la segunda parte, Benzema acaba cruzando el balón al área una vez más. y esta vez, Carvajal aparece y marca con un gol de volea alrededor del minuto 61. Este gol sin duda mejoró su bajo rendimiento de la primera parte y, al final, permitió que su equipo ganara este partido.


El Real Madrid mejoró mucho durante la segunda parte, y el gol sin duda les dio mucha confianza. Todo el partido estuvo muy igualado, pero creo que al final la victoria del Real Madrid fue justa. Su mejora en la segunda mitad fue notable y justificó la ventaja de 1 gol final.


Fue bueno que el Real Madrid terminara este partido sin recibir ningún gol, después de recibir 4 goles en los 2 primeros partidos estoy seguro de que la mayoría de la gente se estaba preocupando por su desempeño defensivo pero creo que todavía necesitan seguir mejorando porque el Betis bien podría haber anotado en la primera mitad.
¿Qué sigue?
En las próximas 2 semanas habrá partidos de selecciones nacionales y no estoy seguro de que me ponga a verlos. El hecho más importante que podría suceder en los próximos días es el rumoreado fichaje de Mbappé por el Real Madrid. Está claro que el Real Madrid necesita un nuevo delantero de talla mundial y Mbappé es la elección obvia. No solo eso, LaLiga también necesita nuevos jugadores importantes después de perder a Messi y Sergio Ramos este año, y haber perdido a CR7 en 2018. Si Mbappé ficha por el Real Madrid, será el jugador principal no solo de ese club, sino también de la Liga española. Espero que esta firma termine sucediendo y la ventana de transferencia está a punto de cerrarse, por lo que debería confirmarse en cualquier momento.
---
---