France defeats Germany with an own goal by Hummels! [ENG + ESP]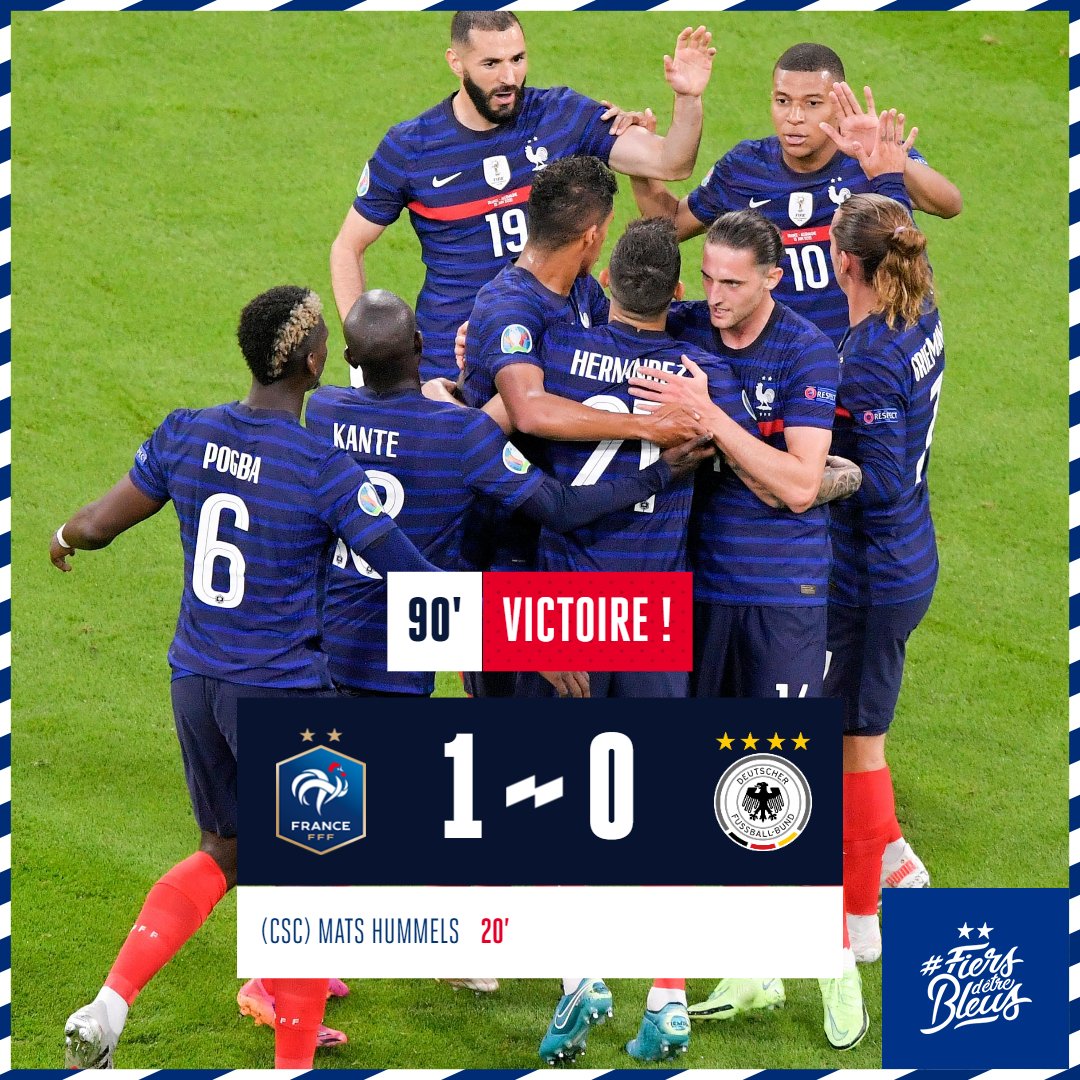 Source
English
Español
---
This was the first match I watched of the UEFA Euro and I was quite excited about it because both teams can be considered as candidates to win the tournament, and personally, I believe France is the number 1 favorite right now. I haven't watched much football lately but I do have the matches between Germany, France and Portugal marked in the calendar. I am surprised these 3 teams share the same group.
Both teams have great players in every part of the pitch, great goalkeepers, defenders, midfielders, and attackers. if it was possible it wouldn't be entirely surprising to see these 2 teams on the final, or at least in the semifinals.


It is in the attacking zone where I believe France's advantage is clear. France has a world-class goalscorer thanks to the presence of Mbappe, and 2 world-class creators such as Benzema and Griezmann, while Germany doesn't have a world-class goalscorer. They have good creators, but without a good goal scorer, it is much harder to win challenging matches.


One important thing to mention about this group is that it has the last 2 World Cup winners, France and Germany, and the last UEFA Euro winner, Portugal. It is without doubt the best group in the current UEFA Euro.
How was the match?
Germany controlled the ball since the beginning of the match. This team has players that feel comfortable keeping the ball to themselves such as Kroos, Gundodan, and Muller. They used their ball possession to try and create good attacking plays but this turned out to be extremely difficult to do, especially when it was time to finish the plays with a good shot.


Germany felt comfortable with the ball and France felt comfortable without the ball. It seemed as if both teams were playing according to their plans. The match was very even since the beginning and it was hard to guess which one had more chances of winning. I didn't expect such a dominant Germany to be honest.


France has a very good defense and Mbappe is great at counter-attacking thanks to his speed. France is also a more physical team so when it is time to do some high-effort moves during a few minutes, they can temporarily impose themselves over the German players.


There were no important shots in the first 10 minutes which proves both teams were a bit cautious in the beginning. Suffering an early goal is one of the worst things that can happen to a team during a difficult match.


Both teams had good pass attempts but they were always stopped by the last line of the defense. Most shots were headers or a couple of free-kick from Kroos. Kante and Pogba were the players with the best performance since the beginning, with Mbappe being the most important and dangerous attacking player.


The first goal happened after a wonderful pass from Pogba to the French left-back Hernandez, he then makes a half-shot half-pass and Hummels sends it inside the net when trying to send the ball out of the pitch. A good play from France and tough luck for the German defender. The pass from Pogba was beautiful and world-class.


Benzema and Griezmann didn't do much in the first half. Benzema's creativity was absent during the first half, and Griezmann made it clear his performance isn't the same as in years before. He still has a nice touch with the ball thanks to his refined technique but his overall impact in France's plays has been reduced by a lot.


Pogba on the other hand was very active everywhere on the pitch. For me, he was the best player in the match. His passes were key to initiate good attacking plays, and his prowess allowed France to resist Germany's dominance. His movements allowed France to move the ball from their penalty box to Germany's side of the pitch.


Germany was the better team in the first half, but their attacking players weren't very effective. They controlled the ball but were unable to cause much danger to France. It was obvious Germany was playing without a proper striker. Their attacking players were Muller, Gnabry, and Havertz and neither of them is a striker. With a proper striker, I believe Germany could have won the match.


During the second half, one of the best chances to score a goal was from Rabiot. In the 51 minute mark, he receives a great pass from Mbappe that leaves him with a lot of open space in front of him allowing him to run directly towards the goalkeeper. He could have passed the ball to Griezmann for what could have been an easy goal but decides to shoot instead and by that point, a defender was very near him so the shot wasn't perfect. It hit the post and was the best missed chance for France up to that point.


Around 2 minutes later, Germany reacts and Gnabry receives a ball from the left side of the pitch inside the penalty box, he does a good shot but it went above the post by mere centimeters. That was the best chance for Germany up to that point.


The match was getting much more intense compared to the first half. Germany was getting worried because they were losing and France was doing fast attacking plays taking advantage of Mbappe's speed. Benzema had a disappointing performance, he didn't have much impact in France's attacking plays, and there were only a couple of plays where he did something positive.


Griezmann participated a lot helping in the defense as if he was a defensive midfielder. I guess France wanted to protect the 1 goal advantage and Mbappe and Benzema are usually dangerous enough when attacking so Griezmann sacrificed himself helping his defensive teammates stop Germany.


France scored 2 more goals in the second half, 1 scored by Mbappe and the other one by Benzema but both of those goals weren't valid due to offside positions. Germany had more possession and more shots, but France's players were much more effective when finishing their attacking plays. France not only won the match but they even deserved to score at least 1 more goal.


Given how competitive this group is, Germany's defeat leaves them in a tough spot. They would have to win their next match against Portugal if they want to have good chances of qualifying for the next round, and that match isn't going to be easy. What's worse for them is that their lack of a goal scorer cannot be solved. They had Werner on the bench and he entered the pitch as a substitute in the second half, but he isn't a top goal scorer either. I believe Germany will continue to suffer a lot of frustration for their lack of goal-scoring skills.


I considered France as the favorite before the tournament started, but this match showed me that France isn't as dominant as I expected. They won by mere chance because the goal was just an unlucky touch from Hummels. However, it is also true that Germany has terrific midfielders which can make it harder for the other team to generate enough attacking plays. France's dangerous moves were mostly thanks to Mbappe's skills and speed.


I still think France is the favorite to win this tournament but maybe they aren't as dominant as they were in the World Cup of 2018. For the time being, France survived their first challenging match and this will be of huge help for their emotional stability in the days to come.


When it comes to the best individual performance, as I mentioned before, I believe Pogba was the best of the match, with Kante and Mbappe in very close second and third position. i expect to see Benzema with an improved performance in the next match, and it might not be a bad idea to give minutes to other great players such as Giroud and Coman. Dembele participated in the match but only for around 4 or 5 minutes. Since France's next match is against the weakest team in the group, Hungary, it might be a good opportunity to do some rotations.


What is next?
The next match I plan to watch is this Saturday, Germany vs Portugal. Portugal won their first match against Hungary 3-0 but they scored all 3 goals in the last 10 minutes of the match. Germany will need to urgently defeat Portugal, otherwise, their chances of continuing in the tournament are going to be very small even if they defeat Hungary in their third match.


Portugal has a lot of talent and CR7 is still scoring goals as always, so this is a very competitive team. Let's also remember Portugal is the last champions of the UEFA Euro after they defeated France in that great final in 2016. I believe Portugal has good chances of reaching the finals or semifinals but I am not sure they can defeat France, which is the match I am actually more excited about. The match between Portugal and France will take place next Wednesday.


Let me know which team do you think is the favorite to win this tournament.


Thanks for reading!
Este fue el primer partido que vi de la Euro y estaba bastante emocionado porque ambos equipos pueden ser considerados candidatos a ganar el torneo y, personalmente, creo que Francia es el favorito número uno en este momento. Últimamente no he visto mucho fútbol pero sí tengo marcados en el calendario los partidos entre Alemania, Francia y Portugal. Me sorprende que estos 3 equipos compartan el mismo grupo.
Ambos equipos tienen grandes jugadores en cada parte del campo, grandes porteros, defensas, mediocampistas y atacantes. si fuera posible, no sería del todo sorprendente ver a estos 2 equipos en la final, o al menos en las semifinales.


Es en la zona de ataque donde creo que la ventaja de Francia es clara. Francia tiene un goleador de talla mundial gracias a la presencia de Mbappé, y 2 creadores de talla mundial como Benzema y Griezmann, mientras que Alemania no tiene un goleador de talla mundial. Tienen buenos creadores, pero sin un buen anotador de goles, es mucho más difícil ganar partidos desafiantes.


Una cosa importante a mencionar sobre este grupo es que tiene los últimos 2 campeones de la Copa del Mundo, Francia y Alemania, y el último ganador de la Eurocopa, Portugal. Es sin duda el mejor grupo de la actual Eurocopa.
¿Cómo estuvo el partido?
Alemania controló el balón desde el inicio del partido. Este equipo tiene jugadores que se sienten cómodos guardando el balón para ellos mismos, como Kroos, Gundodan y Muller. Usaron su posesión de balón para intentar crear buenas jugadas de ataque, pero esto resultó ser extremadamente difícil de hacer, especialmente cuando llegaba el momento de terminar las jugadas con un buen disparo.


Alemania se sintió cómoda con el balón y Francia se sintió cómoda sin el balón. Parecía como si ambos equipos estuvieran jugando según sus planes. El partido estuvo muy igualado desde el principio y era difícil adivinar cuál tenía más posibilidades de ganar. No esperaba una Alemania tan dominante para ser honesto.


Francia tiene una muy buena defensa y Mbappé es genial en contraataques gracias a su velocidad. Francia también es un equipo más físico, por lo que cuando llega el momento de hacer algunos movimientos de alto esfuerzo durante unos minutos, pueden imponerse temporalmente sobre los jugadores alemanes.


No hubo tiros importantes en los primeros 10 minutos, lo que demuestra que ambos equipos fueron un poco cautelosos al principio. Sufrir un gol temprano es una de las peores cosas que le puede pasar a un equipo durante un partido difícil.


Ambos equipos tuvieron buenos intentos de pase pero siempre fueron detenidos por la última línea de la defensa. La mayoría de los tiros fueron de cabeza y también hubo un par de tiros libres de Kroos. Kante y Pogba fueron los jugadores con mejor actuación desde el inicio, siendo Mbappé el atacante más importante y peligroso.


El primer gol ocurrió tras un estupendo pase de Pogba al lateral izquierdo francés Hernández, luego realiza un medio tiro medio pase y Hummels lo manda dentro de la red al intentar sacar el balón fuera del terreno de juego. Buena jugada de Francia y mala suerte para el defensa alemán. El pase de Pogba fue hermoso y de clase mundial.


Benzema y Griezmann no hicieron mucho en la primera parte. La creatividad de Benzema estuvo ausente durante la primera parte, y Griezmann dejó claro que su actuación no es la misma que en años anteriores. Todavía tiene un buen toque con el balón gracias a su técnica refinada, pero su impacto general en las jugadas de Francia se ha reducido mucho.


Pogba, por otro lado, estuvo muy activo en todas partes del campo. Para mí, fue el mejor jugador del partido. Sus pases fueron clave para iniciar buenas jugadas de ataque, y su destreza permitió a Francia resistir el dominio de Alemania. Sus movimientos permitieron a Francia mover el balón desde su área de penalti al lado de la cancha de Alemania.


Alemania fue el mejor equipo en la primera mitad, pero sus jugadores de ataque no fueron muy efectivos. Controlaron el balón pero no pudieron causar mucho peligro a Francia. Era obvio que Alemania jugaba sin un delantero adecuado. Sus jugadores de ataque fueron Muller, Gnabry y Havertz y ninguno de ellos es un delantero. Con un delantero adecuado, creo que Alemania podría haber ganado el partido.


Durante la segunda parte, una de las mejores ocasiones para marcar un gol fue de Rabiot. En el minuto 51 recibe un gran pase de Mbappé que lo deja con mucho espacio abierto frente a él permitiéndole correr directamente hacia el portero. Pudo haber pasado el balón a Griezmann para lo que podría haber sido un gol fácil, pero decide disparar y en ese momento, un defensor estaba muy cerca de él, por lo que el tiro no fue perfecto. Pegó en el poste y fue la mejor oportunidad perdida para Francia hasta ese momento.


Alrededor de 2 minutos después, Alemania reacciona y Gnabry recibe un balón desde el lado izquierdo del campo dentro del área de penalti, hace un buen disparo pero se fue por encima del poste por escasos centímetros. Esa fue la mejor oportunidad para Alemania hasta ese momento.


El partido se estaba volviendo mucho más intenso en comparación con la primera mitad. Alemania estaba preocupada porque estaba perdiendo y Francia estaba haciendo jugadas de ataque rápidas aprovechando la velocidad de Mbappé. Benzema tuvo una actuación decepcionante, no tuvo mucho impacto en las jugadas de ataque de Francia y solo hubo un par de jugadas en las que hizo algo positivo.


Griezmann participó mucho ayudando en la defensa como si fuera un volante defensivo. Supongo que Francia quería proteger la ventaja de 1 gol y Mbappé y Benzema suelen ser lo suficientemente peligrosos cuando atacan, por lo que Griezmann se sacrificó para ayudar a sus compañeros defensivos a detener a Alemania.


Francia anotó 2 goles más en la segunda parte, 1 de Mbappé y el otro de Benzema, pero ambos goles no fueron válidos por posiciones de fuera de juego. Alemania tuvo más posesión y más tiros, pero los jugadores de Francia fueron mucho más efectivos a la hora de finalizar sus jugadas de ataque. Francia no solo ganó el partido, sino que incluso mereció marcar al menos 1 gol más.


Dado lo competitivo que es este grupo, la derrota de Alemania los deja en una situación difícil. Tendrían que ganar su próximo partido contra Portugal si quieren tener buenas posibilidades de clasificarse para la siguiente ronda, y ese partido no va a ser fácil. Lo peor para ellos es que su falta de goleador no se puede solucionar. Tenían a Werner en el banquillo y entró al campo como suplente en la segunda parte, pero tampoco es un goleador. Creo que Alemania seguirá sufriendo mucha frustración por su falta de habilidad para marcar goles.


Consideraba a Francia como el favorito antes de que comenzara el torneo, pero este partido me mostró que Francia no es tan dominante como esperaba. Ganaron por mera casualidad porque el gol fue solo un toque desafortunado de Hummels. Sin embargo, también es cierto que Alemania tiene excelentes centrocampistas que pueden dificultar que el otro equipo genere suficientes jugadas de ataque. Los movimientos peligrosos de Francia se debieron principalmente a las habilidades y la velocidad de Mbappé.


Sigo pensando que Francia es el favorito para ganar este torneo, pero tal vez no sean tan dominantes como lo fueron en la Copa del Mundo de 2018. Por el momento, Francia sobrevivió a su primer partido desafiante y esto será de gran ayuda para sus estado emocional en los próximos días.


Cuando se trata de la mejor actuación individual, como mencioné antes, creo que Pogba fue el mejor del partido, con Kante y Mbappé en segunda y tercera posición muy cerca. Espero ver a Benzema con una mejor actuación en el próximo partido, y puede que no sea mala idea darle minutos a otros grandes jugadores como Giroud y Coman. Dembélé participó en el partido, pero solo durante unos 4 o 5 minutos. Dado que el próximo partido de Francia es contra el equipo más débil del grupo, Hungría, podría ser una buena oportunidad para hacer algunas rotaciones.


¿Qué sigue?
El próximo partido que planeo ver es este sábado, Alemania vs Portugal. Portugal ganó su primer partido contra Hungría por 3-0, pero anotó los 3 goles en los últimos 10 minutos del partido. Alemania necesitará derrotar urgentemente a Portugal, de lo contrario, sus posibilidades de continuar en el torneo serán muy pequeñas, incluso si derrota a Hungría en su tercer partido.


Portugal tiene mucho talento y CR7 sigue marcando goles como siempre, por lo que este es un equipo muy competitivo. Recordemos también que Portugal es el último campeón de la Eurocopa después de que derrotó a Francia en esa gran final de 2016. Creo que Portugal tiene buenas posibilidades de llegar a la final o semifinal, pero no estoy seguro de que pueda derrotar a Francia, que es el partido por el cual estoy más emocionado. El partido entre Portugal y Francia tendrá lugar el próximo miércoles.


Déjame saber qué equipo crees que es el favorito para ganar este torneo.


¡Gracias por leer!
---
---