Italy wins in the penalties once again and becomes the new Euro Champions! [ENG + ESP]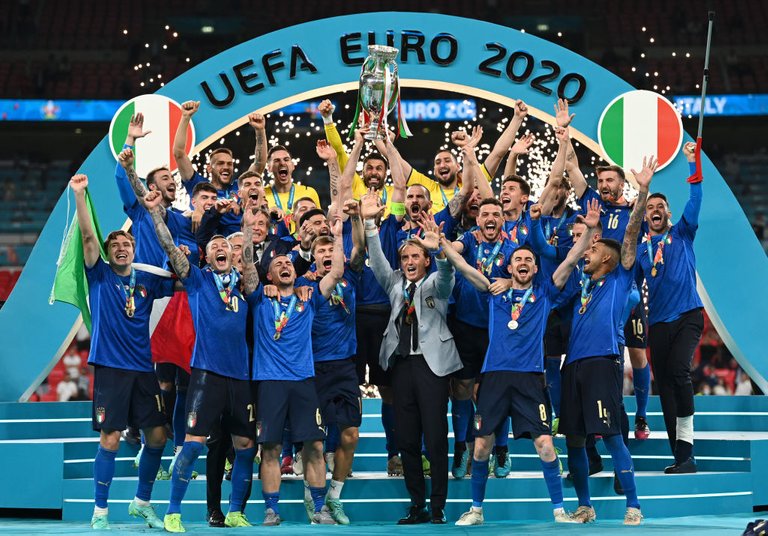 Source
English
Español
---
Yesterday I was able to watch one of the most important football matches of the entire year, the final of the UEFA Euro between Italy and England. This was the first time for England to play the final in the history of the tournament, and for Italy, it was the fourth final.


Since France was eliminated by Switzerland, I started to see Italy as the favorite to win the tournament, but England also looked very solid since the beginning so it was almost impossible to say for sure which team had the highest chances of winning the final match.


The final was played in Wembley, which is the most important stadium in England, so one could say this could be an advantage for the English team because they were playing in their own country, not only that, but England was also the team with the lesser amount of goals received during the tournament. However, this statistic is conditioned by the type of rival they had, so if a team is lucky enough to play against weaker rivals it is to be expected for that team to not receive many goals.


This match was also the last match of the 20-21 season, and we have now officially entered in the 21-22 season. This means, that all the matches that could influence the individual trophies, such as Ballon d'Or and FIFA The Best are now over and we can also start to ponder about which player was the best one in the season. I will write about this topic tomorrow or the day after tomorrow, for now, I would like to discuss the events in the match.
How was the match?
I didn't like England's decision to use a defense composed of 5 players. England is a team with excellent attacking players, and I believe their main focus since the beginning should have been to attack as much as possible and overwhelm the Italian defense. However, the coach decided to have a 5 player defense to better protect their goalkeeper.


The match was just beginning and suddenly England was already scoring their first goal! I don't know if this is the fastest goal in the history of the Euro finals but it is certainly one of the fastest. It was scored in the 2-minute mark and it left Italy a bit shocked.


Nevertheless, the sooner a team receives a goal the better for that team because they have more minutes to try and tie the match. I mean, it is better to receive a goal in the 5-minute mark than in the 85-minute mark for example. The goal was a play between the right-back Trippier, who crossed the ball into the area, and the left-back Shaw made a quick shot immediately after receiving the ball. It wasn't an easy shot because the ball came very fast and bouncing but he scored beautifully.


This goal made England too comfortable and forced Italy to take the initiative if they wanted to tie this historic match. England began to focus more on adopting a defensive attitude, defending their 1 goal advantage, and trying to score the second one in a quick counterattack.


Italy did what they needed to do, the possession of the ball was under their control, and slowly but surely they started to become the dominant team. The first half was a bit confusing for Italy. No one was expecting England to score so fast and this made the Italian players feel a bit disconcerted and lost. However, thanks to England's passiveness after the goal, the Italians had the time to assume the challenging circumstances, and then start working in order to change them.


The second half was completely different for Italy. They clearly dominated England from beginning to end, and they started to feel much more confident in their skills and in their chances of tying the match. Chiesa was playing excellent, Insigne was quite active as well in the attack, Chiellini and Bonucci were very solid in the defense, all of Italy was looking better as the minutes kept advancing, and scoring their goal felt like just a matter of minutes. They were clearly deserving of the tie.


It was finally, around the 67-minute mark, where after a corner kick, Italy scored their goal. It was a very ugly goal by the way, there were 2 bounces during the play one of those in the post, and by chance, it ended in Bonucci's boots who easily scored close to the goal line. The goal was ugly, but they deserved it. Italy was doing much more than England and they didn't deserve to be losing that match.


Italy could have scored more than 1 goal during the second half, but every time it was either stopped by the goalkeeper or the shot didn't even go on target. I was expecting a much more intense final, especially from England, but they were either completely nullified by the Italian defensive system, or they just were exhausted after playing so many matches. It is really difficult to understand why England didn't put more effort into the match. Sterling attempted a few individual moves and Kane gave some good passes, but that was really not enough. They should've done more.


In the extra time, England started to play a bit better compared to their horrible second half but nothing that made them deserve the second goal. Both teams looked very exhausted and during those final 30 minutes, their attacking plays weren't very exciting. It seemed like both teams were resigned to play the penalty round and choose the winner like that.


Before the penalty round, I thought England was going to win. My reason for this was very simple, in this tournament, every team that has won a penalty round and played a second one, ended up losing the second time. It happened to Switzerland, they defeated France and then were beaten by Spain. Then Spain lost against Italy, and now I was thinking that Italy was going to lose against England.


A couple of minutes before the penalty round started, the English coach sent into the pitch 2 excellent attacking players, Rashford and Sancho. It is hard to understand how these players were on the bench for almost 120 minutes when their team was urgently needing them on the pitch. I guess the English coach was happy with the tie and happy with deciding the winner on the penalties. However, those 2 players ended up missing their penalties and were the main cause for England's defeat.


The penalties were very entertaining, there were 5 misses in total, but I was really expecting a better match. I didn't like England's attitude and passiveness, and they deservedly lost the final.
What's next?
As I mentioned at the beginning of the article, this match officializes the end of the 20-21 season, and the beginning of the 21-22 season. The next important matches with clubs will be in the middle of August with different super cups.


Now, we can start discussing about potentially important transfers and new signings as well as which player was the best one of the season. I plan to write an article about this for tomorrow or the day after.


Cheers and thanks for reading!
Ayer pude ver uno de los partidos de fútbol más importantes de todo el año, la final de la Eurocopa entre Italia e Inglaterra. Esta fue la primera vez que Inglaterra jugaba la final en la historia del torneo, y para Italia era la cuarta final.
Desde que Francia fue eliminada por Suiza, comencé a ver a Italia como la favorita para ganar el torneo, pero Inglaterra también se veía muy sólida desde el principio, por lo que era casi imposible decir con certeza qué equipo tenía las mayores posibilidades de ganar el partido final.


La final se jugó en Wembley, que es el estadio más importante de Inglaterra, por lo que se podría decir que esto podría ser una ventaja para la selección inglesa porque jugaban en su propio país, no solo eso, sino que Inglaterra también era el equipo con la menor cantidad de goles recibidos durante el torneo. Sin embargo, esta estadística está condicionada por el tipo de rival que tuvieron, por lo que si un equipo tiene la suerte de jugar contra rivales más débiles es de esperar que ese equipo no reciba muchos goles.


Este partido también fue el último partido de la temporada 20-21, y ahora hemos entrado oficialmente en la temporada 21-22. Es decir, se acabaron todos los partidos que podían influir en los trofeos individuales, como el Balón de Oro y FIFA The Best, y también podemos empezar a reflexionar sobre qué jugador fue el mejor de la temporada. Escribiré sobre este tema mañana o pasado, por ahora, me gustaría discutir los eventos en el partido.
¿Cómo estuvo el partido?
No me gustó la decisión de Inglaterra de utilizar una defensa compuesta por 5 jugadores. Inglaterra es un equipo con excelentes jugadores de ataque, y creo que su principal objetivo desde el principio debería haber sido atacar tanto como fuera posible y abrumar a la defensa italiana. Sin embargo, el entrenador decidió tener una defensa de 5 jugadores para proteger mejor a su portero.


¡El partido apenas comenzaba y de repente Inglaterra ya estaba anotando su primer gol! No sé si este es el gol más rápido en la historia de las finales de la Eurocopa, pero sin duda es uno de los más rápidos. Se anotó en el minuto 2 y dejó a Italia un poco conmocionada.


Sin embargo, cuanto antes un equipo reciba un gol mejor para ese equipo porque tiene más minutos para intentar empatar el partido. Quiero decir, es mejor recibir un gol en el minuto 5 que en el minuto 85 , por ejemplo. El gol fue una jugada entre el lateral derecho Trippier, que cruzó el balón al área, y el lateral izquierdo Shaw hizo un disparo rápido inmediatamente después de recibir el balón. No fue un tiro fácil porque el balón llegó muy rápido y rebotando, pero marcó muy bien.


Este gol hizo que Inglaterra se sintiera demasiado cómoda y obligó a Italia a tomar la iniciativa si querían empatar este histórico partido. Inglaterra comenzó a enfocarse más en adoptar una actitud defensiva, defender su ventaja de 1 gol e intentar anotar el segundo en un rápido contraataque.


Italia hizo lo que tenía que hacer, la posesión del balón estaba bajo su control y poco a poco empezaron a convertirse en el equipo dominante. La primera mitad fue un poco confusa para Italia. Nadie esperaba que Inglaterra anotara tan rápido y esto hizo que los jugadores italianos se sintieran un poco desconcertados y perdidos. Sin embargo, gracias a la pasividad de Inglaterra tras el gol, Italia tuvo tiempo de asumir la desafiante circunstancia y luego empezar a trabajar para cambiarlas.


La segunda mitad fue completamente diferente para Italia. Claramente dominaron a Inglaterra de principio a fin, y empezaron a sentirse mucho más confiados en sus habilidades y en sus posibilidades de empatar el partido. Chiesa estaba jugando excelente, Insigne estuvo bastante activo también en el ataque, Chiellini y Bonucci fueron muy sólidos en la defensa, toda Italia se veía mejor a medida que avanzaban los minutos, y que marcaran su gol se sintió como solo una cuestión de minutos. Claramente merecían el empate.


Fue finalmente, en torno al minuto 67, donde tras un tiro de esquina, Italia marcó su gol. Fue un gol muy feo por cierto, hubo 2 rebotes durante la jugada uno de esos en el poste, y por casualidad, terminó en las botas de Bonucci que fácilmente anotó cerca de la línea de gol. El gol fue feo, pero se lo merecían. Italia estaba haciendo mucho más que Inglaterra y no merecían perder ese partido.


Italia pudo haber marcado más de 1 gol durante la segunda parte, pero cada vez era detenido por el portero o el tiro ni siquiera iba a puerta. Esperaba una final mucho más intensa, especialmente de Inglaterra, pero el sistema defensivo italiano los anuló por completo o simplemente estaban agotados después de jugar tantos partidos. Es realmente difícil entender por qué Inglaterra no puso más esfuerzo en el partido. Sterling intentó algunos movimientos individuales y Kane dio algunos buenos pases, pero eso no fue suficiente. Deberían haber hecho más.


En la prórroga, Inglaterra empezó a jugar un poco mejor en comparación con su horrible segunda parte, pero nada que les hiciera merecer el segundo gol. Ambos equipos parecían muy agotados y durante esos últimos 30 minutos, sus jugadas de ataque no fueron muy emocionantes. Parecía que ambos equipos se resignaron a jugar la ronda de penales y elegir así al ganador.


Antes de la ronda de penales, pensé que Inglaterra iba a ganar. Mi razón para esto fue muy simple, en este torneo, cada vez que un equipo ganaba una ronda de penaltis y jugaba una segunda, terminaba perdiendo la segunda vez. Le pasó a Suiza, derrotaron a Francia y luego fueron derrotados por España. Luego España perdió contra Italia, y ahora pensaba que Italia iba a perder contra Inglaterra.


Un par de minutos antes de que comenzara la ronda de penales, el técnico inglés envió al campo a 2 excelentes atacantes, Rashford y Sancho. Es difícil entender cómo estos jugadores estuvieron en el banquillo durante casi 120 minutos cuando su equipo los necesitaba con urgencia en el campo. Supongo que el técnico inglés estaba contento con el empate y contento con decidir el ganador en los penaltis. Sin embargo, esos 2 jugadores terminaron fallando sus penales y fueron la principal causa de la derrota de Inglaterra.


Los penaltis fueron muy entretenidos, hubo 5 fallos en total, pero realmente esperaba un mejor partido. No me gustó la actitud y la pasividad de Inglaterra, y perdieron merecidamente la final.
¿Qué sigue?
Como mencioné al comienzo del artículo, este partido oficializa el final de la temporada 20-21 y el inicio de la temporada 21-22. Los próximos partidos importantes con clubes serán a mediados de agosto con diferentes supercopas.


Ahora, podemos comenzar a discutir sobre transferencias potencialmente importantes y nuevos fichajes, así como qué jugador fue el mejor de la temporada. Planeo escribir un artículo sobre esto para mañana o pasado.


Saludos y gracias por leer!
---
---