Półki na ścianie [#34]
Wczoraj prawie całą dniówkę zajęło nam zaprojektowanie i montaż półek na ścianie. Na początku ustaliliśmy czego klient właściwie sobie życzy, potem wycieczka po marketach budowlanych i wycena. Gdyby ktoś pytał, to ten pomarańczowy ma najtaniejsze materiały na półkę.
Na półkach leżeć będą głównie książki i instrumenty muzyczne, wystarczyły więc standardowe, metalowe wsporniki rozłożone co kilkadziesiąt centymetrów. Ważne, aby skrajne wsporniki były bliżej od krawędzi, niż od wewnętrznych wsporników. Inaczej bok półki byłby przeciążany.
Po przywiezieniu materiałów pomierzyliśmy ścianę i zaznaczyliśmy dokładnie miejsce każdego wspornika. Ułożyliśmy też wsporniki w dokładnie takiej kolejności, w jakiej je odrysowaliśmy na ścianie, na wypadek, gdyby nie miały identycznie wywierconych otworów. W tej części pracy bardzo pomógł laser i statyw. Do wywiercenia mieliśmy 60 otworów w ścianie.
To była dla mnie najmniej przyjemna część pracy. Mimo przystawienia końcówki odkurzacza pod otworem nadal pyliło.
Na początku zamontowaliśmy najwyższą półkę, jest ona szersza od pozostałych i wychodzi ponad drzwi. Będzie ona też najbardziej obciążona. Po przykręceniu wsporników do ściany, ułożyliśmy na nich deskę i dociskając od góry po kolei przykręcalismy wkręty do drewna.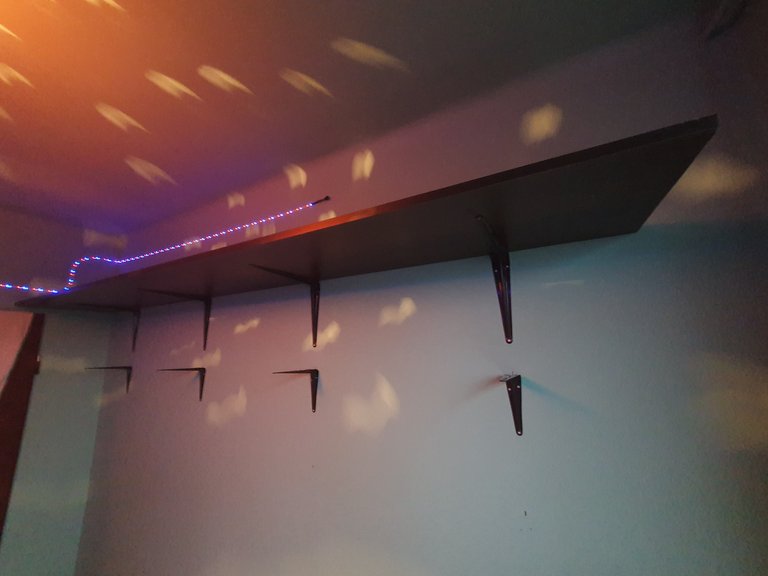 Każda z płyt miała na sobie małą naklejkę, trzeba było użyć acetonu, aby zmyć pozostałości. Nie mogłem się nadziwić, że w XXI wieku, w czasach, w których w dziedzinie przyklejania papieru do powierzchni wymyślono już chyba wszystko, użyto standardowej naklejki zostawiającej paskudny klej.
Każda kolejna półka znajdowała się na ścianie nieco szybciej od poprzedniej i ostatecznie zmontowaliśmy wszystko parę minut przed 16stą.
Jest satysfakcja.
Resztę dnia odpoczywałem, a wieczorem odwiedziłem @monti33 na kolację i Hive'owe pogaduchy.

This report was published via Actifit app (Android | iOS). Check out the original version here on actifit.io




29/11/2021

12273

Daily Activity, Home Improvement
---
---