Urodzinowy kanion / Birthday canyon hike [#114] POL/ENG

Barranco, czyli po polsku jar/kanion to bardzo charakterystyczny element krajobrazu południowej strony Teneryfy. Bazaltowe korytarze rozchodzą się koncentrycznie od zlokalizowanego w centrum wyspy szczytu Teida. To odpływ wód opadowych ukształtował takie formy na przestrzeni milionów lat erozji.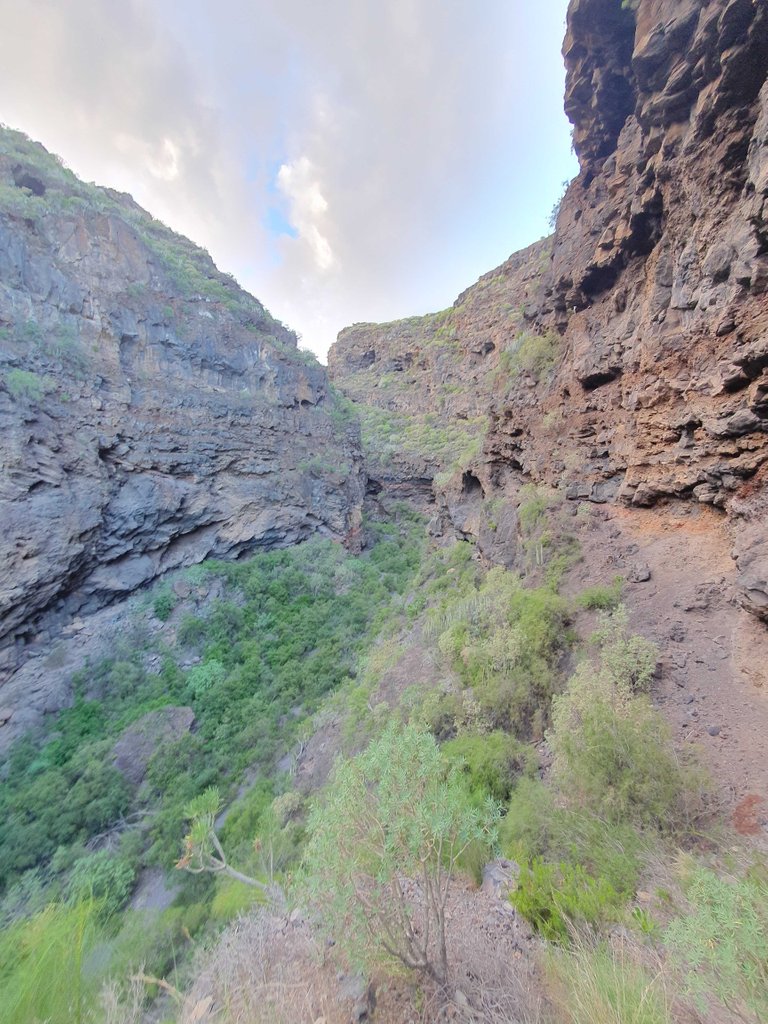 Wczoraj skończyłem 32lata, i już sam wyjazd był super prezentem, który sobie sprawiłem, natomiast hike w górę kanionu był jak wisienka na torcie. Na wycieczkę wybrałem się z moją przyjaciółką Anią, razem ze swoim partnerem spędzają na Kanarach kilka miesięcy w roku. Całkiem dobrze zdążyła poznać już teren, ale tym razem trafiliśmy w miejsce, w którym jeszcze nie była.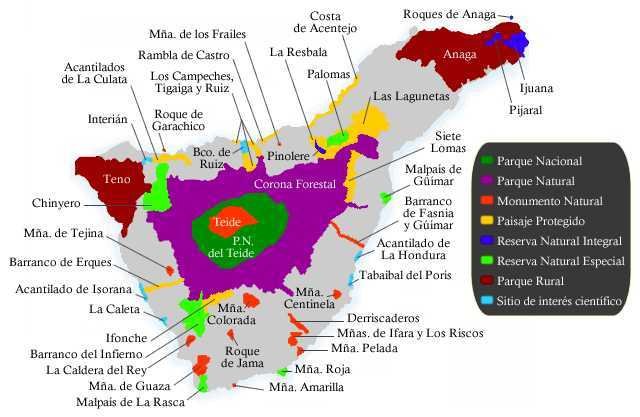 Przed wyjazdem pobrałem sobie mapę obiektów przyrodniczych oficjalnie objętych jakąś formą ochrony, jako ekoludek i fan kontaktu z przyrodą zawsze znajduję w takich miejscach coś dla siebie. Na hike wybraliśmy Barranco de Fasnia y Gúimar, w planach była prawie pięcio-kilometrowa trasa.
Wchodząc do kanionu od wybrzeża przeszliśmy tunelem pod autostradą i po wygramoleniu się z pozostałego po budowie rumowiska weszliśmy między skalne ściany, już za pierwszym większym zakrętem szum samochodów praktycznie ucichł i wyczuć dało się panujący tam nienaruszony spokój. Co kilkadziesiąt metrów do pokonania była bazaltowa, gładka ściana. Dwa, trzy, czasem cztery metry w górę, było dość spękań, aby bez problemu wdrapać się wyżej.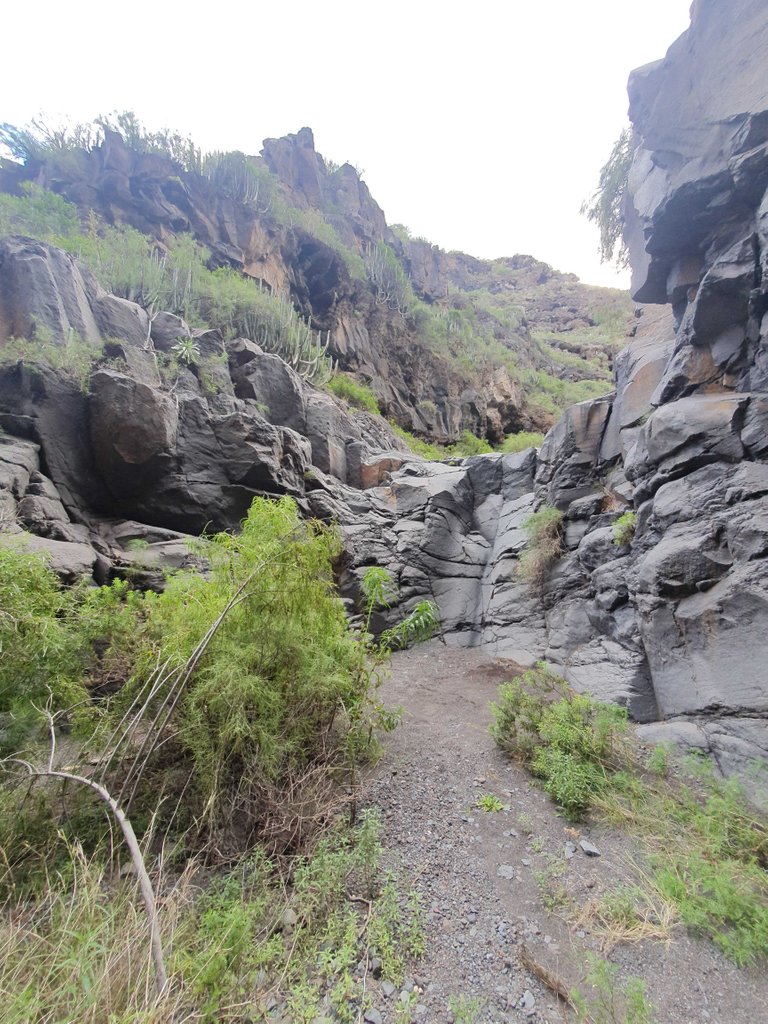 Po przejściu 1/3 planowanej trasy pojawiła się jednak przeszkoda, która zweryfikowała nasze plany. Bez sprzętu i przygotowania wspinaczkowego nie chcieliśmy ryzykować. Po kilku nieśmiałych próbach stwierdziliśmy, że nie warto.
Kto ze mną podróżował ten wie, że nie znoszę wracać tą samą trasą, także uparcie obserwowałem zbocza kanionu w poszukiwaniu łagodniejszych wejść pozwalających przejść dalej. Nic z tego. Bardzo chcieliśmy przynajmniej wyjść z barranco inną drogą.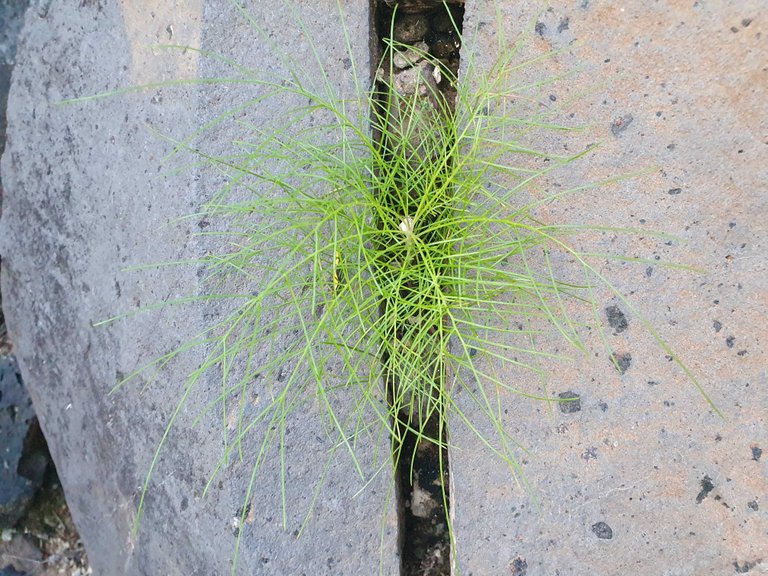 "Jak taki mały ziomek mógł pęknąć taki duży kamień?!"
Po kilkuset metrach udało znaleźć się dość dogodne zbocze, które pozwoliło się nam wydostać na górę. Bardzo lubię tego typu podejścia, uważność włączona, zmysły się wyostrzają, całe ciało jest zaangażowane. Brakuje mi warunków fizycznych do wspinaczki, natomiast taka forma aktywności jest w sam raz na moje możliwości.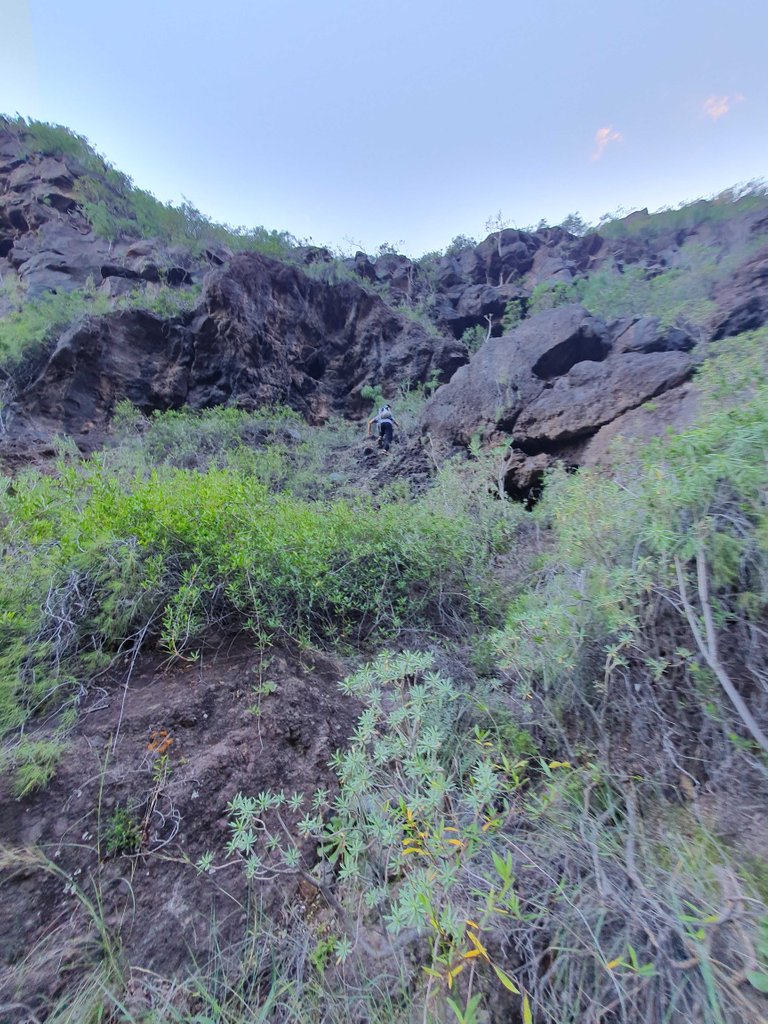 Mniej więcej po godzinie byliśmy na górze, przez cały czas podejścia nie mieliśmy pewności, czy przed nami nie pojawi się ściana nie do pokonania, zajść zawsze jest trudniej niż wejść na górę. Na szczęście obyło się bez poważniejszych przeszkód. To dopiero parę dni, ale już wiem, że jeszcze poeksploruję barranca.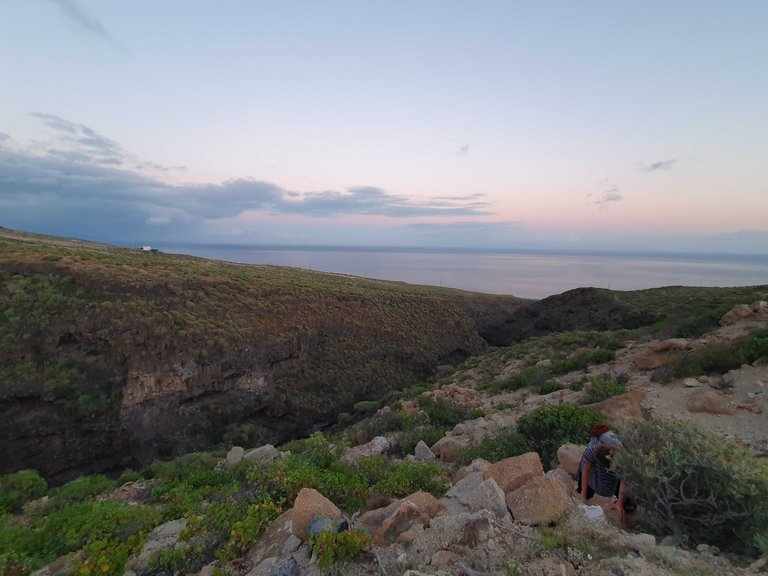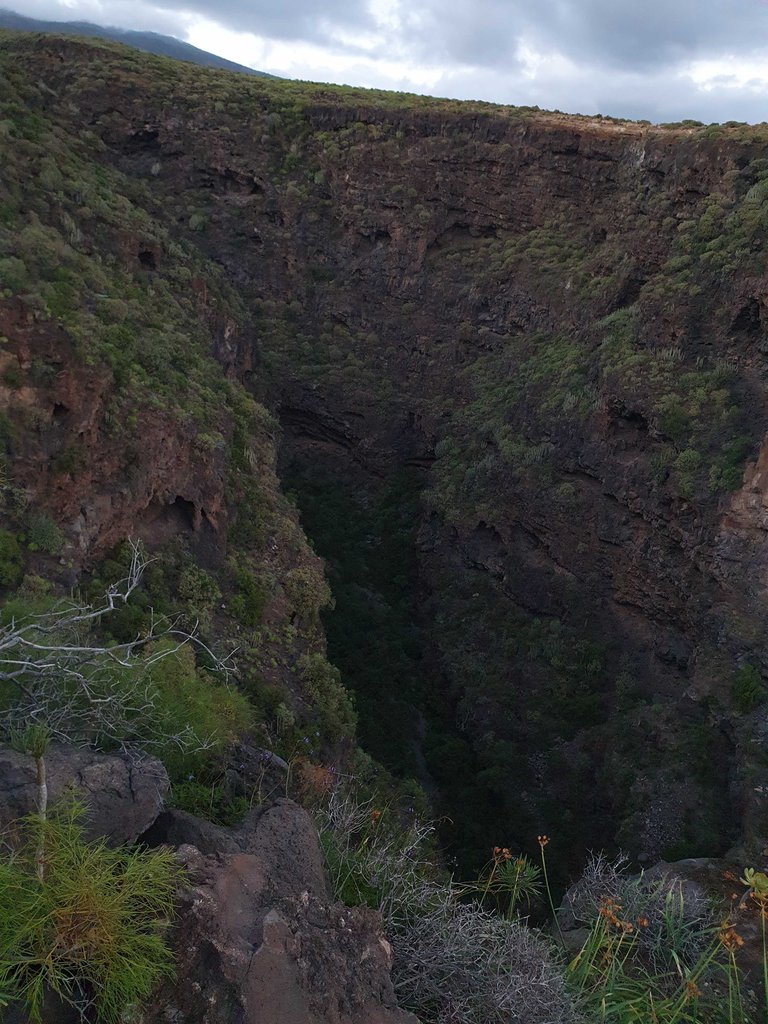 ENG
Barranco, or in English "gulch" or "canyon," is a very characteristic element of the landscape of the southern side of Tenerife. Basaltic corridors branch out concentrically from the Teida summit located in the center of the island. The runoff of rainfall shaped these forms over millions of years of erosion.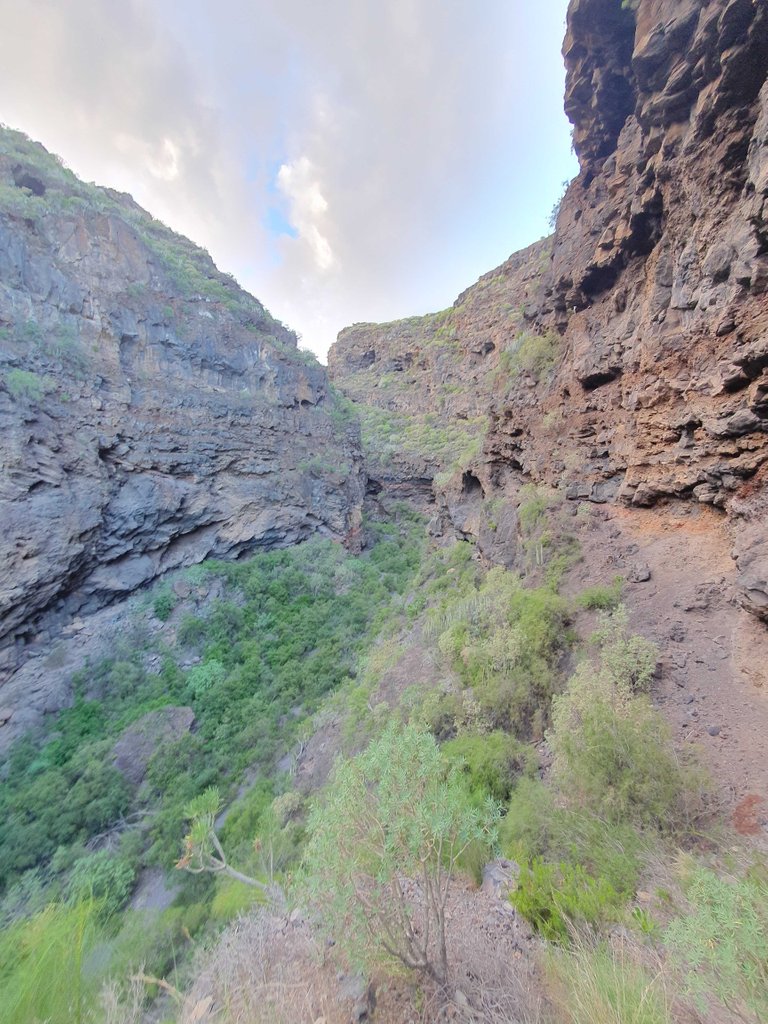 Yesterday I turned 32 years old, and entire trip was a super gift that I gave myself, but the hike up the canyon was like the cherry on top. I went on the excursion with my friend Ania, who together with her partner spends several months on the Canary Islands each year. She already knows the area quite well, but this time we went to a place where she had not been before.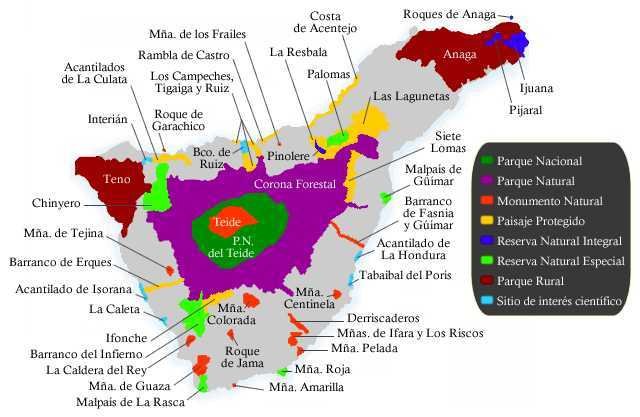 Before the trip, I downloaded a map of nature objects officially protected by some form of conservation, as an eco-enthusiast and a fan of contact with nature, I always find something for myself in such places. For the hike, we chose Barranco de Fasnia y Gúimar, with a nearly five-kilometer route planned.
Entering the canyon from the coast, we passed through a tunnel under the highway and after scrambling out of the rubble left from construction, we entered between rock walls. After the first big bend, the sound of cars practically faded away and one could feel the unspoiled peace that prevails there. Every few tens of meters, there was a smooth basalt wall to be overcome. Two, three, sometimes four meters up, there were enough cracks to easily climb higher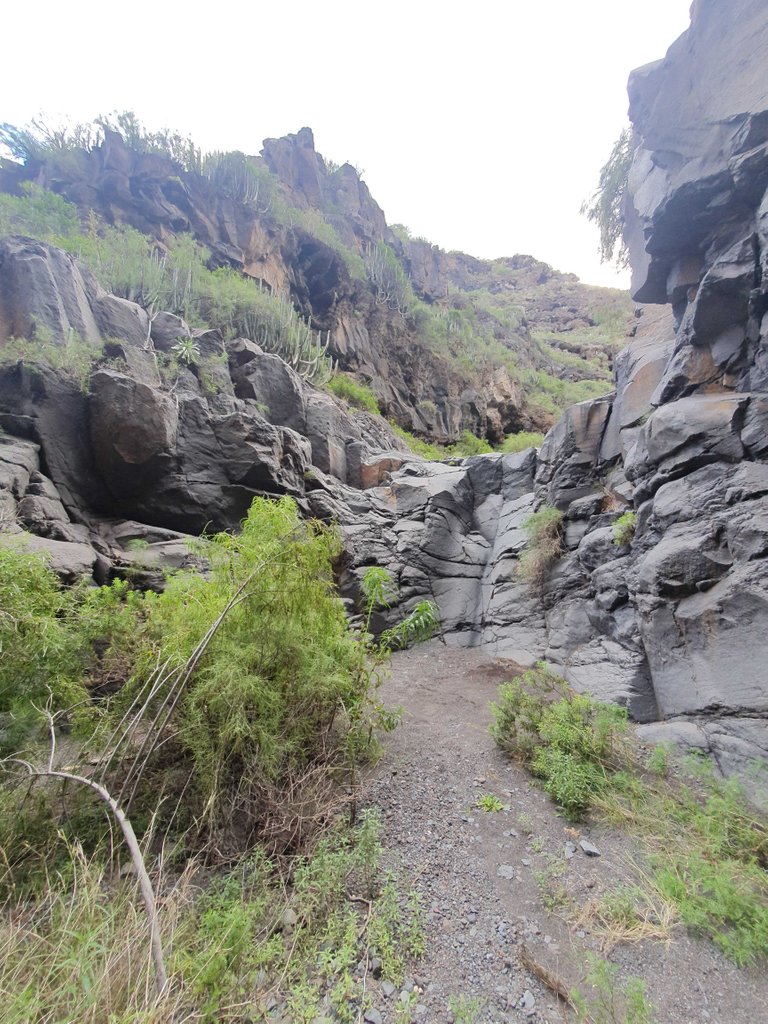 About a third of the way into our planned hike in the Barranco de Fasnia y Gúimar, we encountered an obstacle that changed our plans. Without proper equipment and climbing preparation, we decided not to take any risks. After a few timid attempts, we realized it wasn't worth it.
For those who have traveled with me, you know that I hate to return the same way, so I persistently observed the slopes of the canyon in search of gentler entrances that would allow us to continue. No luck. We really wanted to at least exit the barranco by a different route.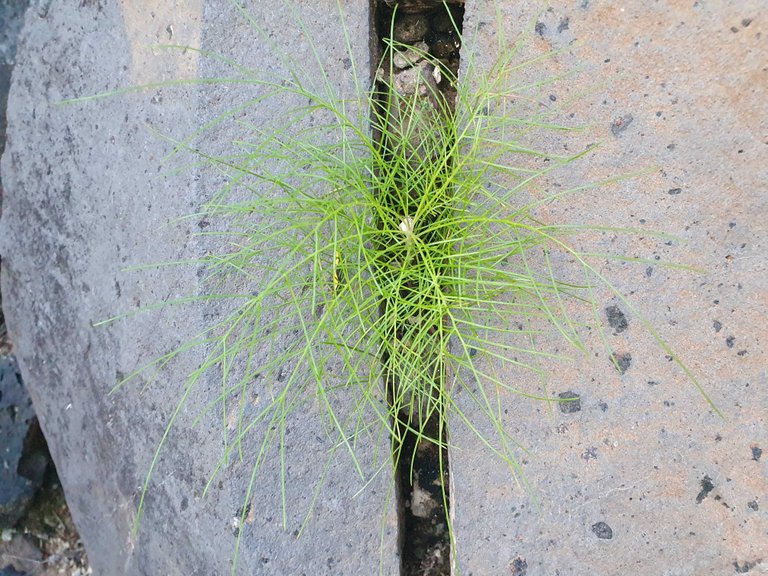 "How could this small buddy crack a rock like this?!"
After a few hundred meters, we found a relatively convenient slope that allowed us to get out of the canyon. I really enjoy this type of approach, with my attention fully focused, my senses heightened, and my entire body engaged. I don't have the physical conditions for rock climbing, but this type of activity is just right for my abilities.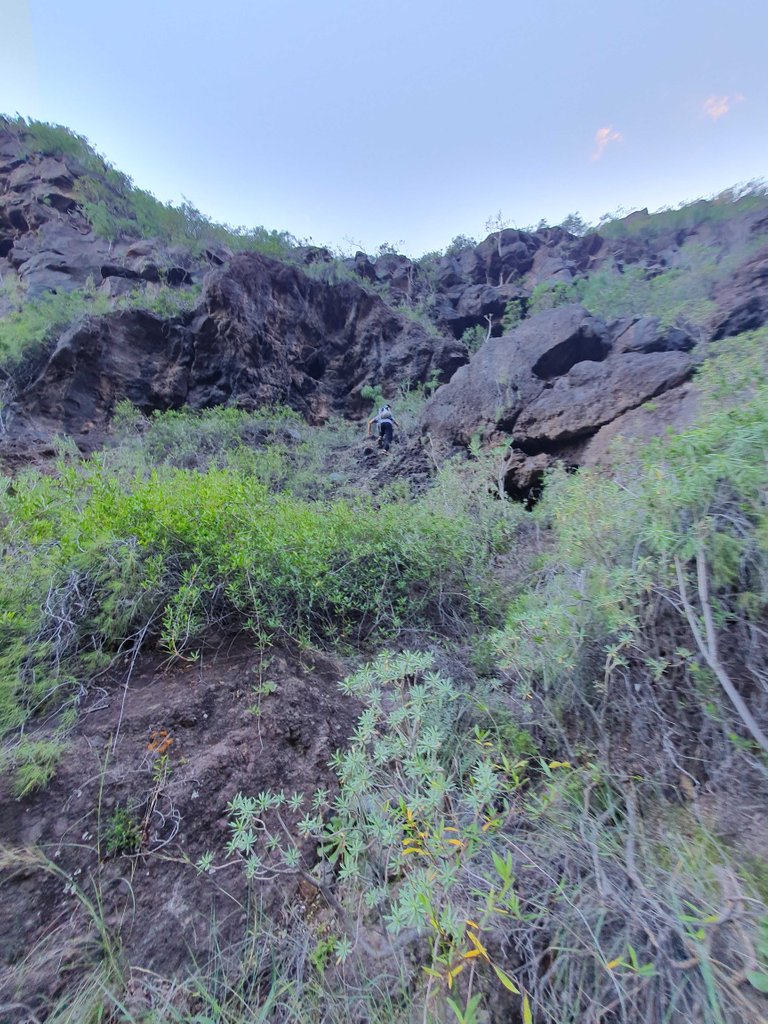 About an hour later, we were on top. Throughout the ascent, we were unsure if there would be an insurmountable wall ahead, as it's always harder to descend than to climb. Fortunately, there were no serious obstacles. I can't imagine going back and losing this view! It's only been a few days, but I already know that I'll explore other barrancos for sure.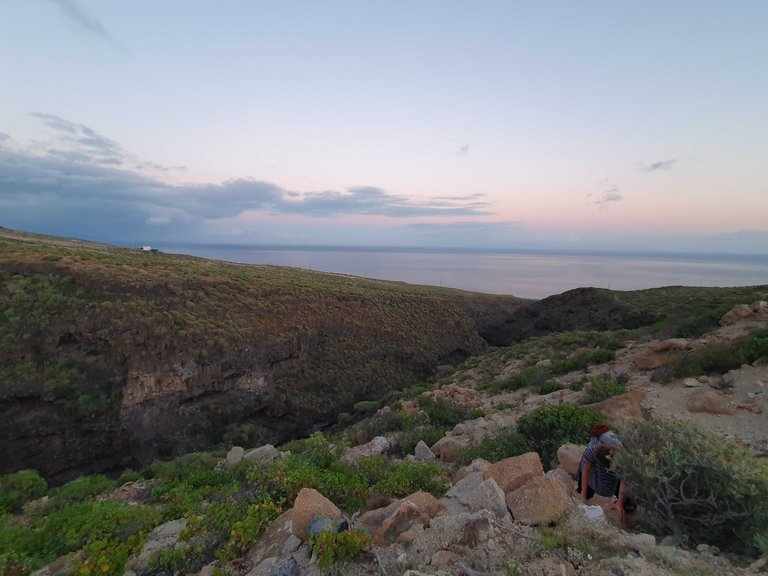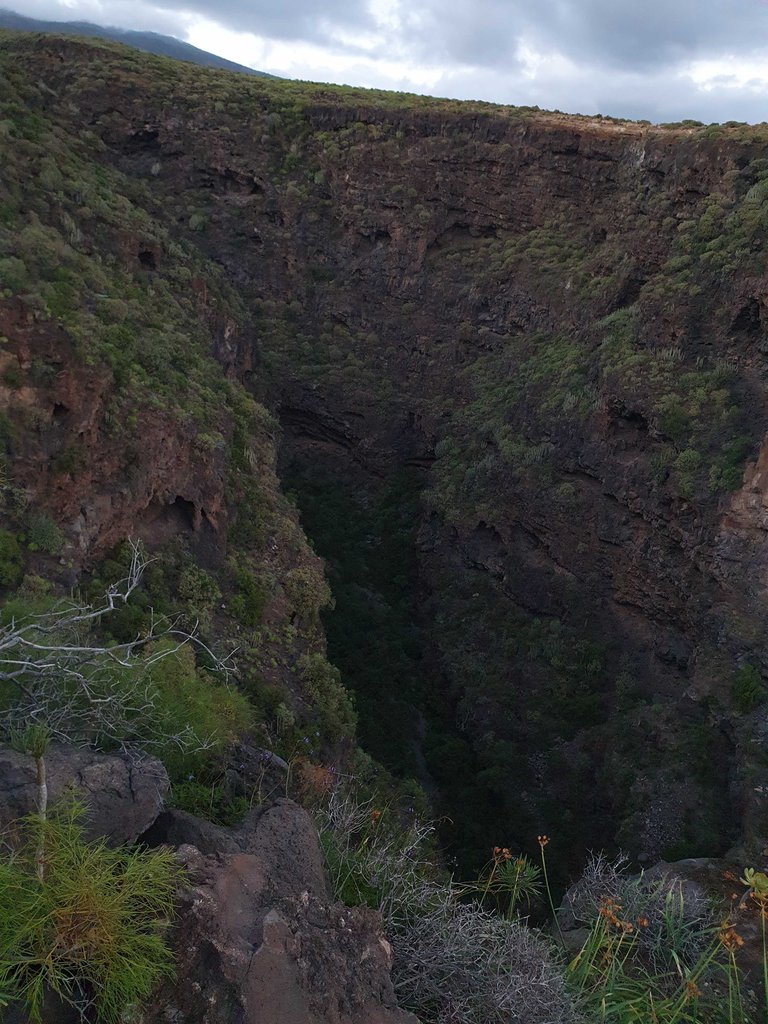 This report was published via Actifit app (Android | iOS). Check out the original version here on actifit.io




07/02/2023

26254

---
---