...i najwyższa góra. / ...and the highest of mountains. [#131] POL/ENG
Do końca nie byłem pewien czy uda mi się zaliczyć tę trasę. Przejścia z astmą, powolna regeneracja czy nawet zniechęcenie koniecznością wchodzenia na szczyt w nocy. Decyzja zapadła jednak spontanicznie. Czuję moc, idę.
W Internecie znalazłem detale. Wejście na Teide jest możliwe tylko po zarezerwowaniu sobie darmowego zezwolenia obowiązującego w konkretny dzień. Obowiązuje limit 200 osób dziennie. Najbliższy termin? Jakiś kwiecień-maj, nie pamiętam. Co prawda czasem coś się zwolni, nie mam jednak ochoty spędzać godzin przed ekranem odświeżając stronę internetową. Cały system działa tak sobie, bo zdominowany jest przez biura podróży, które rezerwują terminy na wejścia miesiące do przodu.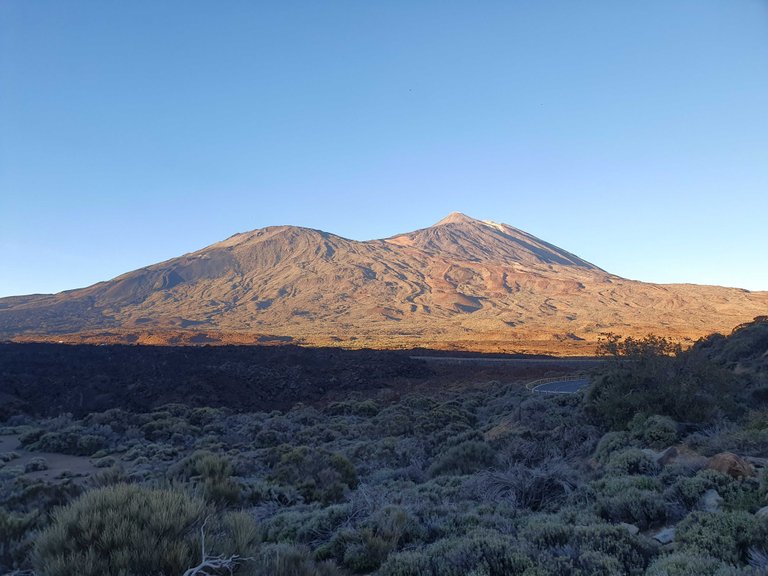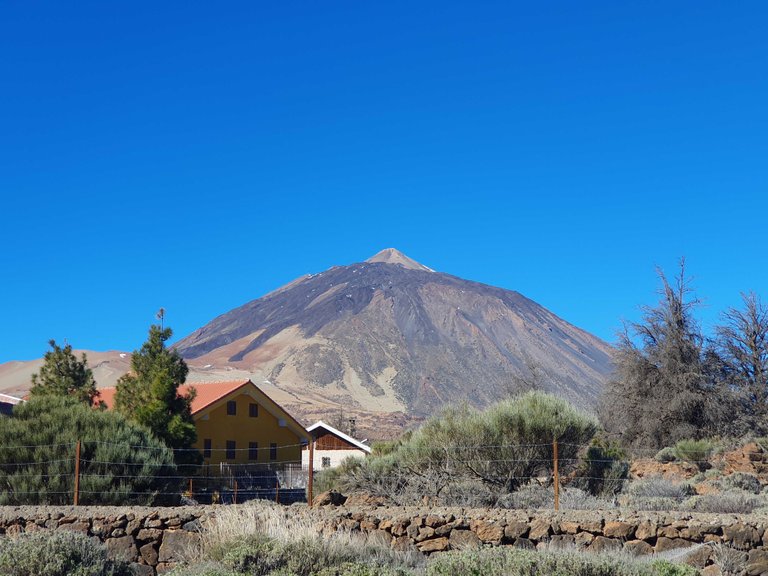 Alternatywą jest właśnie wejście w nocy, tak aby zejść ze szczytu przed godziną 9 rano, zanim strażnik stanie na bramce. Postanowiłem trafić tam idealnie na wschód słońca. Na parking tuż przy początku szlaku trafiłem już przedwczoraj o 19, coś mi mówiło, że później może być ciasno. Na wysokości 2200m w nocy robi się już naprawdę zimno, skaliste, pustynne otoczenie oznacza jeszcze chłodniejsze noce. Na szczęście auto było nagrzane i śpiwór też dał radę. Tuż po zmroku, kiedy zasypiałem, obudziło mnie uderzenie w mój samochód, komuś się za szeroko drzwi otwierają. Facet był totalnie w szoku, kiedy zobaczył moją zaspaną gębę w oknie. Na szczęście uderzenie przyjęła plastikowa listwa na drzwiach. Później zasnąłem już na dobre. Obudziłem się chwilę przed 3 w nocy i rzeczywiście, wzdłuż drogi co chwilę widać było światła latarek, ludzie szli nawet kilkaset metrów z innych parkingów.
Niedługo po 3 ruszyłem. Towarzyszyła mi ekscytacja i poczucie przygody, ale też wcale nie byłem pewien czy wejdę na szczyt. Teide to najwyższy szczyt Hiszpanii, ale też najwyżej położony punkt na Atlantyku. Nigdy nawet nie byłem na takiej wysokości, 3715m n.p.m. Ponad 1500m przewyższenia, do tego nocą. Czy moje dolegliwości pulmonologiczne polubią się z rozrzedzonym powietrzem? Czy ubrałem się dość ciepło? Czy nogi nie odmówią mi posłuszeństwa? YOLO. Zobaczymy.
Nie miałem latarki, jednak przy bezchmurnym niebie, księżyc dwa dni po pełni oświetlał szlak wystarczająco. Byłem wręcz zdziwiony, że każdy idzie z czołówką, a na szlaku było około 50 osób. Kiedy wzrok się już przyzwyczai do ciemności to widać wszystko, a pierwsze 4km prowadziły szeroką szutrową drogą. Kolejne 2km to było strome podejście wąską ścieżką po skalistym podłożu, to tam najczęściej nachodziły mnoe wątpliwości. Myślałem sobie "chyba Cię Przemku pojebało". Najbardziej bolały mnie uda, ale od czasu do czasu przysiadałem sobie na kamieniu i kiedy mięśnie dostawały trochę więcej tlenu to mogły dalej wspierać mnie w tym szalonym pomyśl. Od czasu do czasu chciałem zrobić zdjęcie, ale mimo, że jestem już po 30stce to jeszcze się nie nauczyłem, że zdjęcia telefonem z księżycem nidgy nie wychodzą. Najbliżej czegoś sensownego jest taka śnieżna zaspa.
Pierwszą większą przerwę miałem przy schronisku zlokalizowanym na wysokości około 3200m. Zjadłem sobie czipsy z guacamole i zaraz ruszyłem dalej, bo wiatr i ujemna temperatura wcale nie były przyjemne, a miałem na sobie kurtkę zimową, sweter i dwie bluzki. Swoją drogą braliście kiedyś czipsy w góry? Science, bitch!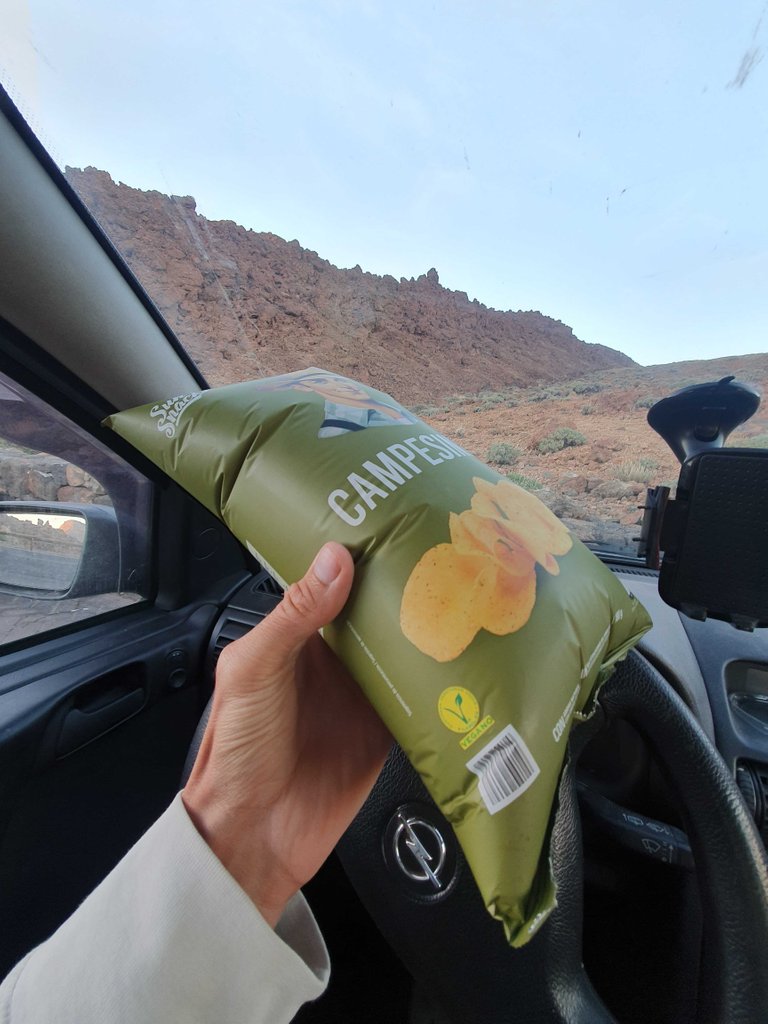 Od schroniska kontrolowałem już swój czas z nawigacją. Okazuje się, że aplikacja Osmand bardzo fajnie pokazuje profil trasy i nachylenie stoku po drodze. Na tym etapie byłem jakieś 7min po czasie, ale szybko zauważyłem, że algorytm jest skalibrowany na bardzo zrelaksowanych spacerowiczów. Ten odcinek trasy to było już całkowite rumowisko ze stosunkowo świeżych erupcji, trasa była też najbardziej stroma. Na szczęście wszystko było dobrze oznaczony, nie sposób było się zgubić, nawet po ciemku. Na horyzoncie pojawiła się już poranna łuna i wkrótce wszedłem na wypłaszczony teren i okolice kolejki linowej. Stąd widać już było ostatni etap, 200metrowy stożek Pico del Teide, był to wynik średniowiecznej erupcji. Czas miałem dobry, udało mi się nieco nadgonić, wcale specjalnie się nie spiesząc. Wchodząc na górę robiłem sobie jednak przerwę co parę minut. Szybko zauważyłem też siarkowe wyziewy i parującą spomiędzy skał wodą, jedyny znak, że wulkan wciąż jest aktywny.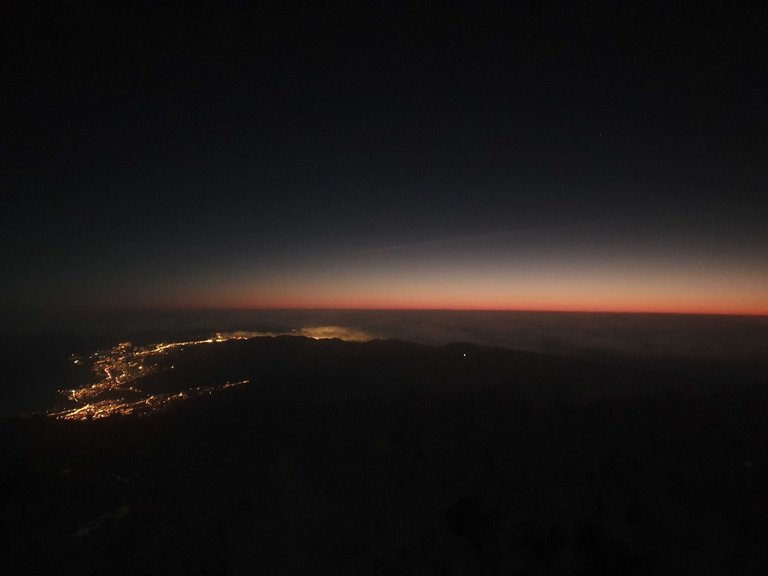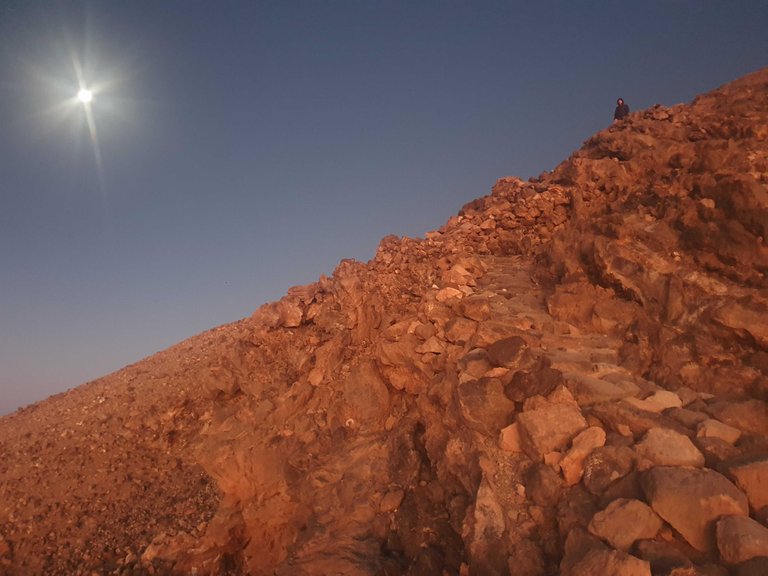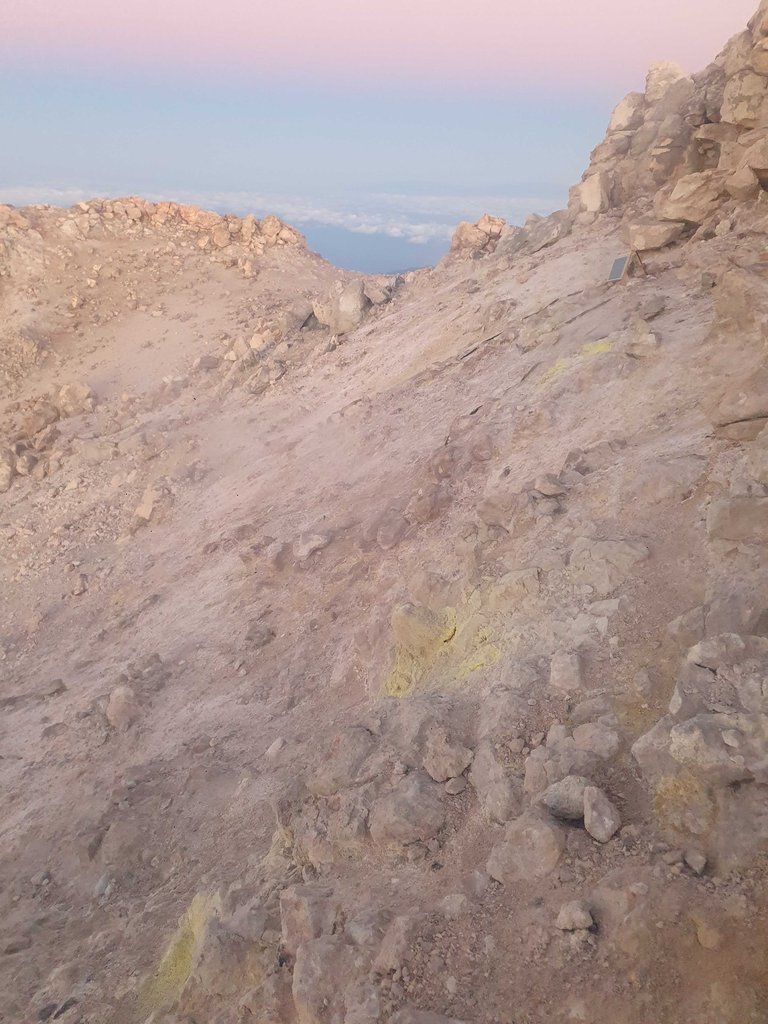 Na szczycie byłem dosłownie parę minut przed wschodem słońca. Zadowolony z siebie i szczęśliwy. Po zrobieniu paru zdjęć poczułem sztywność w dłoniach, no tak, jest tu całkiem zimno, zapomniałem. Chwilę później usłyszałem, że ktoś krzyknął "Słońce" i tuż obok Gran Canarii na horyzoncie pojawił się czerwony pasek. Na szczycie było około 30-40 osób i dałbym sobie uciąć mały palec u nogi, że większość z nich to byli Polacy.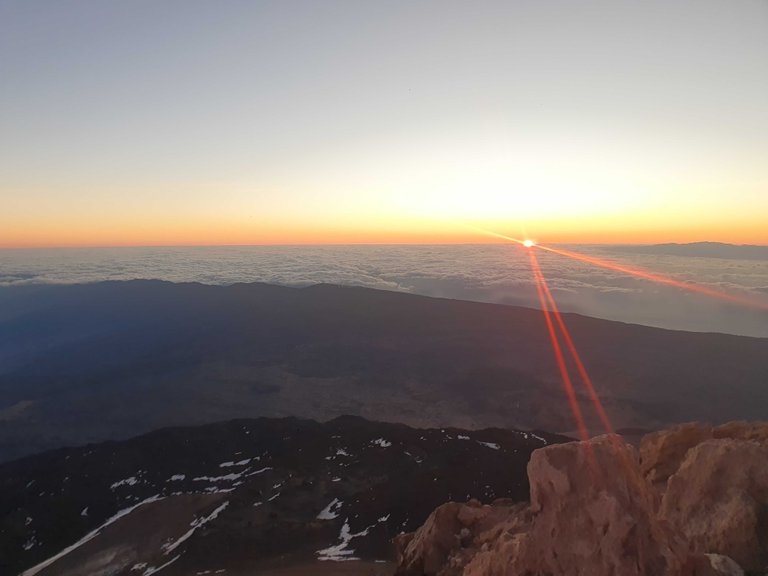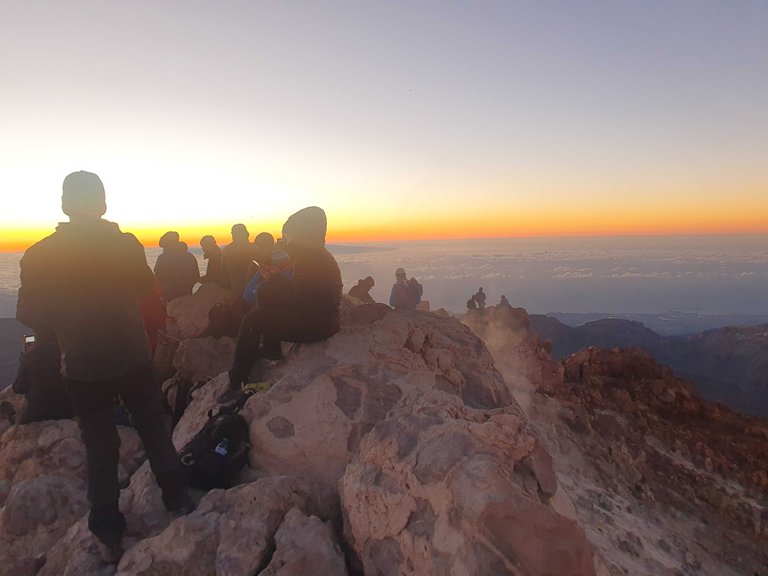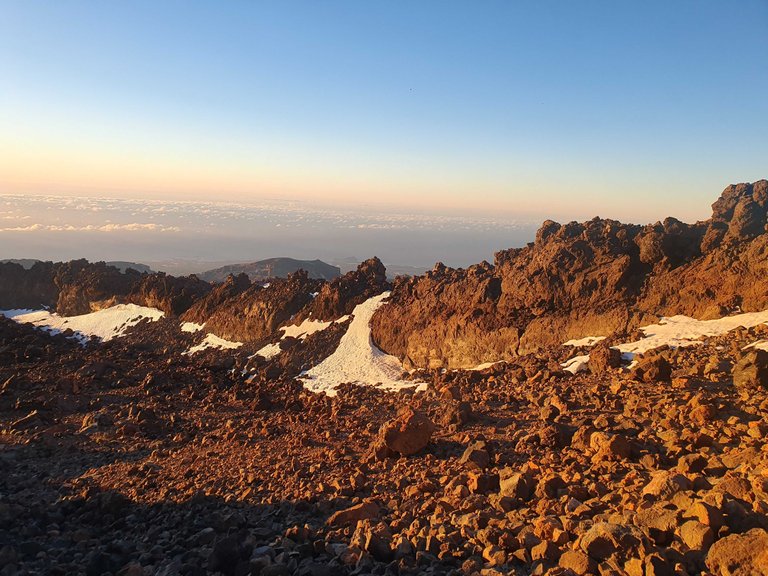 Co ciekawe, poza częstymi przerwami pod koniec które mogły wynikać ze zwykłego zmęczenia to obniżone stężenie tlenu wcale nie dało mi się we znaki. Jedyny efekt jaki zaobserwowałem to lekko spuchnięte dłonie. Słyszałem rozmowy ludzi, którzy mówili, że czują różnicę. Nie wiem jak to działa, będzie trzeba zrobić deep research :D
Zejście na dół było błyskawiczne, część trasy nawet zbiegłem, a czas upłynął nawet szybciej dzięki sympatycznej rozmowie z poznanym po drodze Jankiem z Krakowa. Janek przy zejściu palił papierosy, na nim rozrzedzone powietrze też nie robi wrażenia. Na pewno ktoś już zbadał ten temat.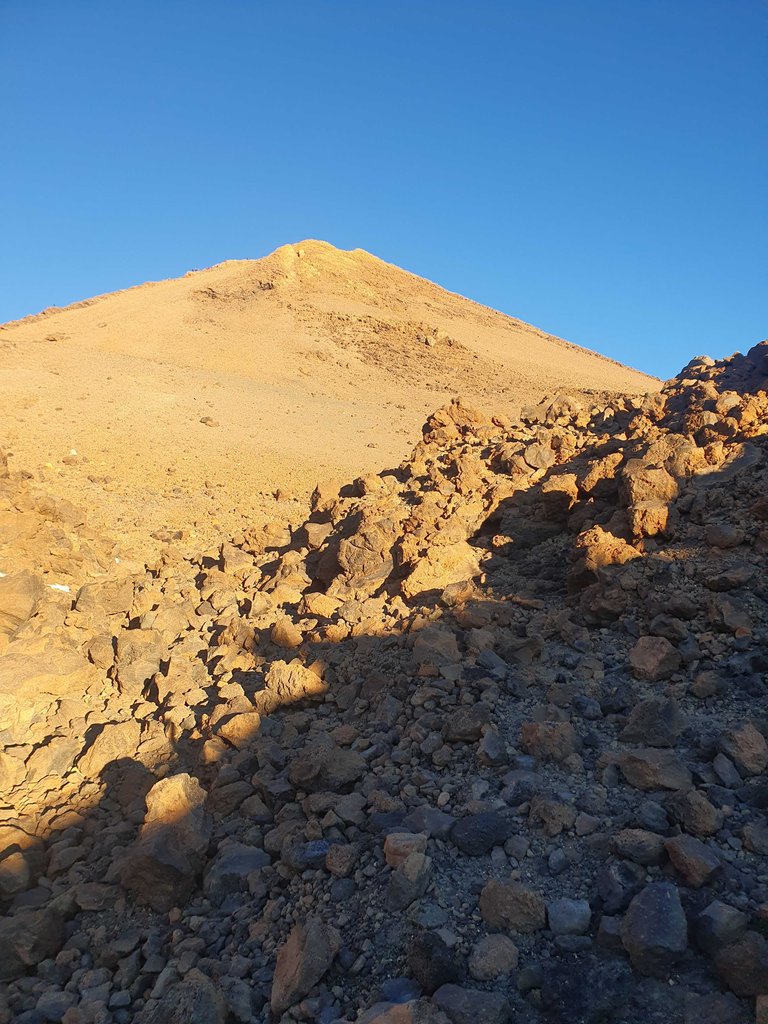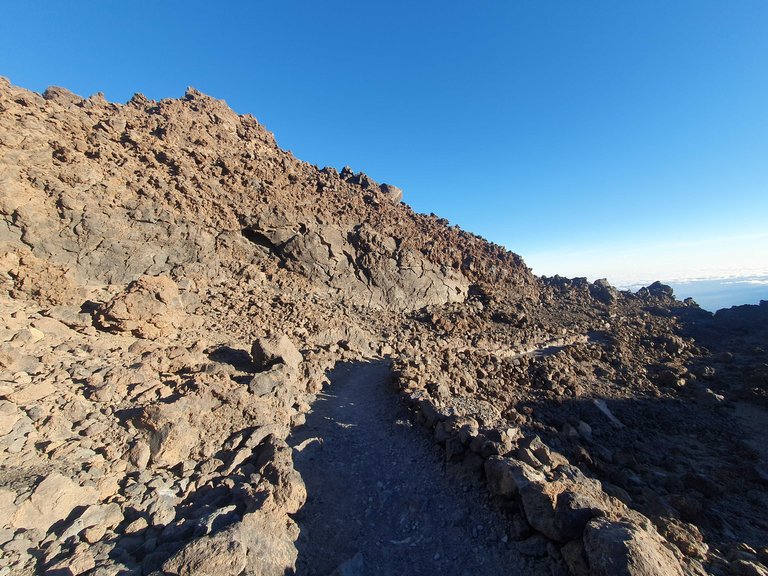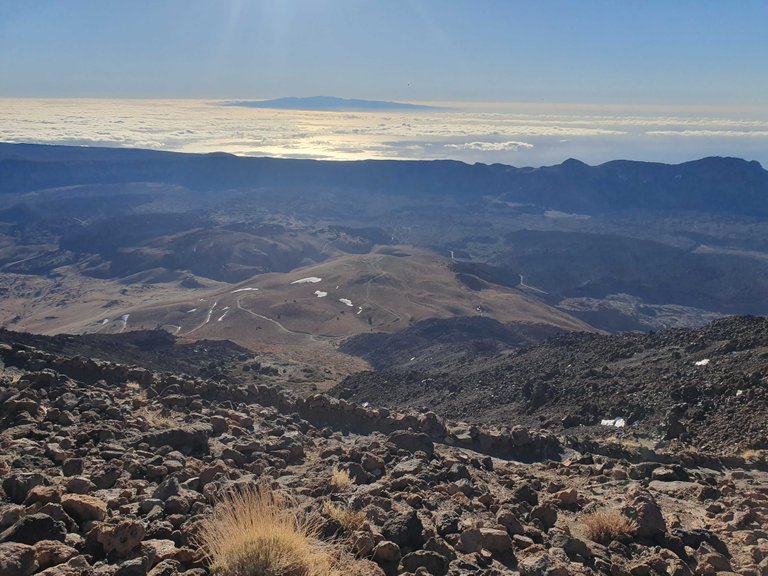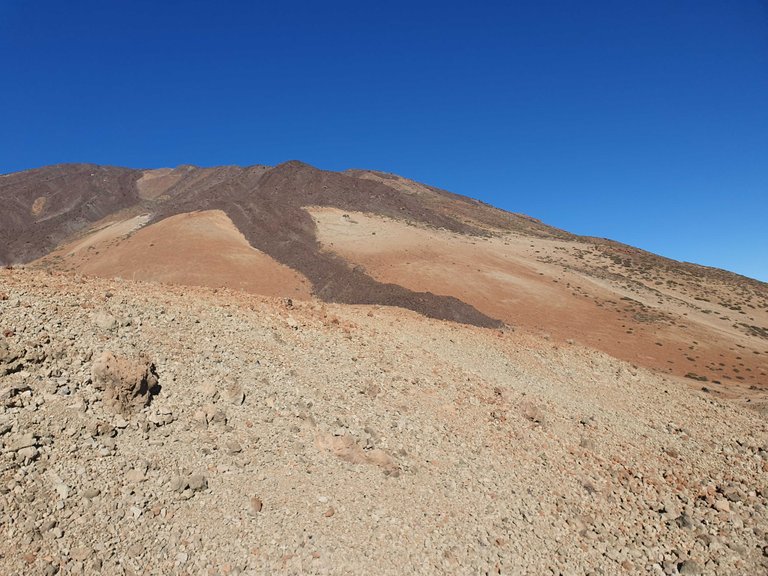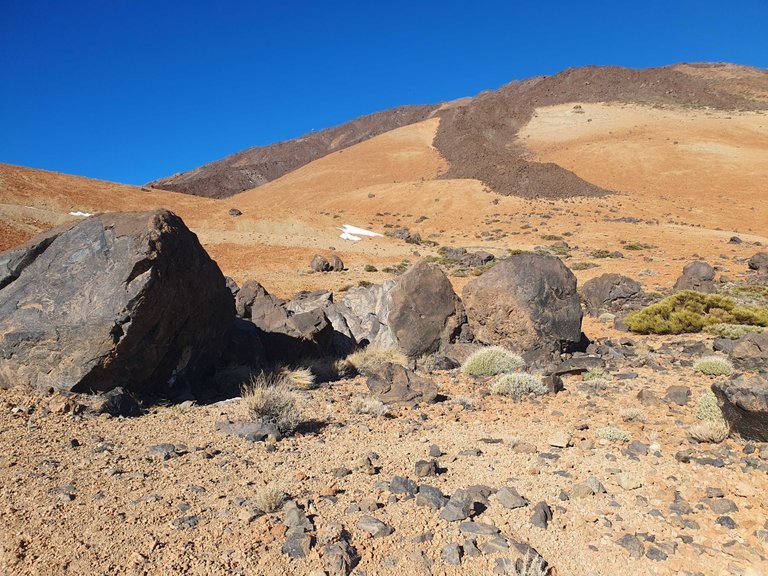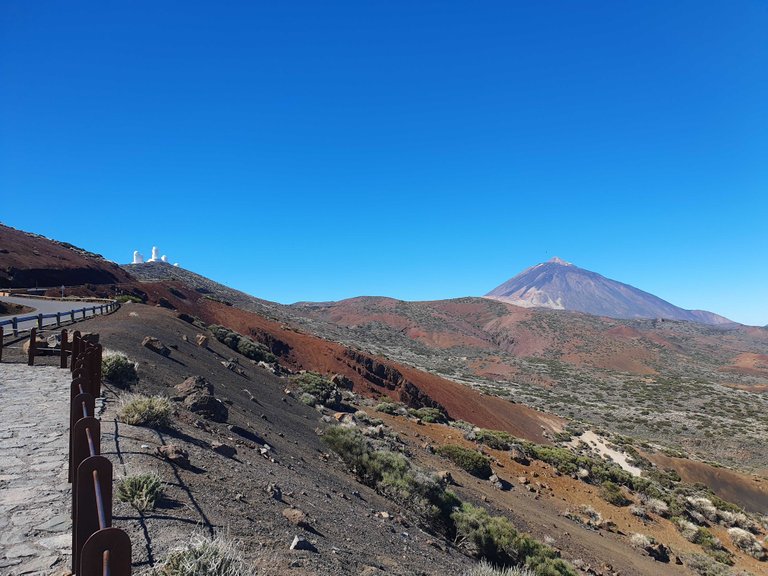 Do samochodu dotarłem przed 10tą, wyczerpany, ale szczęśliwy. Moje mięśnie się trzęsły i czułem się jak na lekkim kacu. Nie do końca wiem czy to kwestia gór, czy przesłonecznienia dzień wcześniej. Większość wczorajszego dnia przespałem, noc też. Dziś już czuję się dobrze, nieco bolą mnie stopy i łydki, nie było stretchingu. Dawno nie byłem z siebie tak zadowolony. Po latach obniżonej aktywności fizycznej, dla mnie taki hike to jest coś!
ENG
Until the end, I wasn't sure if I would be able to complete this trail. Asthma attacks, slow recovery, or even discouragement from the need to climb to the summit at night. However, the decision was made spontaneously. I feel strong, I'm going.
I found details on the Internet. Access to Teide is only possible by reserving a free permit for a specific day. There is a limit of 200 people per day. The nearest available date? Some time in April or May, I don't remember exactly. Although sometimes something opens up, I don't feel like spending hours refreshing the website. The whole system works poorly because it is dominated by travel agencies that book entry dates months in advance.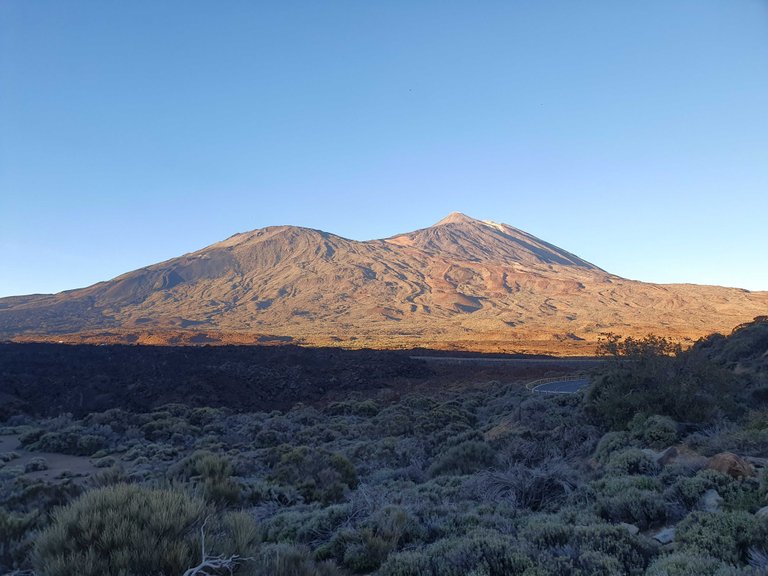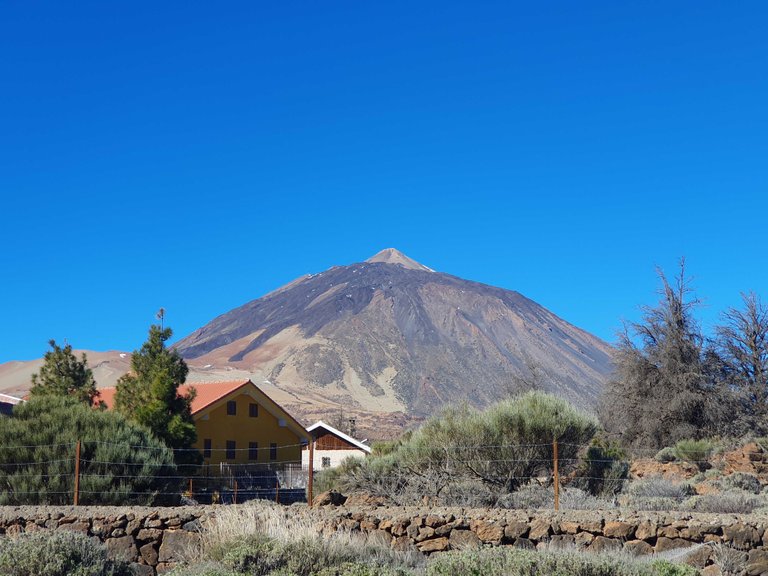 The alternative is to climb at night so that you can descend from the summit before 9 a.m. before the guard stands at the gate. I decided to arrive there precisely at sunrise. I arrived at the parking lot near the beginning of the trail two days ago at 7 p.m. Something told me it could be crowded later. At 2,200 meters at night, it gets really cold, and the rocky, desert environment means even colder nights. Fortunately, the car was warm and the sleeping bag did the trick. Just after dark, when I was falling asleep, I was awakened by a loud thud on my car. Someone opened their door too wide. The guy was totally shocked when he saw my sleepy face in the window. Fortunately, the impact was absorbed by the plastic trim on the door. Later, I fell asleep for good. I woke up shortly before 3 a.m., and indeed, along the road, you could see the lights of flashlights, people walking even several hundred meters from other parking lots.
Shortly after 3 a.m., I set off. I was accompanied by excitement and a sense of adventure, but I wasn't sure if I would make it to the summit. Teide is the highest peak in Spain, but also the highest point in the Atlantic. I had never been at such a high altitude, 3,715 meters above sea level. Over 1,500 meters of elevation gain, and at night. Will my pulmonary ailments like the thin air? Did I dress warmly enough? Will my legs obey me? YOLO. We'll see.
I didn't have a flashlight, but with a clear sky, the moon two days after full illumination was enough to illuminate the trail. I was even surprised that everyone was using headlamps, and there were about 50 people on the trail. Once your eyes adjust to the darkness, you can see everything, and the first 4 km led along a wide gravel road. The next 2 km were a steep climb on a narrow path over rocky terrain, where most of my doubts came in. I thought to myself, "Przemek, you must be crazy." My thighs hurt the most, but from time to time, I sat on a rock, and when my muscles received a little more oxygen, they could support me further in this crazy idea. From time to time, I wanted to take a picture, but even though I am already in my 30s, I haven't learned yet that pictures with the moon on a phone never turn out well. The closest thing to something reasonable is a snowy drift.
The first major break I had was at a shelter located at an altitude of about 3200m. I ate some chips with guacamole and then immediately continued on, because the wind and negative temperature were not pleasant, even though I was wearing a winter jacket, sweater, and two shirts. By the way, have you ever taken chips to the mountains? Science, bitch!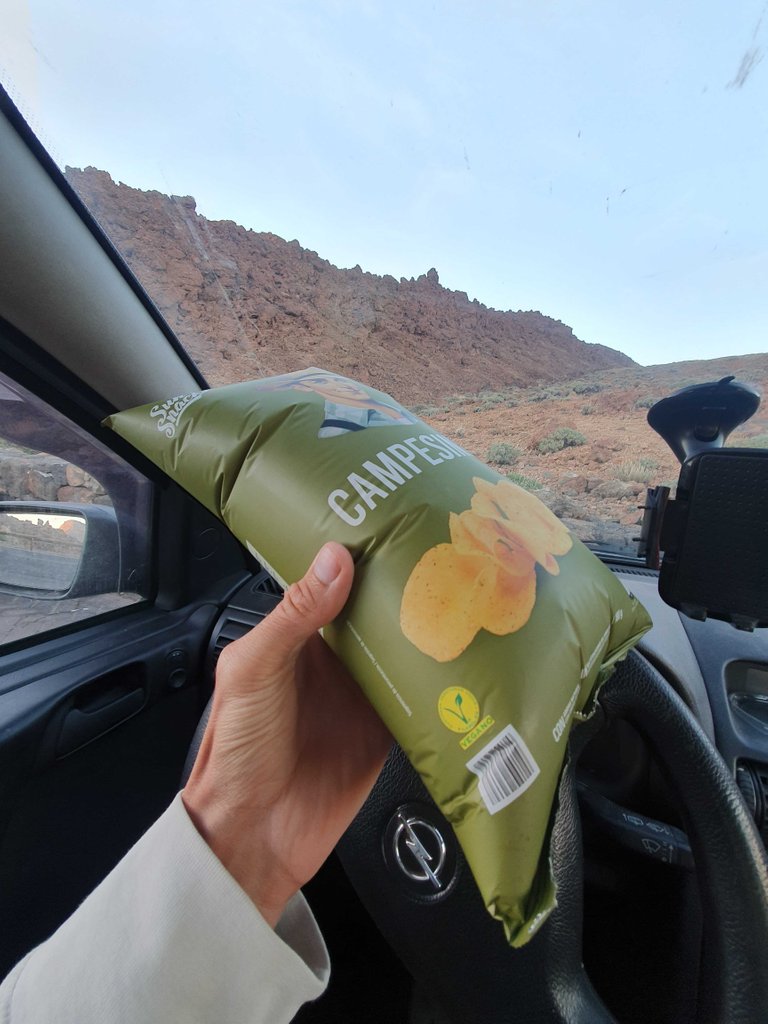 From the shelter, I controlled my time using navigation. It turns out that the Osmand app shows the route profile and slope inclination along the way very nicely. At this stage, I was about 7 minutes behind schedule, but I quickly noticed that the algorithm was calibrated for very relaxed walkers. This section of the trail was already a complete rubble from relatively fresh eruptions, and it was also the steepest part. Fortunately, everything was well marked, and it was impossible to get lost, even in the dark. The morning light appeared on the horizon, and soon I entered the flattened terrain and the surroundings of the cable car. From here, I could already see the last stage, the 200-meter cone of Pico del Teide, which was the result of a medieval eruption. I had good timing, managing to catch up a bit without rushing. However, I took a break every few minutes while climbing the mountain. I quickly noticed the sulfur fumes and water steaming from between the rocks, the only sign that the volcano is still active.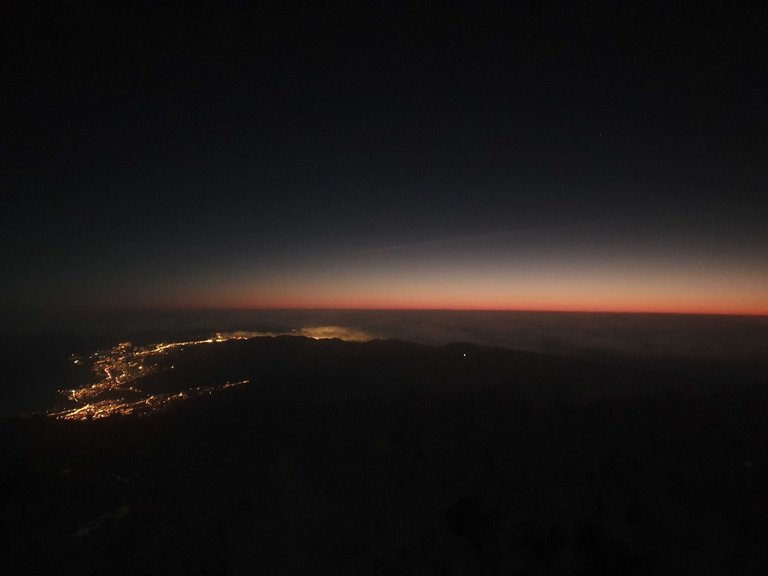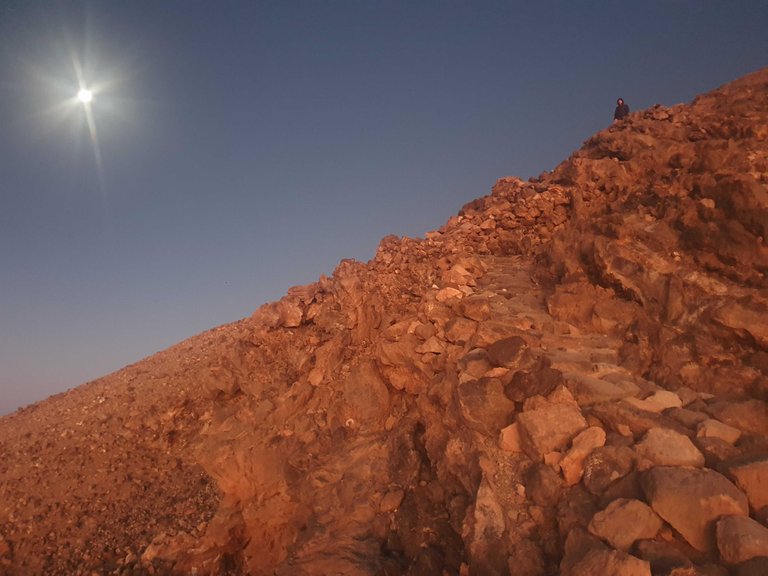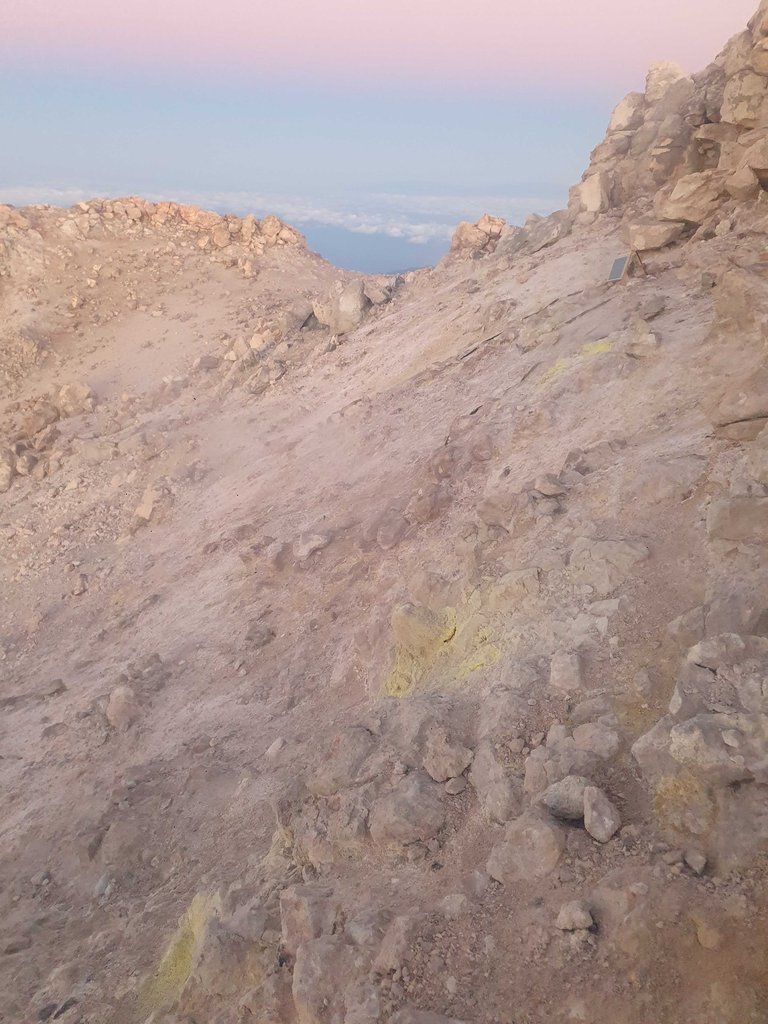 I reached the summit just a few minutes before sunrise. I was proud of myself and happy. After taking a few photos, I felt stiffness in my hands - well, it was quite cold up there, and I had forgotten about it. A moment later, I heard someone shout "Słońce!" and a red stripe appeared on the horizon, just next to Gran Canaria. There were about 30-40 people at the summit, and I would bet my little toe that most of them were Poles.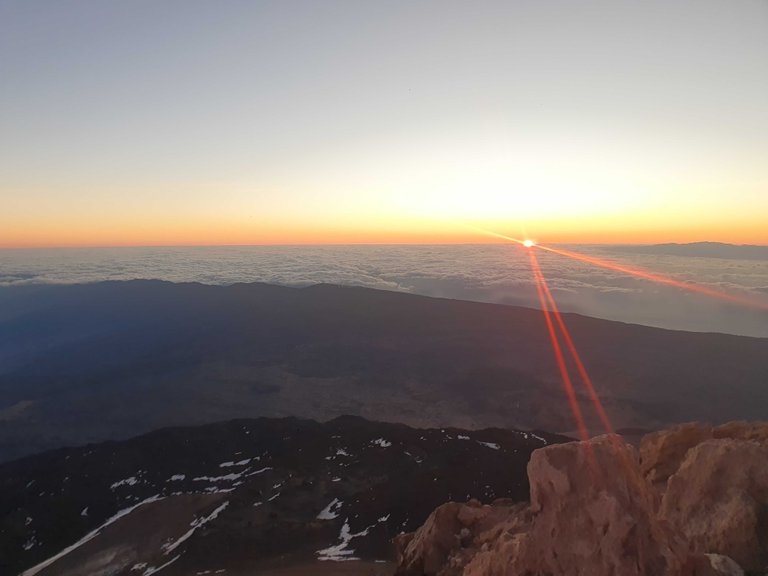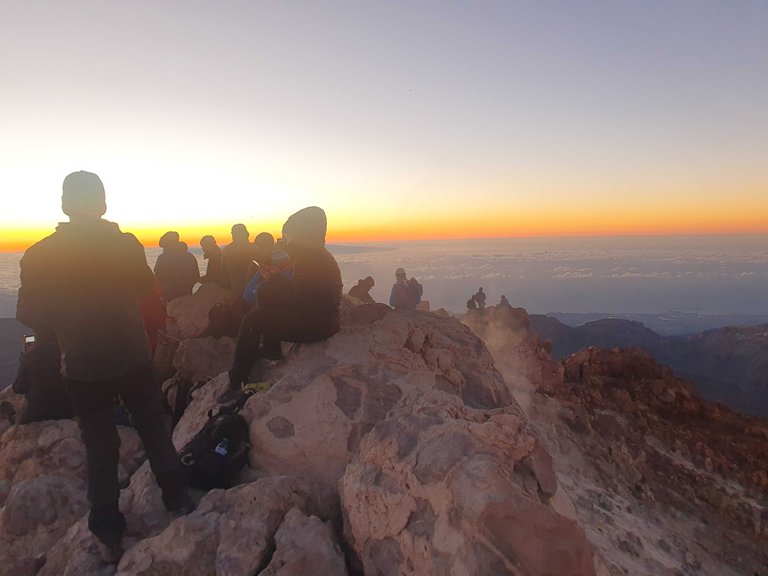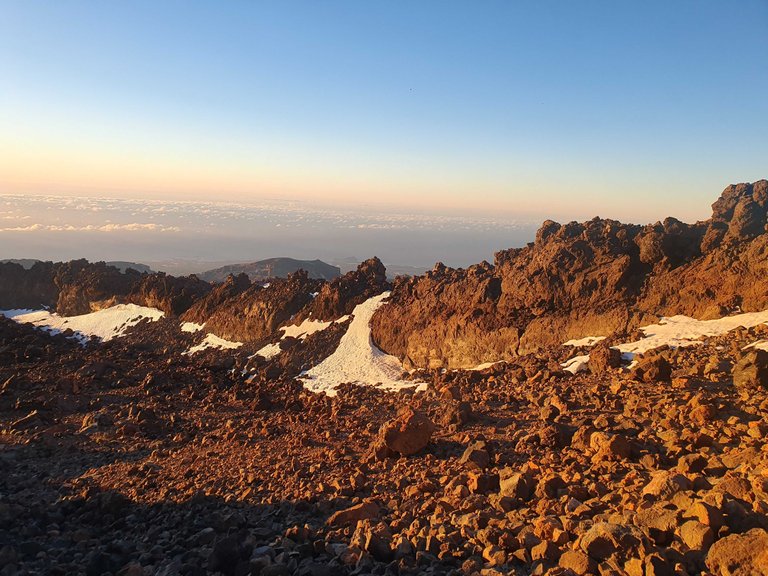 Interestingly, apart from frequent breaks towards the end, which could be due to regular fatigue, the reduced oxygen concentration didn't affect me at all. The only effect I noticed was slightly swollen hands. I overheard people talking about feeling a difference, but I'm not sure how it works, so I'll have to do some deep research on that. :D
The descent was lightning fast, and I even ran some parts of the trail. Time flew by quickly thanks to a friendly conversation with Janek from Krakow, whom I met along the way. Janek was smoking at the descent, and even the thinned-out air didn't seem to bother him. I'm sure someone has already researched this topic.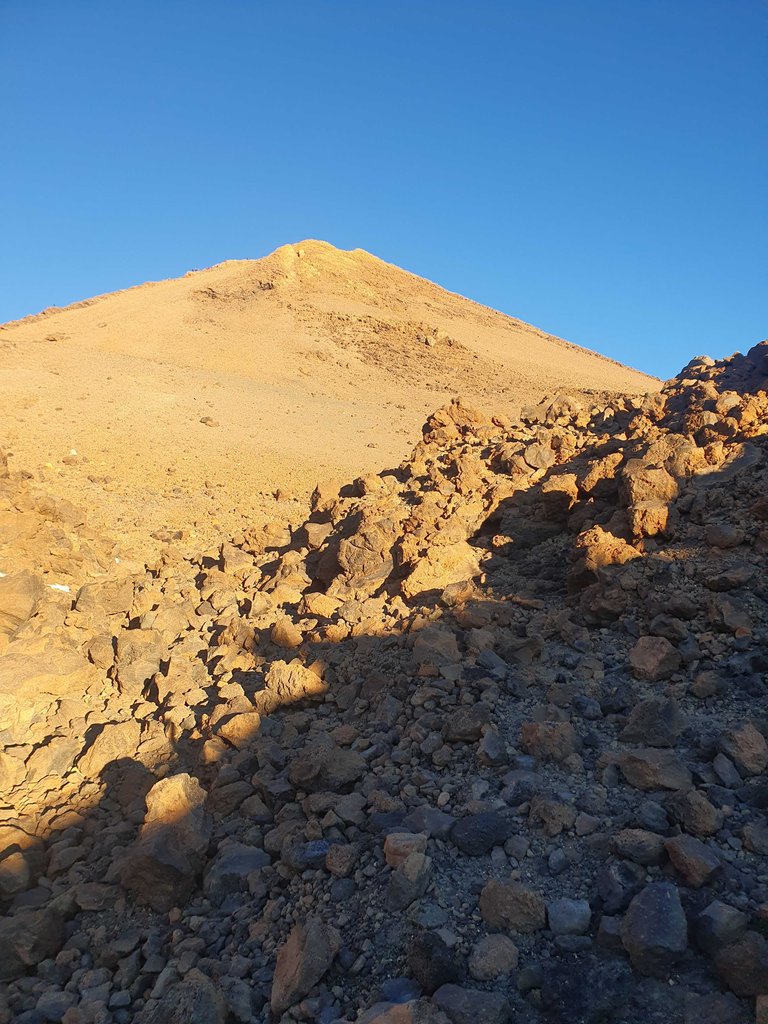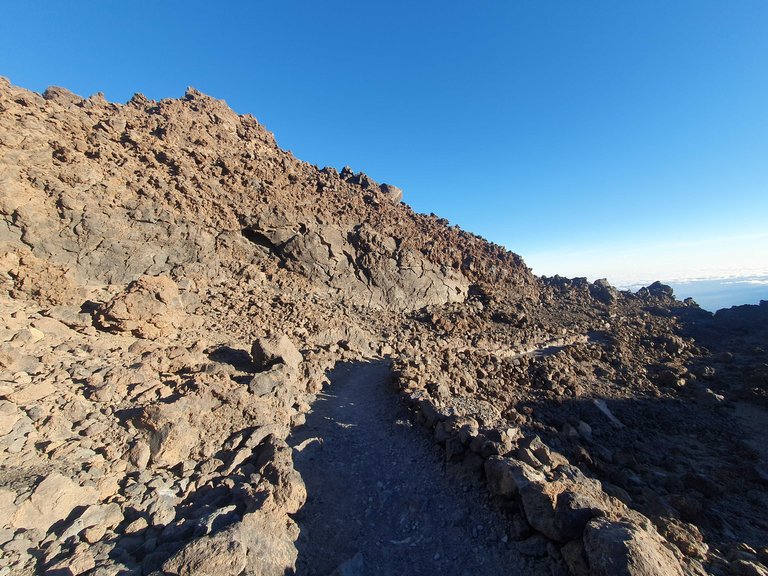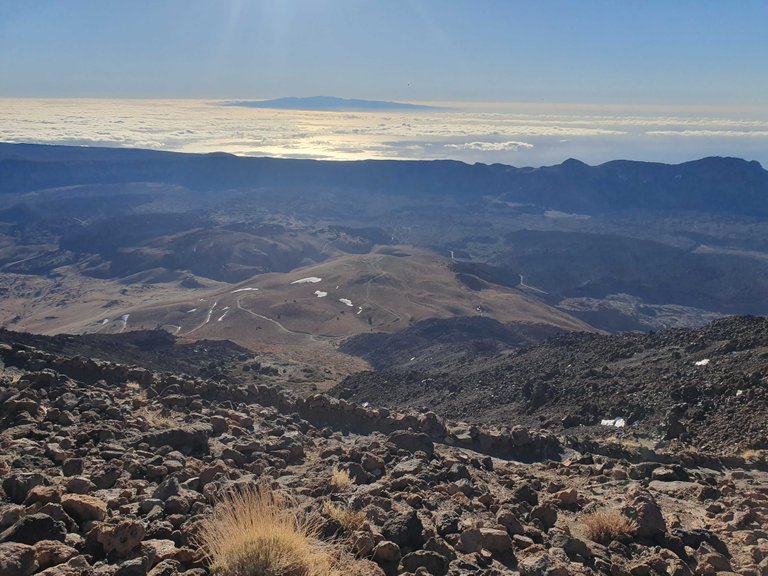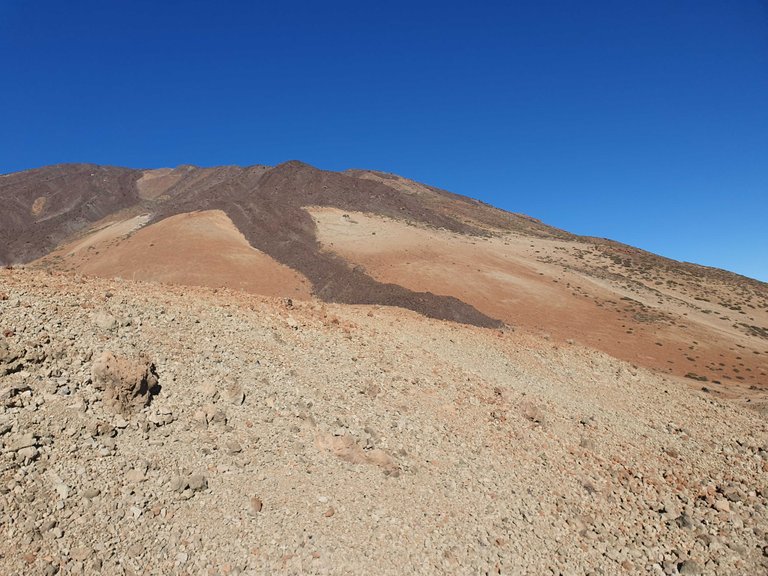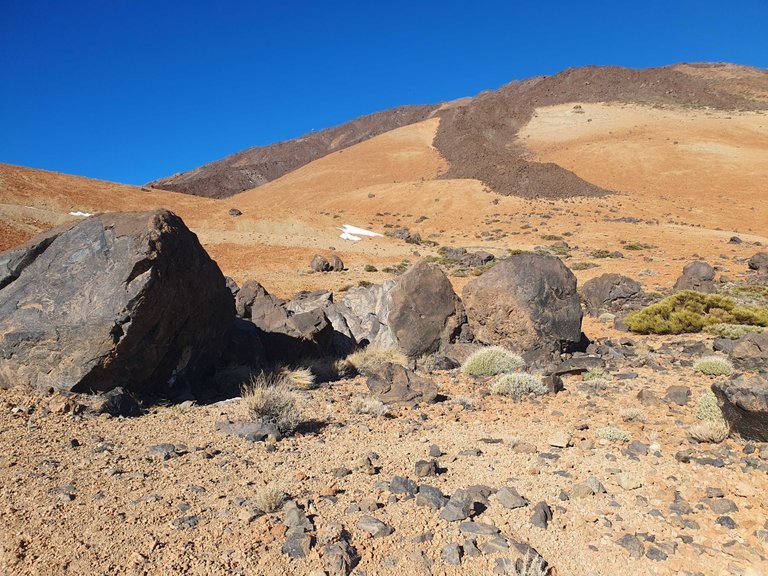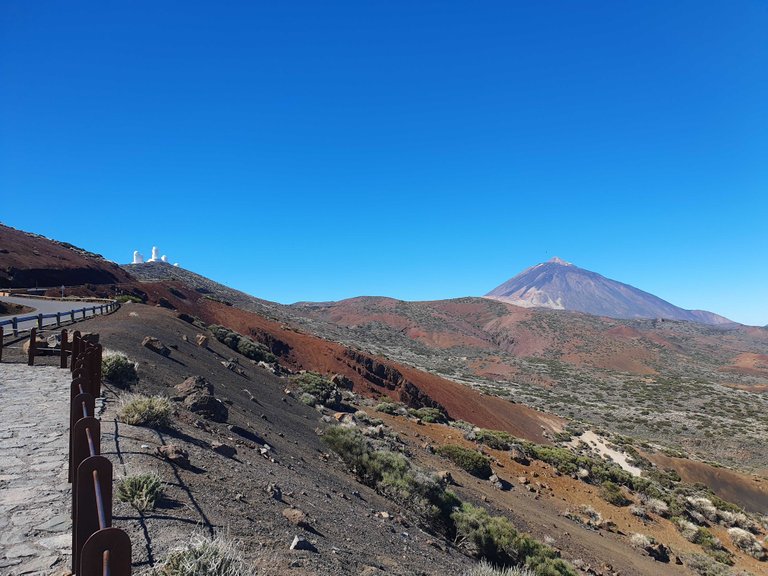 I reached the car before 10 am, exhausted but happy. My muscles were shaking and I felt like I had a slight hangover. I'm not sure if it was because of the mountains or the sun exposure from the day before. I slept most of yesterday, even the night. Today I feel good, my feet and calves are a bit sore, there was no stretching. I haven't been this pleased with myself in a while. After years without serious physical activity this is something for me.
This report was published via Actifit app (Android | iOS). Check out the original version here on actifit.io




10/03/2023

40402

---
---