Aug. 17, 22: Routine, Fall Prep, ZombieRun, Hard Crashing, TV, and Games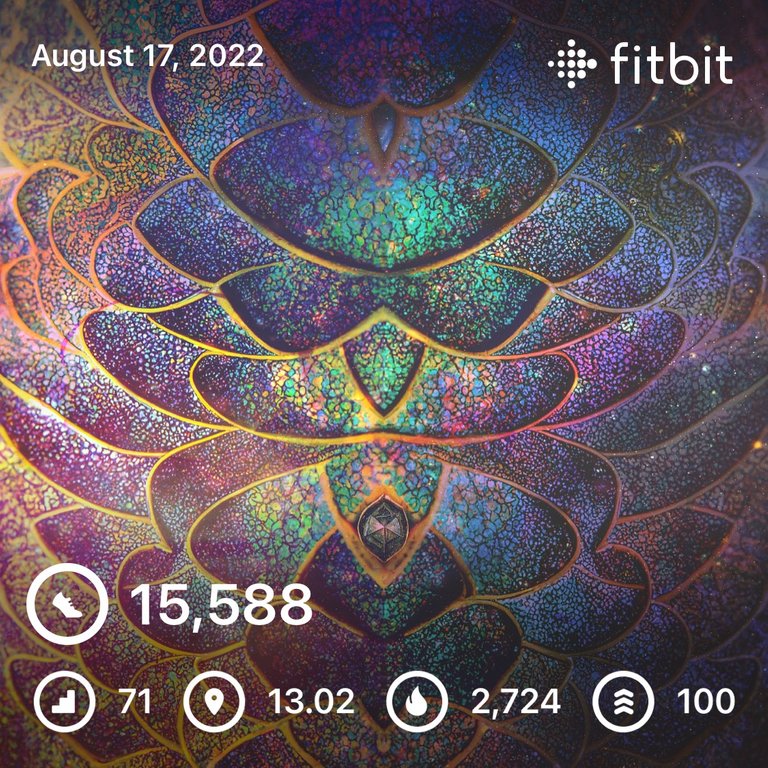 [Crashed out hard yesterday and had a rough time waking up after, so not much of a surprise that I was short again tonight…been trying to get stuff going early, though, and thinking of heading out to try and get a proper #AutomaticWin. - I gave up on it yesterday since I'd cheated while I was working on my post…wouldn't have been a legit win.]
Man! Last night was super rough and several hours short, now again tonight! 🤬😭 I really had to use the bathroom, so I got up and went and then laid down to go back to sleep but I needed to use the bathroom again 😢 and then I got as just up. 😡 I dragged really hard all day and basically accomplished nothing other than wondering why my stomach is churning so bad.
Had an excess of time to do the morning routine and did all the usual. Cryptos are down by a percentage point or two pretty much everywhere, so still the low and slow sideways action…I suppose, looking at the larger timeframe, we have been sort of wobbling our way slowly upward in general, but 25k seems to be the ceiling basically.
I'm still losing again against ETH on Polygon. I've nearly recovered to the price where I bought the MATIC, but losing about .8 ETH versus having just left it sit on Coinbase this entire time. 🤬🤬🤬🤬
Otherwise, not a lot to note. Shifted tokens, took care of Solairitas and monitored the market, did some curation, played some Wombat games (I got a new one - Mech Arena - and got a super nice NFT with 300 mining power on Dungeon Master! 💪), all the usual, and then worked on my post. I was trying to get it done early enough to try for a #AutomaticWin, but like I said I gave up on it since it wouldn't have been genuine by the time I had finished. Still, once I got my post done and shared, I headed out for a Zombierun.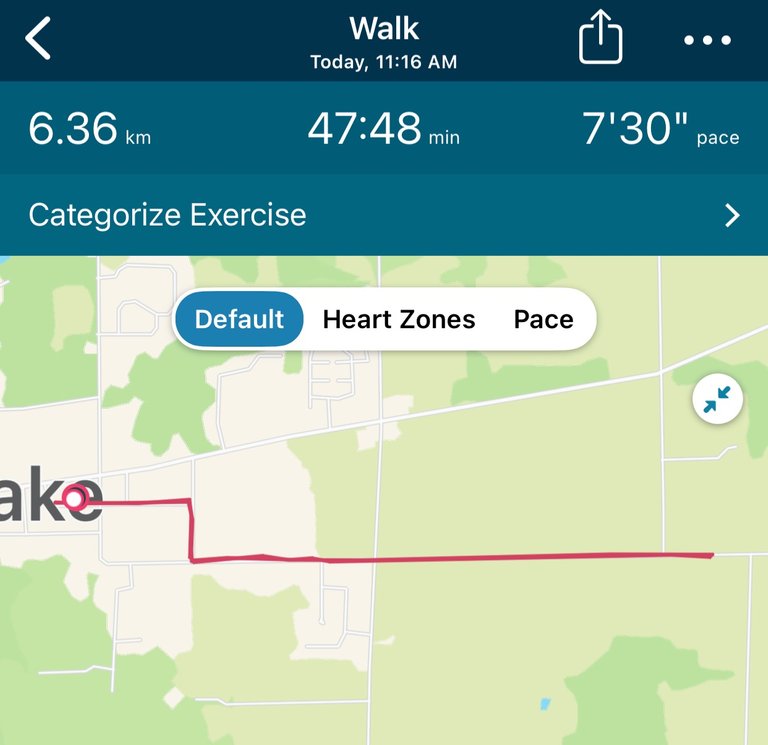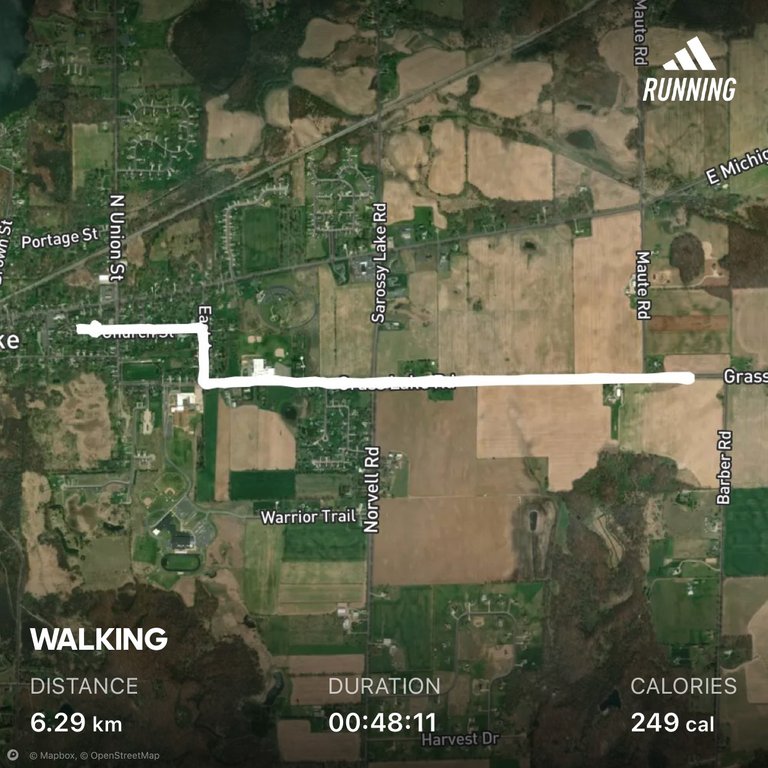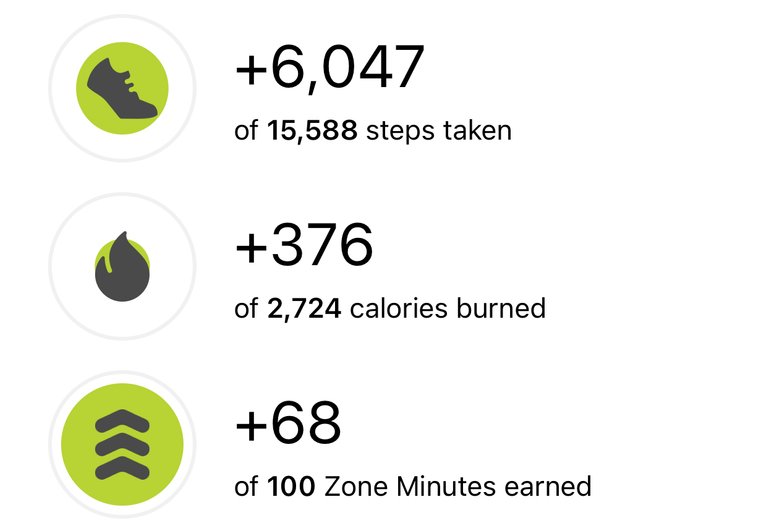 Once again I'd more or less planned on a five k run, but decided to keep it going and do six instead. I kept the pace down pretty well throughout, was at about 7:30 for the first five. 💪
The zombies weren't too terribly bad, but there were quite a few of them! I did well with all of them except I got one right at the end as I was coming home, sprinted that one out, and then got another one as I was getting the mail and walking toward the house. I just let it catch up to me and sacrificed an item; wasn't going to try and sprint again right at the end. 😢 Still, not a bad exercise and another mission accomplished! 😁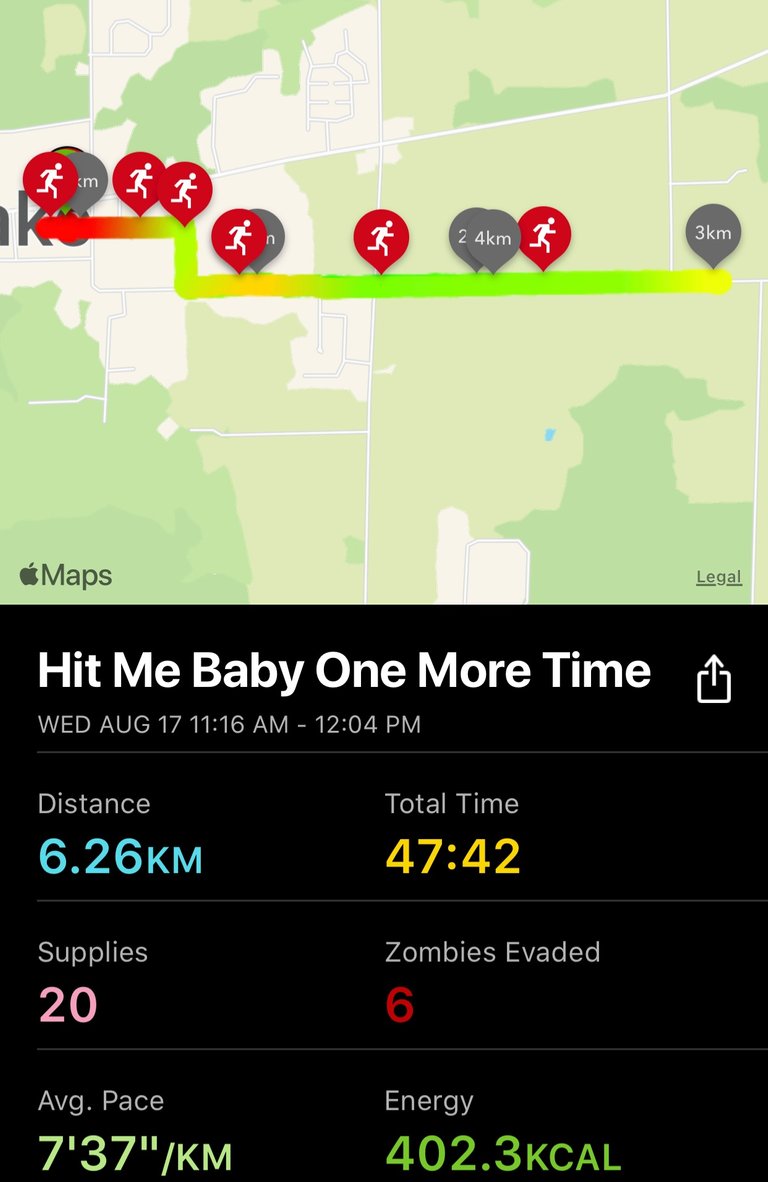 Not sure why it's been pinned around seventy degrees for the last week…where's the global warming Greta?! (How dare you!) I went with long pants, but thought a shirt would be overkill…with the running, I was right.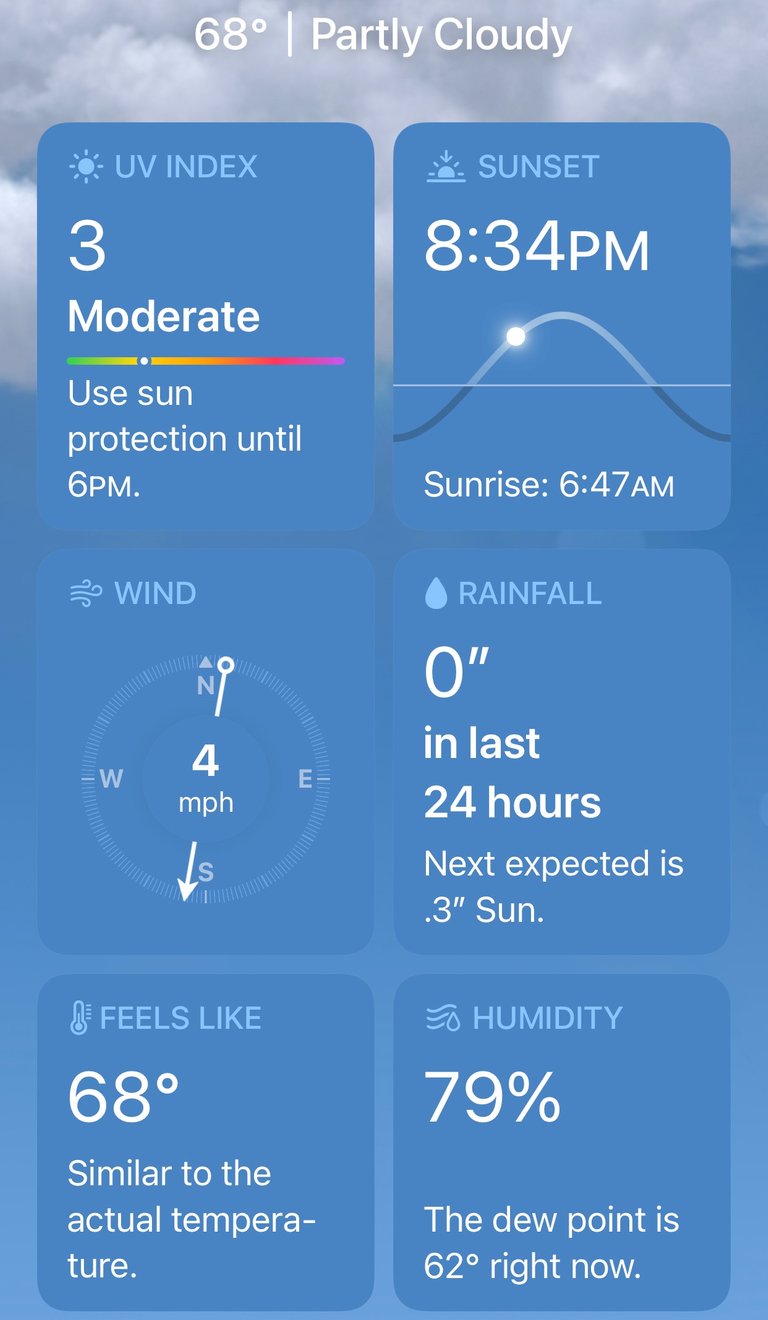 I decided to put music on this time…definitely made it go faster and was more enjoyable. It wasn't that long ago that I was always listening to music; my life has become relatively silent in that sense for some time now…no soundtrack for The Watchers. 😛😭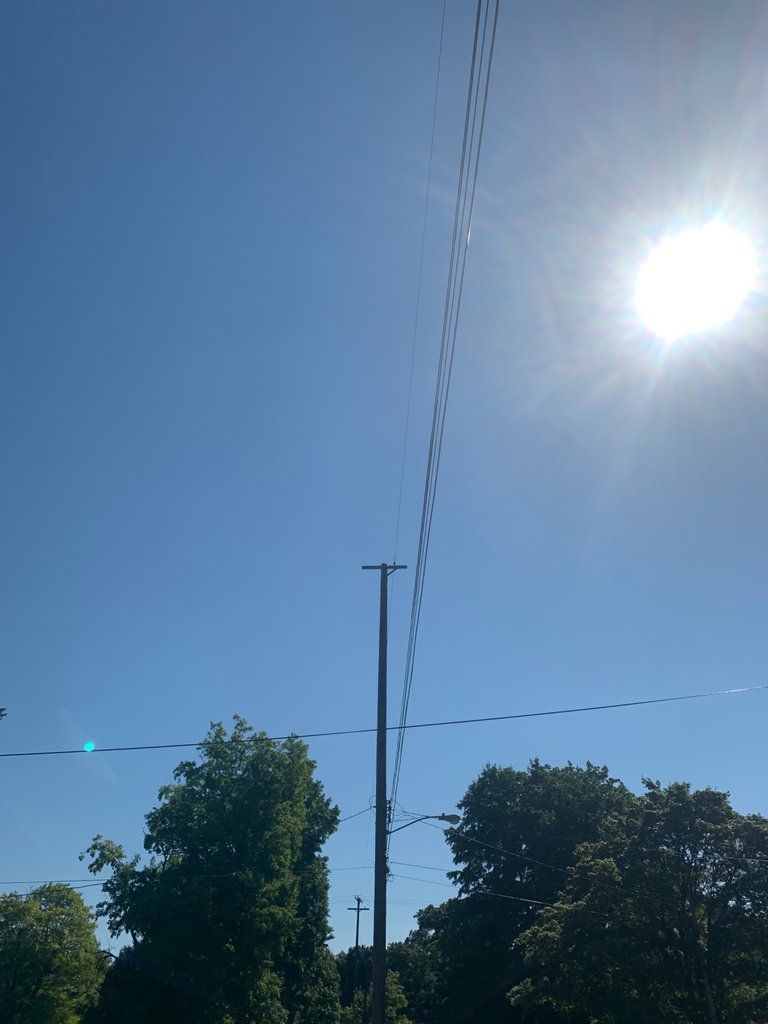 I watched quite a bit more YouTube videos trying to study for Fall, but I didn't actually get anything completed other than stressing about how much time is left and how little I have done. We're going away this weekend as well, so no work's getting done then…
Eventually I figured I couldn't let another day slip away without trying to catch up on sleep, so I laid down to take a nap. I'd had a slight headache all day and I hoped that closing my eyes and getting some sleep would help.
I crashed hard. I did wake up a couple times, but just rolled over and passed out again. I didn't get up until Wenche had gotten home and was already making dinner! 😱
When I got up my headache was as waaaaay worse. 😭 It shifted from a sort of dull throb on the left side to pounding up my neck and hurting behind my eyes. Made myself eat some dinner (Wenche made us an omelette and toast), but I'm not sure if eggs were the best thing for my tummy…
I pretty much just got ready for bed right after dinner, but I didn't end up falling asleep until quite late. Wenche had her vampire soap opera on, but I played some WombPlay games and a bit of Splinterlands before falling asleep again.
---
Here we go, now the dShitty shittiness is ramping back up. We got General crime and a crisis, just to fuck with player's income and for literally no other reason.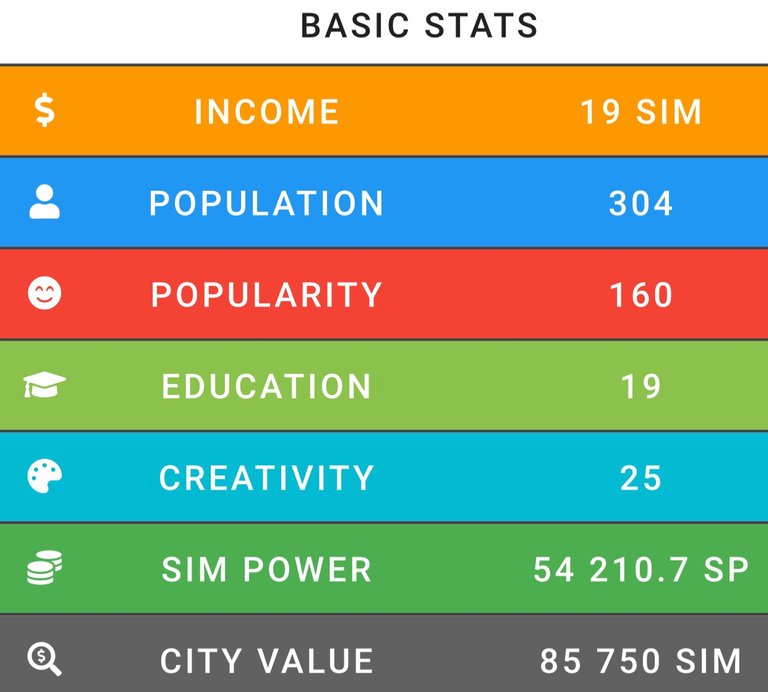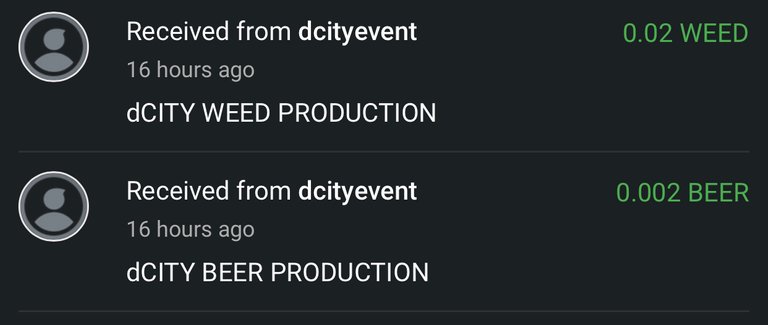 ---
I continue to pound out a mission a day on Rising Star…until my Ego goes up and then we do lessons and pound missions again. How long have I been at this game? Surely it's been more than a year…can't say I've really gotten all that much out of it; was fun at the beginning when I was actually progressing, but it's gotten so ridiculously slow that it's just boring repetition.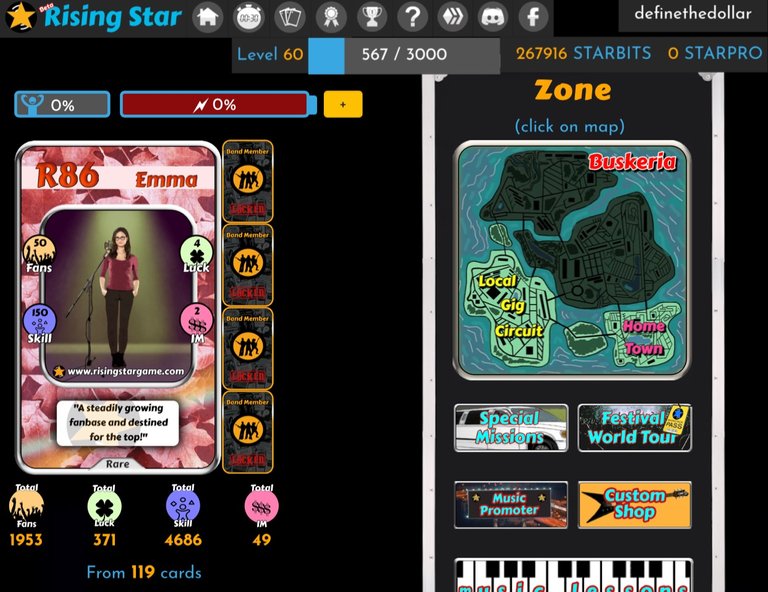 ---
Ok, it's finally time to have to sit at the computer to deal with HashKings…got a whole like 800 BUDS coming in, which I'm sure was worth a week's waiting. Right, and there's the pinners to take care of too…kind of more a pain in my ass than anything, this game; maybe if they'd use some of the funds that they've been getting for free from the chain to get a dev to work on the mobile site rather than paying their grocery bills and rent, I might be a little more understanding.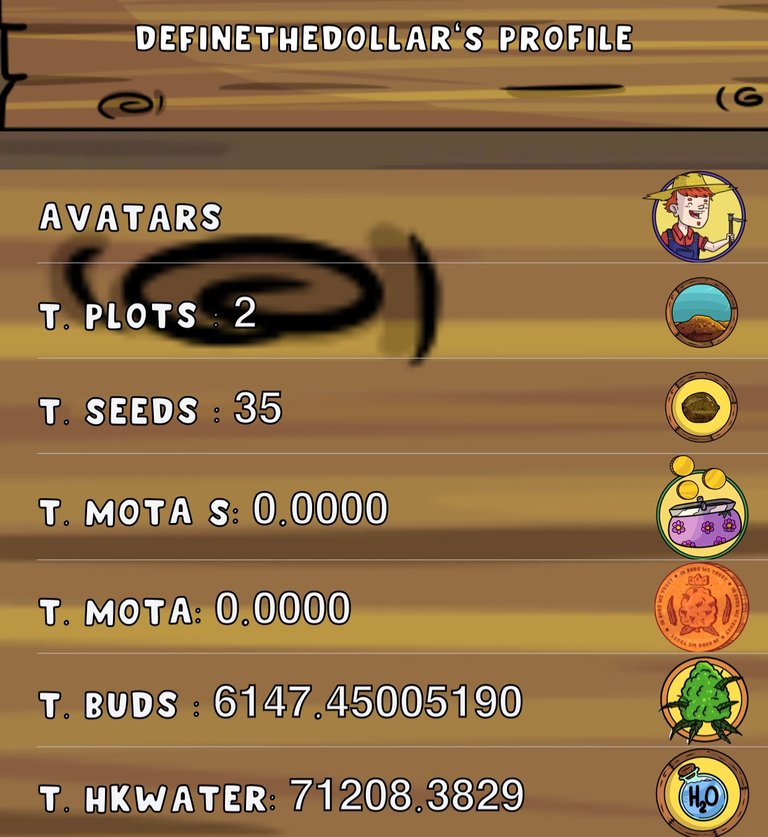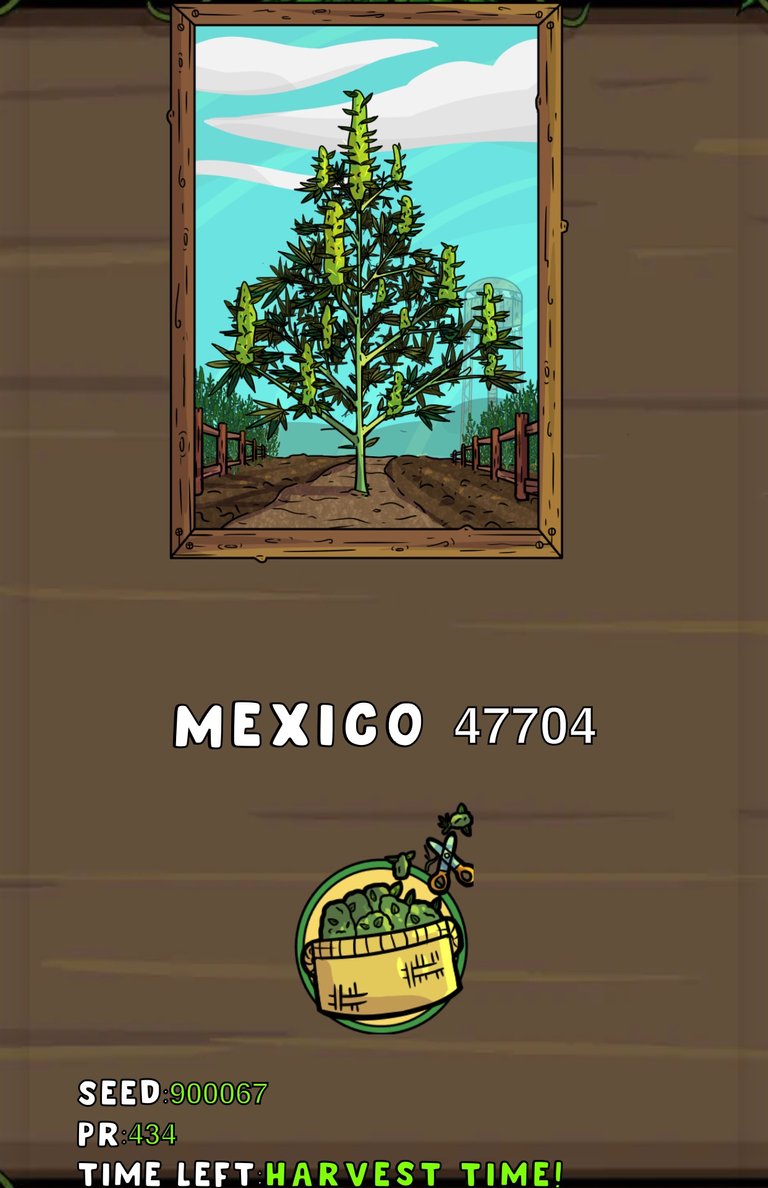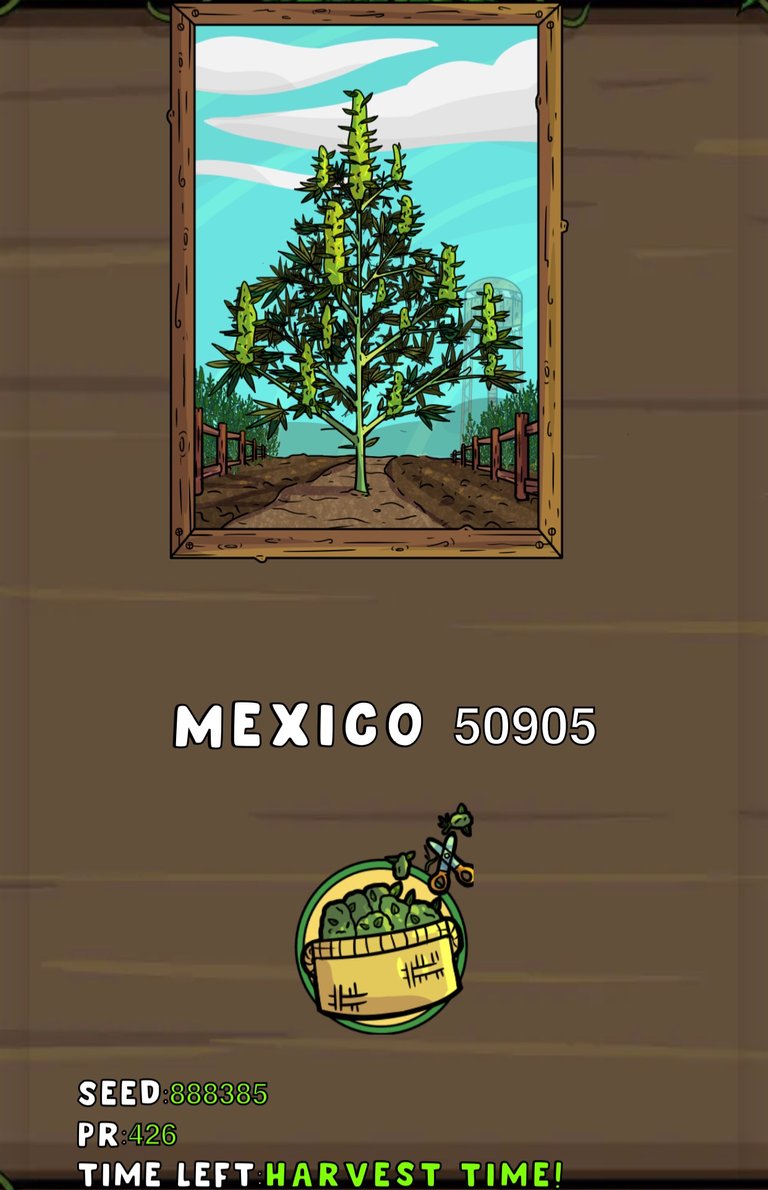 ---
Well, woot? For another hour or so of playing Splinterlands I'll get a whole two silver chests…wow! Honestly, I'm thinking it's not worth the time at this point. Need to start looking in earnest into just renting my cards out, as I've been saying forever now.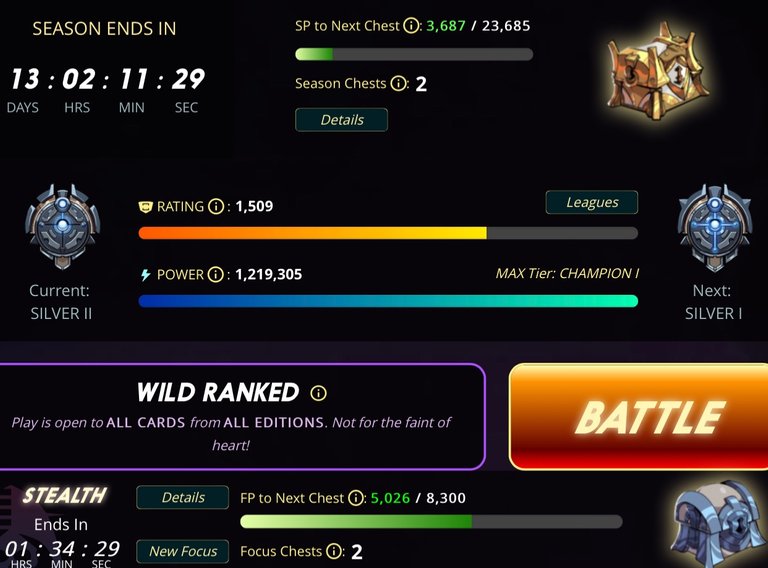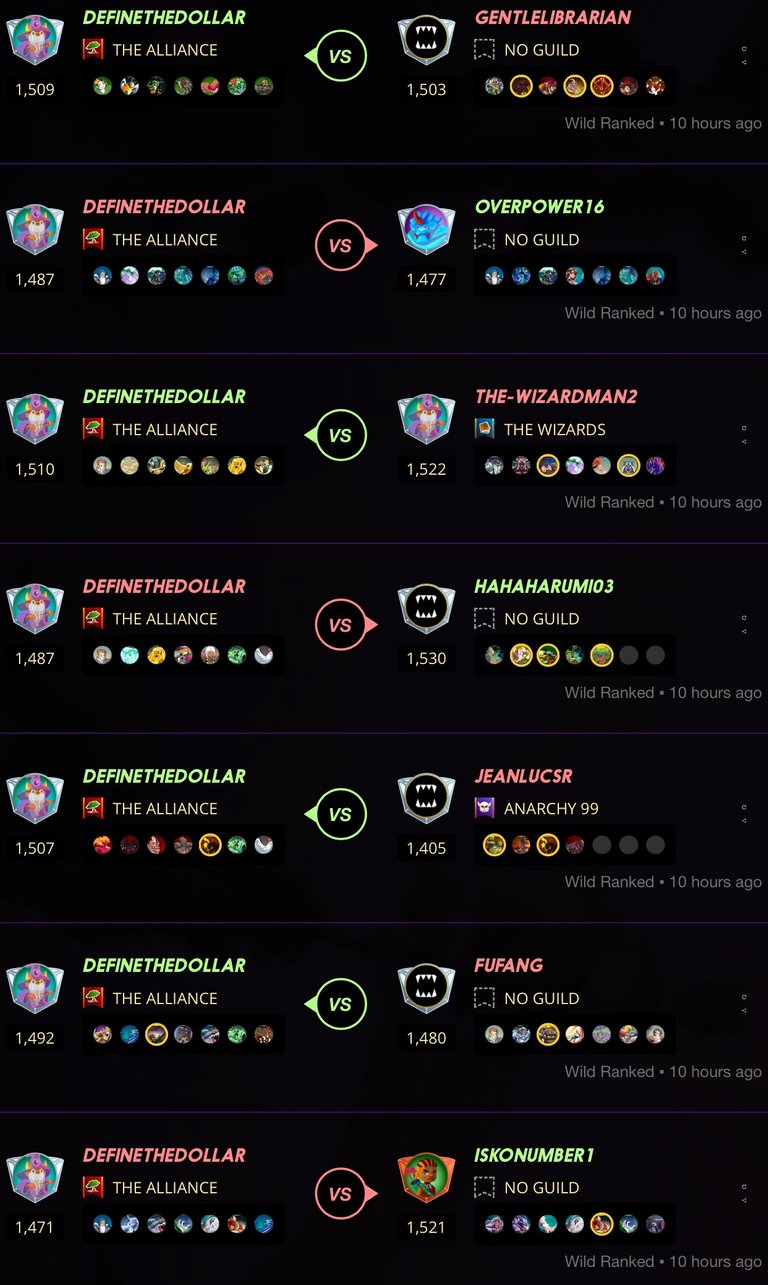 Got one whopping chest today for like an hour's worth of playing yesterday. 🤬 Got a card, so I guess that's better than potions.
Claimed my SPS interest and left it liquid. One more day and I think I'll swap some more out. I sold about half of the vouchers I'd pulled out to the market just yesterday, so no moves with that today. I still have half waiting and just re-accumulating in game.
---
Average Last 7 Days: 13,331
Lifetime Average: 14,767
10k per Day Streak: 20
Longest Streak: 204

Distance on shoes: 906.49 km
Distance on hikers: 67.07 km
#AutomaticWin Tally: 423
#AutomaticWin Streak: 0
Longest Streak: 53
#TripleTen Tally: 118
#TripleTen Streak: 0
Longest Streak: 7
#DoubleDay Tally: 233
#DoubleDay Streak: 0
Longest Streak: 37
Highest Floors: 120
Highest Daily Steps: 41,528
Zombies evaded: 6/7
Mindfulness Diary:
Health: 82%
Satisfaction: 76%
Energy: 74%
Productivity: 60%
---
Referrals: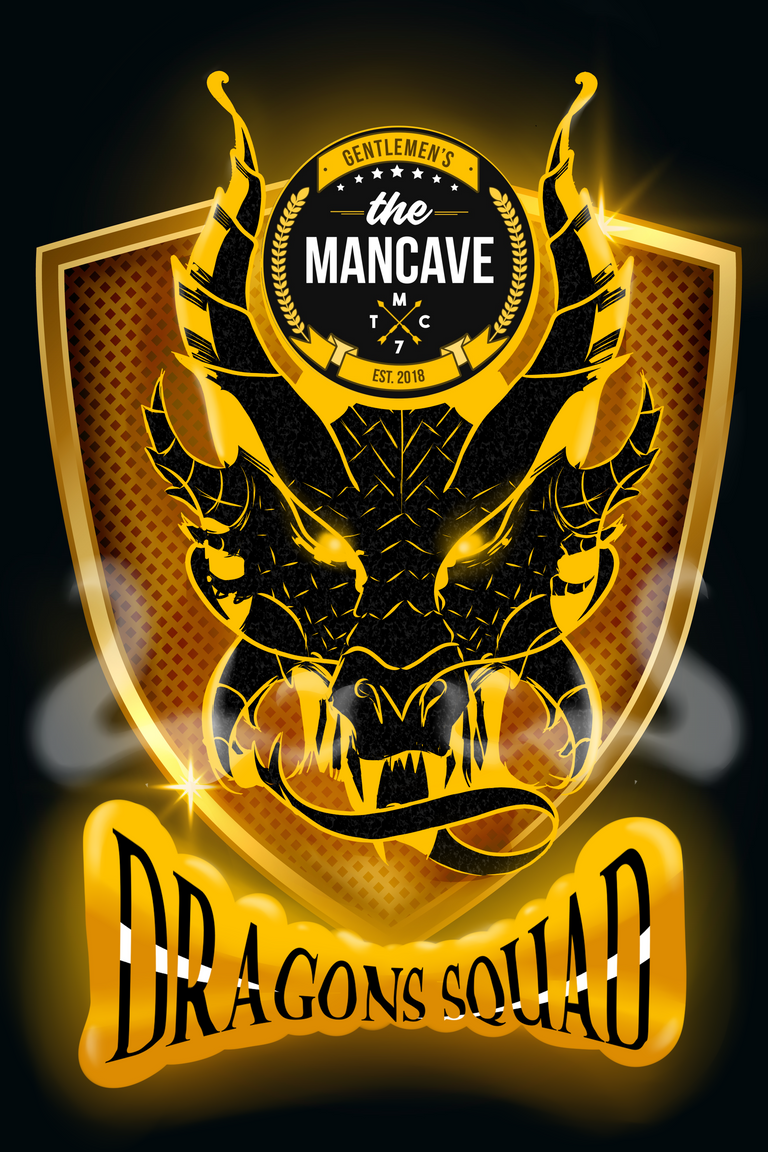 Power up and Hive on!
---
---