Dec. 19, 22: Routine, Mom Eye Surgery, New Watch, Quest, Grades, TV, and Games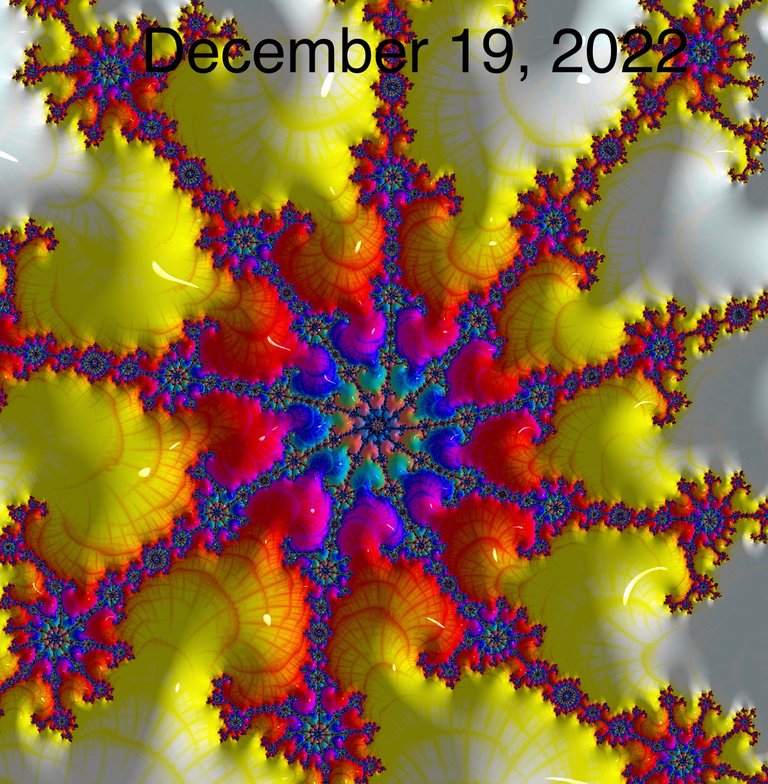 [Shite! Been up since the wee hours this morning…had to pee and then couldn't get back to sleep because I got myself all wound up about permits to replace the upstairs windows…fuck if I'm going to pay to ask permission just for them to say I improved the property and charge me more tax, let alone some government asshole poking around and giving his thumbs up or down (for my safety 😛). I'm dragging a little, but it's good that I got an early start on this post since there's Pimp meeting as well this morning.]
Got a solid night's worth of sleep tonight making for two in a row! 😁 Fell asleep around the usual time, nine thirty or so, and got up just before eight for a nice nine hours. 😴
I started into the usual morning routine a bit late and was kind of stressed out…had a lot planned for the day and my watch had gone crazy last night, so that was on my mind…I was able to sync my sleep stats, but after that, nothing…the battery completely died and it wouldn't recognize the charger or anything. I tried to reset it again and left it charging for several hours, but I had to accept that it was toast. Really weird, but I felt its absence super hard…kept looking at my arm to check the time. 😂
Did the usual morning stuff as quickly as I could manage and then got to work on my post for the day. Got it done fairly early and had a little bit of time to kill, but got it posted and then got ready to go into town.
I'd started doing some research looking into reviews, pricing, and what was available last night and I did some more research this morning and decided to switch from FitBit to the Garmin Forerunner 245 (image from Google):
I needed to take Mom into town today to get her cataract surgery done, so I planned on using the waiting time to head over to the mall and pick up the watch, but she said I had to stay the entire time…I don't think that was actually the case, but I did stay in case of emergency.
Instead, I dropped her off at the first doctor, zipped over and got the watch, and was back before she got out! 😄 Took her over for her surgery and started setting up the watch and getting the app and doing all that.
After about an hour or so my phone battery started to die and I really wanted a cigarette 🚬 and I thought "Well, hell, I'm not in prison here, worst case if I have to come back in they rescan my temperature; they took my cell number when I checked in, so they just gave me a call. That was a bit nicer to sit out in the car and watch YouTube and smoke.
It only took about two hours or so before they called me to pick her up. Amazing that they can get you in and out and fix your eyeballs so they're even better than they were before in just a couple hours! Can't image getting older a hundred years ago! 😨😱
Once I got back home I got my usual sandwich for a late lunch and I should have started working on the Calculus grades, but there was the whole PC aspect of installing the proprietary software and upgrading the watch firmware and all that (which was currently preventing me from changing the watch faces), so I did all of that.
Definitely still getting used to it and it's a relatively big change completely switching platforms…it's definitely not as bright as the Versa 3, but it is always on so no struggle with getting the screen to wake up, and doesn't look like there's any kind of daily trophy or streak count and it doesn't have a floor counter, which are minor bummers, and the steps don't update in real time which is annoying, but the biggest struggle for me at this point is figuring out how to deal with my post cover photo. 😡🤔
I made it today, just like took the picture of the Frax app and added text, but running it through FitBit kind of ensured that the image was a consistent size and handled the text alignment and all that…not sure what to do.
There is a daily summary that I can get to by setting back the date, but then every day's post is going to look more or less the exact same again, and I'd prefer not. Plus, it doesn't even have the date or anything. 😭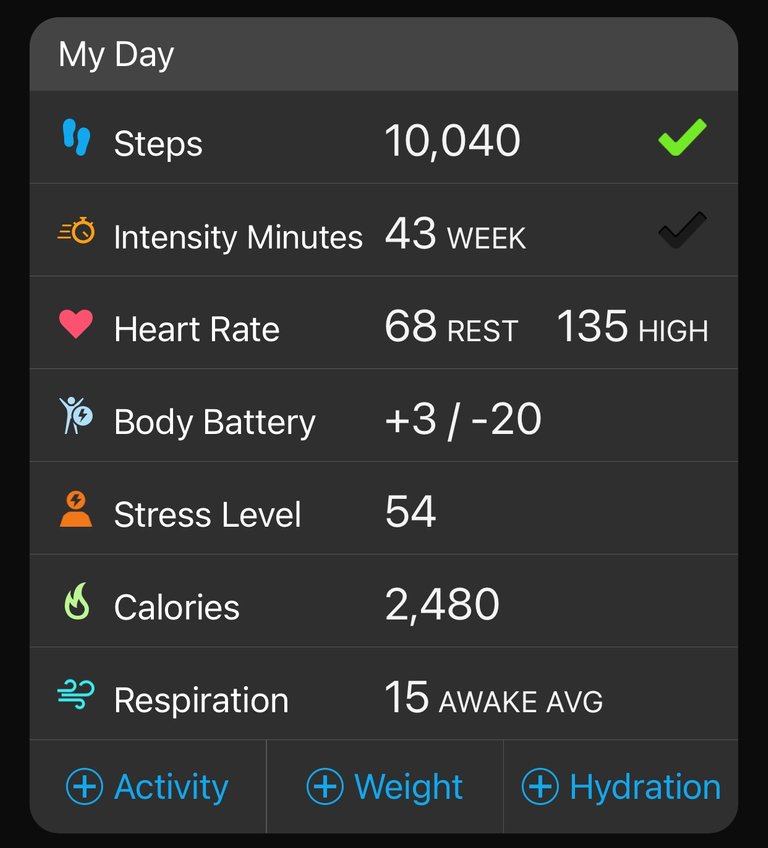 There is a daily screen, but again, just a black cover photo every day? Lame.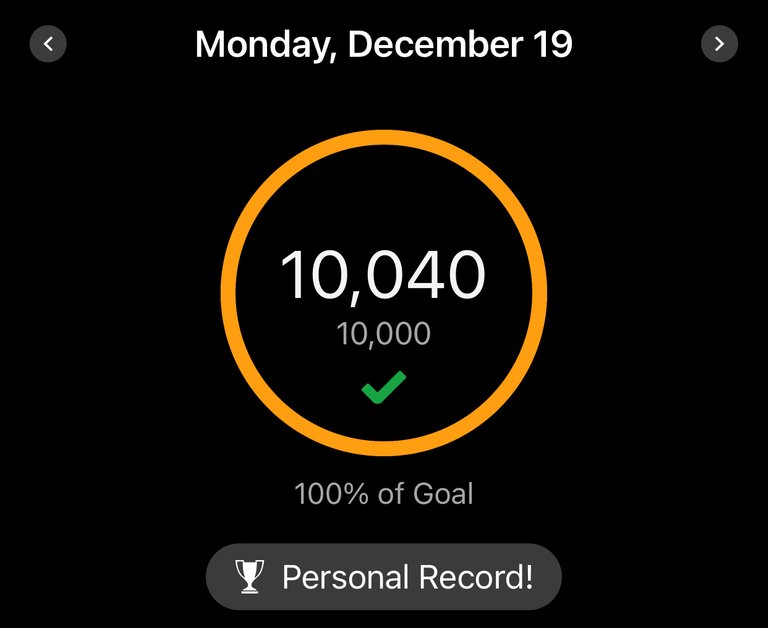 I had about six hours worth of steps to make up that I'd missed this morning (and I did do quite a bit of shaking), but I got myself caught up (if only just barely). It's not all bad, though. It's lightweight and comfortable for sure and there's more customization I can do (will just take a bit of time to find the watch faces and data fields that I like - or tweek the ones that are there) and I haven't even tried doing an exercise yet (though it's a bit strange that you can only start one through the watch and not in the app like I'm used to).
After I'd played with the watch for a while and got it set up a little more to my liking, I really should have gotten to work on the grades…but the Quest was calling my name…
With procrastination mode fully engaged, I couldn't help myself and I played another mission (well, did two at the same time, actually, died and then had to go back and recover my corps again, but I got all my stuff back and survived the second attempt) in Into the Radius but I knew I had work to do so I cut it short.
Still had about an hour or so before Wenche was due home, so I finally sat down and focused on the grades. Most of the initial work was just transferring the grades over from WebAssign into Balckboard which wasn't crazy difficult since there were only two students that had duplicate accounts and none that didn't, so I could more or less just go down the list. Still, it takes time and I wasn't quite done with that part when Wenche got home.
We've had meat dinners the past several days, so today was a switch-up and Wenche made us French toast for dinner. Afterwards, I was very tempted to plop in front of the tube, but I cracked the whip and went back to work (more for the sake of my tomorrow self finally starting break than out of guilt for procrastinating).
The second half of the work grading was going back through all the final exams and checking for points lost due to syntax errors (like they put "i" instead of "x" but the answer was otherwise correct) which took a lot more time and attention. I got through them, though, got the final weighted averages calculated, assigned the corresponding letter grades and then reported them officially (so they're done! 😁).
I was still in "work" mode when I got done with the grades and I took care of the dishes, particularly the ones in the dishwasher from yesterday's Christmas dinner, but the ones piled at the sink as well.
By then it was getting quite late and I got myself ready for bed and finally watched some tube. She was watching a Norwegian show about people stuck in an airport but we switched over to SuperStore until I fell asleep.
---
Holy crap! dShitty actually paid something today!! 😮😯 My stated income was still only one, but even with riots I somehow got two SIM. 🤑 That's more than the whole week put together; I'm a rich man! 😛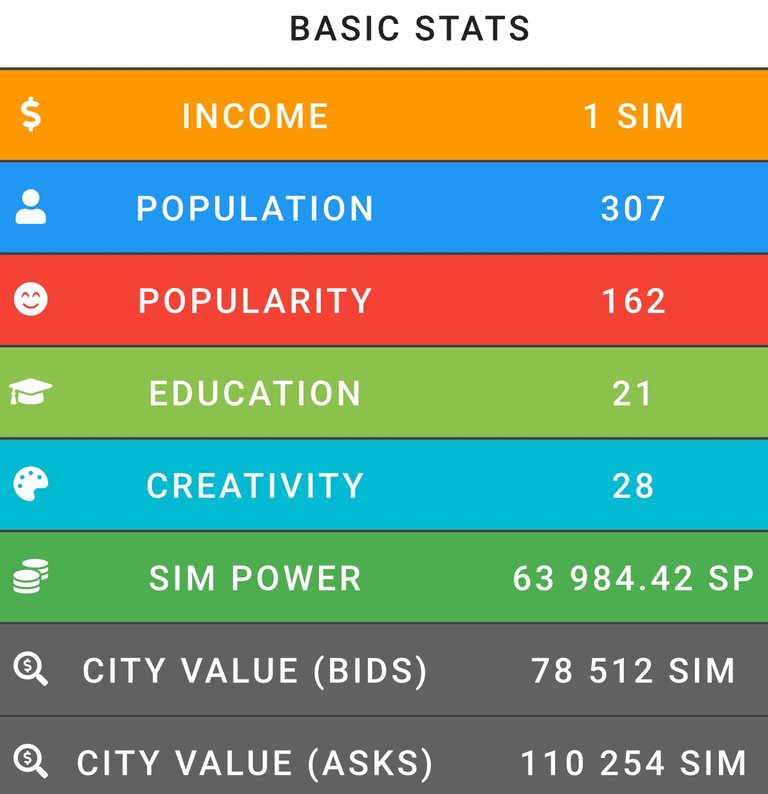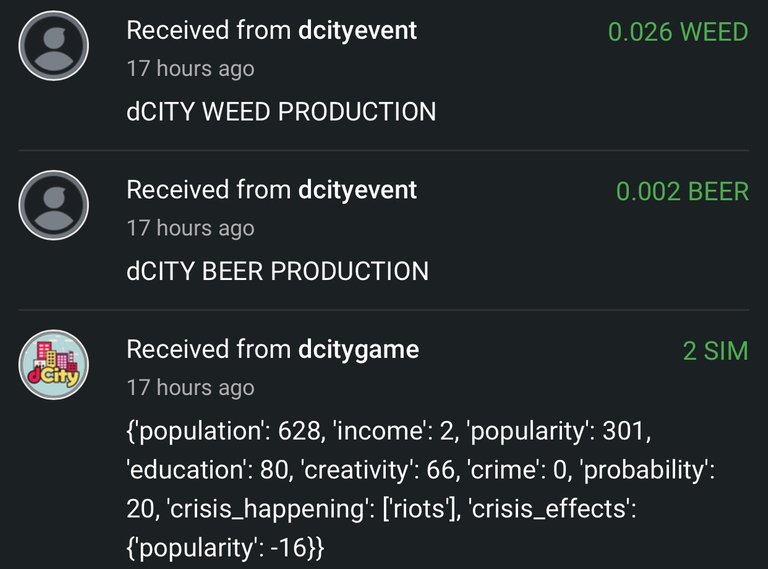 ---
As far as I understand it, the whole point of this game is to increase your level while maintaining a low Ego…the higher your Ego, the greater the penalty, but the higher the level the better missions and "earning" potential. So, that's what I do, keep slogging missions to increased my level and then run lessons to maintain the Ego…but then it's just drunks all the time, seven percent here, nine percent there…dumb.
---
My Splinterlands rental income topped $1.3 today! That's certainly an improvement over the last several, but that and like five more dollars would buy me a cup of coffee. It is what it is, I suppose…gives me something to talk about rather than just saying that I didn't have any desire to play.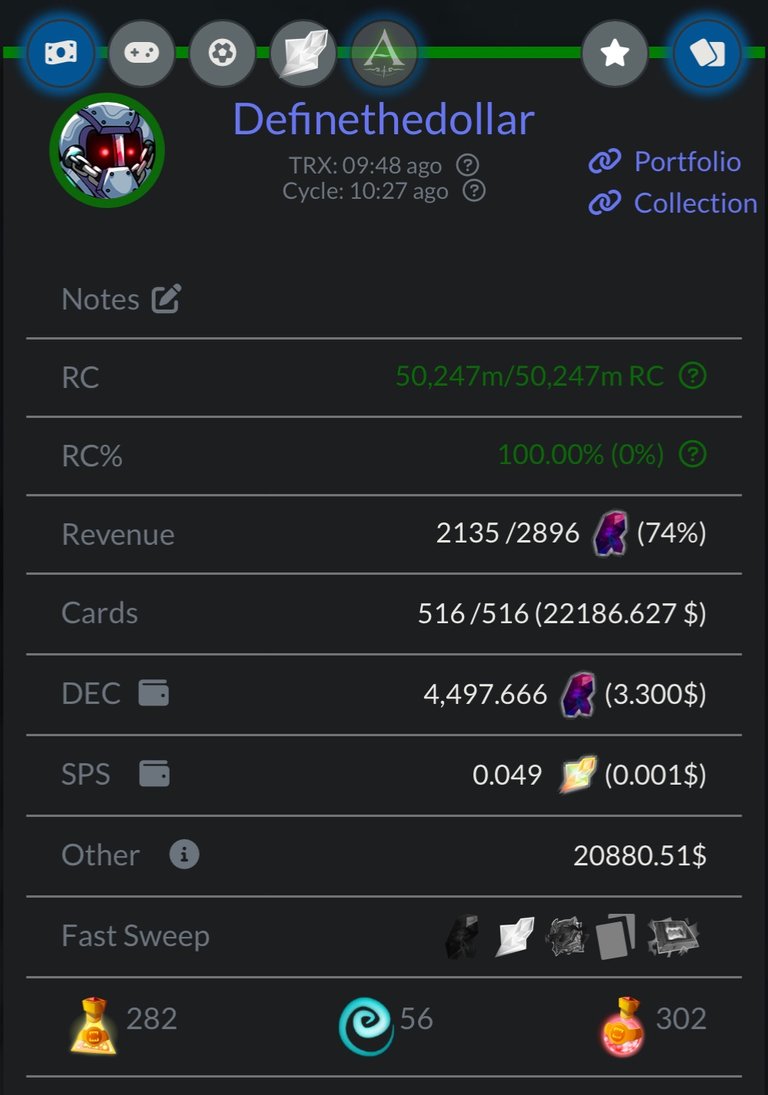 Claimed my SPS interest, paid the rental fee, and staked the rest. I believe that's three days of staking now, so probably time to start saving to swap some out.
---
HK:
Meh. Today's post is already epic, so no need to waste words on HashKings.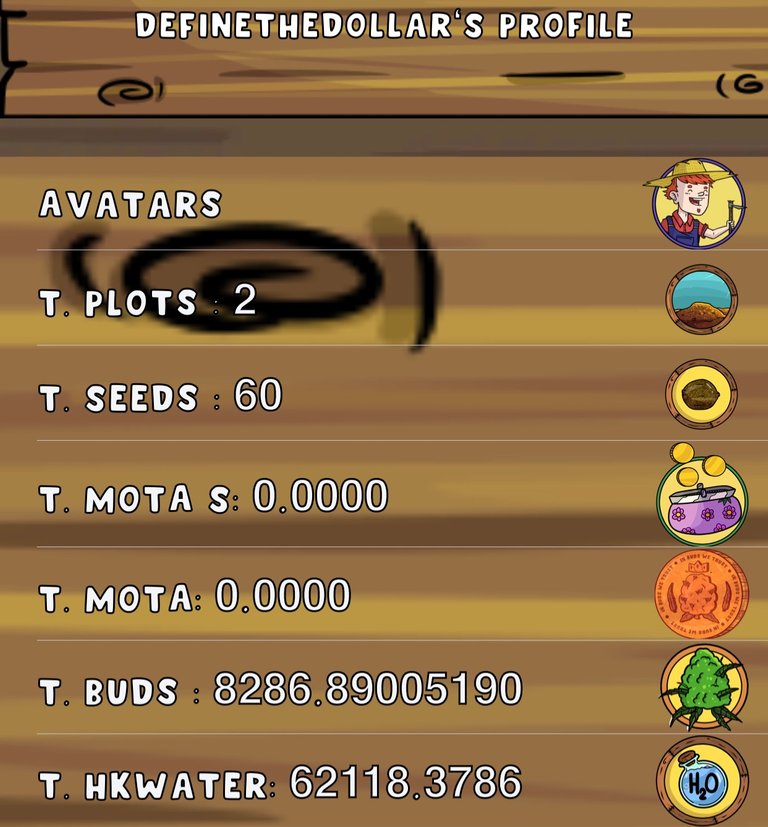 GLX:
Just did my normal claim and stake on GLX today…still interested to see what's to come of that GLGT that's coming in as well.

WOO:
I went in earlier again today even than yesterday, so I'm hoping that explains why I'm low. Staked like twenty more from airdrops, but no mining rewards (as usual).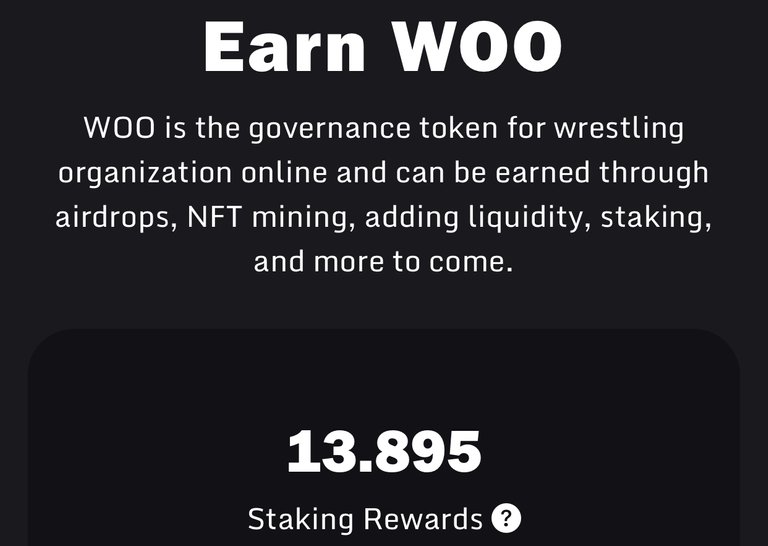 KOD:
Sunday was the weekly Tickets payout for King of Duels, but I forgot to include it in yesterday's post. So far, though, that's about the extent of my interaction with KOD, just to check the ticket balance once a week…should probably cash them in and see if they're worth anything. 🤔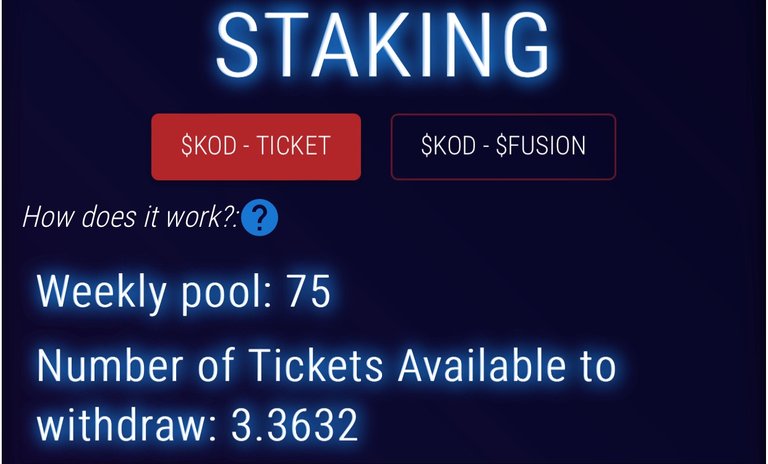 ---
Average Last 7 Days: 10,084
Lifetime Average: 14,600
10k per Day Streak: 71
No more trophy pics for daily or streaks 😭, but pics or it didn't happen, right? Not sure if I'm going to stick with this or not:

Longest Streak: 204
Distance on shoes: 1243.50 km
Distance on hikers: 67.07 km
#AutomaticWin Tally: 425
#AutomaticWin Streak: 0
Longest Streak: 53
#TripleTen Tally: 118
#TripleTen Streak: 0
Longest Streak: 7
#DoubleDay Tally: 236
#DoubleDay Streak: 0
Longest Streak: 37
Highest Floors: 120
Highest Daily Steps: 41,528
Zombies evaded: 0/0
Mindfulness Diary:
Health: 93%
Satisfaction: 89%
Energy: 88%
Productivity: 85%
---
Referrals: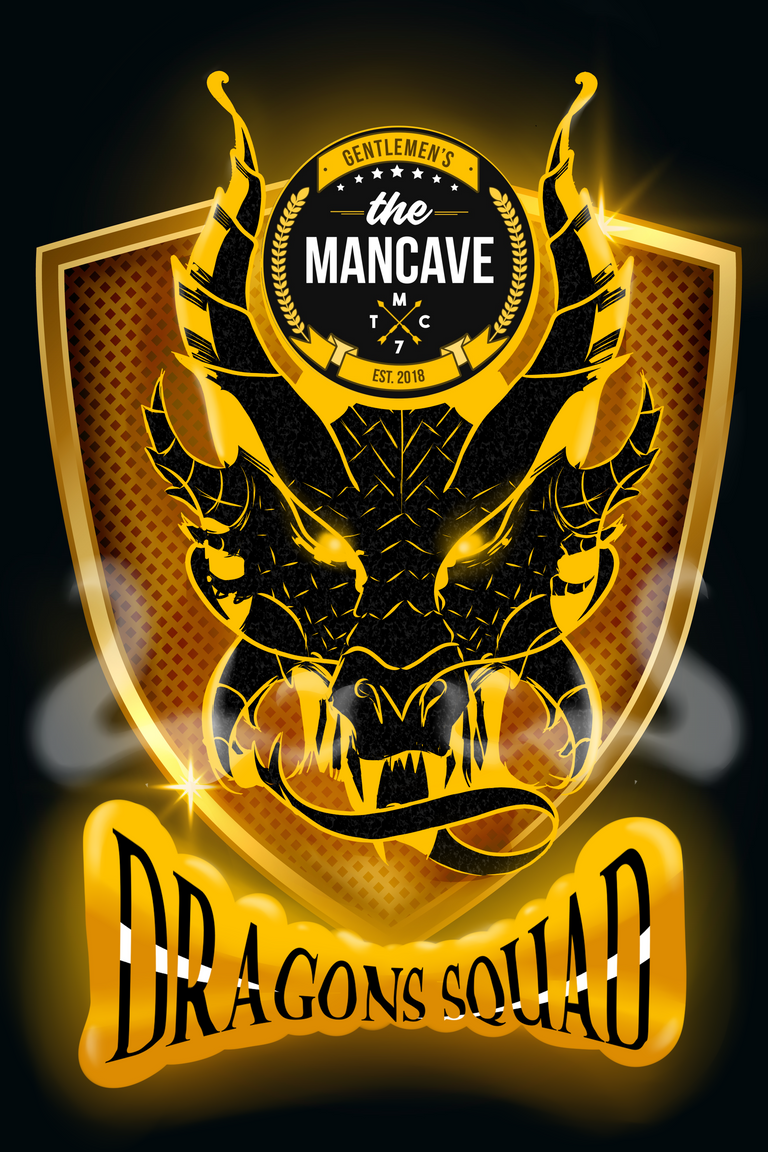 Power up and Hive on!
---
---