Jan. 17, 23: Routine, Teaching, TV, and Games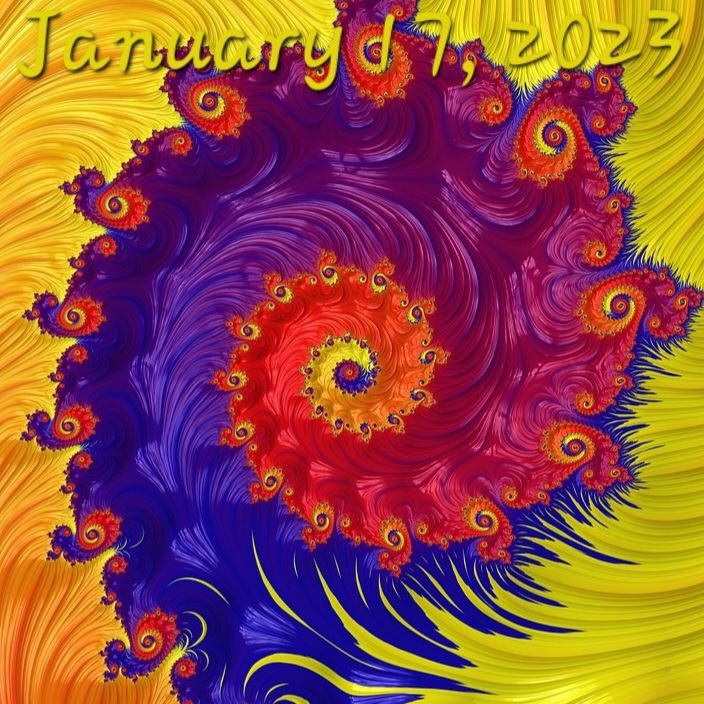 [Getting a reasonably early start this morning, and remembered that we have Pimp meeting today, so not too rushed. Should be able to get a decent post done in the next two hours. 👍]
Got to bed fairly early last night, around eight or so. Got up and moved out to the couch around one or so and was woken up by the cat wanting to go out not too long after that and then the dog at like three thirty. Even so, made it through until five thirty or so for just shy of nine hours on the night. 😁🥳 It's definitely not ideal not to make it all the way through a solid night, but nevertheless it hasn't been too bad lately and I haven't hardly dragged at all. 😃 (If only my tummy would quit...)
Had an early start on the morning routine and, holy moly, cryptos are still holding up pretty well! 🤑 Looks like the short squeeze is over and we're taking a bit of a breather, but trading sideways and slightly up is a beautiful thing. We still need a retest of the two hundred week moving Average, so far from out of the woods, but here's hoping for a bounce! 🤞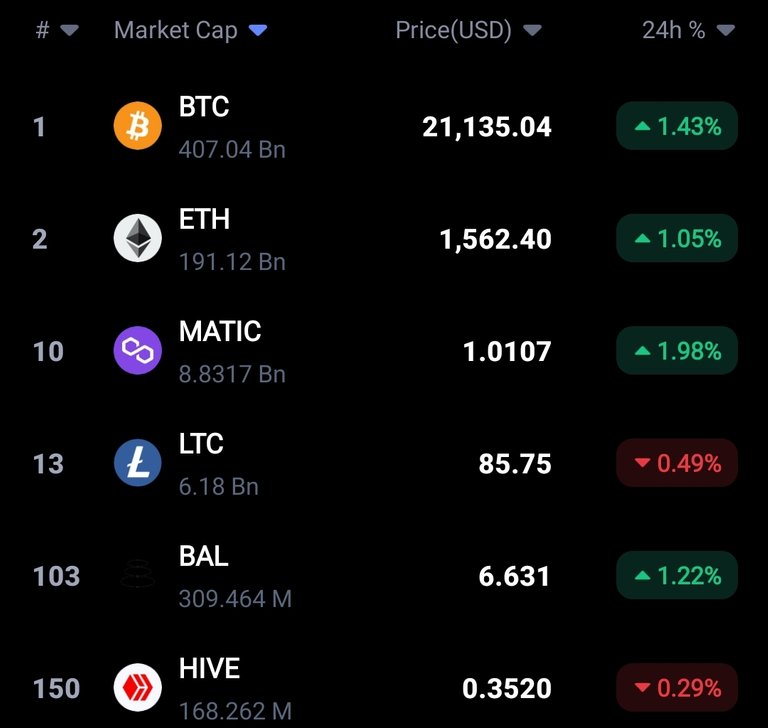 One nice thing was that I'd done the vast majority of my post (though I think I forgot to do my stats properly) last afternoon/evening and so I was able to take my time to finish and not have to rush. 👍
Scheduled it to publish at ten and then jumped in the shower and got ready for the morning class. For about half the class we continued on reviewing logarithmic functions and then looked at trig functions and some of the more useful trigonometric identities and then began introducing the notion of a "limit."
I realized that we hadn't talked about rational functions, so I think we should do a quick review of those next class, but otherwise we're like a week, maybe even two ahead of schedule.
Still a bit worried that I'm leaving people in the dust, but so far they seem to be alright and I'd rather not bore them with material they already know. Regardless, it's good to get a refresher and remind ourselves of some of these things since we're going to be doing insane levels of algebra as we continue.
Finished up with class right on time and got my normal sandwich for lunch and got ready to head in for the afternoon class. No problems on the drive in, except there was some kind of accident or something going on right at the end, but I just turned onto campus and bypassed it.
Was set and ready to go five, ten minutes early and I fielded a couple student questions before (and after) class. Strictly speaking, we didn't cover any new material today, just continued practicing finding volumes by disks and shells, but we did look at some new, harder types of problems (where the axis of rotation isn't one of the coordinate axes) and we actually did one of the problems four different ways and showed they all came out to the same answer, so satisfying. 😃🤓
Smooth drive back after class, but despite spending $365 at the grocery store last week, we still forgot eggs, tortillas, and taco seasoning so I ran to the local grocery store and picked those up so we had the stuff for tacos when Wenche finished with work.
After dinner, I finally worked up the courage to put the screen protector on the phone. Got it all cleaned off and aligned (not a speck of dust or finger grease on there whatsoever), peeled of the backing and laid it down, and it went on almost perfectly! 😁 And then I looked and there's a fucking dog hair that somehow got stuck underneath. 🤬🤬
I tried using a pair of tweezers to pull it out, but there wasn't enough sticking out to grab and there was no way I was going to be able to peel up that corner without either breaking it or introducing bubbles...honestly, it's barely visible at all, but it's annoying because I know it's there. I'm going to do my best just to live with it as it is (but more or less failing as you can probably tell 🤣).
Now that the case and screen protector are on (and I've been using the new phone exclusively for a week or two) the very last thing I need to do is take in the trade-in, which I'm planning on doing after teaching on Thursday, and the transition will be completely complete. (Will definitely regret, lying on my death bed and reflecting on my life, that I spent five full days of it switching from Apple to Android. 😛)
Pretty much just plopped in front of the tube for the rest of the evening (although I did do the dishes somewhere in there and took care of my WombPlay challenges as well). We watched some more Agents of SHIELD and then switched over to Letterkenny at bedtime.
[Nice! Fifteen hundred words for today and still got about twenty minutes before the meeting. Should be able to give it my undivided attention this time. 😁]
---
Well, Splinterlands? Want to explain what the heck is going on with these rentals?! HIVE has continued to rise, so you can't blame it on that...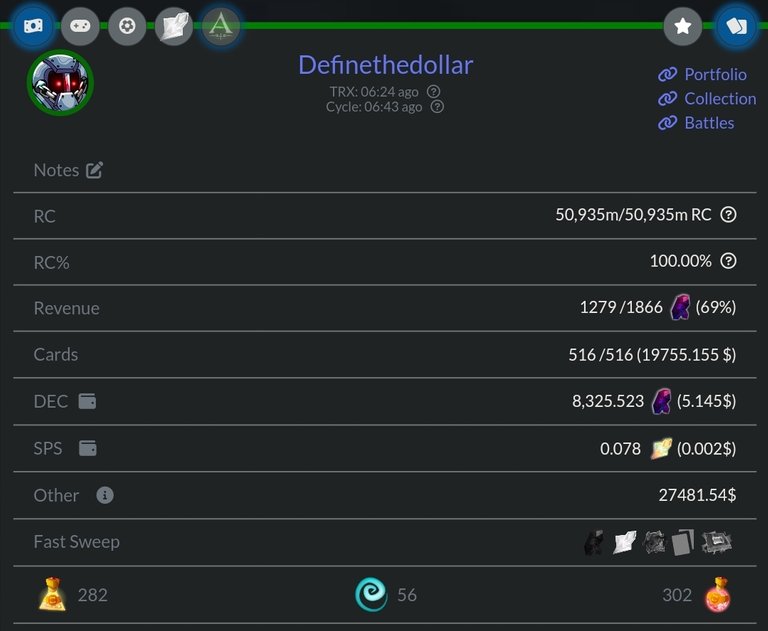 It fell all the way back down to eighty cents, take away eight for fees and we're looking at seventy cents? Harsh, bro. Must.repeat.mantra...better than nothing.
Claimed my SPS interest, paid the rental fee, and staked up the rest. I do believe today was the third day of staking, so hooray! Time to start saving again to swap out.
---
dShitty:
Is nineteen SIM a drop of piss in the sea? Why yes, it is! Is it still utterly astounding that it's even something greater than zero? Why yes, it is!

RS:
Seems like I might have gone in twice on Rising Star today, or maybe that was yesterday? Who knows? Lesson, mission, lesson, mission, repeat until the Earth spirals into the Sun...at least I did get a tip that you can shut that damn radio off, so I did.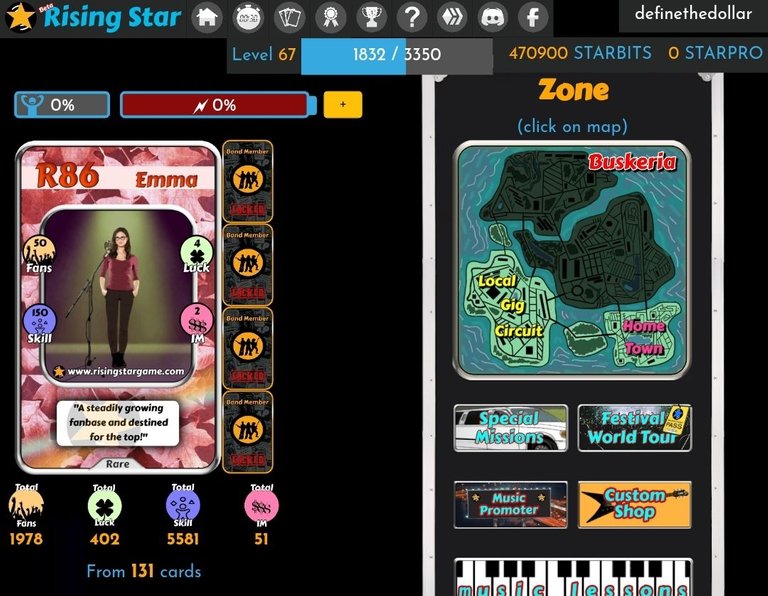 HK:
Been months now since I touched this...still not sure why I even bother to mention it.

One thing that did happen was that my MOTA was force unstaked...the only thing that I even get from this was stupid seeds (that I don't use but could potentially sell) from that stake, so of course they kill it. Fucking Liuke and his stream of failed tokens (and shame on me for being fooled twice). I just jumped in because they were a Pizza partner and only found out afterwards that it was the VFT douche.

GLX:
Been trying to get more involved with WOO recently and been struggling with my liquid HIVE, so I decided to start dumping some of these off along the way. Didn't get a whole lot for what I pulled out (a little over four HIVE), but it's helping to rebuild a little.
I staked the rest (a bit less than half the daily claim) and am thinking I might keep going with that pattern for a while (kinda' lost faith that much will come of it, still hanging onto some, but might as well try and get somethingout of it).

WOO:
Still thinking I should grab some packs both for the airdrop and for the cards eventually to use on my lands (I think), but in the meantime I'm enjoying a boosted APR on my new delegation rewards as well as doubled stake rewards.
I don't particularly like the prospect of destroying 30k WOO to upgrade one city, but it sounds like that's essentially the plan. At this point, that would eat my entire stake and then some (my whole investment in the token just vanished into the aether). 😢
I'll admit that I did watch other people go into this hard earlier, and I held off (gotten burned plenty, not so willing to jump in the fire anymore - although have been doing so more lately, basically because of butthurt) but kinda' feeling behind the times as a result (there's that butthurt). I suppose, strictly speaking, I am still early with this one, just not as early as some.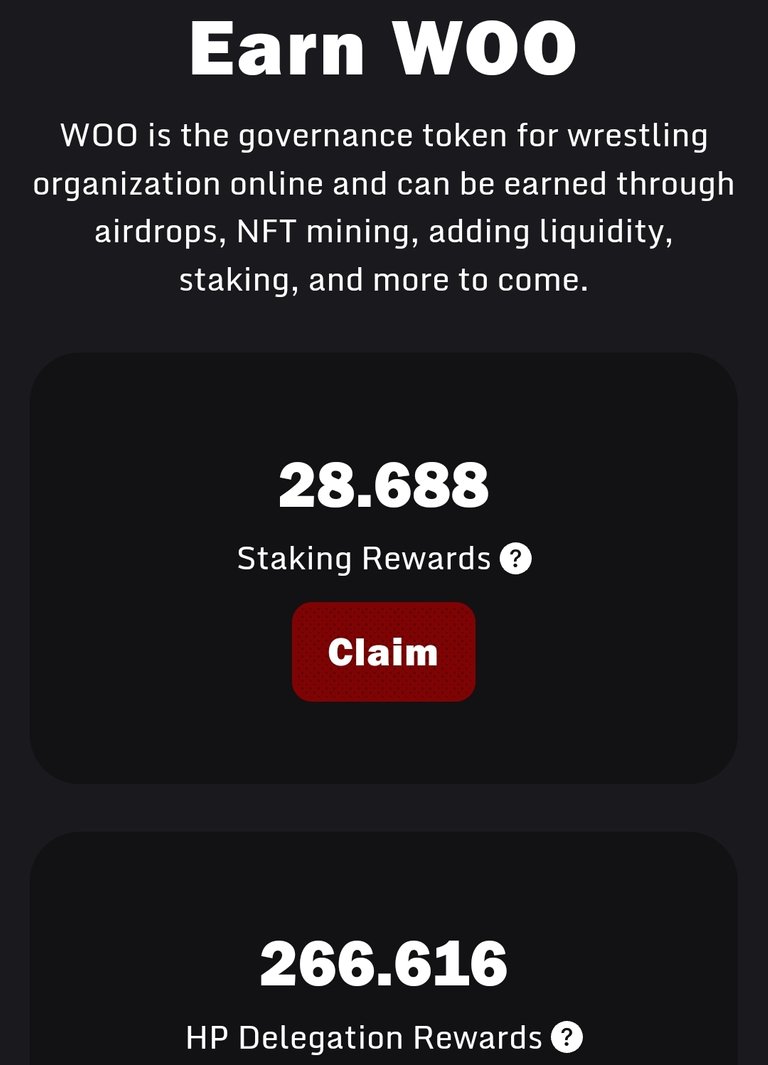 ---
Average Last 7 Days: 11,040
Lifetime Average: 14,533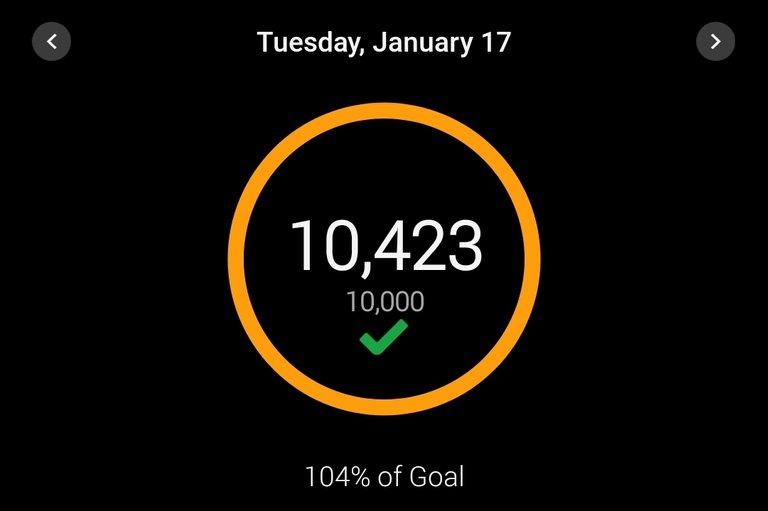 10k per Day Streak: 100

Longest Streak: 204
Distance on shoes: 1294.73 km
Distance on hikers: 67.07 km
#AutomaticWin Tally: 425
#AutomaticWin Streak: 0
Longest Streak: 53
#TripleTen Tally: 118
#TripleTen Streak: 0
Longest Streak: 7
#DoubleDay Tally: 236
#DoubleDay Streak: 0
Longest Streak: 37
Highest Floors: 120
Highest Daily Steps: 41,528
Zombies evaded: 0/0
Mindfulness Diary:
Health: 72%
Satisfaction: 84%
Energy: 93%
Productivity: 82%
---
Referrals: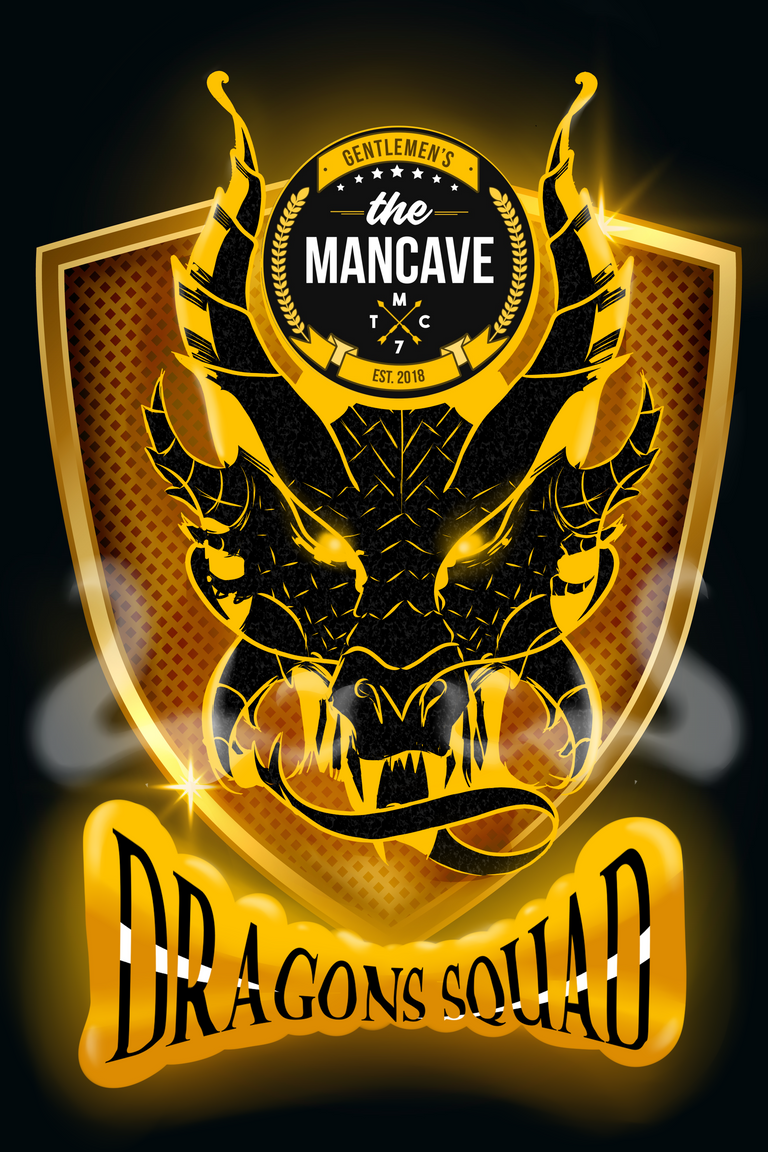 Power up and Hive on!
---
---