Jan. 24, 23: Routine, Teaching, TV, and Games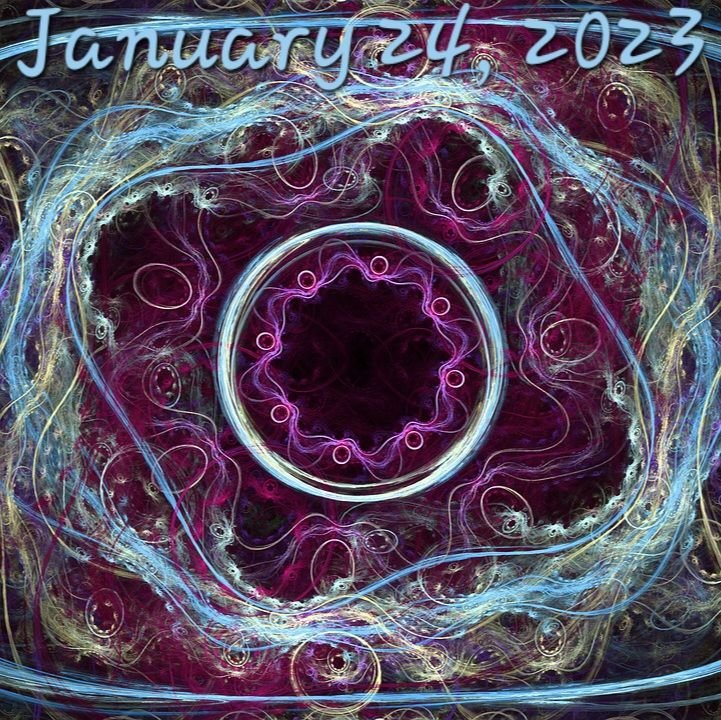 [Oooh, just realized it's Wednesday today and we have Pimp meeting...Ray's coming to talk with us today, so I'm interested to hear what's going on with LGN and all that. Still got a couple hours, though, so should be able to get done in time, just needed to quit working on my music collection and start working on this post.]
I slept from about nine to five last night and even with being woken up several times and moving out to the couch, I got a good eight and a half hours. 👍😁 Cutting down on the caffeine seems to have helped the situation (either that or the new watch is lying 😆).
Was a but stressed out that I hadn't started on my post yet when I got up this morning, but I ended up having enough time to get a solid one done and scheduled to post.
Otherwise, just the usual morning routine. Cryptos are starting to look a little bit shaky; we're still holding up more or less, but have the bulls run out of steam? 😯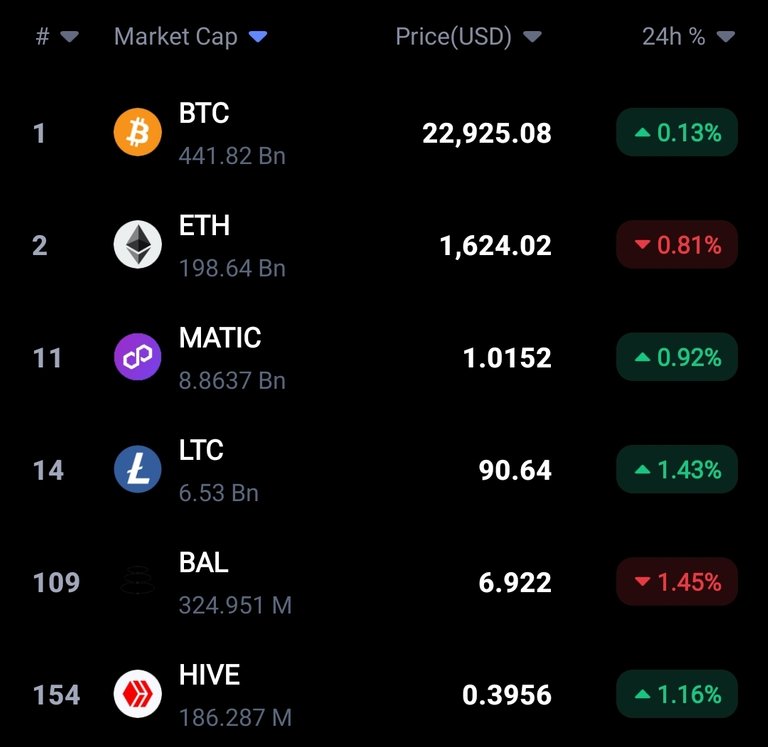 I'd been back and forth with myself about whether or not to get the Wombat Dungeon Master Season Pass this time. I don't know why I still had the desire, but every time I thought about it all I could think was: pay ten dollars to click buttons for a month, why would you do that, that's just dumb...needless to say I'm going to skip it this time.
While I'm still undecided whether clicking buttons for a month is worth it at all (now that the guys at the top are taking thousands of dollars of the pool and leaving the rest of us to pay for it), but I'm going to go for it one more time.
At least these clicks won't be at a loss, whatever comes only cost me the time and attention (we'll see at the end of the season if that's even worth it or not). That does relieve the need to swap twenty bucks worth of HIVE for WAX as well. I don't even have that much at this point anyway and would rather spend it on other Hive projects.
Hopped in the shower and got everything set up for Calculus class. Today we reviewed the properties of limits that I introduced last class, finally properly defined "continuous" using the limit, and then started into the hardcore formal definition of the limit and epsilon-delta proofs.
Most Calc I professors either won't or can't cover these proofs, but it really puts students at a disadvantage when they come to define convergence of a sequence (trying to learn one thing) and are confronted with another, entirely new (and complicated/confusing) thing on top.
Plus, once we've worked with the formal definition, we'll be able to actually prove the properties of limits rather than students having to take my word for it...honestly, I think my approach is better, by the end of the course we've proven every rule, every technique; it's not just memorization (though there is some of that), they've seen where everything comes from and why it's true.
I've been thinking about getting a whiteboard instead of the painted on chalkboard I've got now for a while. Today one of the students (well, one spoke up) said that they were having difficulties seeing what I was writing because of the board, so that was the nail in the coffin and after class I went online shopping for one that would hopefully fit the space. (Found one at Office Max, so probably will go and get it tomorrow so it's set up for Thursday's class).
[Dang it, running out of time here...got my word count alright, but haven't quite finished.]
Got my lunch and got everything together to head in to work. The drive was fine and I got there about fifteen minutes early. Not sure if I mentioned it before, but I think it's pretty cool that I could set a "routine" on the phone so it detects when I get to work and automatically turns of the sound and stuff. 😁
Today for Calc II we covered a new technique for dealing with integrals of products: integration by parts. I showed them the derivation, which isn't too bad, just product rule for derivatives in reverse and then we just plowed through examples for the rest of class. The last question we did could be done two different ways but I made an algebra error somewhere and the answers didn't come out the same.
Ended class on time and the drive home was fine, but it was still bugging me that I'd made a mistake, so when I got home I sat down and redid the problem both ways (carefully) and posted in the Discord to show them that the answers do come out the same.
When Wenche finished with work she made us turkey tacos for dinner and we watched a new Marvel series about Hawkeye. I didn't really pay attention, though, because I got sucked into working on album art again. 😂 I'm into the "the's," though...have to go through the entire alphabet in there as well, and yet again through the "the essential's." 🤯
That was basically it for the day. Got ready for bed and watched a little Letterkenny before falling asleep.
---
Splinterlands:
My Splinterlands rental income is remaining basically stable at crap levels. Can't seem to even get above a dollar fifty. It's still a dollar more than I had yesterday, though, I suppose.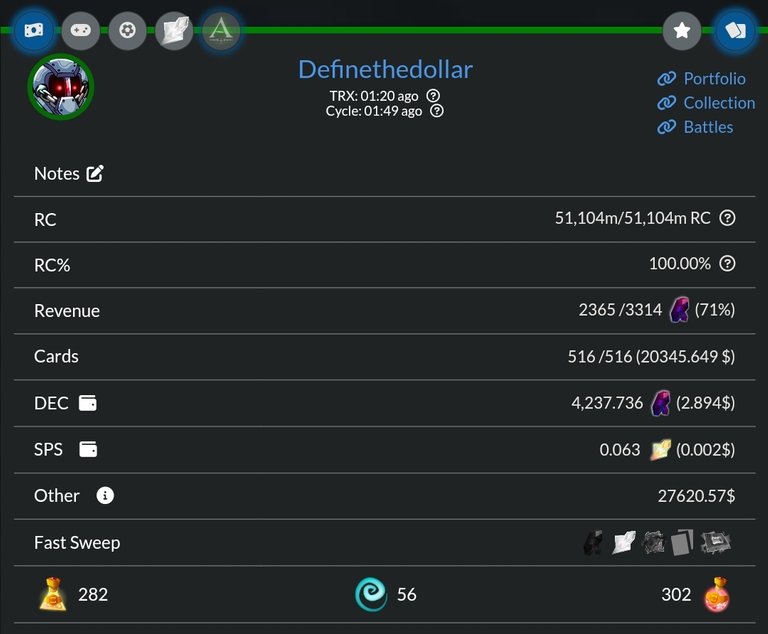 Claimed my SPS interest and paid the rental fee and then staked up the rest. Staked yesterday and today, so one more day and I'll start saving liquid again.
Figured I might include my SPS balance (don't think I ever have before)...bit of a disappointment considering when I had like quarter as much it was worth over five grand, but still, Manna from heaven, right?
That all came airdropped for my deck power, sold some off in the early days, but hoarded most of it...couple thou ain't too bad (for about a $500 investment three years or so back and that doesn't consider the asset value or the rental income - so again, I really cant complain too hard about it).

dShitty:
OK,cool. So, no crime or crises in dShitty, yet my SIM income went further down...yup, sounds about right.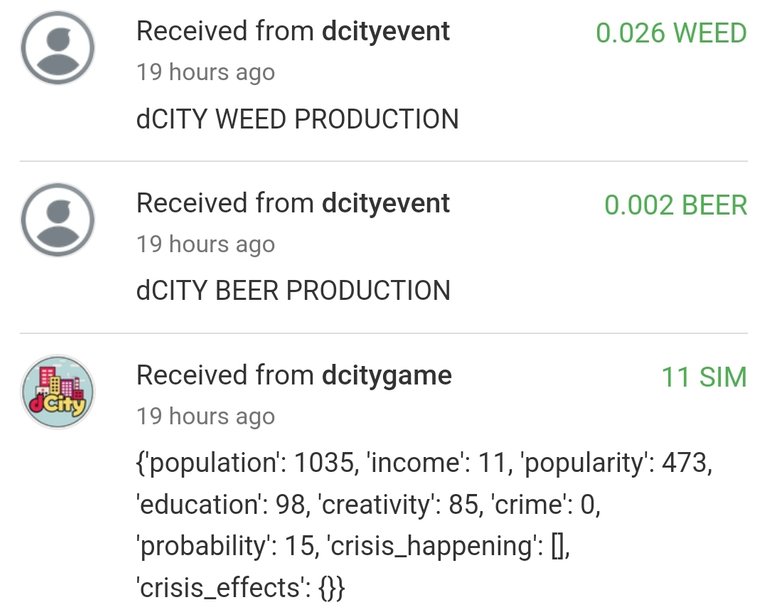 RS:
I remembered to check in on Rising Star a second time today and ran another mission. Nearly up to level 68! Woot, only seven more level (and another year or two) until I unlock the next mission. 🥳😛
My Ego was starting to grow, though, so I switched over to a lesson for now.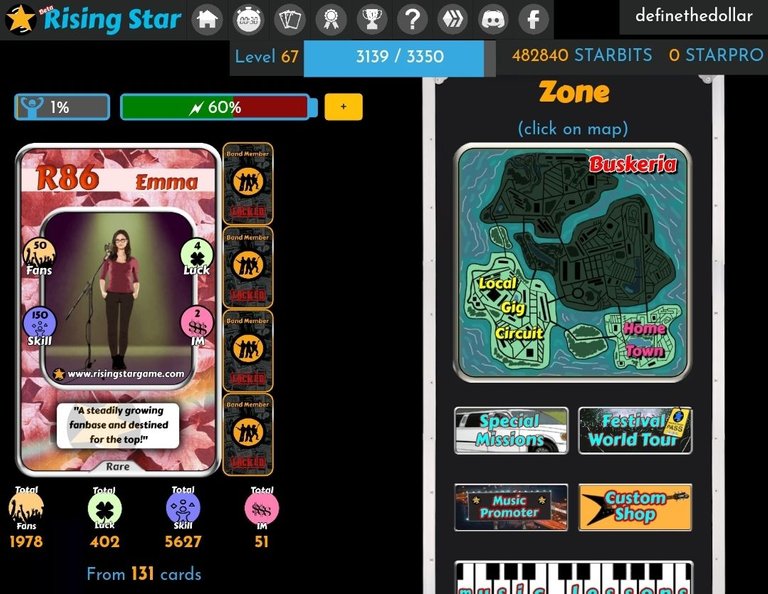 HK:
Grumble grumble HashKings grumble grumble stupid grumble grumble.

GLX:
Oh, I forgot to include this as well as a bonus from my SPL investment (and subsequent SPS hoarding)...not getting a whole lot, was less than three HIVE today, but it's helping. Plus, I'm still staking half, so the balances are growing anyway. 🤑

WOO:
I do have to say that I am a bit frustrated with the WOO website. For the last three or four days it doesn't load up properly, shows all zeros, and you have to wait an unspecified time for the information to populate. 😡 I don't think it's my node setting, other sites are working as normal.
Regardless, I was finally able to claim my stake and delegation rewards. No mining rewards still, but got the 4.5 from the airdrop (thinking I'm probably just going to mention it rather than having another picture for it separately).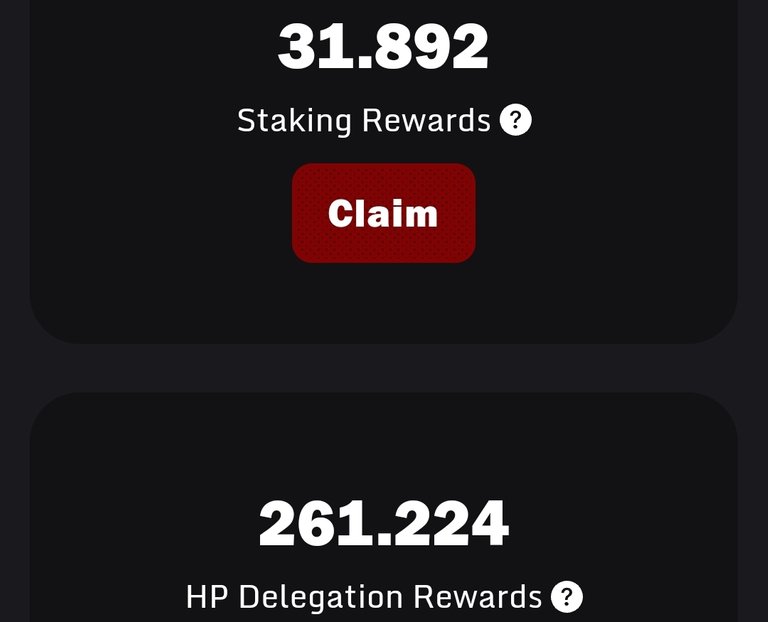 Think I might have missed the nice dip, but considering snagging some more off the market anyway, still not even close to having enough to max out my city (and if I did I'd have no stake left 😢).
---
Average Last 7 Days: 10,585
Lifetime Average: 14,515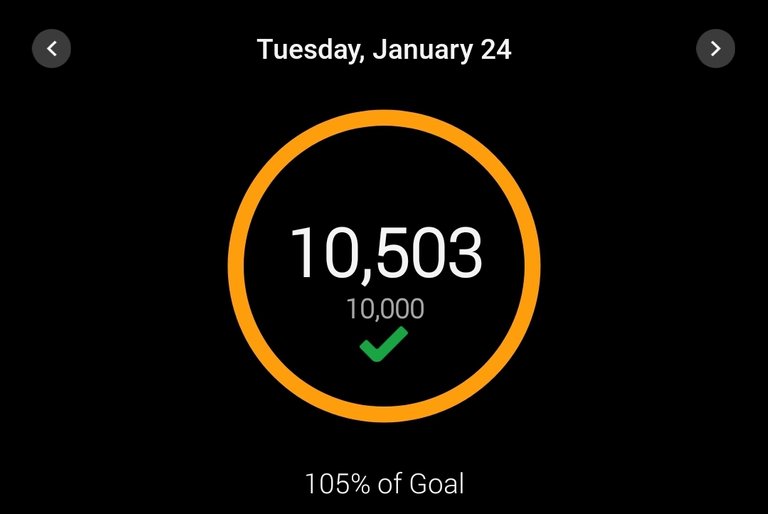 10k per Day Streak: 107

Longest Streak: 204
Distance on shoes: 1294.73 km
Distance on hikers: 67.07 km
#AutomaticWin Tally: 425
#AutomaticWin Streak: 0
Longest Streak: 53
#TripleTen Tally: 118
#TripleTen Streak: 0
Longest Streak: 7
#DoubleDay Tally: 236
#DoubleDay Streak: 0
Longest Streak: 37
Highest Floors: 120
Highest Daily Steps: 41,528
Zombies evaded: 0/0
Mindfulness Diary:
Health: 74%
Satisfaction: 86%
Energy: 91%
Productivity: 78%
---
Referrals: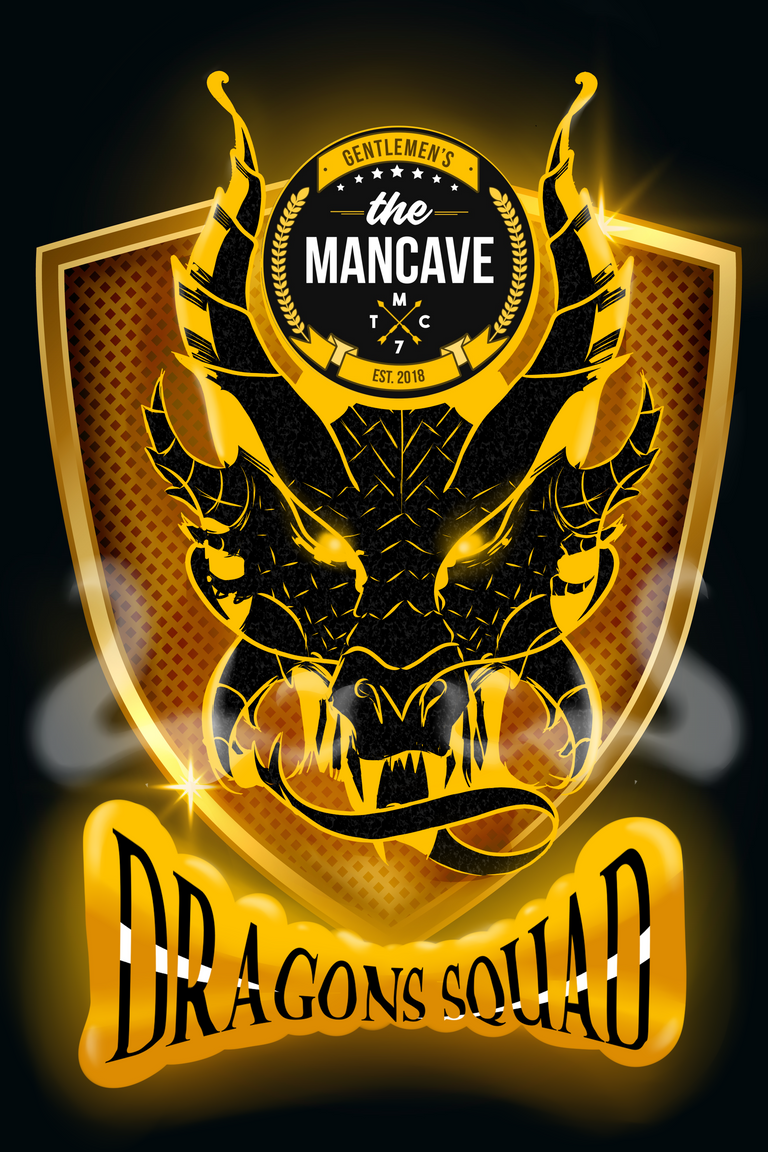 Power up and Hive on!
---
---