Jan. 6, 23: Routine, Laundry, Blackboard, TV, and Games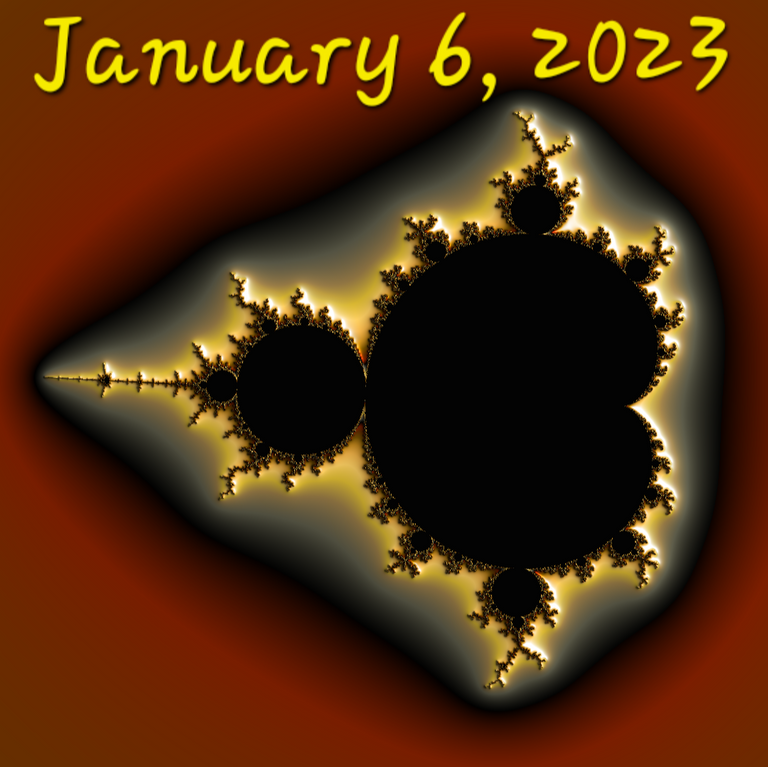 Actually, though there's still a couple things to do (plenty of album art to fill in and such), today was the first day I didn't really do anything with the phone as far as transition stuff, basically just used it all day as I normally would use the phone, so that's progress. 😁
I tried to get to bed a bit earlier last night than I have been lately, but I ended up watching Letterkenny and didn't get to sleep until around ten anyway. Cat woke me up howling to go out around three thirty (seems to be his time) and then the dog got me out of bed whining to go out at five thirty. Ended up a solid hour short again and I felt it a bit, but not bad.
Got on with the morning routine and cryptos were sideways if not down slightly. I did realize, though, that now that I have the main coins I pay attention to all together in one place, a picture is worth a thousand words: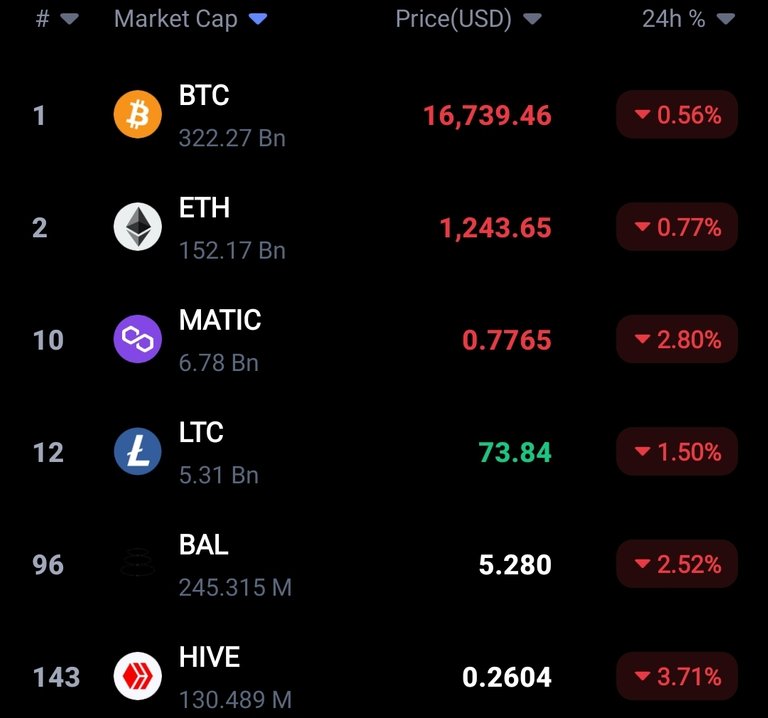 My alts are still getting punished on Polygon and I'm back to losing well over .5 ETH. 😱 Should have taken the loss when it was only .25.
Otherwise, just the usual stuff. Did a little curating, some token shifting, got back into Hive Signer to take care of Solairitas' voting, got caught up on Discord pings, then worked on my post for the day and got another solid one done, published, and shared and then faced the goal for today...
I wanted to take a shower (wow, what ambition!) but all my lounging clothes were in the hamper and I figured I'd better do the regular laundry (did the sheets yesterday). Other than that, put away the clean dishes and putzed around procrastinating on the real goal for the day, which was to repaint the blackboard.
Got all the stuff ready to go: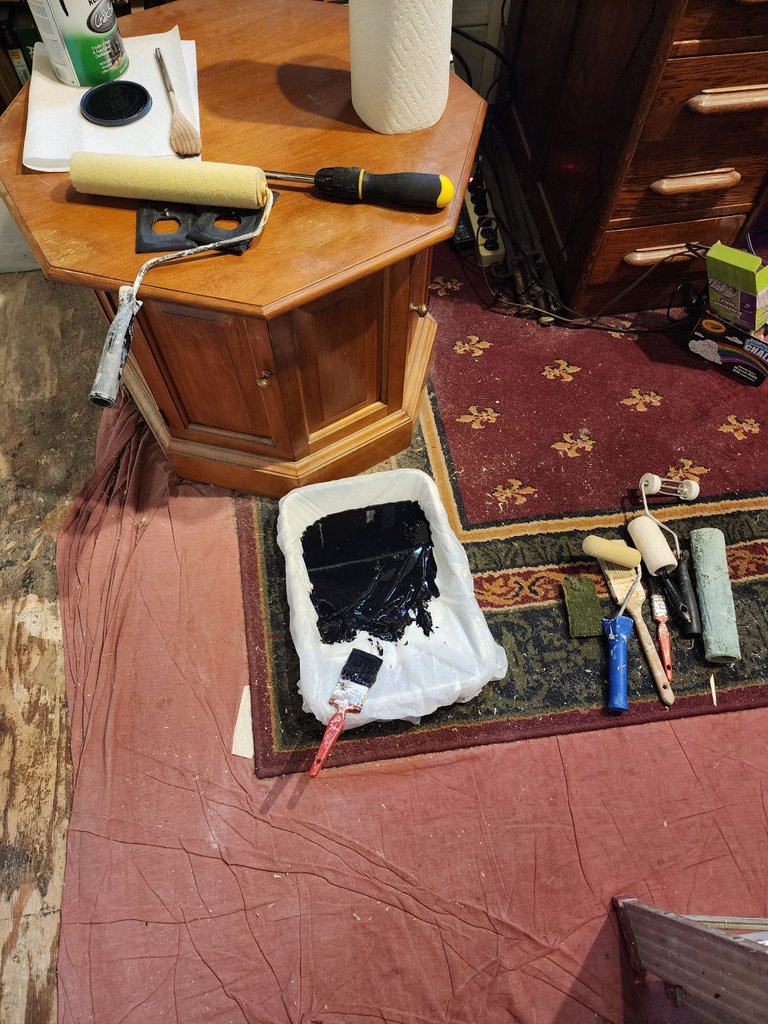 Killed a little more time and then finally got down to it. I decided (on the fly) to do the first coat with a brush, trying my best to get into all the little pores...
I guess I've been watching too many criminal psychology videos 'cus as I started painting all I could hear was:
"Walk me through your day on Friday"
"I did laundry and painted the blackboard."
"Did you see or talk to anyone? Is there anything or anyone that can back up your story?"
"No, I was by myself the whole day."
It bugged me enough that I had to create an alibi for myself and get a time-stamped photo...between that and cell tower pings, I think I could prove my case. 😂 Regardless, pics or it didn't happen, right?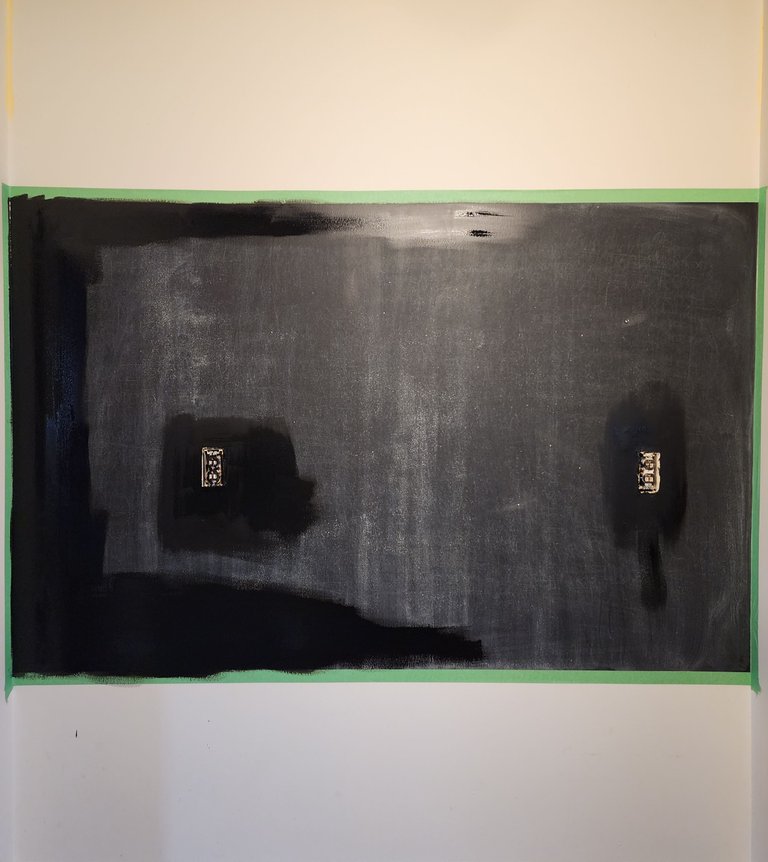 After the first coat dried, it looked much less pocked but I could see the brush marks and I did another coat with a roller to smooth it out. There was a bit of paint left in the pan, so I put it on, but it only made it halfway.
It's obviously way better now, but that strip down the middle is bugging the hell out of me and I keep going back and forth on whether to do another coat or just leave it as it is. I do still have a bit left, but I don't want to admit that my goal for the day wasn't actually accomplished. (Dribbled a bit too, but no big deal, that room needs to be repainted anyway.)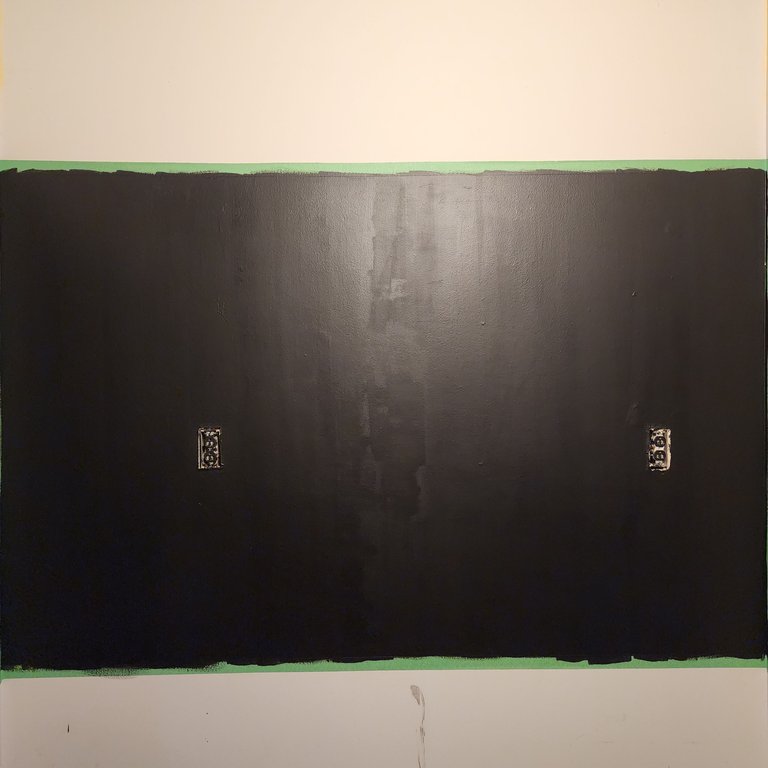 When I "finished" with painting and the laundry was done, I got my shower and then made myself some egg noodles and fried turkey for dinner. At that point, though, I started dragging pretty bad.
Got ready for bed super early, like before seven, and put on Ancient Apocalypse that I've been meaning to watch. I find the subject matter interesting to begin with, but seeing Graham Hancock on Joe Rogan and hesring about the backlash the show has caused from the archeological community, I have to watch it. Made it through a couple episodes of that and fell asleep.
Wenche is scheduled to come home on Sunday afternoon (though her dad seems to be sick, so it's a little up in the air at the moment) and there's grocery shopping and cleaning up to do, so Sunday's pretty much spoken for and classes start on Tuesday...I have starting getting a few things ready, but I'd prefer not to have to scramble the day before again, so I guess the goal for tomorrow is to try and tackle most (if not all) of that. Still haven't heard from the Calculus I "lead faculty" with only a few days to go, so I still don't know if I have to give a paper final and so I'm stuck with doing the syllabus; should be able to get everything else except that done, though.
[Hrm, for the first time in a while I'm actually struggling to get my thousand words. I still have an hour, maybe take a break for a bit and hopefully something else will strike me to talk about...It worked, not by much, but I got my goal. 😃]
---
Fucking token dust, that's all that dShitty is worth these days; must mean the token price is going through the roof with all this top-down manipulation!
Three ten-thousandths of a HIVE. Riiight. 🤣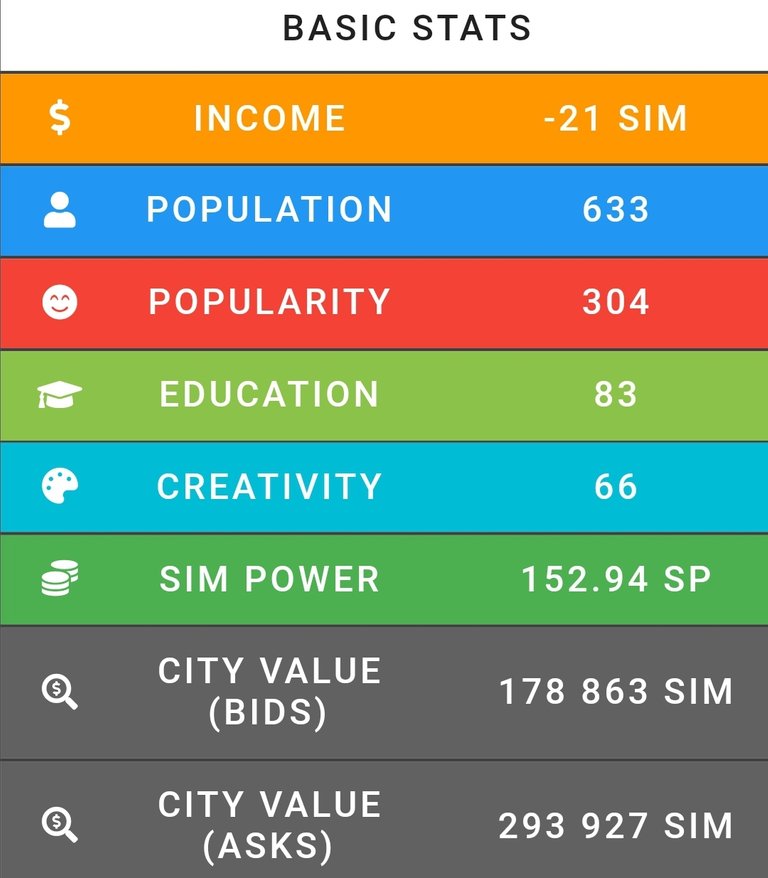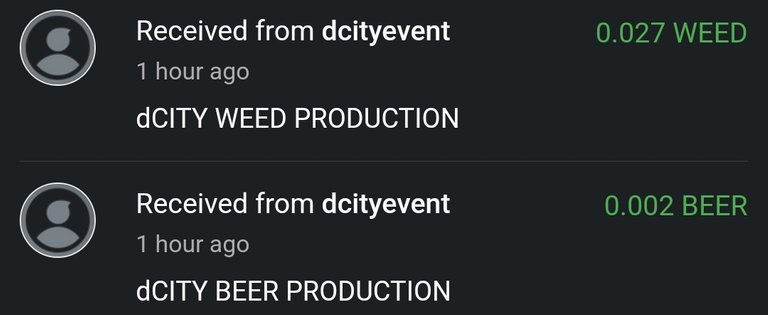 ---
Just a normal, one mission day on Rising Star today. I was amazed that there weren't any drunks this time!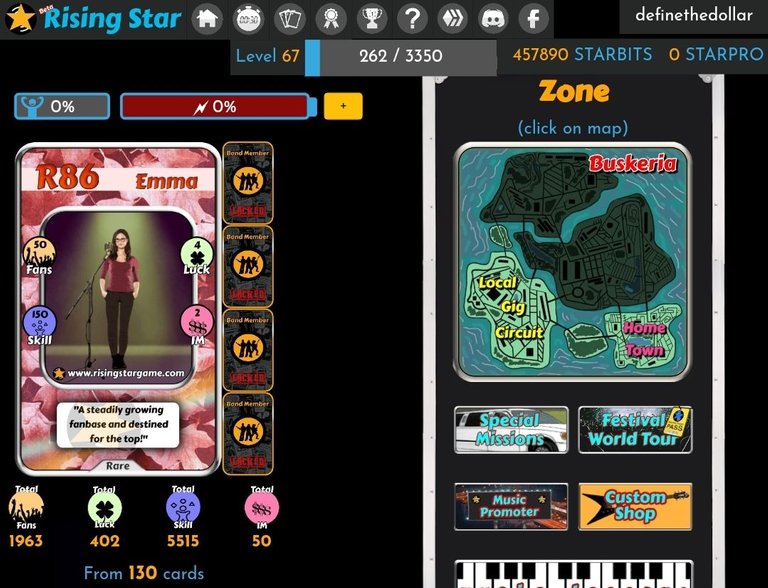 ---
Unreal. I don't know what to do about this...my Splinterlands rental income is back below a dollar again, ninety cents today, but then take another ten percent off that and I got eighty-one cents. 😡 On twenty thousand worth of value?! Thinking I should just liquidate it all and park it in HBD at twenty percent.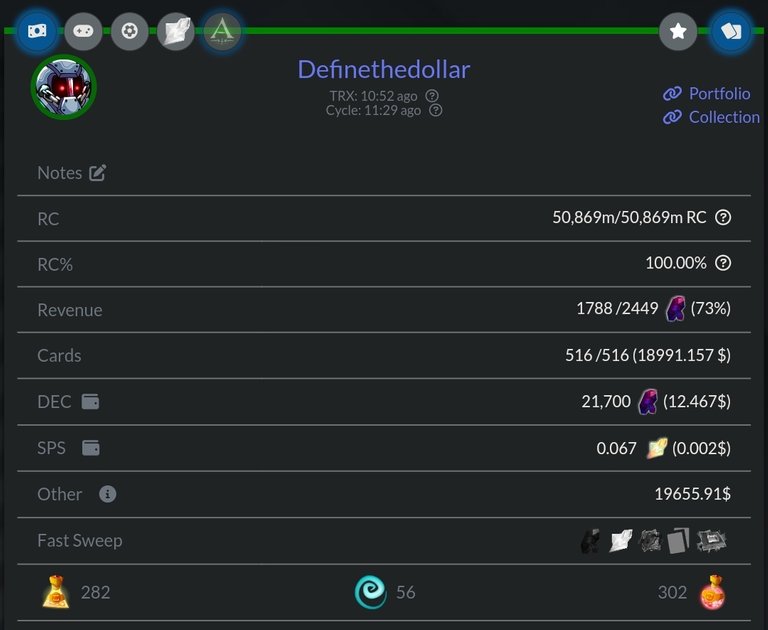 I claimed my SPS interest and paid the rental fee and since I'd swapped out both SPS and thirty vouchers yesterday I staked the rest.
---
HK:
Thinking of getting out of this...very doubtful that I can recover my original investment, but maybe I can get out cleaner than sitting on VFT bags like I am. I don't play, and every announcement in their Discord of yet some other machinations they've made up just seems to piss me off.

GLX:
Just the normal claim and stake on Genesis this morning. My GLGT balance broke a hundred! 💪

WOO:
Claimed early yesterday and late today, so fourteen yesterday and sixteen today is still averaging to around fifteen per day.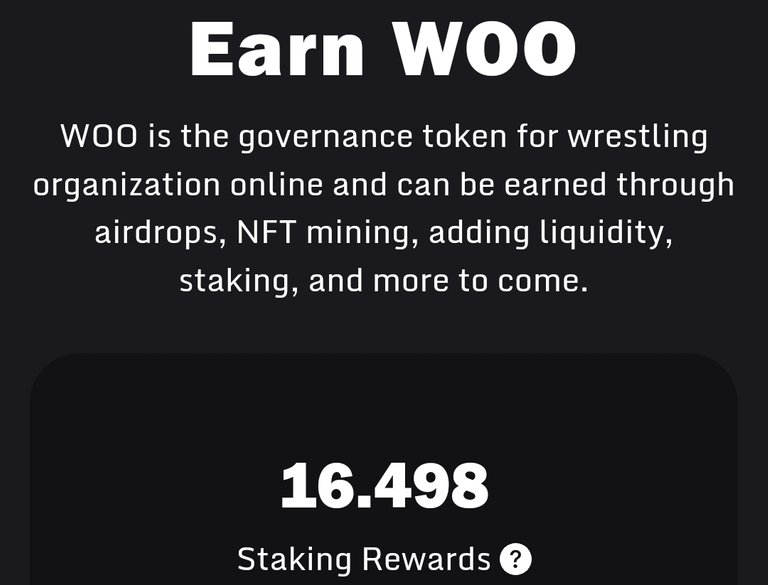 ---
Average Last 7 Days: 11,535
Lifetime Average: 14,559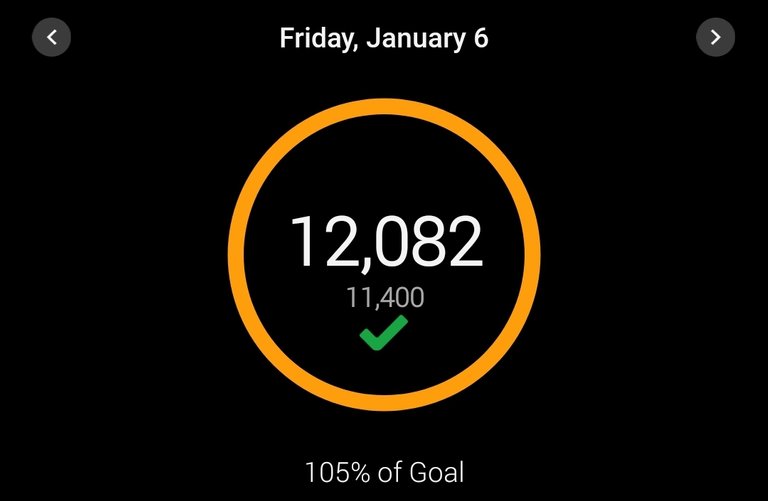 10k per Day Streak: 89

Longest Streak: 204
Distance on shoes: 1276.00 km
Distance on hikers: 67.07 km
#AutomaticWin Tally: 425
#AutomaticWin Streak: 0
Longest Streak: 53
#TripleTen Tally: 118
#TripleTen Streak: 0
Longest Streak: 7
#DoubleDay Tally: 236
#DoubleDay Streak: 0
Longest Streak: 37
Highest Floors: 120
Highest Daily Steps: 41,528
Zombies evaded: 0/0
Mindfulness Diary:
Health: 87%
Satisfaction: 88%
Energy: 88%
Productivity: 85%
---
Referrals: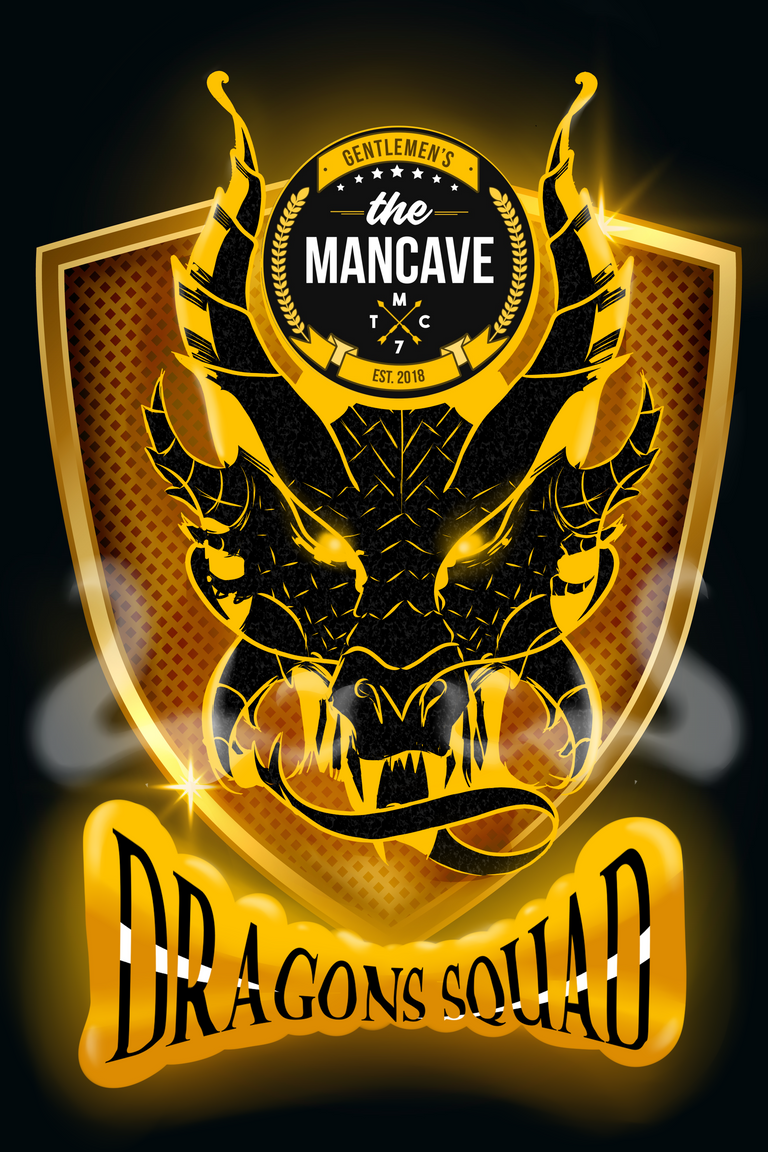 Power up and Hive on!
---
---