Mar. 19, 23: Routine, Grocery Shopping, TV, and Games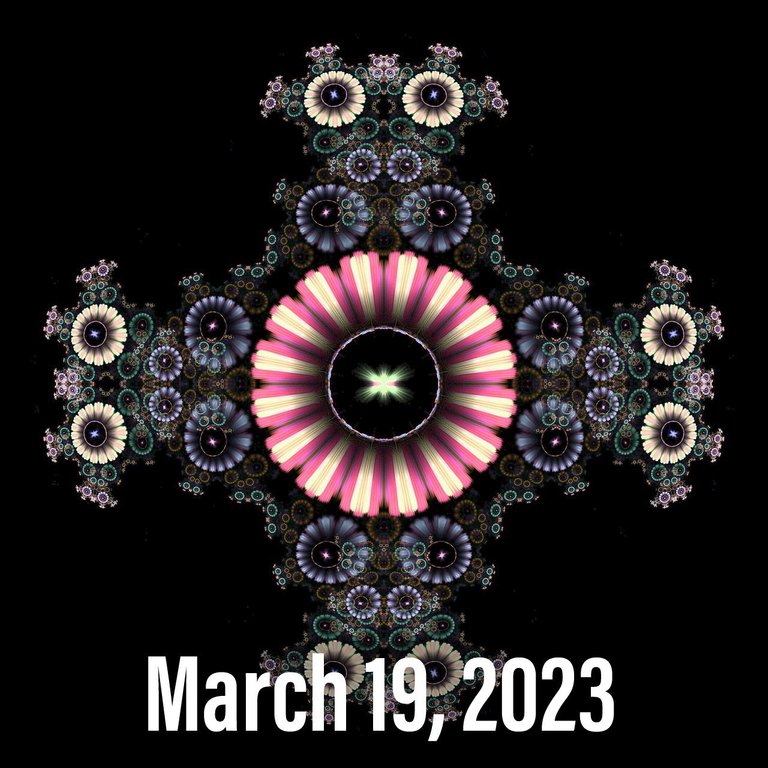 [Oh, holy fu*&! I just happened to go in to check on my Jaxx wallet and there's a notification that they're killing the wallet. 😱 Luckily, I caught it and still have a week to deal with it before I wouldn't be able to do any transfers any more. Looks like I can restore with my key in another wallet, but I'm kind of thinking I should probably take the opportunity to get it all moved into Ledger instead of being dumb and having it sit in a soft wallet (which gives me a panic attack every time I open it because of stuff like this). Needless to say, my stress level is quite high at the moment. 😬]
Got to bed a little late last night, around ten or so, and was up four times during the night. Got up and moved out to the couch around two thirty or so but then made it through until nearly seven. 😀 All together I ended with just shy of nine hours, so not too bad at all, and though my eyes did roll a bit after lunch, I made it through the day without crashing out. 👍
Had a relatively late start on the morning routine, but three hours is still pretty decent to get most everything taken care of without a high level of hurriedness, even managed to eek out a fairly decent post despite not having all that much to talk about.
While my sleep was alright, my back was not. 🤬😭🤕 It was hurting just as bad, if not worse, than yesterday. I did my best and made it through the whole day (and night) yesterday without taking any painkillers, and I held off until the evening today, but I did take some before dinner (yay, trade back pain for an upset tummy and the feeling like I have to pee really bad even though I don't 😡).
Anyway, got on with the morning routine; did a little curation, some token shifting, checked on Discord pings...oh, that's right! I won one of the Wombat giveaways and got a 50MP NFT buried in the Dungeon! 🤑 Swapped it for a 5MP one since my WAX NFTs are maxed out. I went in and checked on my new NEFTY investment as well and claimed up .05 WAX; looking like I'd need at least like ten times more to make it worthwhile. 😢 Then, of course, I went and checked on the crypto markets.
We've had a couple days of nice greens, so it's not surprising to get a little red, nothing goes straight up or down. It is nice to be able to say that BTC is pulling back to twenty-seven thousand! Quite a difference from just a few weeks ago. 🤑 My alts are still generally getting hammered, but what else am I gonna' do other than sit on those bags anyway?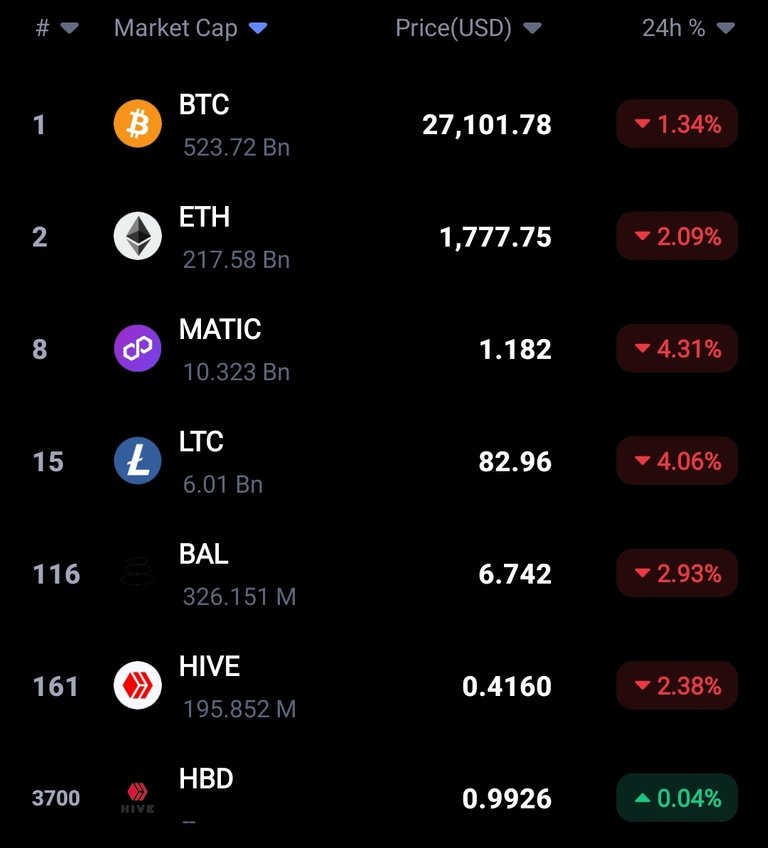 Whether it's just hype or not remains to be seen, but one other newsworthy thing is some pretty heavy bets going on over on Twitter. Got some billionaires betting that BTC will be at a million dollars by June 17th...betting a million dollars and a Bitcoin! I guess that seems like a lot of money to us peons, eh? Like it must be serious...but what's it to someone who has a thousand million other than to generate some news?!
After I'd gotten my post done and published, for some reason we were a bit slow getting ourselves together, but we eventually headed into town to do the weekly grocery shopping. We got most of our usual stuff, but it was nagging at me that we were missing something. Luckily, it struck me as we were heading to check out that Mom's birthday is coming up and we needed to get her something. We ended up going for a nice, stinky candle that has a wick that fizzles like a fireplace...hopefully she'll like it, but that put us well above our normal damage for the week.
Got home and put everything away and we were done with everything around noon. Gave the animals their lunch and got my usual sandwich and then plopped in front of the tube for a while.
My back was bothering me even just laying down, and there's only so much Dog Whisperer that I can take in one go 🤣 so I did get up and do the dishes and ran the dishwasher after dinner (shopping and dishes was about the extent of my productivity for today, but at least it's something, I guess).
Wenche was working yesterday, so we didn't get a chance for any intimate time, so had to fix that, back be damned. I paid for it, for sure, but totally worth it. 😉
I did do a little more thinking about the Mythix forging mechanic and I think I might have changed my mind slightly...where I was thinking before that players could tweak the probabilities with MTX (anywhere from zero to a hundred), I'm thinking of making it binary and putting forging level as the gate. I mean, 50% likelihood it's an item...it has meaning, but is kind of weird, why not just guarantee it's an item (versus another type) or not. Should simply the concept as well as the coding.
She got the laundry done and then made us steaks and fries and salad for dinner. 😋 Afterwards we hunted around for something to watch and landed on a new comedy special with The Machine! Definitely had me laughing out loud a few times. Worth the watch. 😂
I do have to admit, though, that even with shopping, I didn't really move around all that much today and I had like five thousand steps left when I got ready for bed. I hope wicked back pain is a good enough excuse, but I probably should have just broken the streak instead of cheating.
---
Splinterlands:
Got a nice fifty cent pop in my Splinterlands rental income for today, up to a dollar eighty. Kind of thinking, maybe new rule is staking my interest income and relying on this to serve as my actual rolling income to blow on other stuff...cuts the ol' bankroll a little short, though.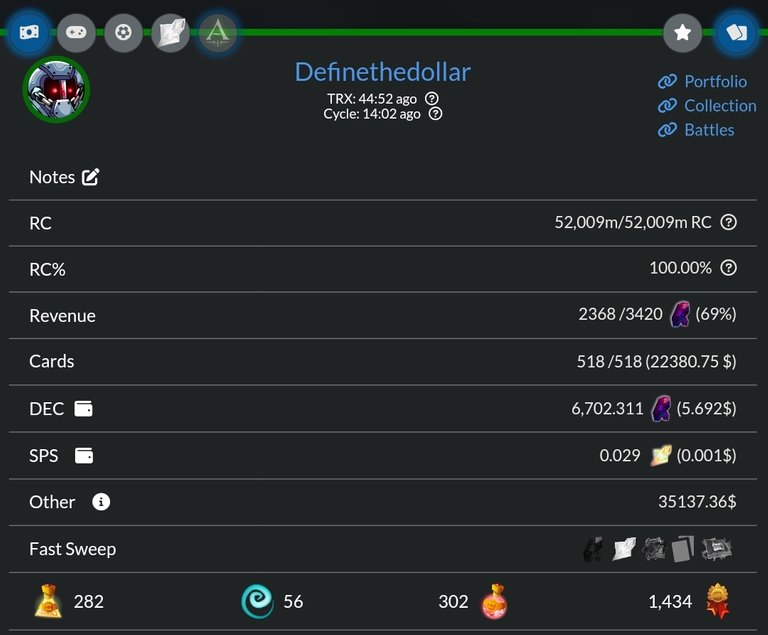 I did have a bit left in my prepay balance after paying the invoice today, but it was iffy whether it would be enough for another day and I needed to re-up either way, so I put twenty-five SPS into the prepay and staked the rest.
dShitty:
Well, hum. Despite a Shopping Mall robbery, my dShitty income went up by one SIM for the day. 😮 Not only that, but my holding reward increased (slightly) as well. Now, if they'd just do away with (or at least greatly relax) the income tax, things might look not so shitty any more.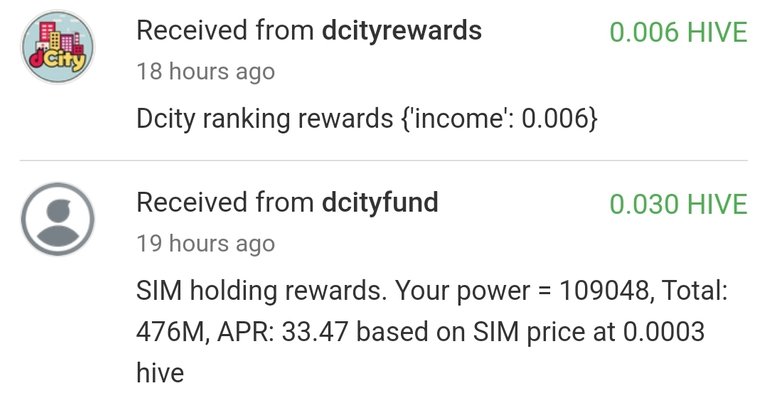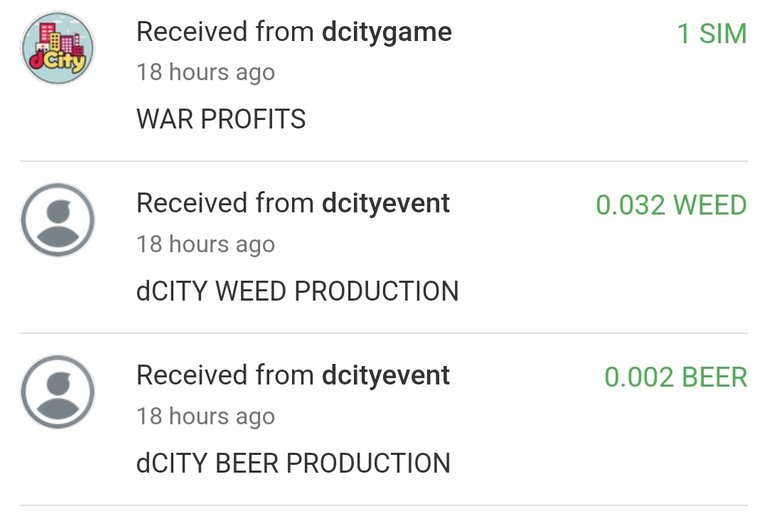 RS:
I went in several times today on Rising Star, ran a lesson to keep my Ego down and ran a couple more of the lesser missions. Still got a bazillion miles before the next crossroad, but slow and steady wins the race, right?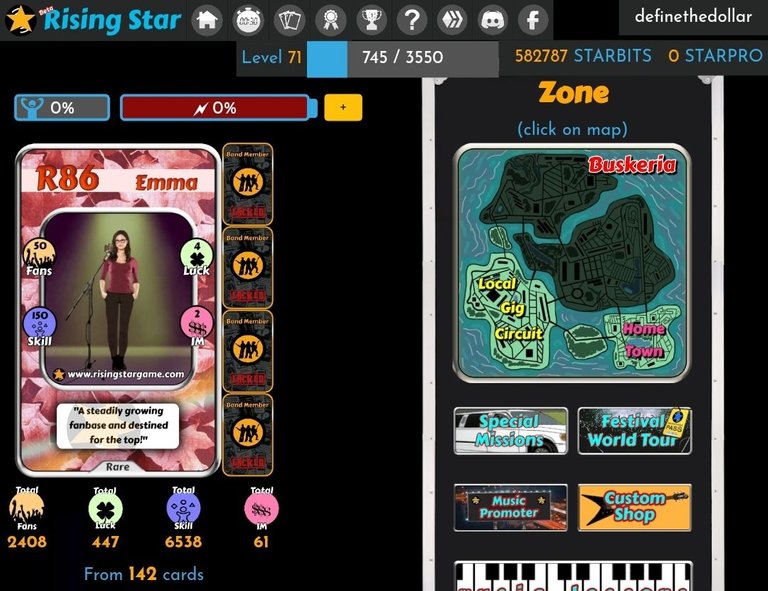 HK:
I guess, case in point, slow and steady does not win the race when the pace is too damn slow (that is to say, essentially zero). 😜

GLX:
Kind of the same old story with GLX these days. I did actually go in a couple times (probably unnecessary) but just staked up everything again. Not sure what my plan is now...going to just keep staking it until the timer runs out? I don't know. Been tempted to move at least a little out (could use the liquid) but then the big "STAKE" flies across my vision and I'm blinded to all else.

WOO:
Speaking of staking, I went in and claimed my stake and delegation rewards as well as the airdrop for today. Hopped over to a stream on the Discord for a little bit, but nothing else too much interesting happening with this...still no mining rewards.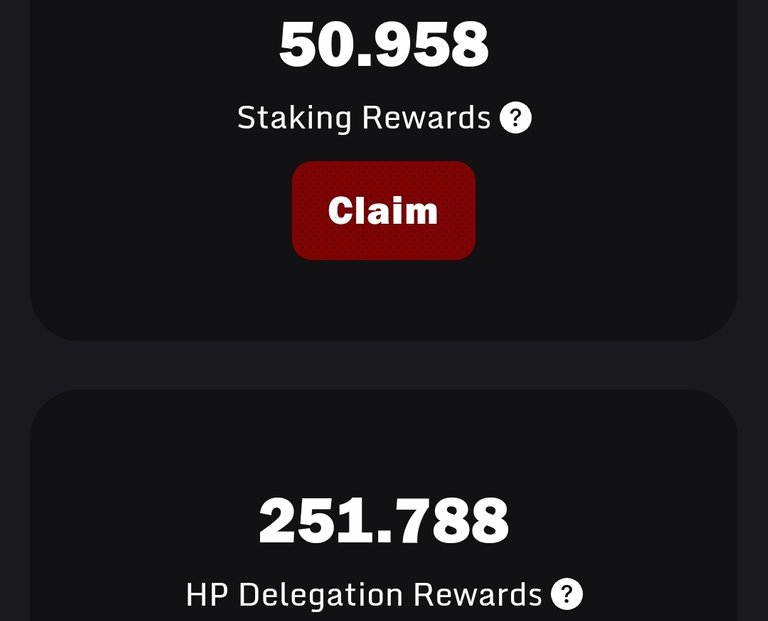 CCCEO:
The CCPower report came out again today and I was disappointed yet again not to have gotten to the next tier. I did notice, however, that it didn't take into account the .5 SQM I just bought, so maybe, maybe, that will be enough for next week's rankings.

---
Average Last 7 Days: 10,520
Lifetime Average: 14,376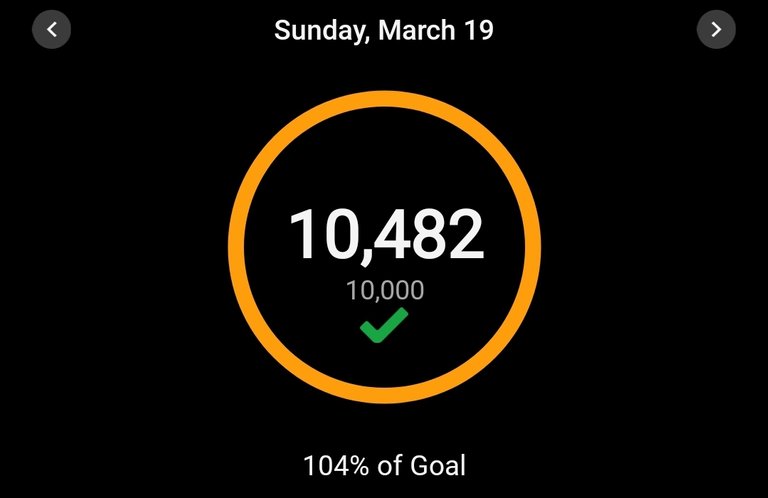 10k per Day Streak: 16

Longest Streak: 204
Distance on shoes: 1318.66 km
Distance on hikers: 67.07 km
#AutomaticWin Tally: 425
#AutomaticWin Streak: 0
Longest Streak: 53
#TripleTen Tally: 118
#TripleTen Streak: 0
Longest Streak: 7
#DoubleDay Tally: 236
#DoubleDay Streak: 0
Longest Streak: 37
Highest Floors: 120
Highest Daily Steps: 41,528
Zombies evaded: 0/0
Mindfulness Diary:
Health: 70%
Satisfaction: 81%
Energy: 90%
Productivity: 65%
---
Referrals: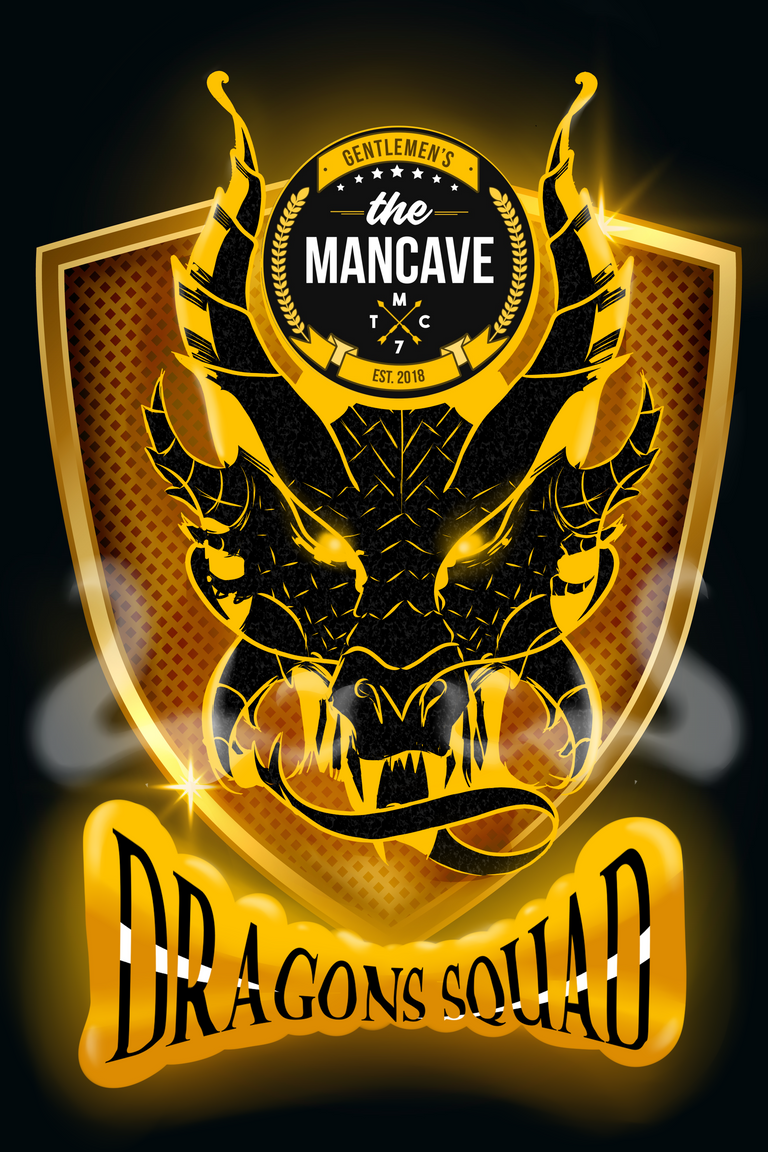 Power up and Hive on!
---
---