Nov. 9, 22: Routine, ZombieRun, Quest, Schoolwork, TV, and Games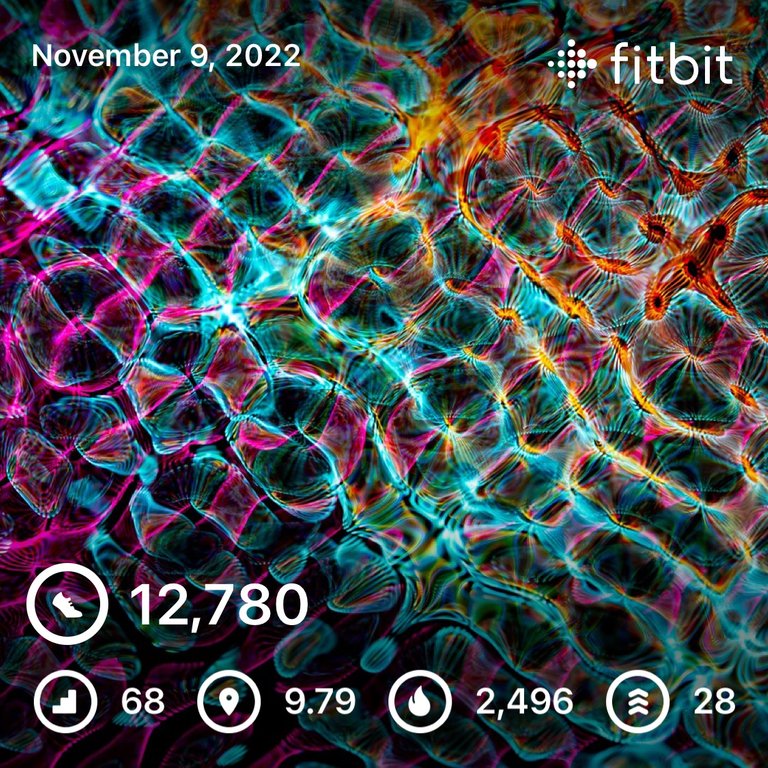 Got to bed really late last night, like eleven thirty or so. I'm pretty sure I made it through the whole night in bed, but I was woken up a few times. Was up around seven, so not that early, but a solid hour and a half short of my eight hour goal and with the last several days of half hour short here, hour short there, it caught up to me today.
It totally felt like a Friday, to be honest, and I had to keep reminding myself that it was still Wednesday. Due to emergency utility repairs, the campus was closed today and so I had the whole day off! 🥳
I strongly considered putting on a movie or something and trying to get a nap in the afternoon, but I at least resisted that urge even if I wasn't as productive as I would have liked to have been (well, particularly I didn't make any significant progress with Mythix - otherwise I did get some stuff done).
Got on with the usual morning routine and did all the normal stuff I do every day, but the one major exception was, of course, the crypto markets…if yesterday was brutal, today was even brutaler. 🤬😭
$HIVE might need a rebrand to $DIVE. 😛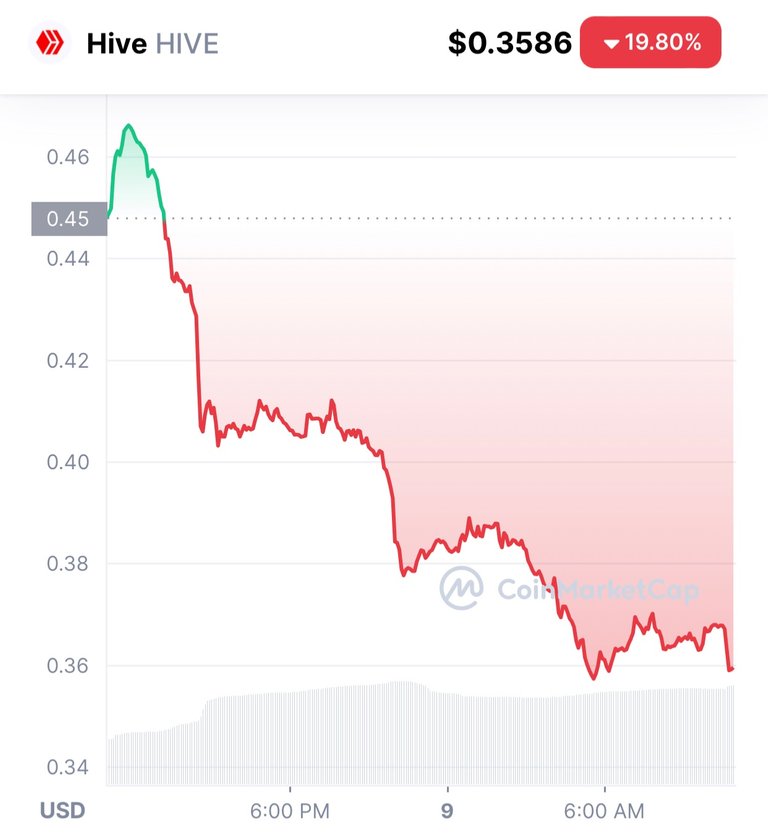 Did some curation, the usual token shifting and staking, checked on the SOL market, got caught up on Discord, paid my rental invoice, went in and snagged some PIZZA for PPUD coming up here in a few days, and worked on my post for the day.
Got my post done and shared and then decided to head out for a Zombierun.
I don't know what happened to FitBit this time. 🤷 I didn't pause it or anything, but it stopped tracking when I was back on the trail and didn't catch up until I reopened the app when I got home. Luckily I had both Adidas and Zombierun to verify the distance: five kilometers and then some, so a proper walk/run. 💪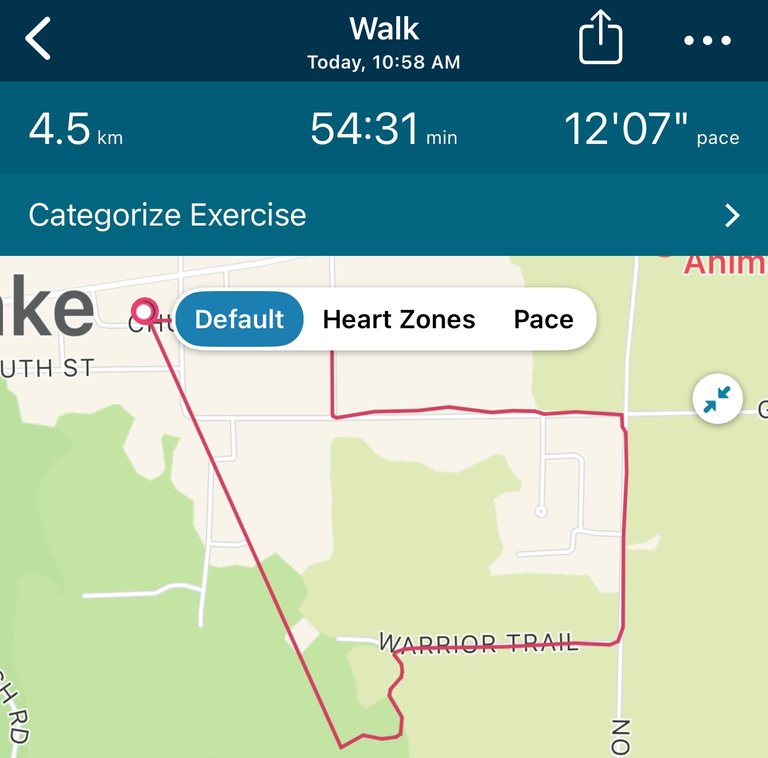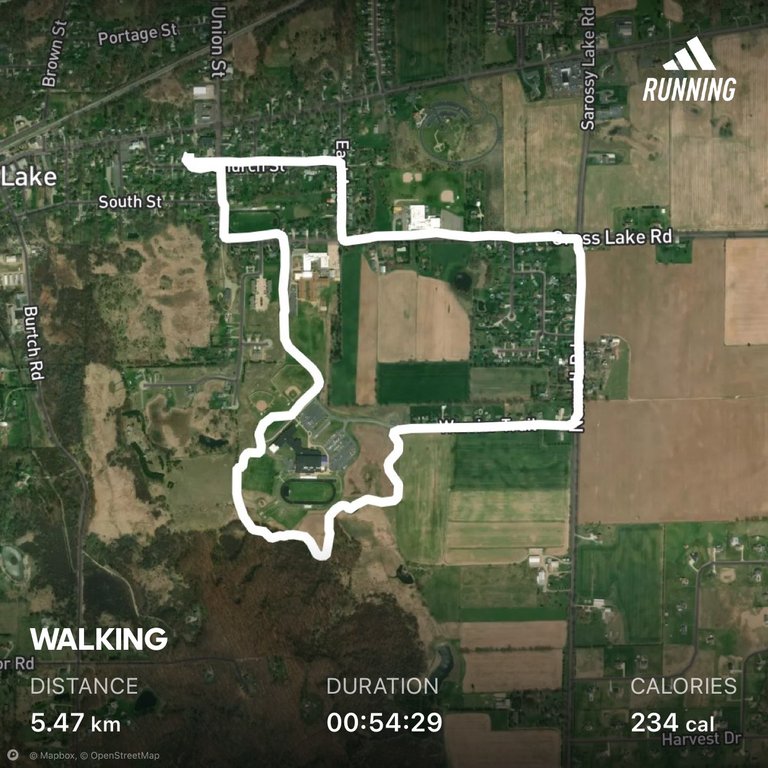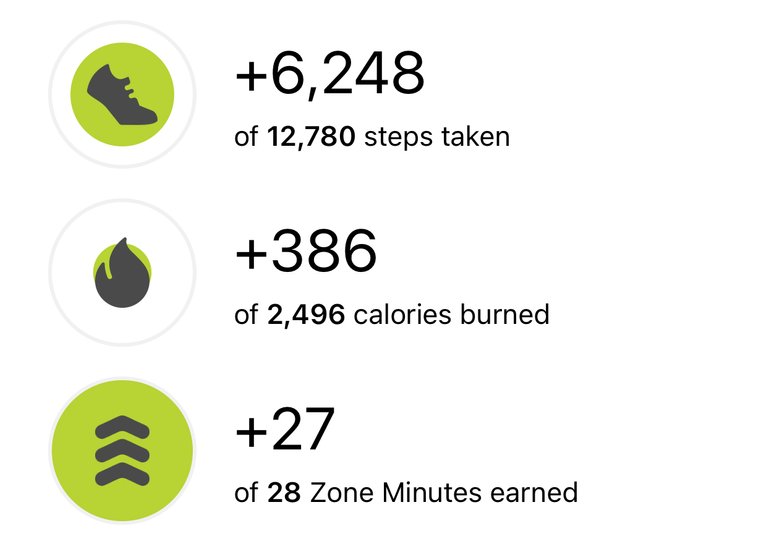 Today's mission was a continuation of the last. We were down in the catacombs and Veronica had gone a different route to hopefully find whatever was housed here. However, the tide started to come in and the tunnels began to flood and all the zombies we'd run past going in were now blocking the way back…not just ordinary zombs either, like super zombies 🧟‍♂️…their severed arms and even their intestines still came after us. 😱
Veronica got trapped in the central room and we had to blow out part of the ceiling to get her out, but once we were out safely the Minister was there waiting for us and Veronica went back to her again (traitor). 🤬
Quite a few zombies out there today, but they were fairly spaced out, so not too hard. Five for five zombs evaded and mission complete.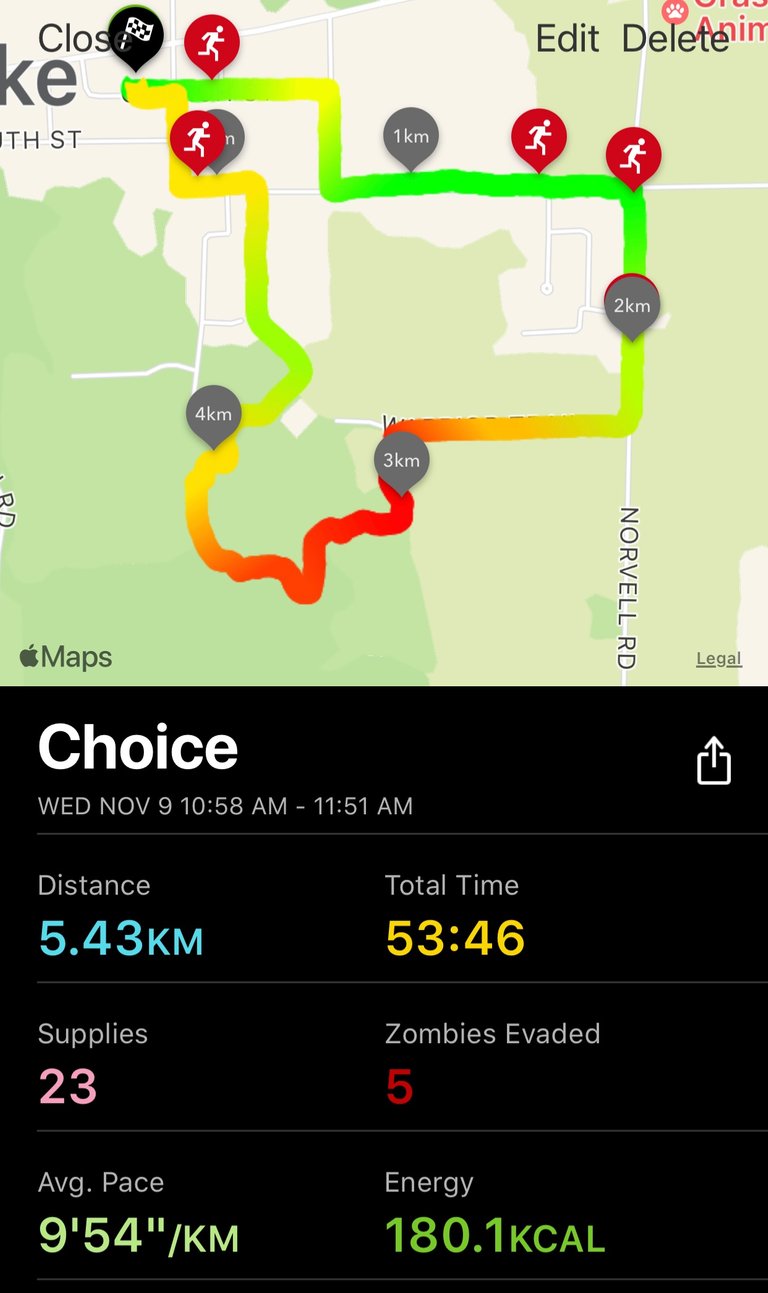 Was chilly out again, especially with the wind, but I figured I'd be running at least some of the time and I didn't want to make the mistake of being all cooking hot in a heavy coat, so I just went with a light over shirt. I kind of regretted it at first (the breeze was a bit mean), but after a couple kilometers and the sunshine, I was fine.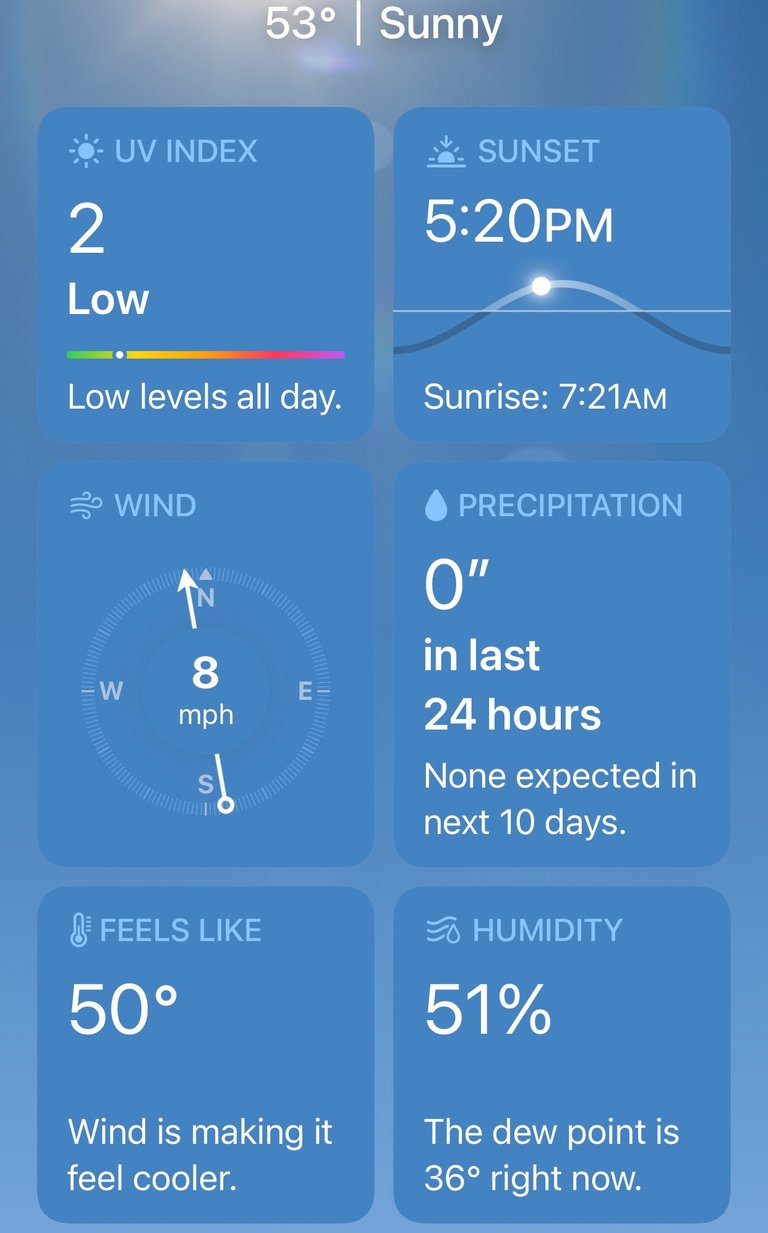 A bit chilly is awesome, especially compared to the bitter cold (and sn..) we've usually gotten by now. ☀️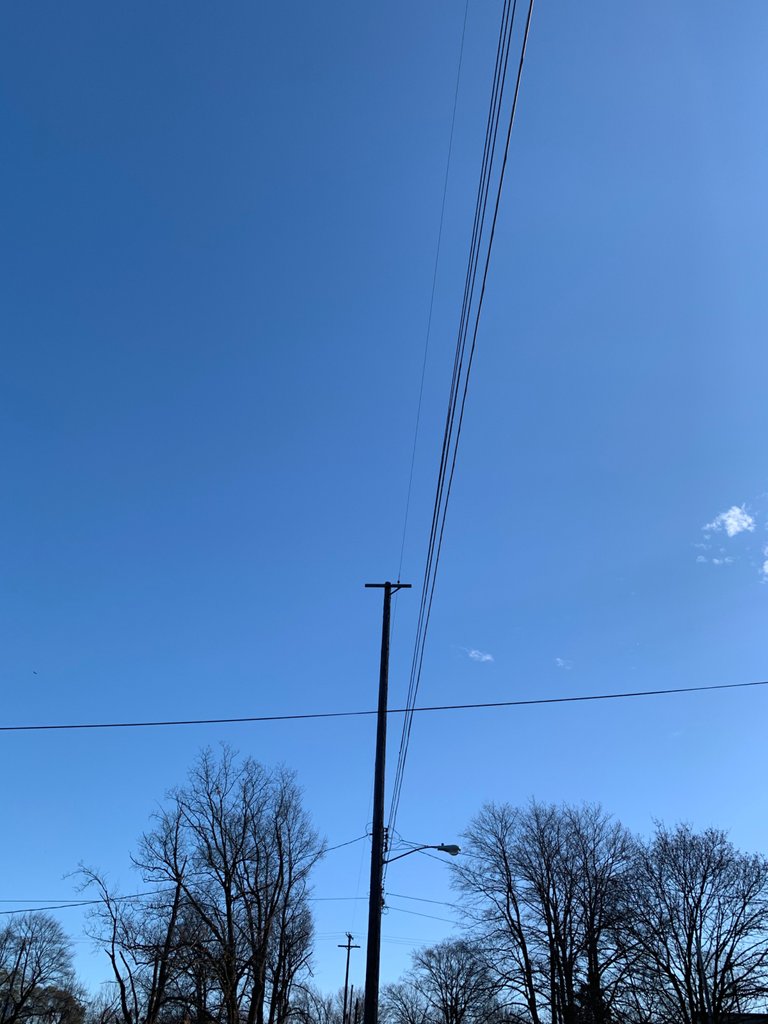 Did half the run on the pavement and half back on the nature trail. Didn't see anything down at the pond, though. 😢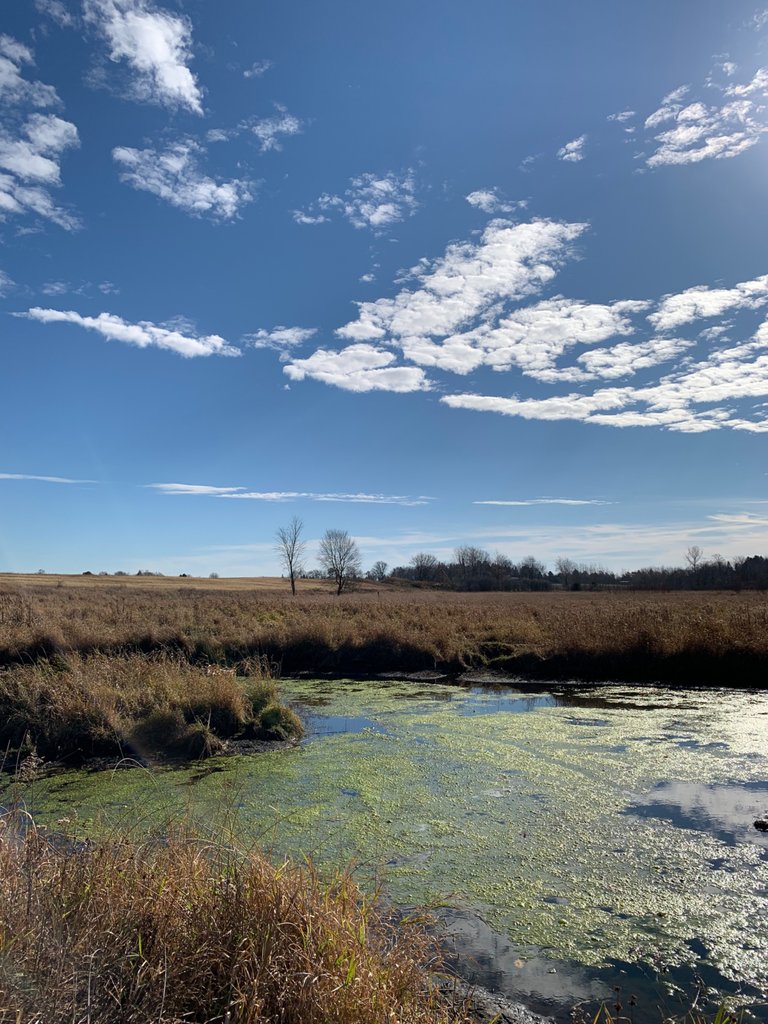 I did see another snake 🐍 though! 😁 Again, I almost stepped on him before I realized what it was…they totally just look like another stick in the path. This guy was only little, like eight to ten inches long or so and super skinny: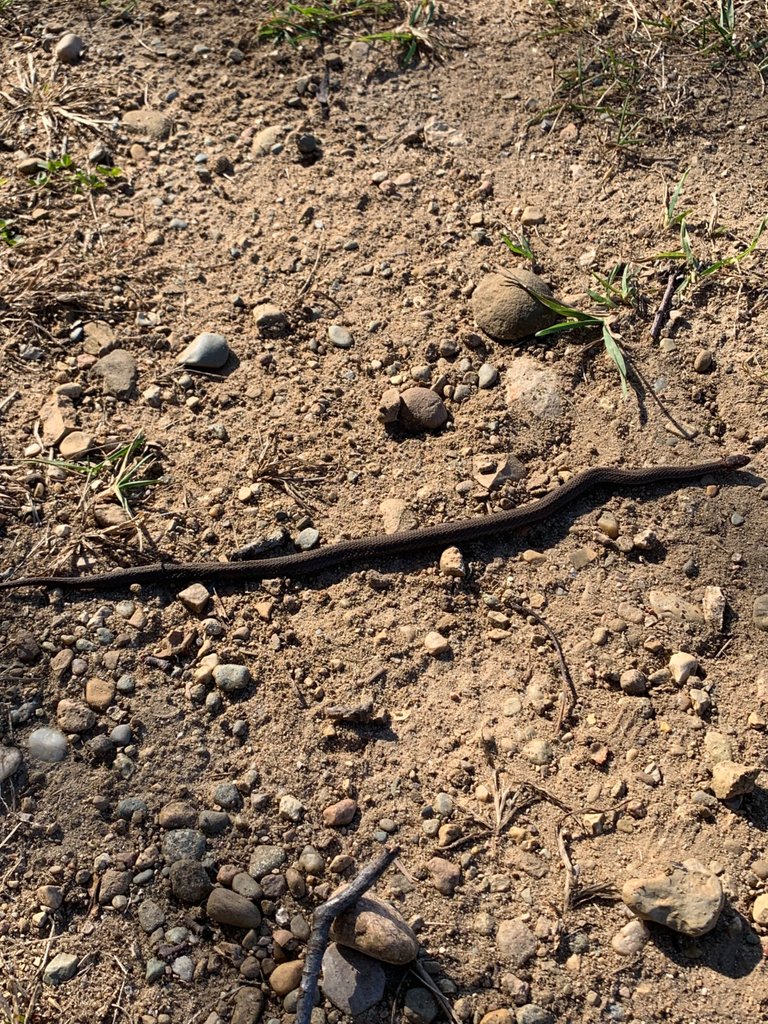 I went super slow and kept a close eye out for rest of that back stretch, but I didn't see any other snakes and then had one more zombie to outrun before I got back home.
Grabbed my usual sandwich for lunch and did some chores. Got the garbage out a day early since they've started coming in the wee hours of the morning and did all the dishes in the sink and cleaned out the dishwasher.
Not sure if I can say that it actually counts for "productivity," but I did spend quite some time in the afternoon sorting out the Home Screen on my phone. Got everything that was on the back page (mostly new Wombat games and the WombPlay app) moved to the front and organized into folders and went through and deleted a bunch of old (legacy) games that I don't really play any more…been getting barked at about the backup failing since my cloud storage is full even though I go in and delete out all the photos and Splinterlands pngs that for some reason automatically clog my downloads folder. Hoping that unloading some of those unused apps will free up some space, but we'll see.
I did have some work to do for Calculus, but I still had most of the afternoon free. Like I said, I considered laying down, but knowing that I had work to do, I procrastinated instead and busted out the Quest for a while. Worked on the four hundred piece version of the Puzzling Place puzzle I was working on before (Blue Temple)…got a bit of it put together, but actually spent most of the time just sorting out the pieces.
Quit out after a bit and got to work creating a homework assignment for the section we just covered in Calculus (there wasn't one from the course I copied…makes me think the other professors skip it 🤔 still, we covered it, so it's fair game for the exam). Speaking of which, I had the exam to create and while I could have done it tomorrow, I figured if I got it done, then besides teaching in the evening I'd basically be free all day. 😃
As I was finishing up with that Wenche got home from work. She made us turkey tacos for dinner and we chilled watching some more of the Gifted. I played some WombPlay games after the daily reset and then fell asleep at a decent time (around nine).
[Woah! Done early today. 🤩 Got about half an hour before the usual posting time…might try and get an early start on my errands. 👍]
---
Wow! No crime or crises again in dShitty today and my actual income has stayed at thirty…dare I hope that we've entered into a slightly less shitty era? The dawning of The Age of Slightly Less Shittiness?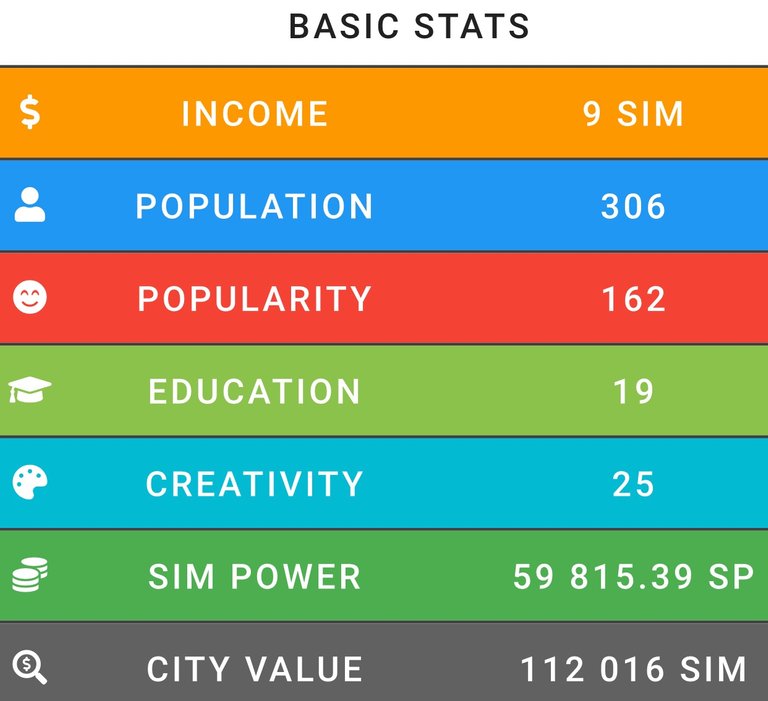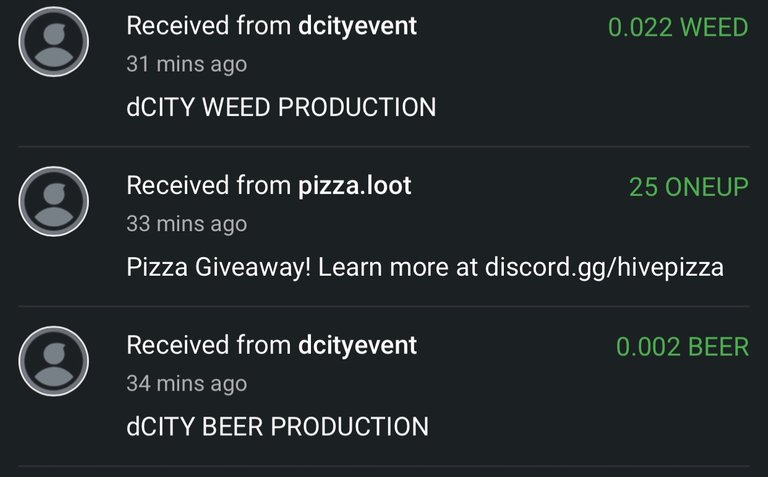 ---
We'll slap a mustache on my face and call me "Sam!" My Ego is still zero on Rising Star and no drunks or nothing. At least that means I can get in one more mission for now. 👍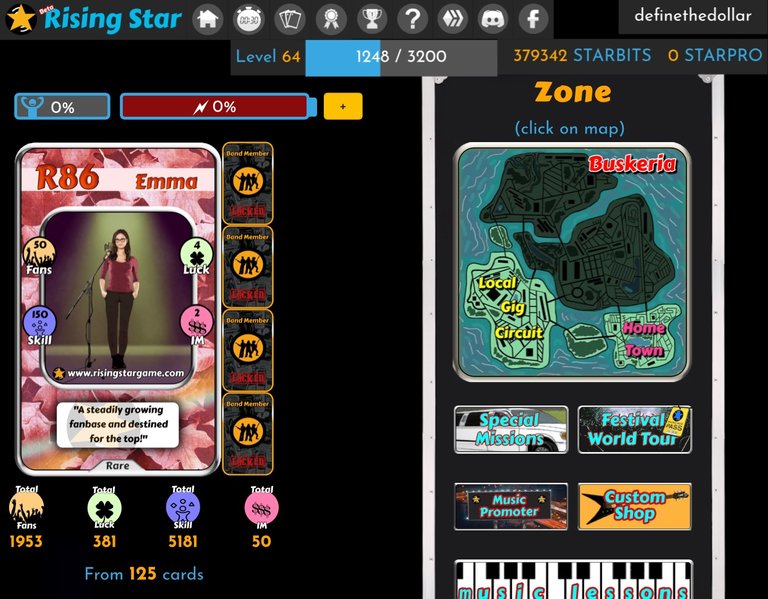 ---
Nope and nope. I did not sit down at the computer let alone deal with HashKings today. It is starting to really annoy me, so need to get it done here soon.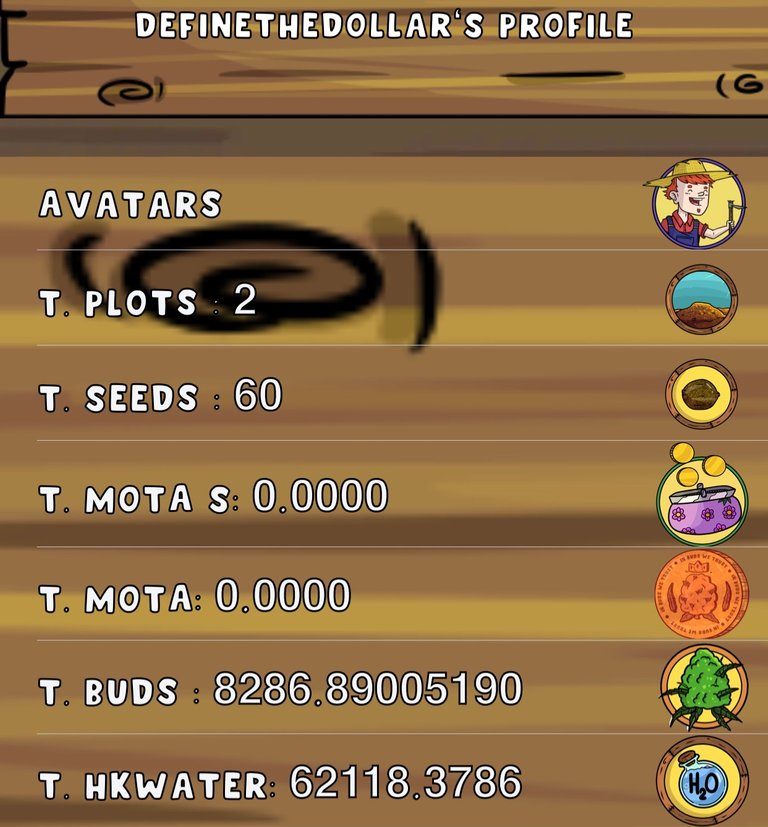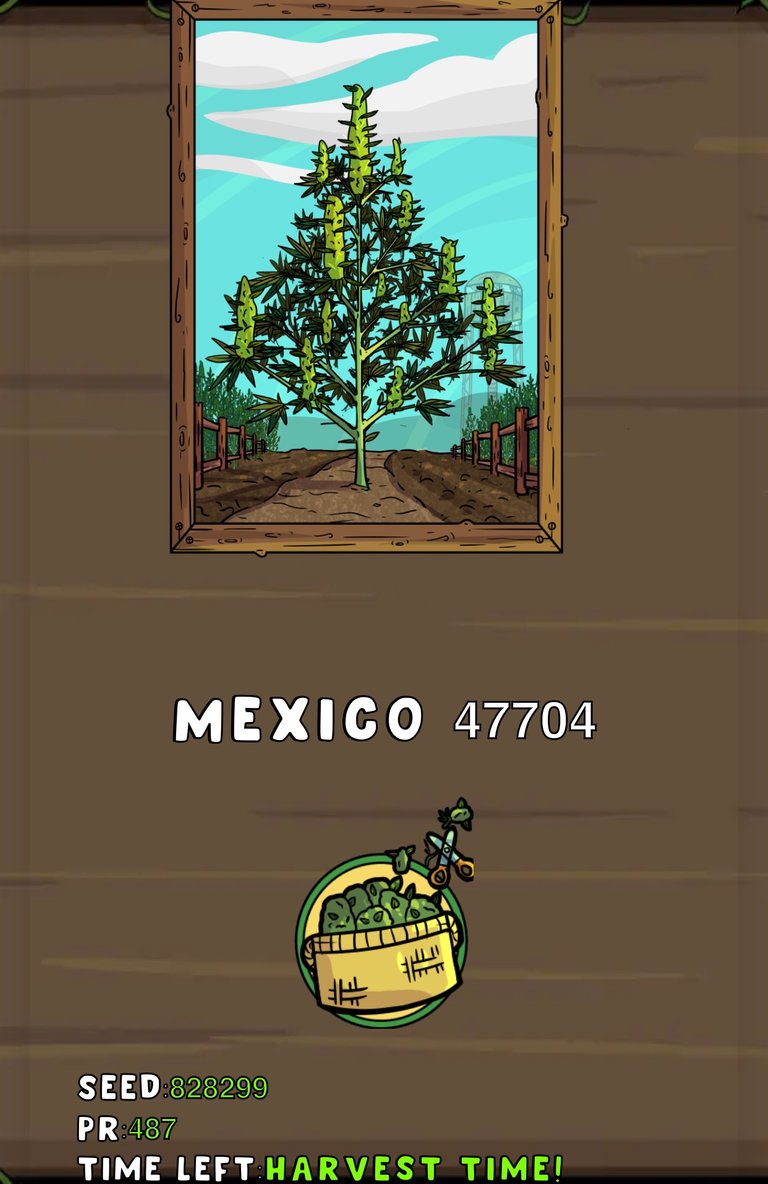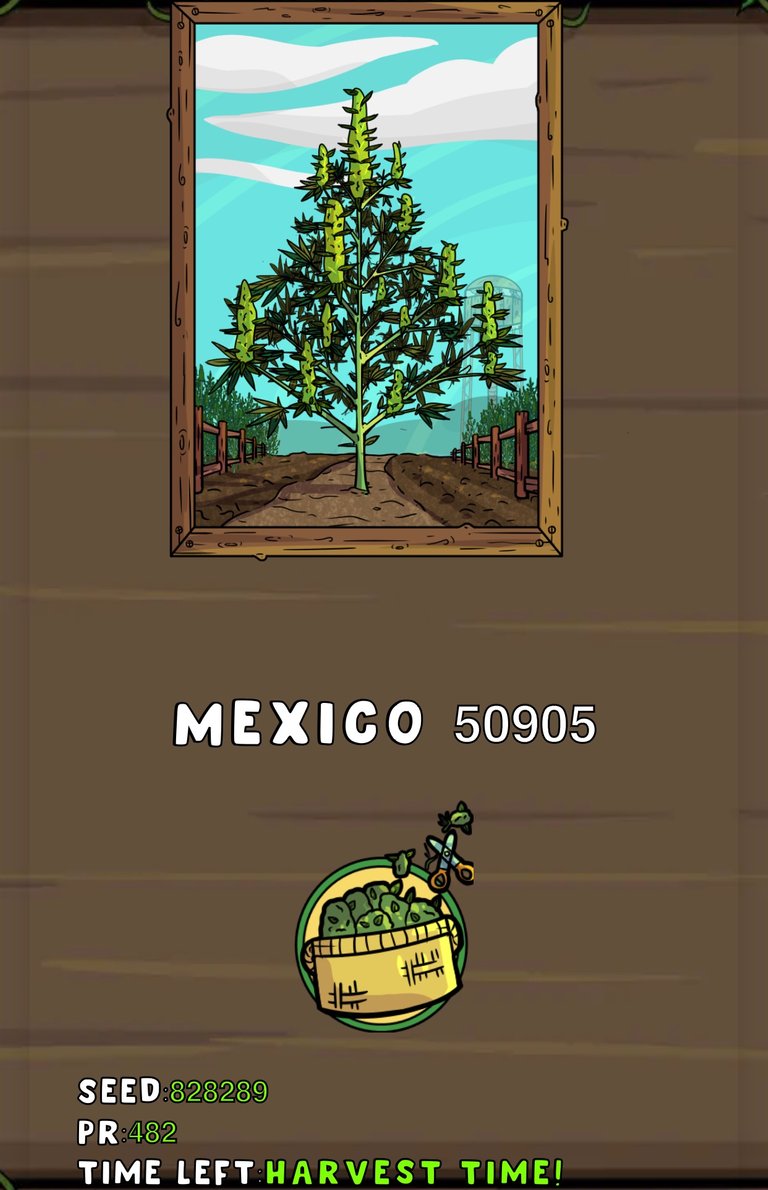 ---
Only about $2.2 for rental income on my Splinterlands cards today. Still around three thousand DEC or so, so I suppose that's due to the fall in price of HIVE. For now, though, I'm still happier with it as it is than I was before.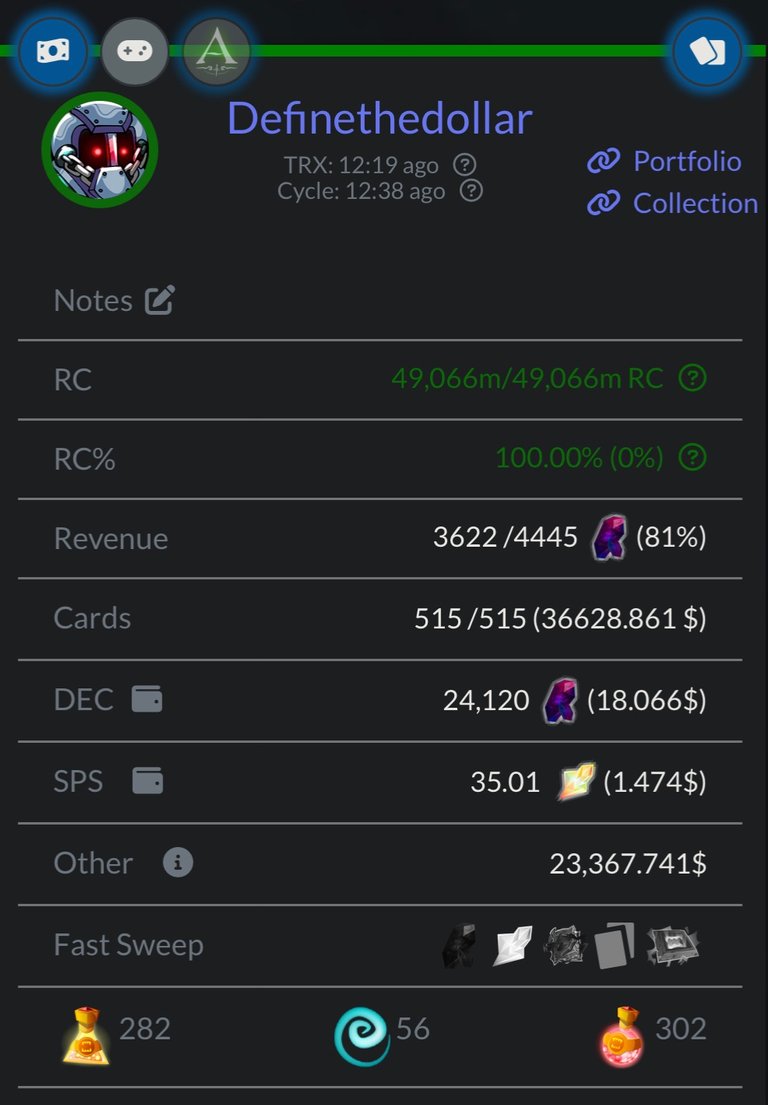 Claimed my SPS interest for the day, paid the rental fees out of it, and left the rest liquid building up to swap out. I also decided to move some more vouchers out, but I haven't sold them off yet…I think that might be where those nightmare rewards are coming from, so not sure if I want to hang onto them or not. 🤔
---
Average Last 7 Days: 14,032
Lifetime Average: 14,676
10k per Day Streak: 31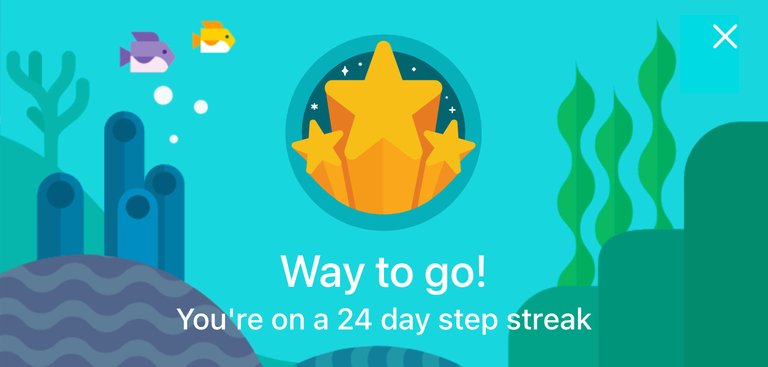 Longest Streak: 204

Distance on shoes: 1171.00 km
Distance on hikers: 67.07 km
#AutomaticWin Tally: 425
#AutomaticWin Streak: 0
Longest Streak: 53
#TripleTen Tally: 118
#TripleTen Streak: 0
Longest Streak: 7
#DoubleDay Tally: 236
#DoubleDay Streak: 0
Longest Streak: 37
Highest Floors: 120
Highest Daily Steps: 41,528
Zombies evaded: 5/5
Mindfulness Diary:
Health: 92%
Satisfaction: 85%
Energy: 86%
Productivity: 83%
---
Referrals: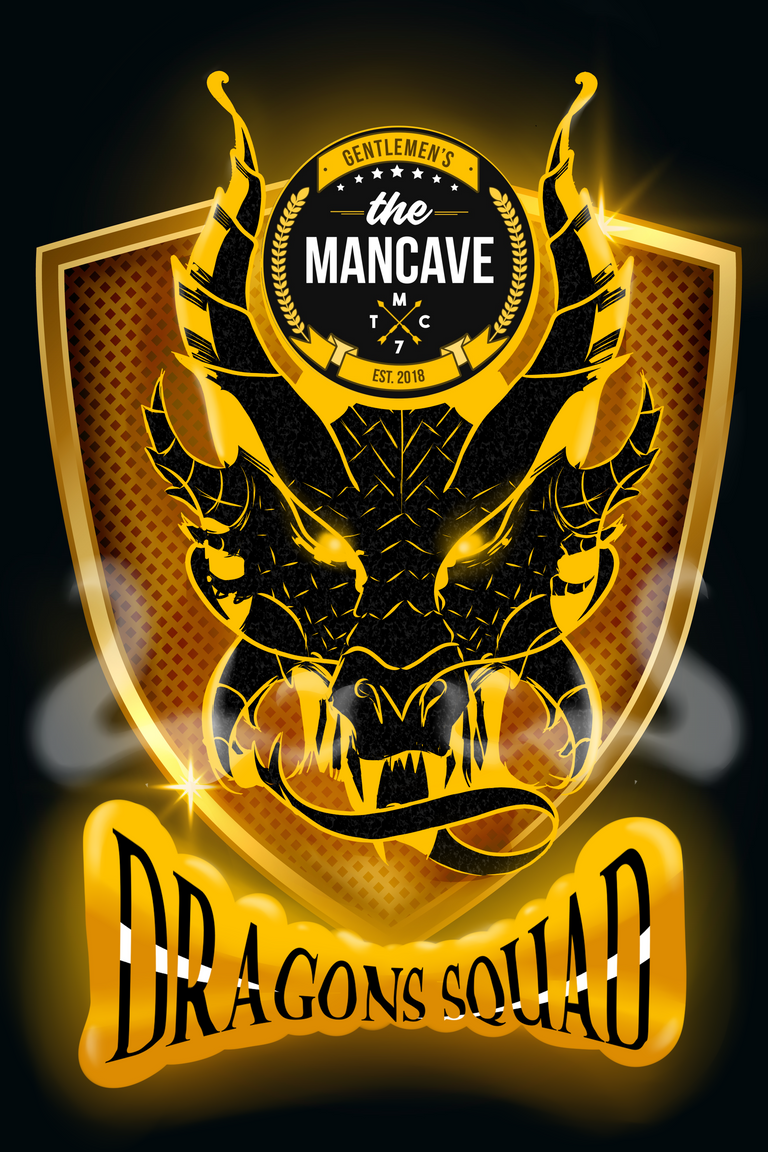 Power up and Hive on!
---
---