Oct. 1, 21: Routine, PUD/PUM, Garage Putzing, Oculus, and Games
Up a little before six today and about an hour short on sleep, but it's not been bad at all lately, so very little dragging…quite the opposite, worked outside almost all day!
Did the usual morning routine. Starting to see a bit more significant green in the crypto markets, ten percent or thereabouts, not bad, but I'm not celebrating yet. Did my post, watched some YouTube, chatted on Discord, the normal.
Today was definitely a lot of HiveBuzzing! I got a badge for 13k in post payouts, one for votes, I think, got the little Power Up Day for this month, and the new super hard one: Power Up Month where you had to power up every day for the whole month. 💪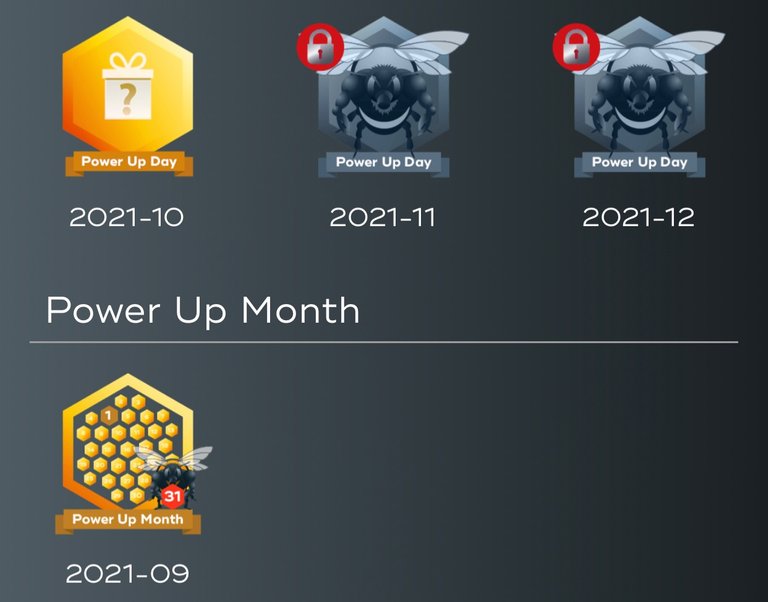 Pretty exclusive club of people that got it, only twenty-eight: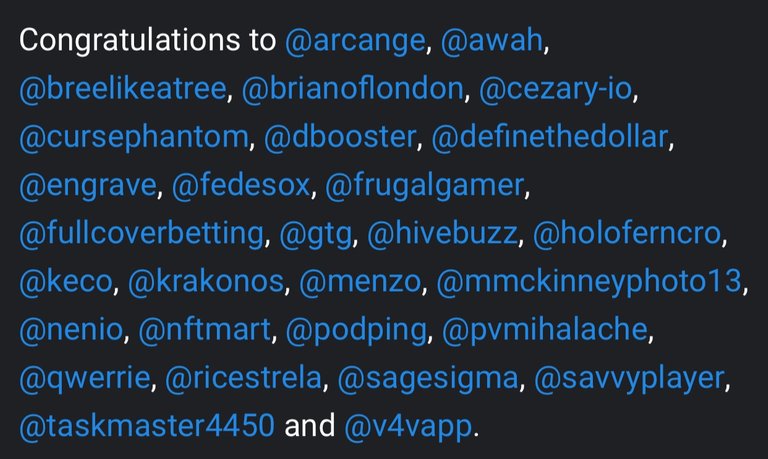 I had sort of set my goal for today yesterday. Wanted to get the oil pan off and (hopefully) the oil pump out to get at stuff from the bottom. There was a few steps to do before I got there…and never did.
The floor underneath was all covered with bits of oil crud I've been scraping out, so wanted to clean that up before I started rolling around down there. Easiest way to do that is to use the blower (and blow out the rest of the garage while I'm at it).
Fine, not a problem, but there were a bunch of oily paper towels on the floor that I didn't want to blow around…shouldn't have been an issue, just throw them away, right? Yeah, but the garbage can was absolutely gross and full of maggots and goo.
I'd been avoiding that mess for several days and figured I'd better take care of it. Got the old icky bag out, put it in another bag and got it out to go and then hosed everything down. Didn't take too long to dry in the sun and I got a fresh bag in and put back together.
Stripped down the rest of the copper wire that was half-finished on the floor in the back and then traced and blocked out the top wood piece for the bench. I still need to cut the curves, though.
Then I could throw out the towels…then I could blow out the garage. Got the jack set up underneath in case the oil pump and everything decides to come down on my head and then went after that frozen bolt some more. Still no motion. 🤬😭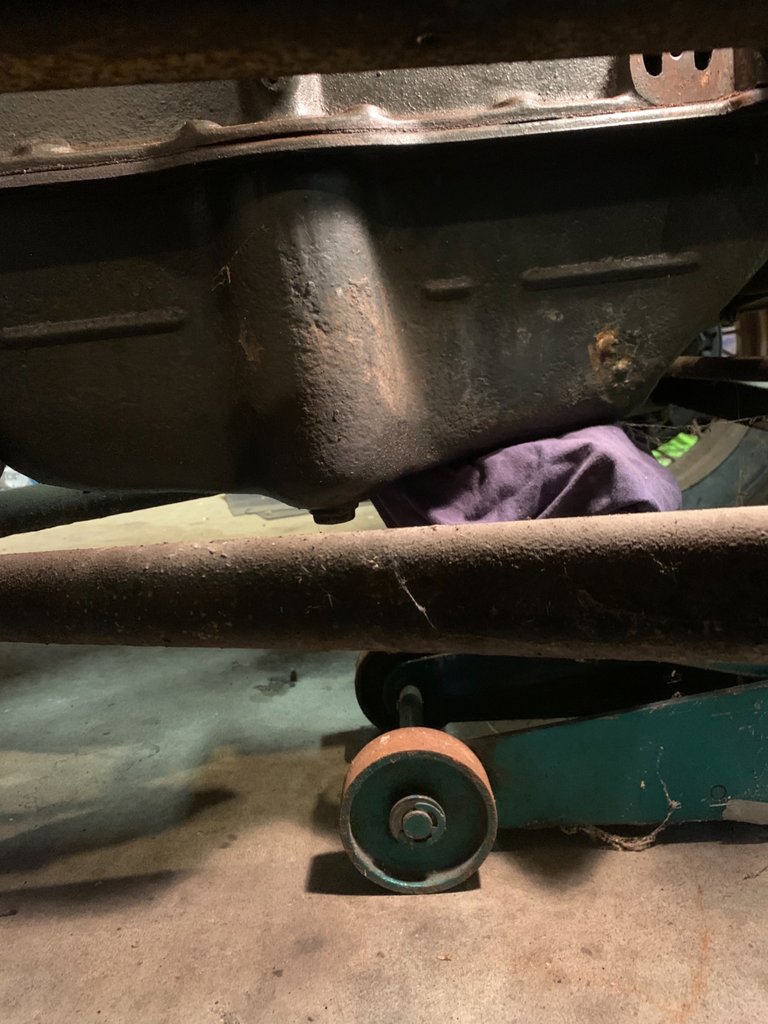 It was quite nice out, though, and relatively warm, at least in the sunshine. Figured there's probably not likely to be too many days like that left, so best to take advantage while I can.
Spent most of the rest of the afternoon and into the evening power washing the house. I hadn't washed it in the ten years I've owned it, and it wasn't particularly clean when I bought it, so there was a lot of green and black stains from moss and years of dirt.
I got as much as I could getting up on the ladder 🪜. It isn't perfect, still some dark spots and places that I couldn't reach…in fact, now that it's relatively clean, I see that even worse! Even so, it is a hell of a lot nicer…took years off.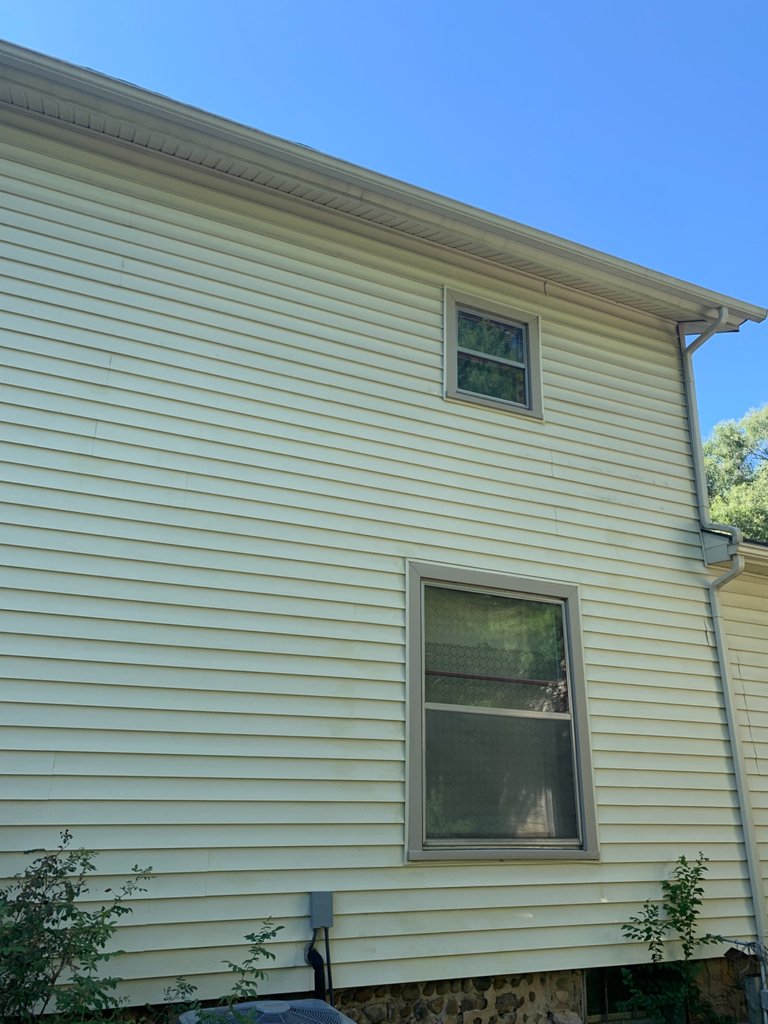 I do have to say that giving that washer a tug and having it fire right up after years of not functioning feels amazingly satisfying. 😁 It's more than just starting it now, it's it starts because I fixed it.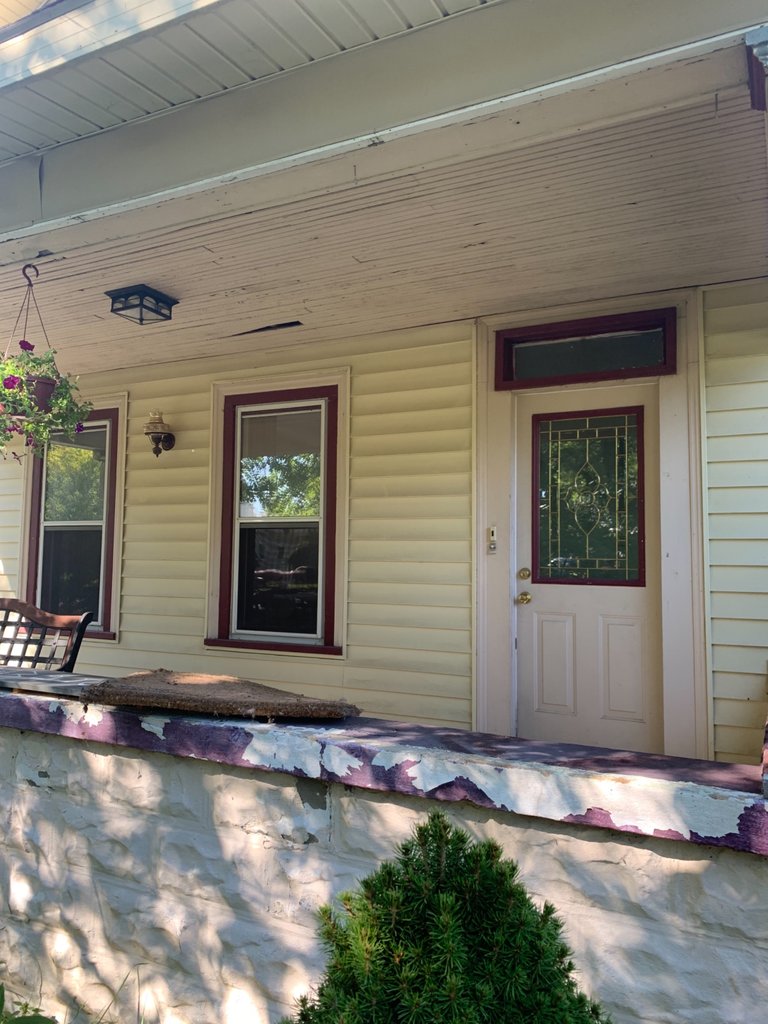 Was a little cold and wet by the time I got everything put away again, so grabbed a nice, hot shower and decided to play Oculus for a bit.
Finished up the two hundred piece version of the puzzle 🧩 I was working on and started into the four hundred piece version. Wicked hard! Only played for half an hour or so before Wenche got home from work.
She made us some pancakes for dinner and we watched some more Cougar Town until bedtime.
---
Sixty-seven minus three is fifty-eight. There is a special place in Hell reserved for the "mathematician" that designed dShitty.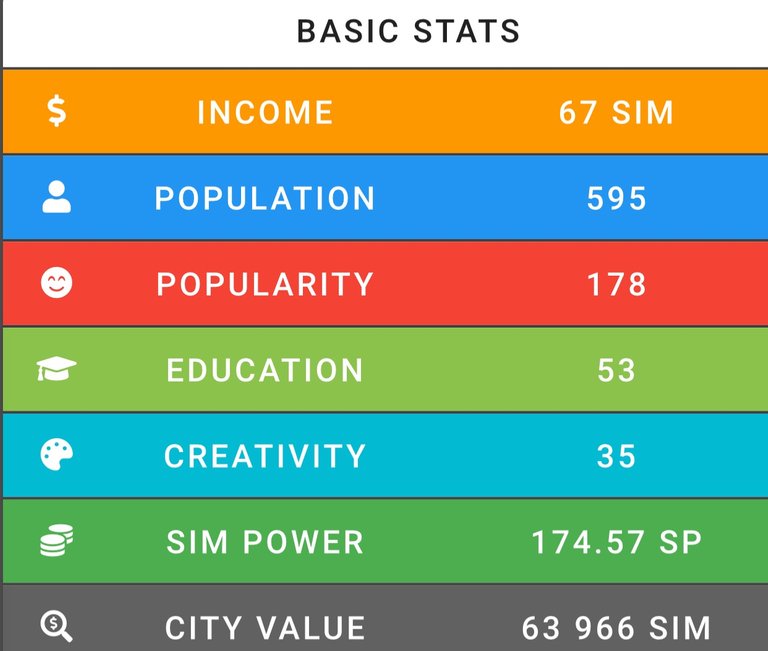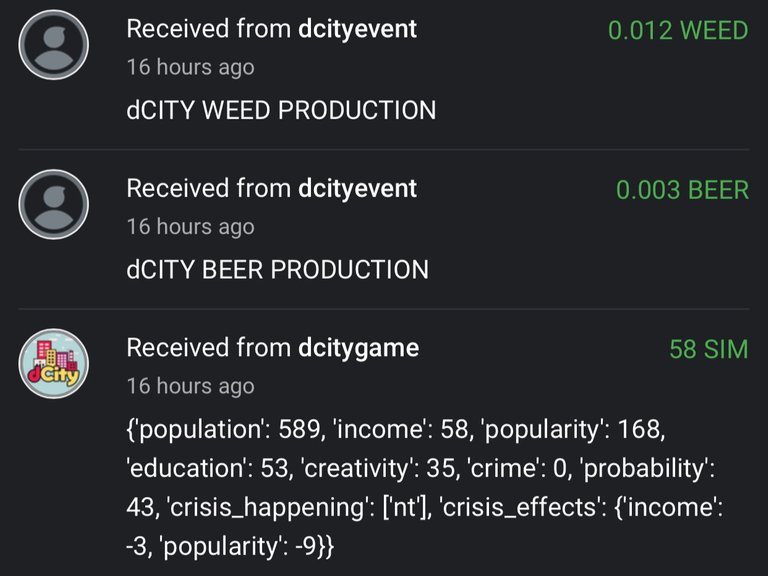 ---
Pretty sure it was another zero ingredient day today on CryptoBrewmaster. Really can't be too bothered with it…it's all rando NFTs and whatever gimmicks, just clicking buttons and not worth much at the end of the day.
---
Rising Star is getting closer to CryptoBrewmaster status, but I still went in several times today despite the login. Finally did enough missions to unlock the next one and did one of those. It's funny, though, the "reward" is like 50 Starbits…what's even the point of that?!
---
Well, I wanted to play Splinterlands, and I did, and for the second day in a row it just absolutely sucked balls. 🤬 Maxed out gold foils, Yodin Zaku, Llamas, and level three Lord Anusholes…fucking endless bullshit.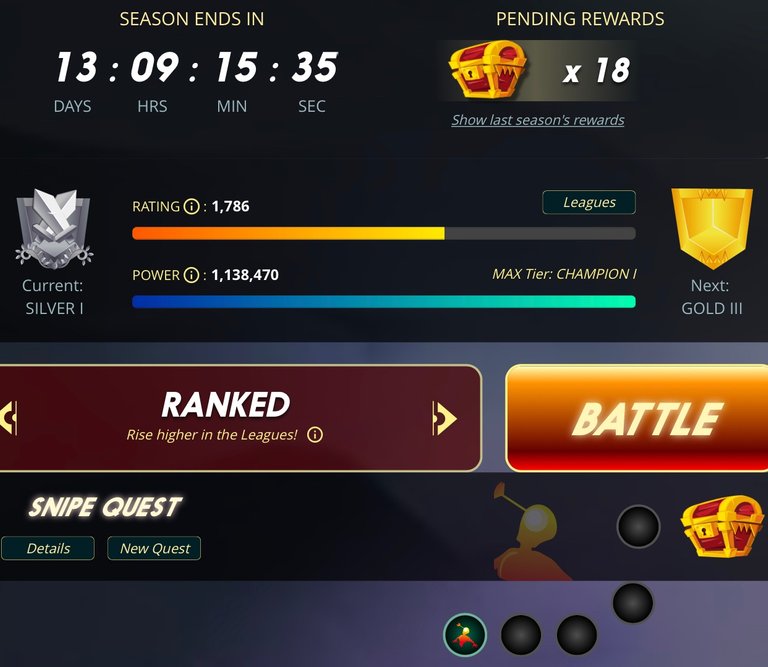 All I managed to do was lose further into Silver. 1/10 stars, reduced the quality of my life in general.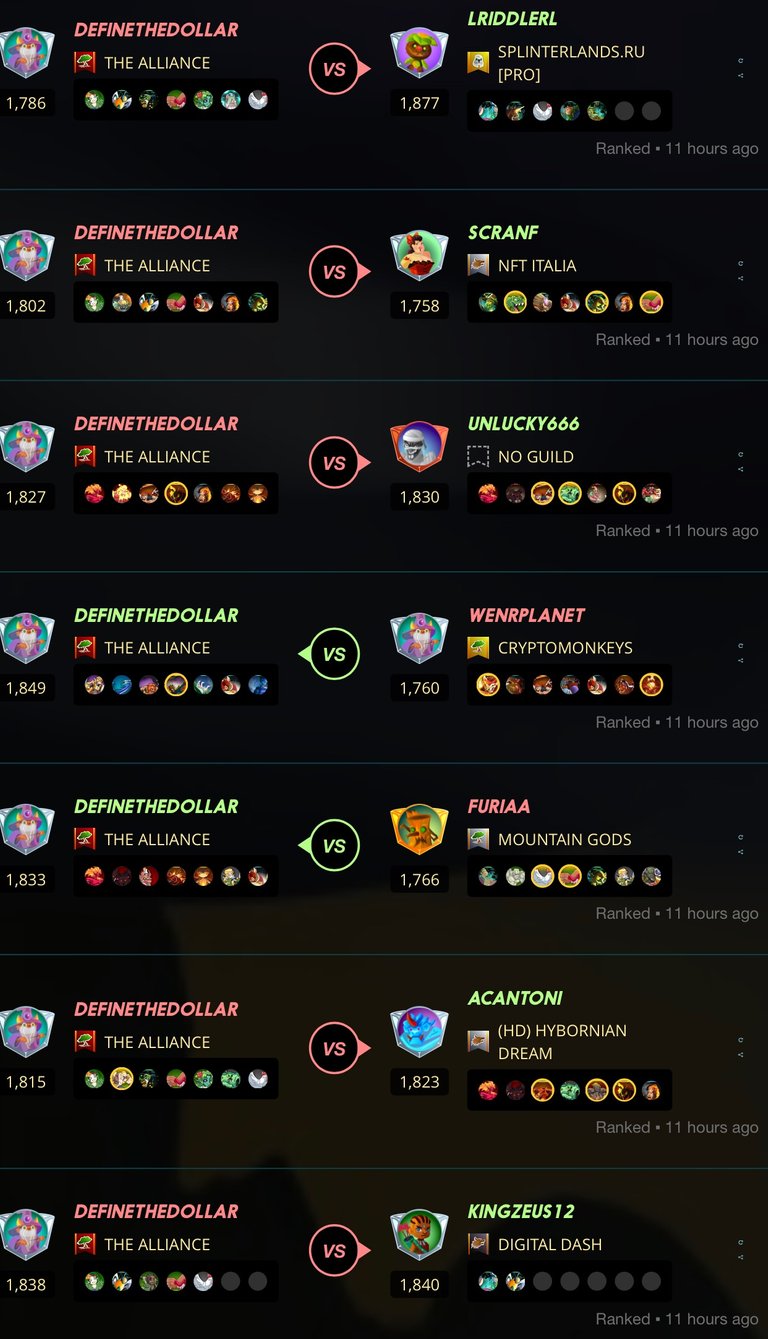 The guild brawl ended and I got enough to buy another Gladiator pack:
Not sure if it's time to take a break again? Already one daily quest behind…maybe just say "fu$& it" and just take my daily SPS as rewards enough.
---
Average Last 7 Days: 15,984
Lifetime Average: 15,462
10k per Day Streak: 7
Longest Streak: 204

Distance on shoes: 676.86 km
Distance on hikers: 64.92 km
#AutomaticWin Tally: 419
#AutomaticWin Streak: 0
Longest Streak: 53
#TripleTen Tally: 118
#TripleTen Streak: 0
Longest Streak: 7
#DoubleDay Tally: 227
#DoubleDay Streak: 0
Longest Streak: 37
Highest Floors: 120
Highest Daily Steps: 41,528
Zombies evaded: 0/0
Mindfulness Diary:
Health: 83%
Satisfaction: 84%
Energy: 94%
Productivity: 80%
---
Referrals: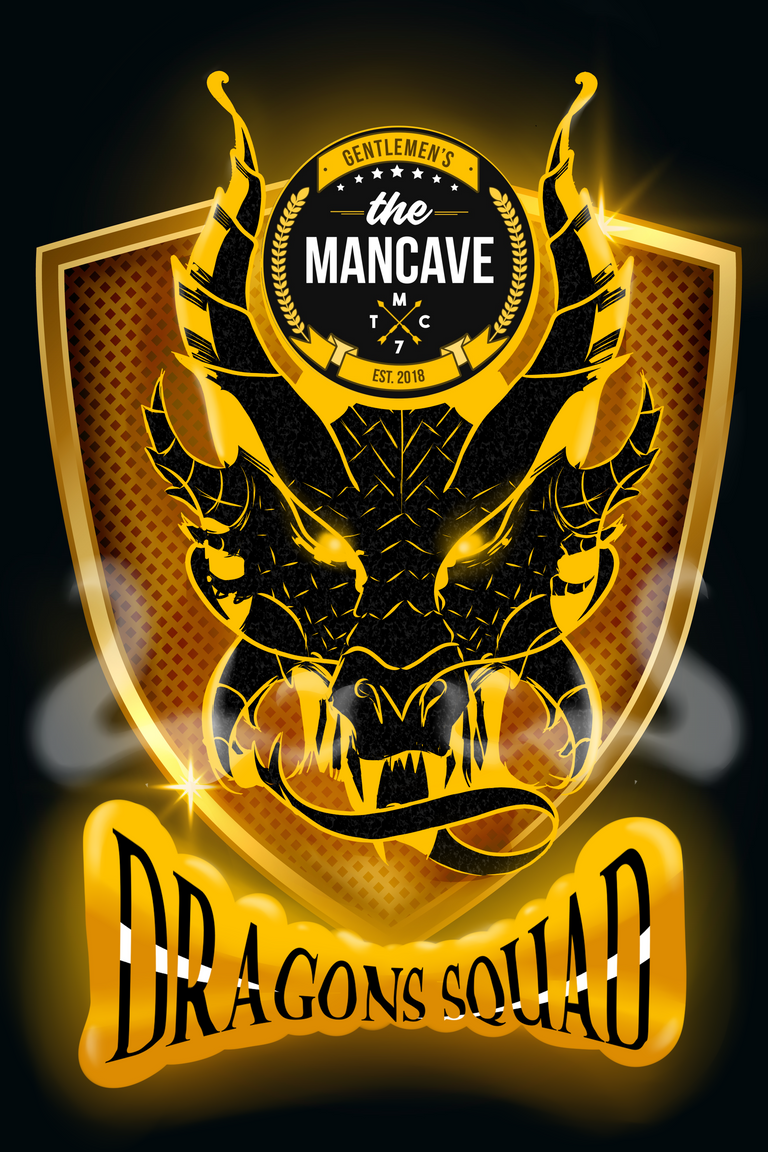 Power up and Hive on!
---
---