Sept. 19, 22: Routine, Walking, Laundry, Teaching, TV, and Games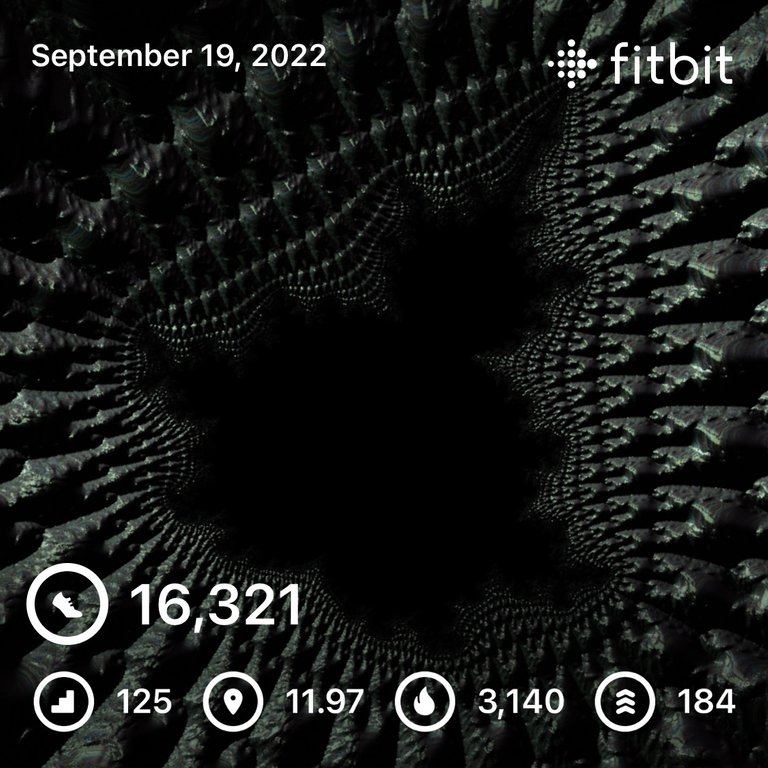 [Oooh, almost forgot it's Tuesday and so we have the PIMP meeting this morning. Hopefully getting started early enough that I won't have to split my attention again. Hmm, seems peeps aren't busy, so no meeting this morning. Got extra time, but I'm basically out of stuff to say and still have a couple hundred words to go…😢]
Woah, buddy! FitBit says I slept from nine to seven tonight for nearly nine hours! I'm calling a bit of Shenanigans since I was up for a bit before it synched and it counted like twenty minutes or so as sleep when I wasn't. Still, definitely more than a solid eight hours! 💪🎊🥳 Feels good not to feel slow. 😁
The morning routine was pretty typical with the major exception being the nasty dump in the crypto markets. 😱 Woke up to about a ten percent loss across my investments and BTC fell to around $18k.
It seems to have bounced a bit since, but we're still below twenty thousand and in the danger zone…with the FED's interest rate announcement coming up, we could see some more downside depending on what they say…one percentage basis point rate hike could cause the markets to free fall, more likely .75%, though, which the markets have been pricing in.
Otherwise, just did all the usual morning stuff with the addition of some more preparation for teaching Calculus tomorrow. Played WombPlay games, did curation, shifted tokens, all that good stuff, and then worked on my post.
Once I got that done and shared, it was ten o'clock marking the end of the morning routine and the start of the rest of the day. I had some laundry left in the dryer from yesterday that I took care of and then started the bedsheets. I didn't get them all done until after work, but it was nice to have a fresh, clean bed without all the doggy hairs on it. 😁
Speaking of doggy, I felt kinda' bad that we only went a couple kilometers with Lady yesterday, so I decided to take him with me again today. I figured that would likely mean that we wouldn't do a full five (not sure, guess he is getting older), but it's alright, he's more concerned with the opportunity to sniff and pee than the distance.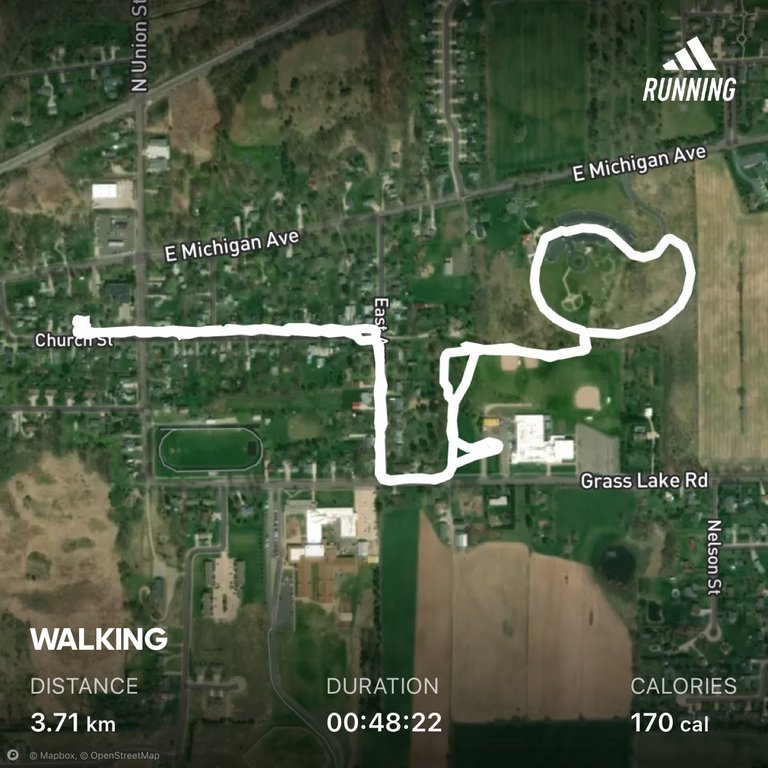 It was only in the seventies (so cold by my estimation), but it did get pretty warm in the Sun. He still had energy heading home, but it seemed like he just wanted to get home as fast as possible…maybe lunchtime on his mind? 🤷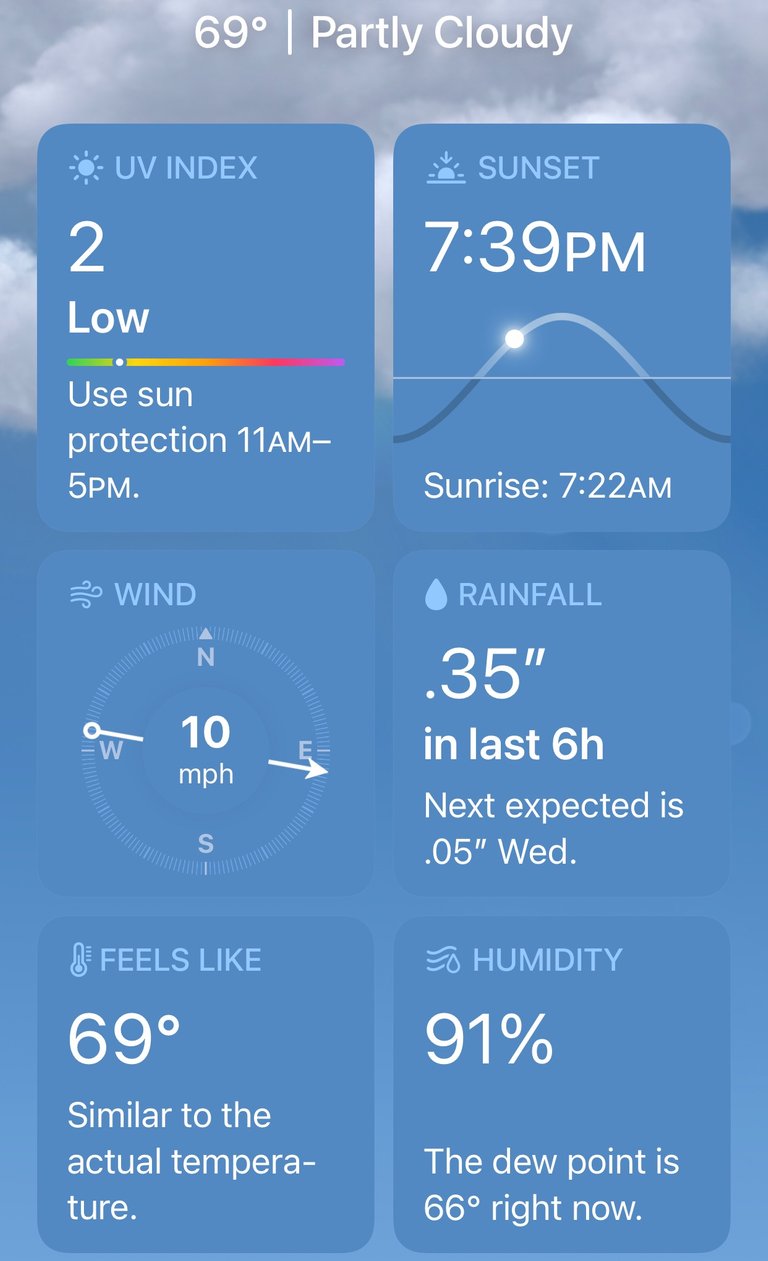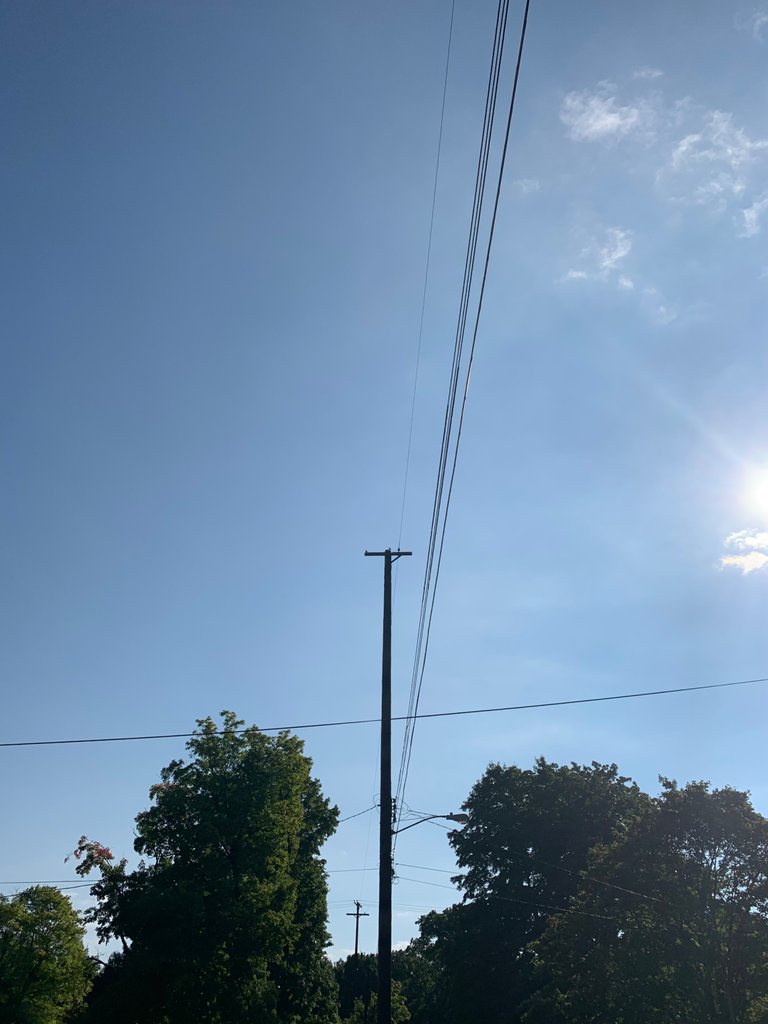 When we got back, it was lunchtime and I gave the cat and the dog their lunch and had a sandwich myself. By that time I was starting to get a bit short on time to get ready, so I quick hopped in the shower and got everything together to head in.
No problem on the drive, and though I was a little later than usual, I did make it with a couple minutes to spare after I got everything set up for the class. Today we looked at adding and subtracting rational expressions. Still a lot of factoring, and it is a lot of tedious work, but I'm hoping that I'm starting to overcome their fear/hatred of fractions and irrational love of decimals…anyway, we just pounded a bunch more examples again and I let them out a bit early.
When I got home it was still fairly early and I probably could have (and should have) tried to get some work done, but I managed to blow through the whole evening. Oh, i guess one good thing was that I went in and checked my bank balance and they had finally, after ten days, refunded me the seven hundred and twenty-six dollar fraudulent charge. 👍 Honestly, I'm not super happy about the way it was handled (leaving me to sit and worry about it for more than a week), but at least it's done and taken care of and I don't have to be all upset and close out my accounts.
Other than that, though, I just finished up with the laundry and got the bed put back together and then plopped in front of the tube and watched a movie.
Watched Little Monsters, about a kindergarten teacher and her class surviving a zombie outbreak. Was fun, actually, I enjoyed it and definitely made it all the way to the end (with minimal temptation to be distracted by the phone).
Otherwise, got ready for bed, did a little more studying for teaching tomorrow, chatted a bit on Discord, and played my Wombat daily challenges until falling asleep again (actually later than I thought).
---
Well, for once, no crime or crises in my dShitty today. Did it make any difference? Nah, five stated, twenty-three actual just like yesterday and the day before…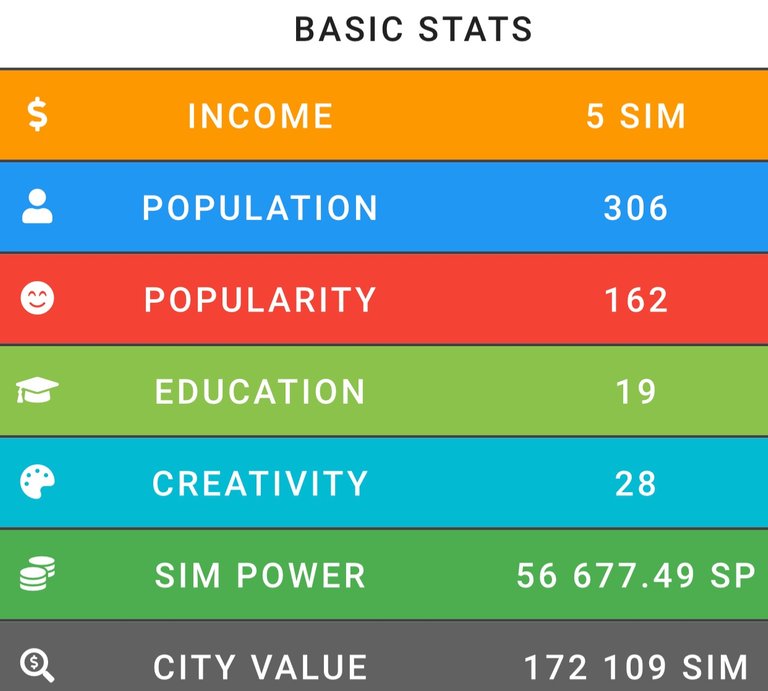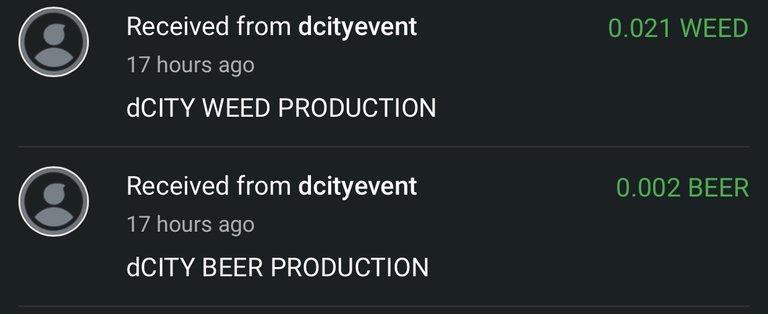 ---
Got my mission done for the day on Rising Star and, no surprise, I got more drunk fans again…been basically constant for the last week, someone needs to tweak some percentages somewhere. 😡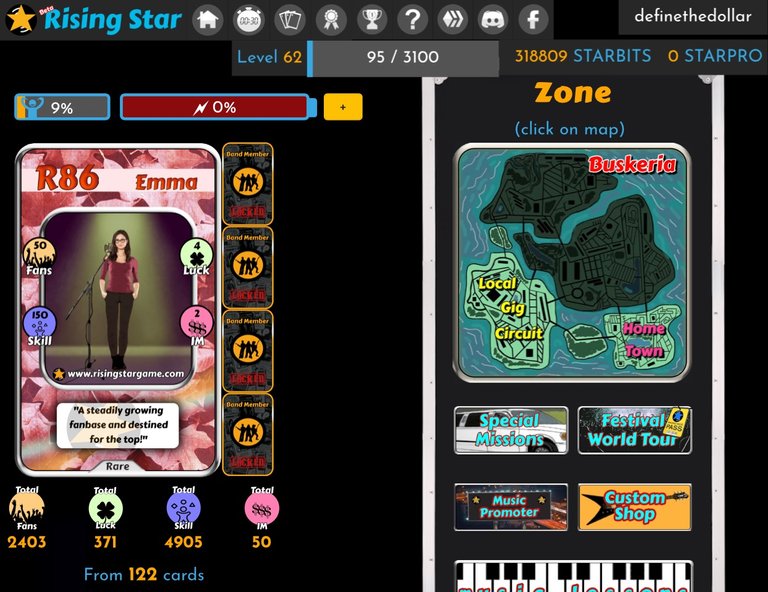 ---
Even though I had most of the evening free and should have sat down at the computer, I didn't, so HashKings continues to languish.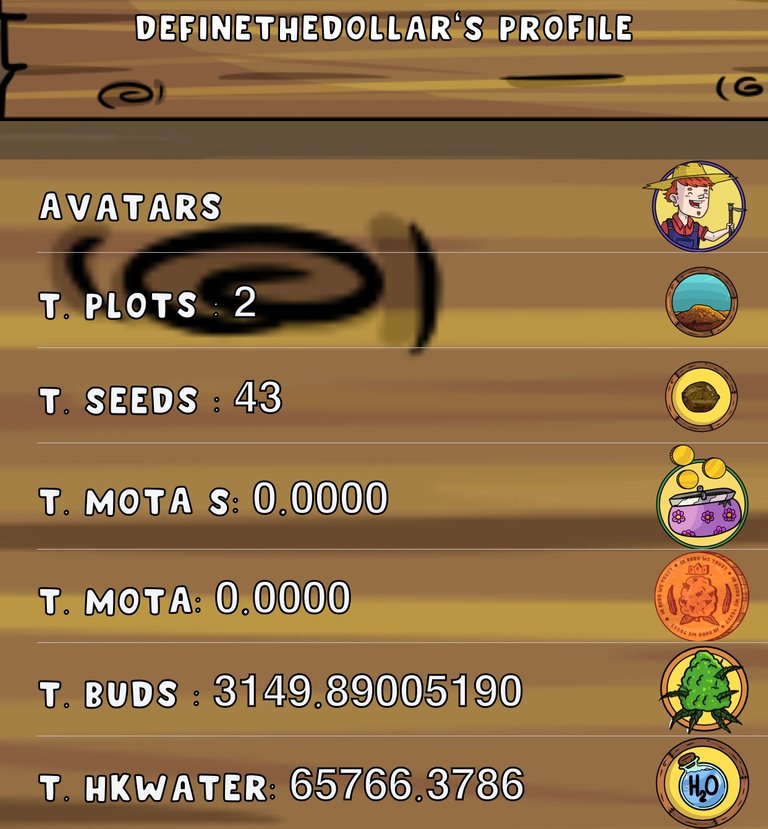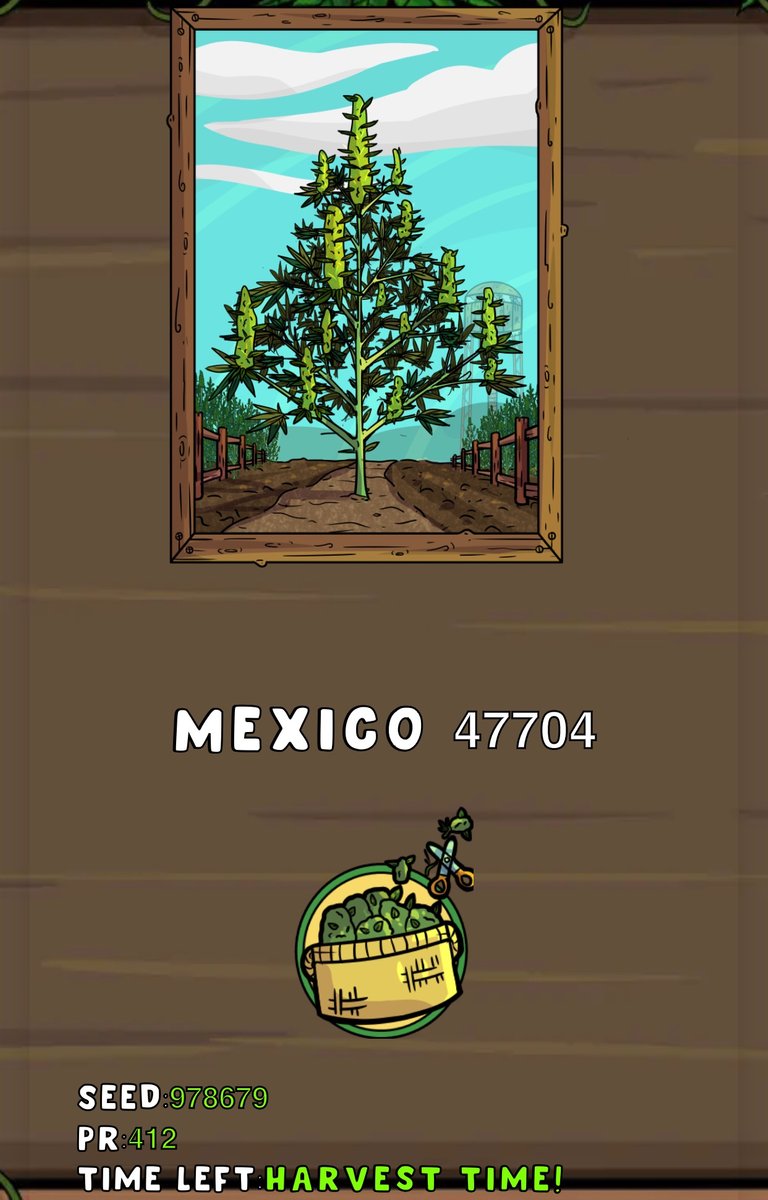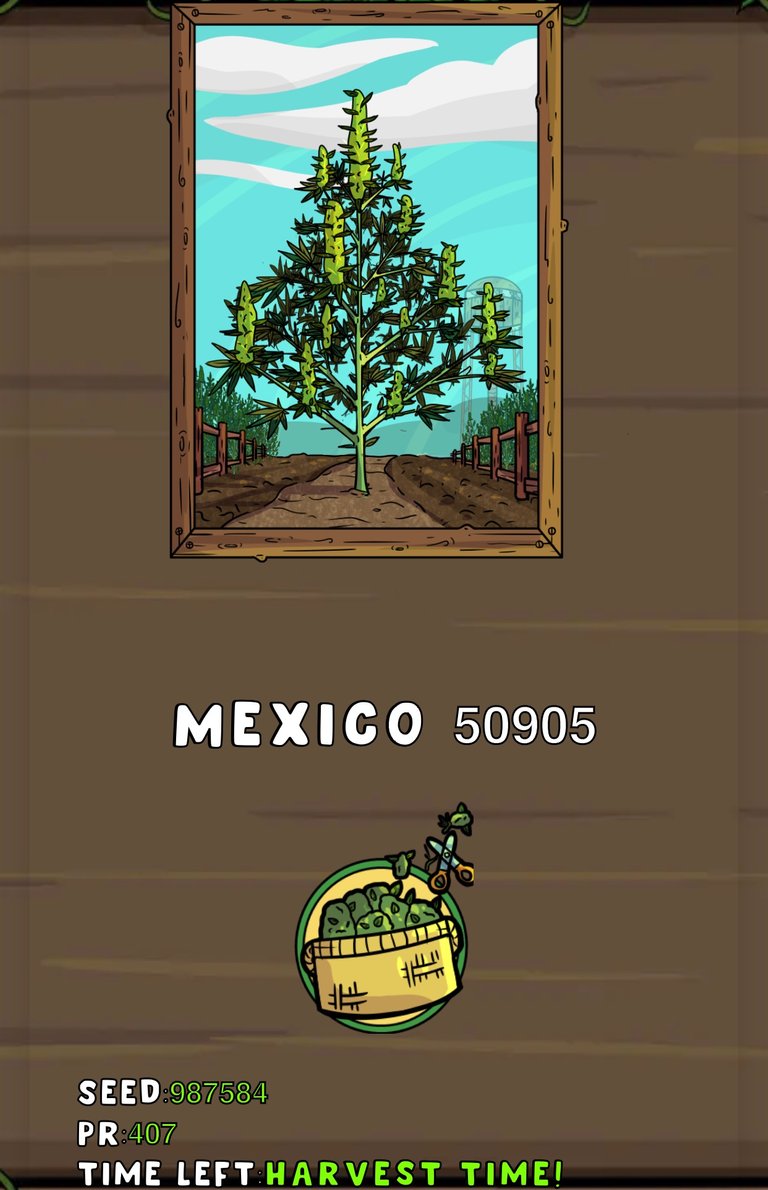 ---
I had absolutely no desire whatsoever to play Splinterlands today, maybe even the opposite…when the urge hit me, I felt repulsed.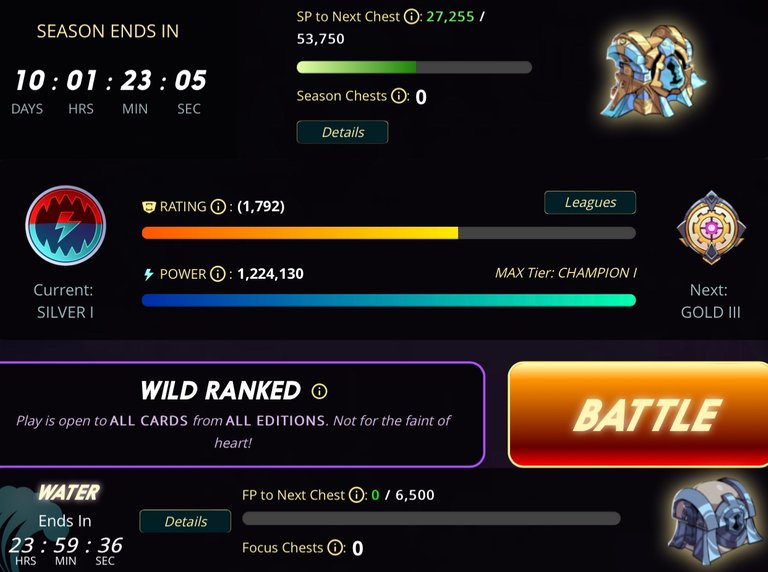 Claimed my SPS interest, as usual, and left it liquid again. Have a bit sitting there waiting and the tower defense presale starts tomorrow, so not exactly sure what to do…they said the actual sale won't happen right after the presale, so 250k packs? Might as well just forget about it. Not sure why I'm even considering spending on it when I don't really even want to play. 🤷
Been saying it forever, but I really need to rent my cards out and turn it into a completely passive income…don't know why I have such a block on that, can't be that hard. 🤔
---
Got my stats for the last week today. Super happy to see those green arrows for almost every category (only the active minutes - and, damn! by only three 😯) and super happy to see my sleep average rising to nearly my eight hour goal! 😁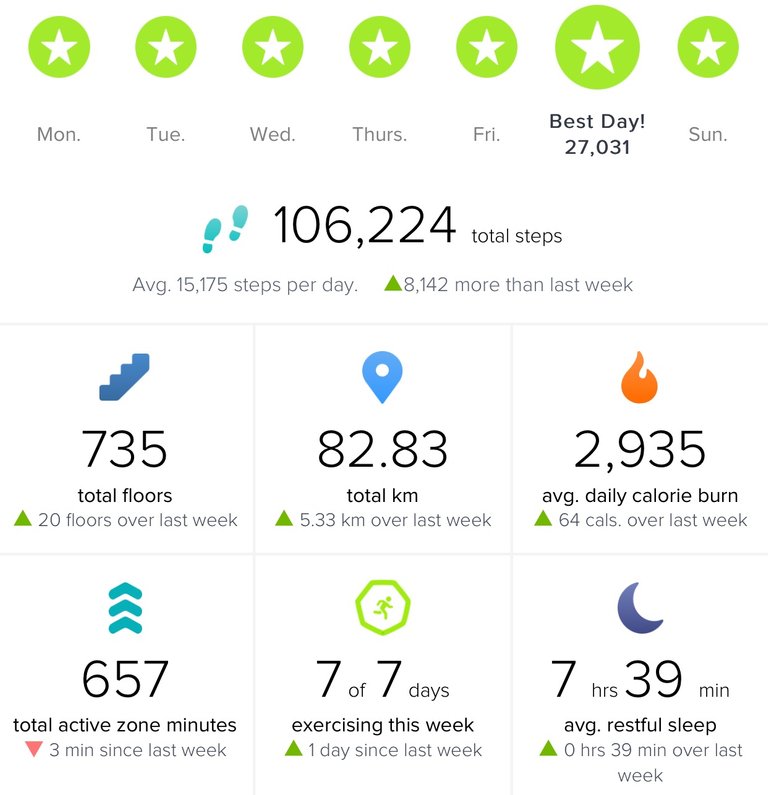 ---
Average Last 7 Days: 15,669
Lifetime Average: 14,758
10k per Day Streak: 53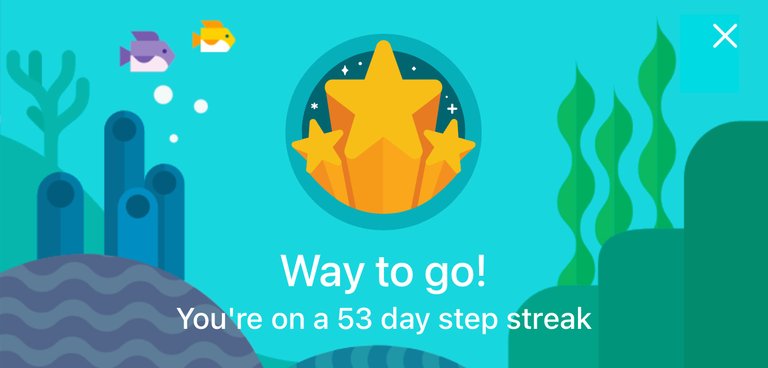 Longest Streak: 204

Distance on shoes: 1020.63 km
Distance on hikers: 67.07 km
#AutomaticWin Tally: 425
#AutomaticWin Streak: 0
Longest Streak: 53
#TripleTen Tally: 118
#TripleTen Streak: 0
Longest Streak: 7
#DoubleDay Tally: 235
#DoubleDay Streak: 0
Longest Streak: 37
Highest Floors: 120
Highest Daily Steps: 41,528
Zombies evaded: 0/0
Mindfulness Diary:
Health: 89%
Satisfaction: 88%
Energy: 95%
Productivity: 86%
---
Referrals: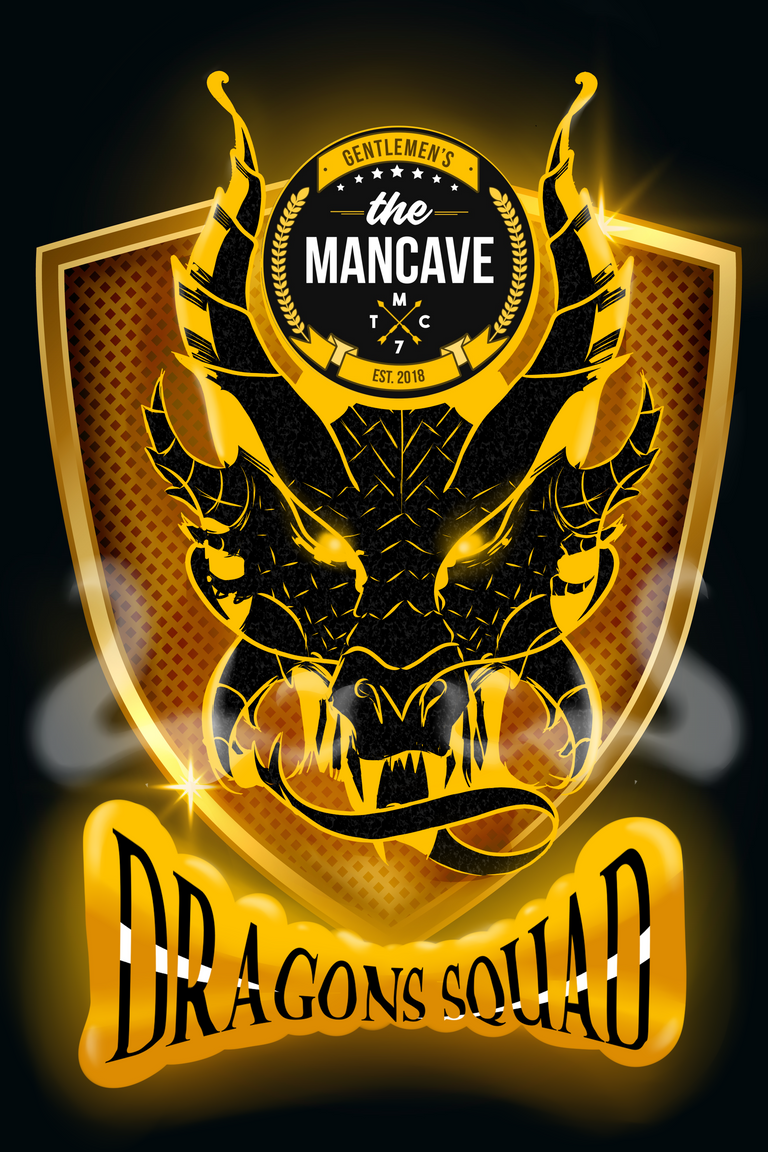 Power up and Hive on!
---
---