Sept. 2, 22: Routine, Wombat, Chores, Walking, Trivia, Concert, TV, and Games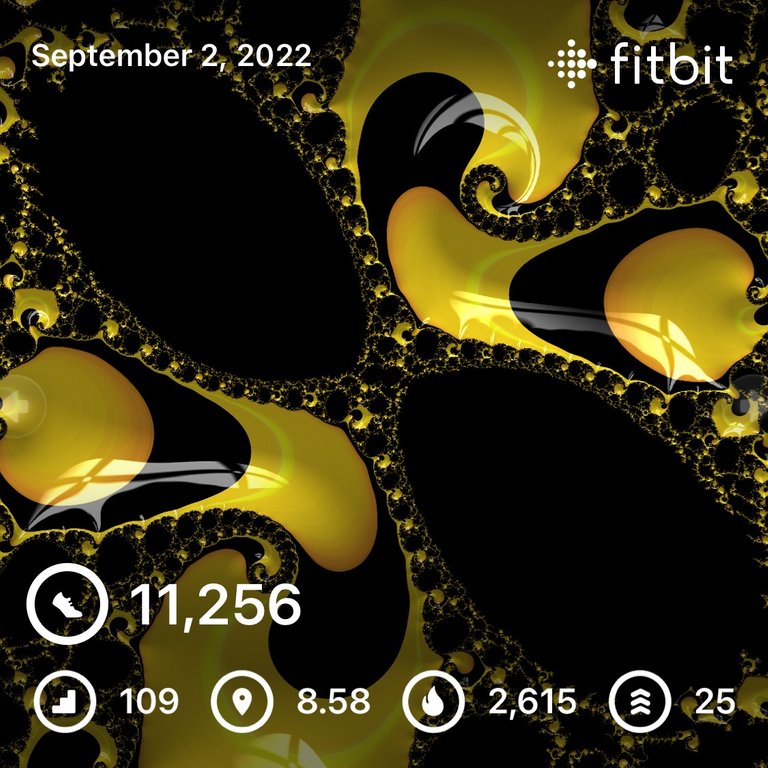 I'm actually starting to get into a pretty solid sleep patter that I'm actually happy with. Made it about ten until seven today and though I was up a couple times in the night, I haven't been dragging at all, and I was active and accomplished some of the things on the todo list; so good enough for government work. 👍
Got a bit of a late start on the morning routine again as a result [same today…I'm already behind] and I had to crunch to get my post done on time…I didn't finish griping about the games, but I did get the "diary" part done and was well over a thousand words, so I figured it was alright to leave it.
Although, honestly, it hasn't been very lucrative, I have been putting quite a bit of time into WombPlay and they recently started a VIP program for staking WOMBAT. It had kinda' been nagging at me for a while and I looked into it more seriously the other day.
To get to VIP 2 and start getting some solid extra WombBucks and bonuses was about $20 or so, and they're on Polygon so I wasn't bothered about the fees. Figure WTH, you only live once and I swapped out the SPS I'd been saving liquid the last few days. Sold out the vouchers I'd been sitting on as well.
Swapped to MATIC and withdrew to my Wombat wallet and swapped to WOMBAT right in the wallet. Pretty smooth and really only the 1% fee from H-E, the rest was minuscule. I'm already seeing a boost in my WombBucks (which also makes getting the daily guest done easier) and I haven't even actually spent them, they're staked, so I'm happy with that action so far; only really paying the opportunity costs of what I could have bought otherwise.
Worked on my post, got it done and shared, checked the markets, got caught up on Discord and…had some amazing news!!!! @blitzzzz worked out a deal with Chrono to buy up all the rest of his SOL sell order!!! ☀️ Spreading those votes out has been a bit of a drain on VP (and it's still a bit tight at the moment and giving me an ulcer), so super happy that the rest got snagged up. That also means that The Project is back to growing…new sales will go to powering up. 💪
Got cracking with some chores I'd been procrastinating on…like both garbage cans in the basement were overflowing and I hadn't replaced the bag in the garage garbage in forever, so I got that stuff sorted and new bags in. Cleaned up some in the kitchen, emptied the dishwasher, scrubbed the seriously nasty, clogged strainer in the sink, did the dishes in the sink and then grabbed some lunch.
At that point I was feeling pretty good about the day and how much I'd accomplished already and I started to work through some of the email todo list. Got a bit taken care of and then decided to not let HashKings be an annoyance for the next week, sat down and dealt with it.
I still hadn't gotten any exercise, and my step count was super low, so it was definitely time. I decided to take the dog with me again, but I kind of regret it.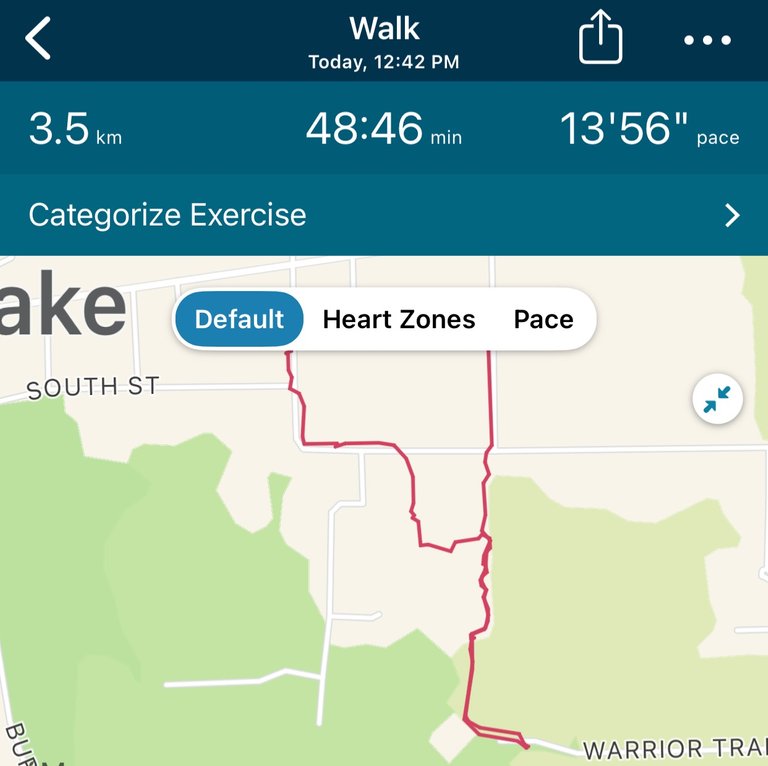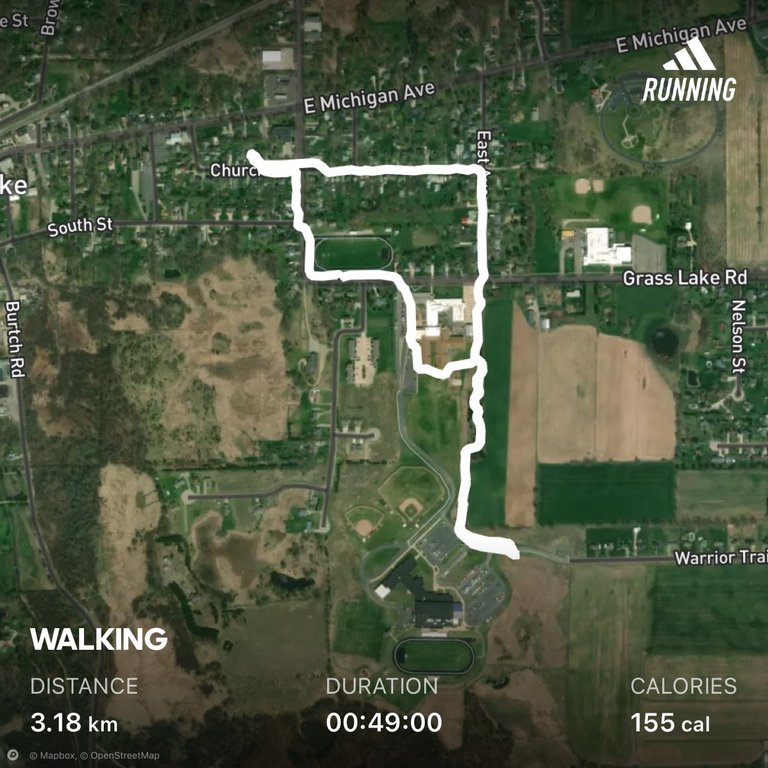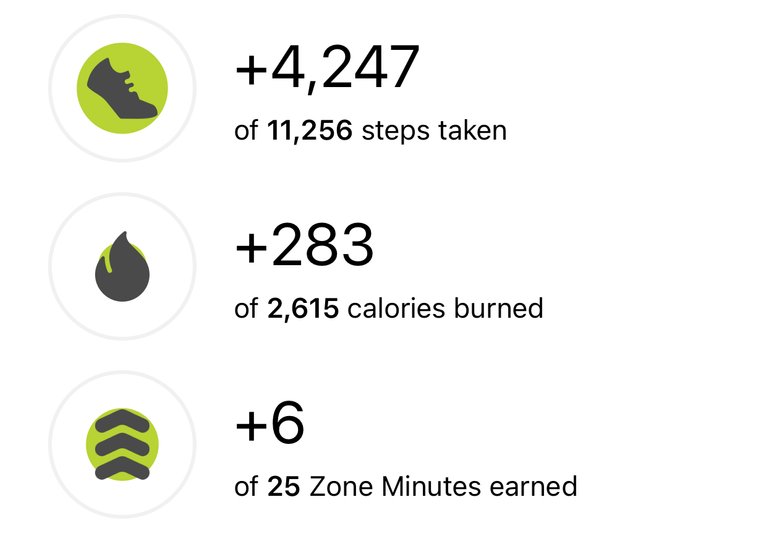 Sooooo nice, so nice. Eighties and sunny. Hyellsyeah! Unfortunately, I guess it was too hot for the dog and he just wanted to turn around and go home about halfway through the nature trail. 😭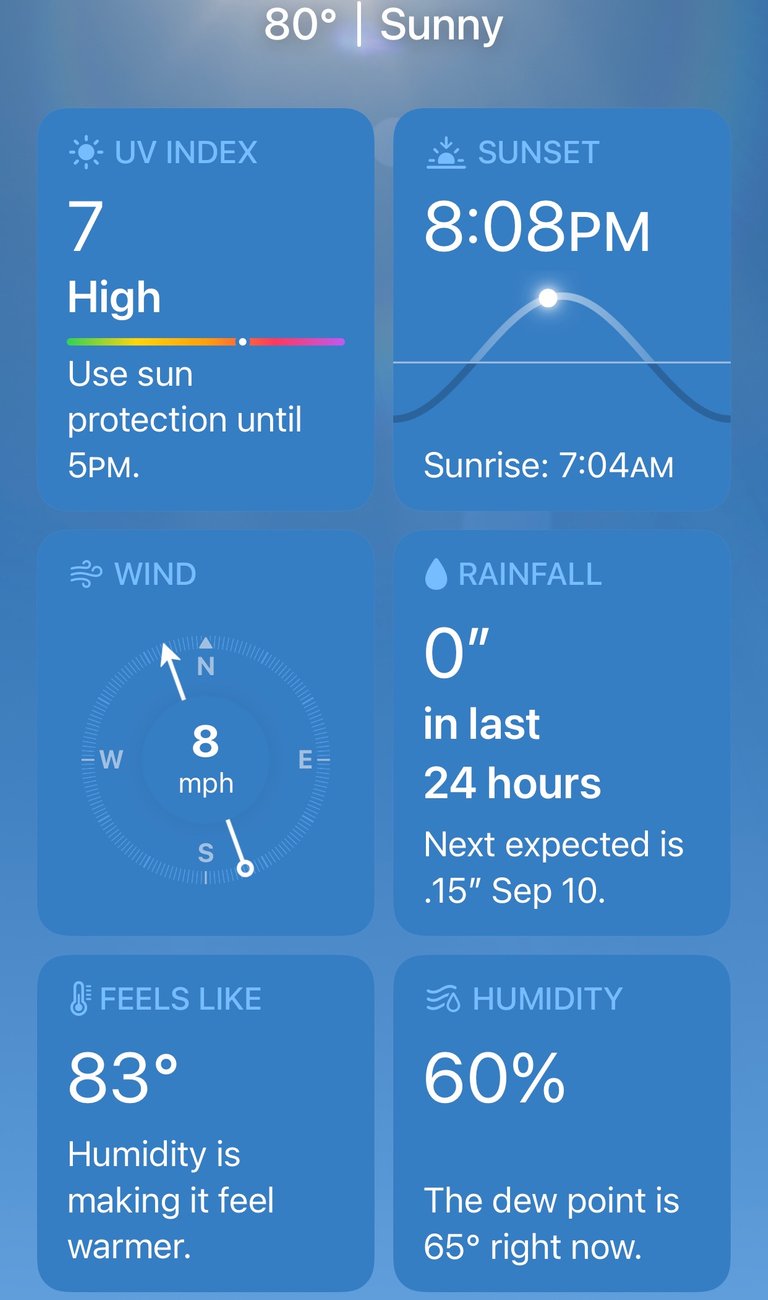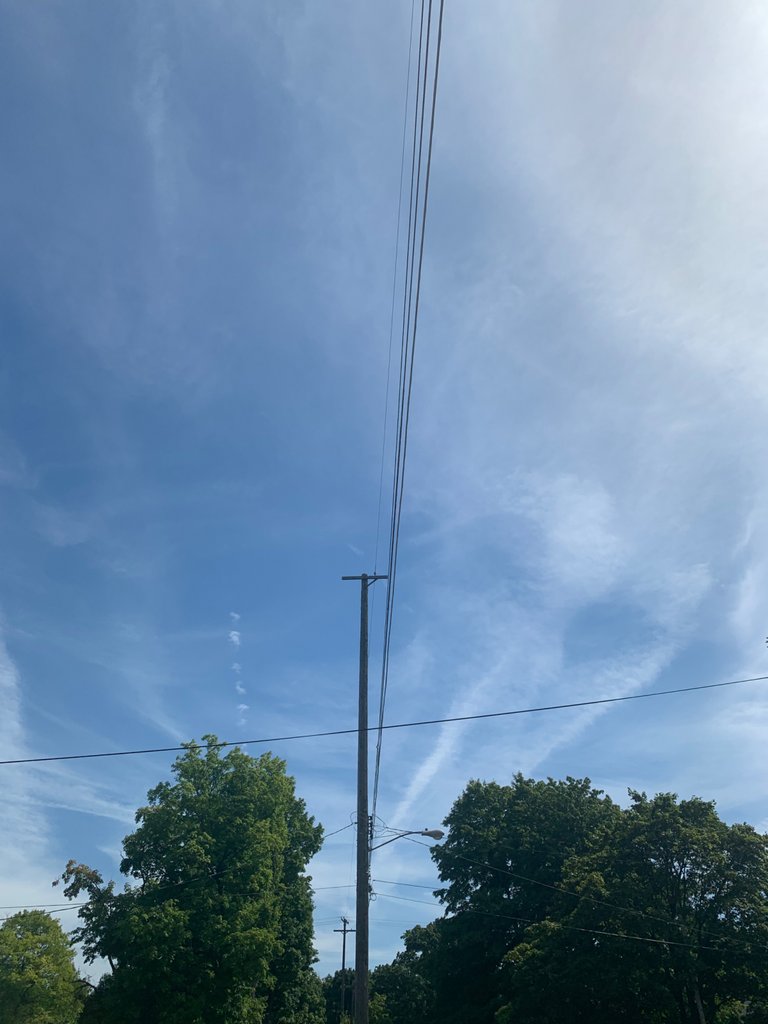 I did see a few awesome bugs, though. Check out this amazing dragonfly. It's bright green and bright blue: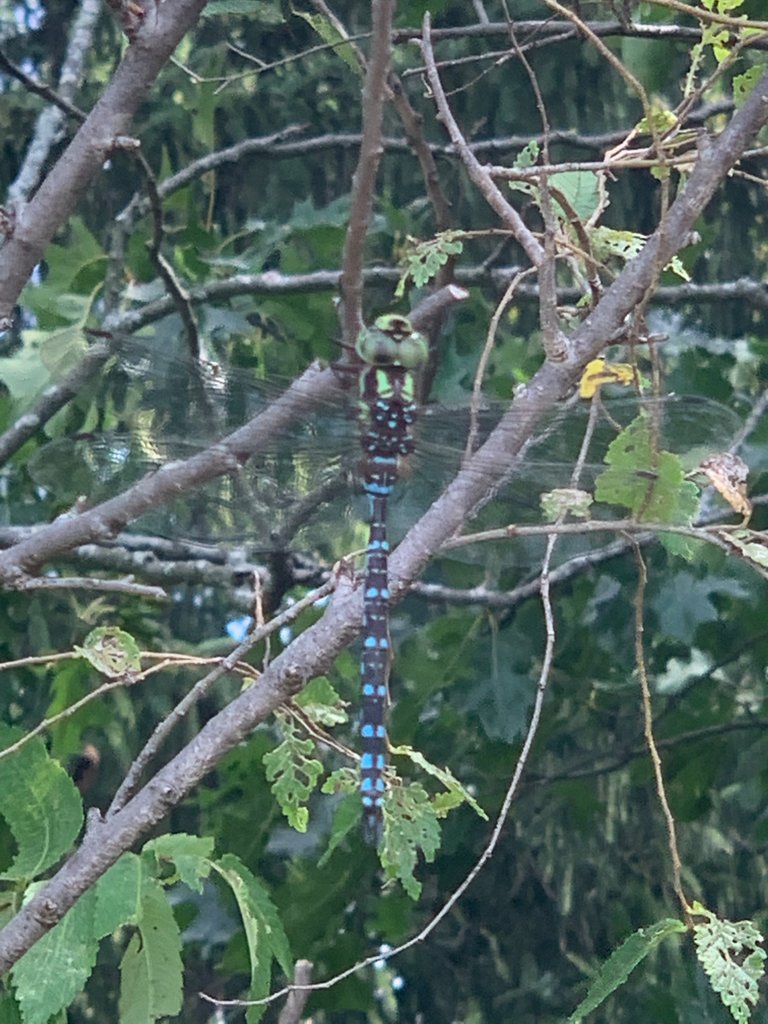 Saw a few butterflies as well: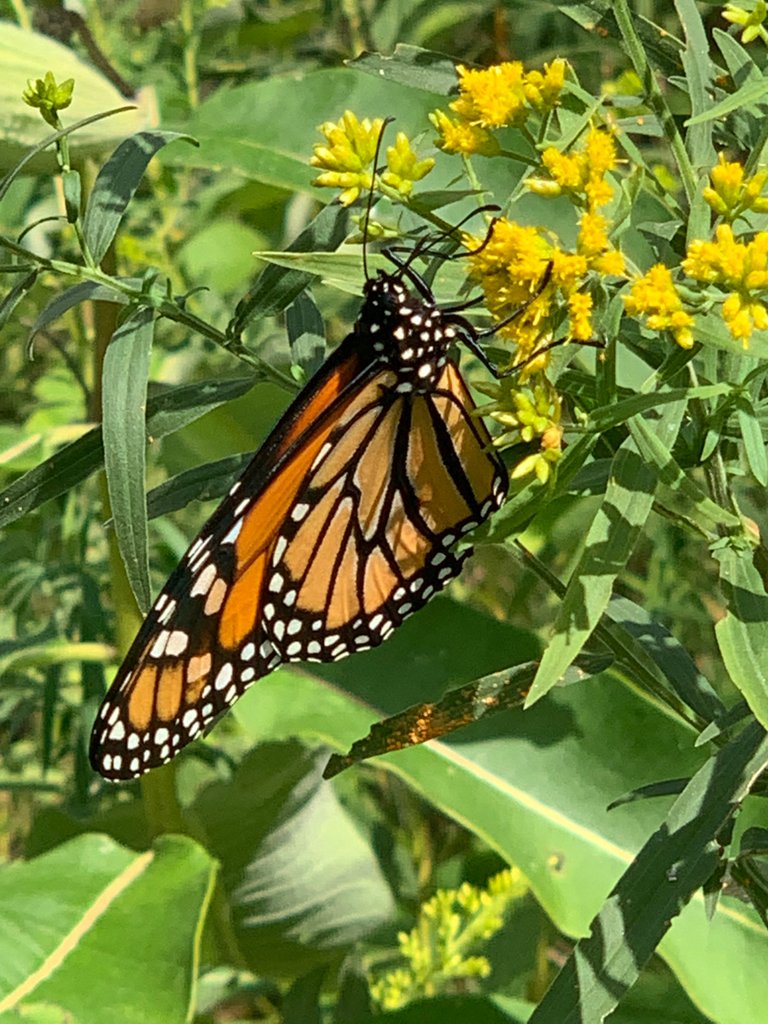 And a katydid: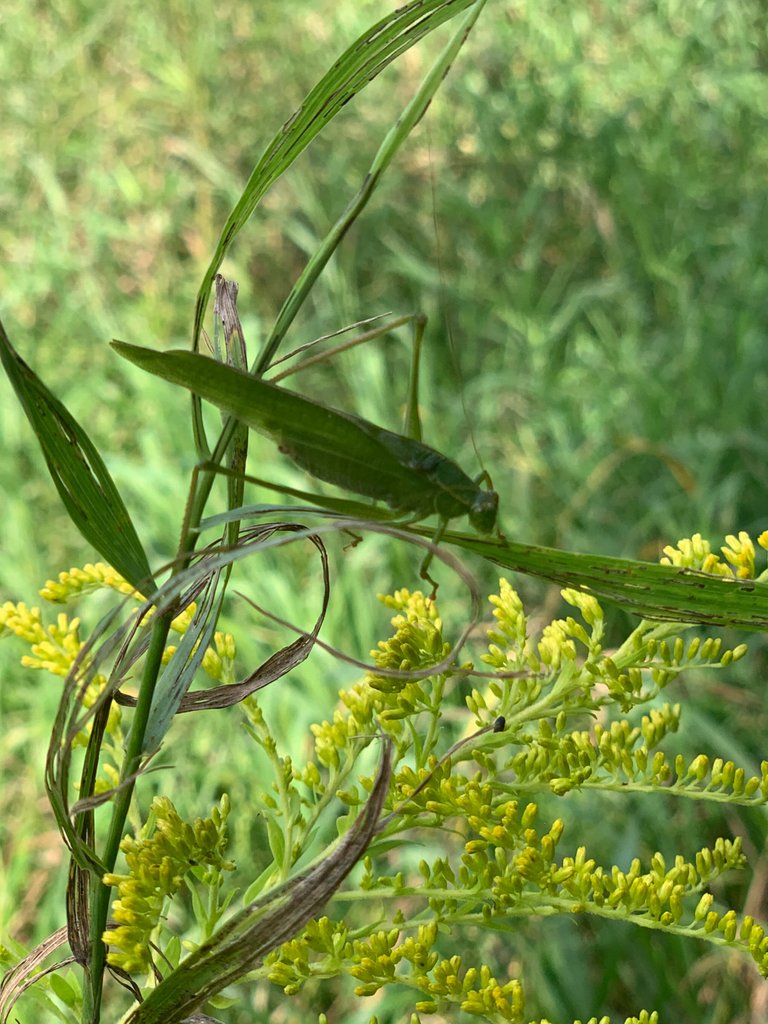 Got home in time for Pizza Trivia!!! 🥳 Tonight was a tough night for B, and I suppose consequently, a tough night for me. But, of course, it was still fun and I did win some PIZZA to add to my stake. 🤑
After that finished up, I got a shower and got myself ready for what I thought was going to be dinner out with a jazz concert. Turns out I misunderstood slightly. It was one guy from Key West with a guitar and like chips and cookies. 😢 The music was fine and I ate my fill of pretzels and brownies, but not exactly what I'd thought.
Pretty much just watched more Golden Palace after we got home. I played some WombPlay since the day had reset and then played a few rounds of Splinterlands before bedtime.
---
Seems like there's an issue at the moment with H-E nodes. Can't see the transactions to see how much I actually didn't get from dShitty today. 😛 Rest assured, there was some reason or other they used to not pay.
---
Had some drunks on Rising Star but kept with missions until they expired. My Ego is back up, though, for real so I switched to lessons again. And the pendulum swings.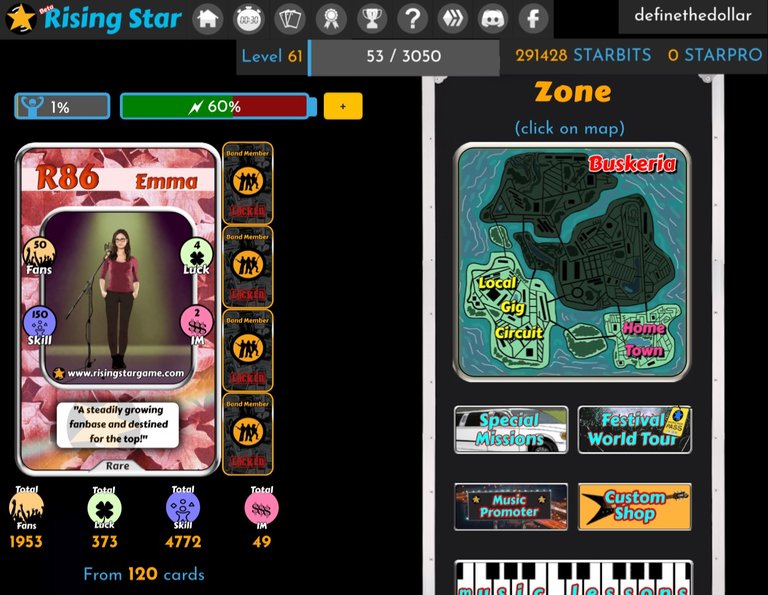 ---
I did actually make time to deal with HashKings today…makes me feel guilty for sitting at the computer and doing that rather than working on the website at all. 😡 Still, it's taken care of and now we just wait around for another week.
I guess there's now GEARS?! So fucking absurd how many tokens they keep creating…now we know where all that DHF money is going: into Aggy's pocket to flip a couple switches. 🤬🤬 Dude continuously creates inflation, then institutes capital controls (reducing BUDS from seeds) and then thinks he's a genius in economics and should write a book. 🤯🤣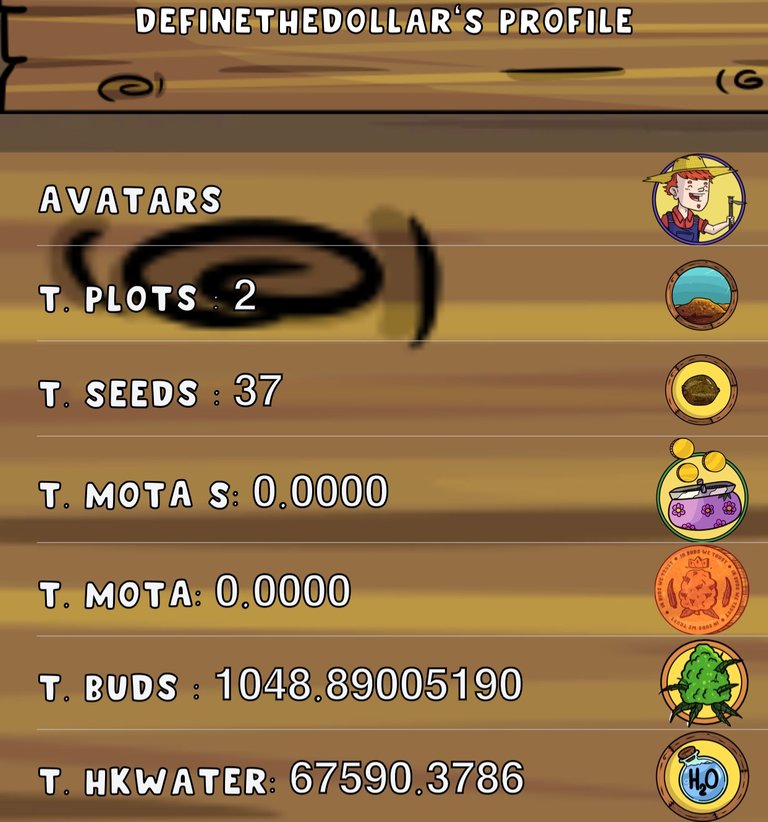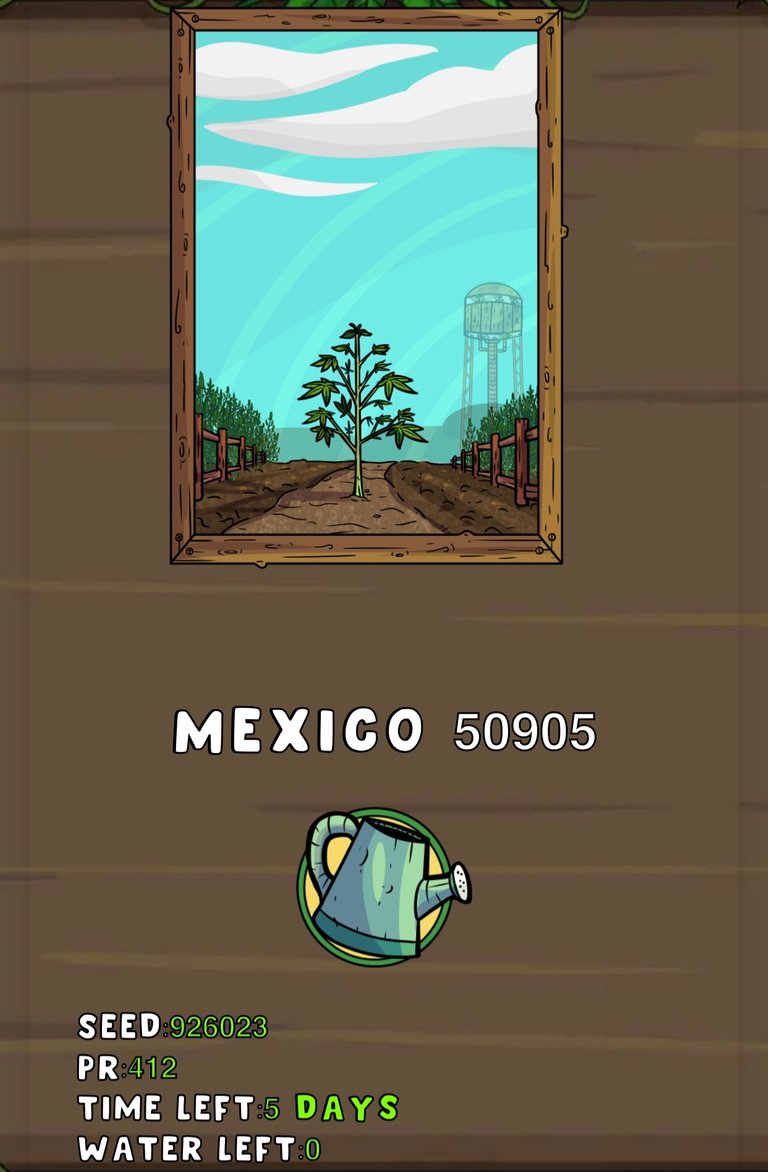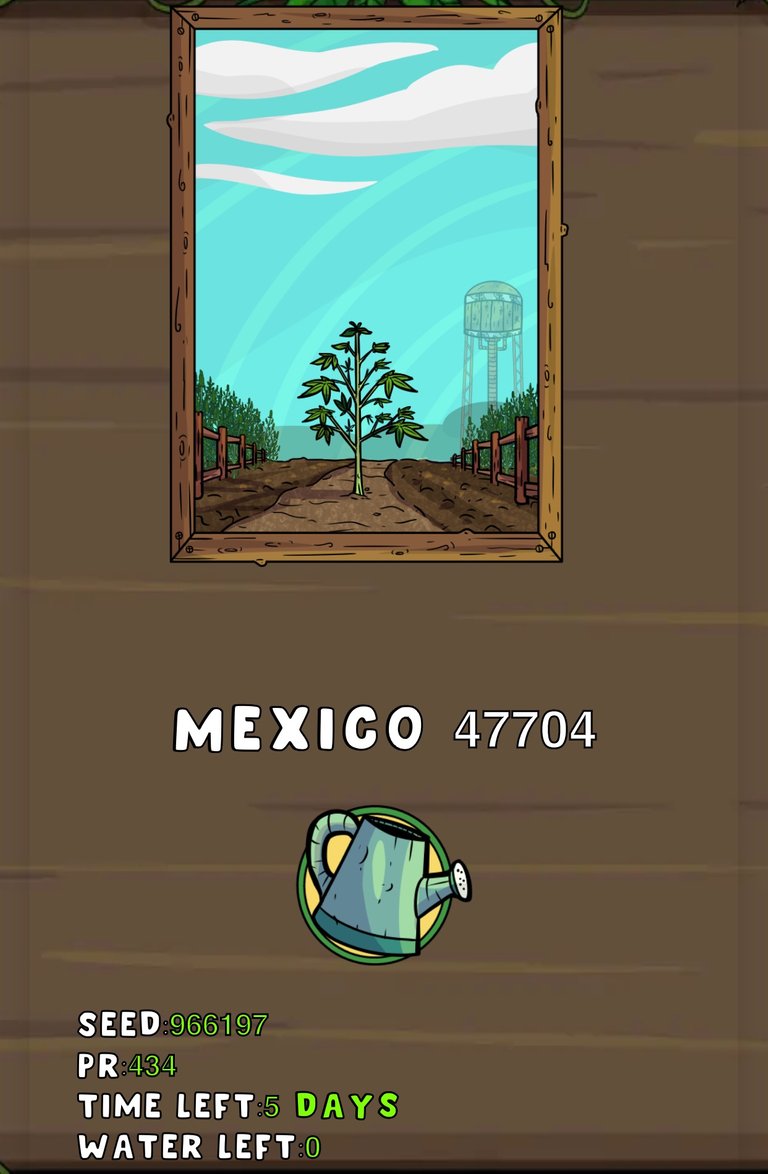 ---
I did play a little Splinterlands this evening, but I can't say that I enjoyed it. I go to set my usual teams relying on abilities that aren't there because I'm still stuck in Silver…and not too much incentive to get back out only for them to put me right back again. 😡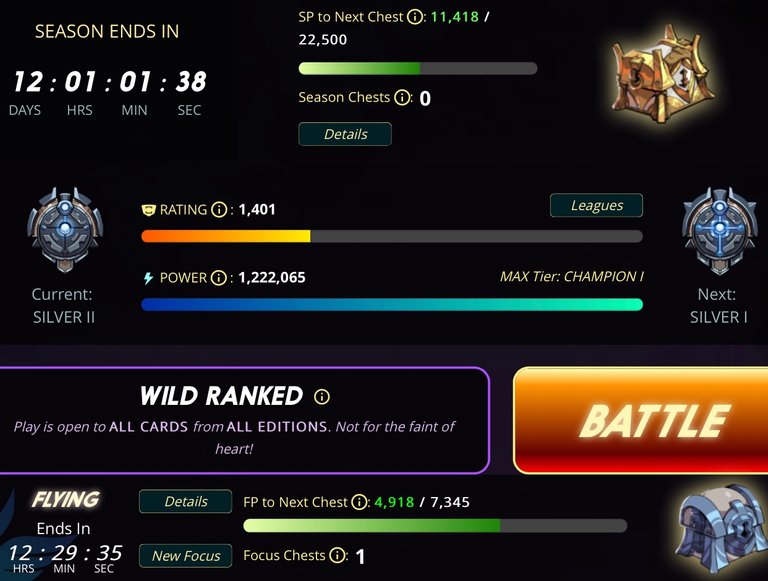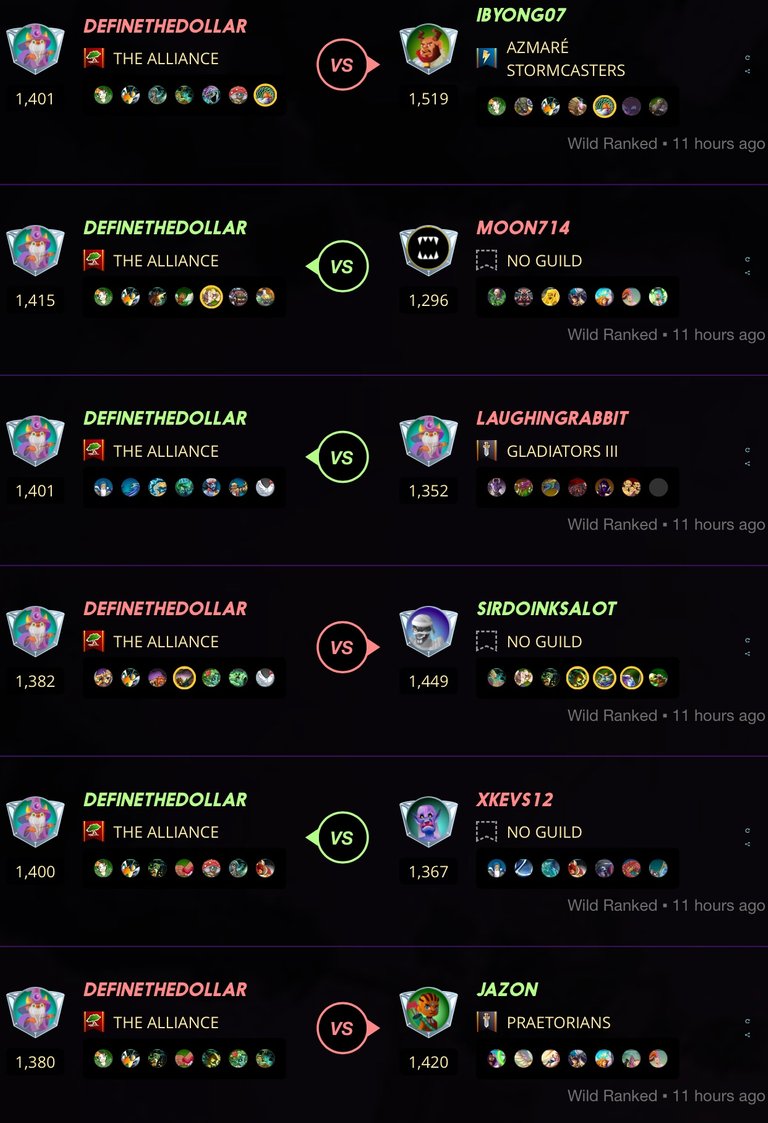 I held my SPS interest liquid for the past few days and swapped it out yesterday, so I decided to stake what I got today to keep that balance growing some. I finally got fed up with waiting and though I was extremely disappointed getting less than one HIVE per voucher, I sold off all I had on the market…took those funds (that didn't really cost me anything other than time) and punted into Wombat.
---
Average Last 7 Days: 14,585
Lifetime Average: 14,763
10k per Day Streak: 36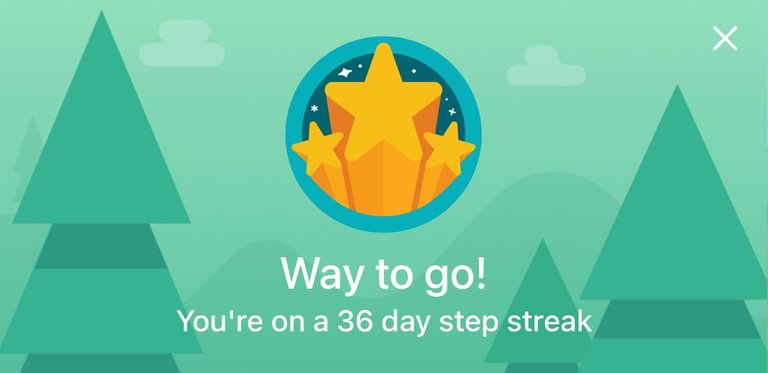 Longest Streak: 204

Distance on shoes: 955.38 km
Distance on hikers: 67.07 km
#AutomaticWin Tally: 424
#AutomaticWin Streak: 0
Longest Streak: 53
#TripleTen Tally: 118
#TripleTen Streak: 0
Longest Streak: 7
#DoubleDay Tally: 234
#DoubleDay Streak: 0
Longest Streak: 37
Highest Floors: 120
Highest Daily Steps: 41,528
Zombies evaded: 0/0
Mindfulness Diary:
Health: 89%
Satisfaction: 93%
Energy: 97%
Productivity: 89%
---
Referrals: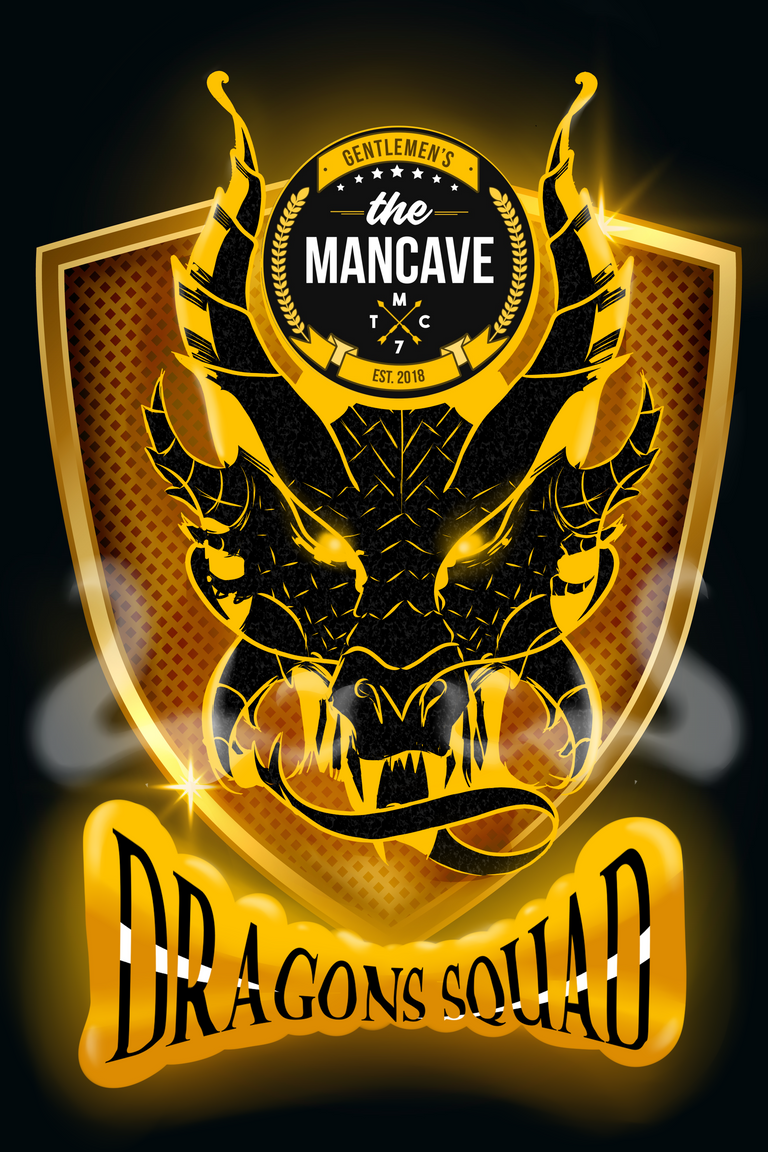 Power up and Hive on!
---
---