Sept. 7, 22: Routine, ZombieRun, Teaching, TV, and Games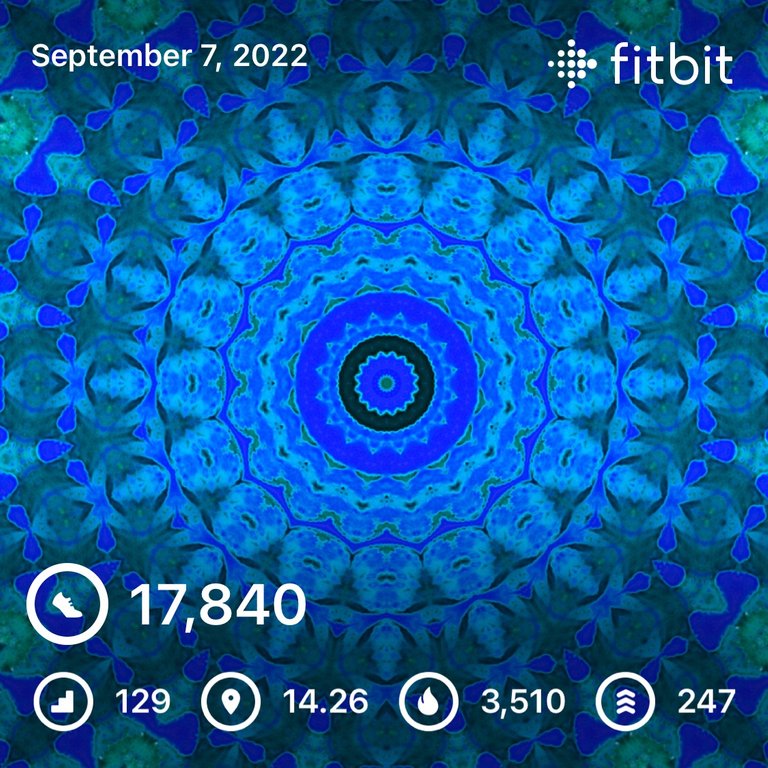 Well, like all good things I suppose, the long Labor Day Weekend came to an end and it was back to the grind starting today. Was up a little earlier this morning than I would have really liked, but ten thirty until six thirty isn't too bad. Ended up about forty-five minutes short, but I felt alright…just hope it's not a start to a worsening pattern. 🤞
Got on with the normal routine and was happy to see cryptos showing a bit of green. We're still more or less trading sideways, but having fallen below $20k and testing $19.5k, we've been in serious danger of breaking through support and finding a new bottom…seems that buyers came in on the drop and pushed us right back up.
The final update to Ethereum has been pushed and the Merge is just a matter of time now…sometime between the thirteenth and the fifteenth. It's still up in the air, though, how it will affect the price and the markets in general…seems like a lot of hashing power is already jumping to ETH Classic and other POW chains like Flux. I'm sure it will take some time to settle and for the market to decide on the new price; I believe it means that ETH will become deflationary fairly soon, which will hopefully drive the price up. My sell target is $10k…if we hit that, I'll sell and then buy the land for Solairitas.
Otherwise, mostly just the usual. Got caught up with Discord, took care of emails (still got the one Uphold one sitting there 😡), did some curation, shifted tokens, played some Wombat and went into the market and bought a couple more WAX NFTs to bury. It's a little frustrating not really knowing the mining power or type of resource of NFTs or even which ones qualify…I did find another sort of useful tool that does list quite a few, but the bigger mining power ones seem to be listed for really high prices. Still don't know if it's really going to be worth the money and attention I'm putting in, but I keep telling myself that it's all "free" money from interest anyway and it's not actually spent in the sense that I still have the NFTs and can sell them (assuming there's someone to sell to) to get my investment back.
Worked on my post for the day, got it done and shared and then headed out for a solid five kilometer Zombierun. 💪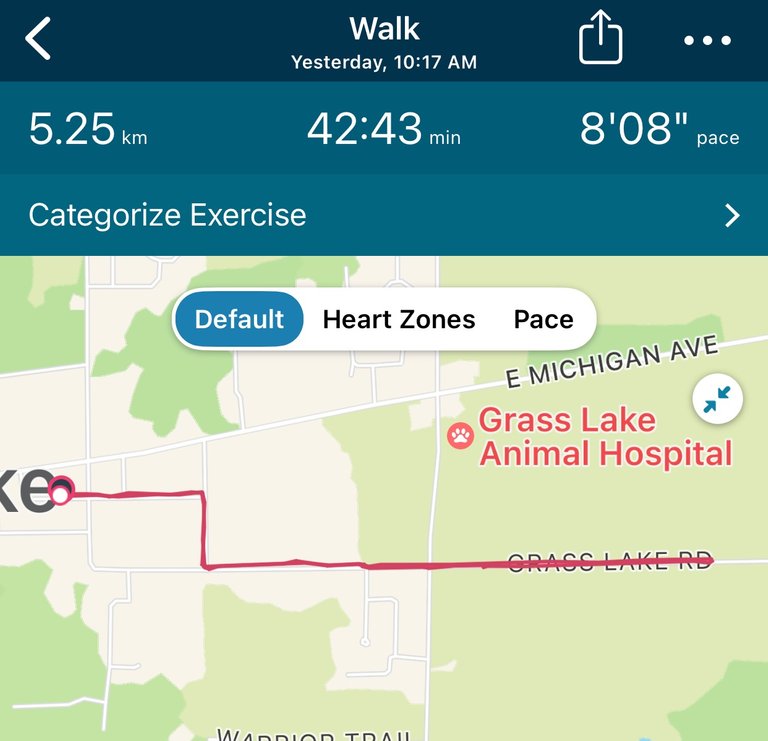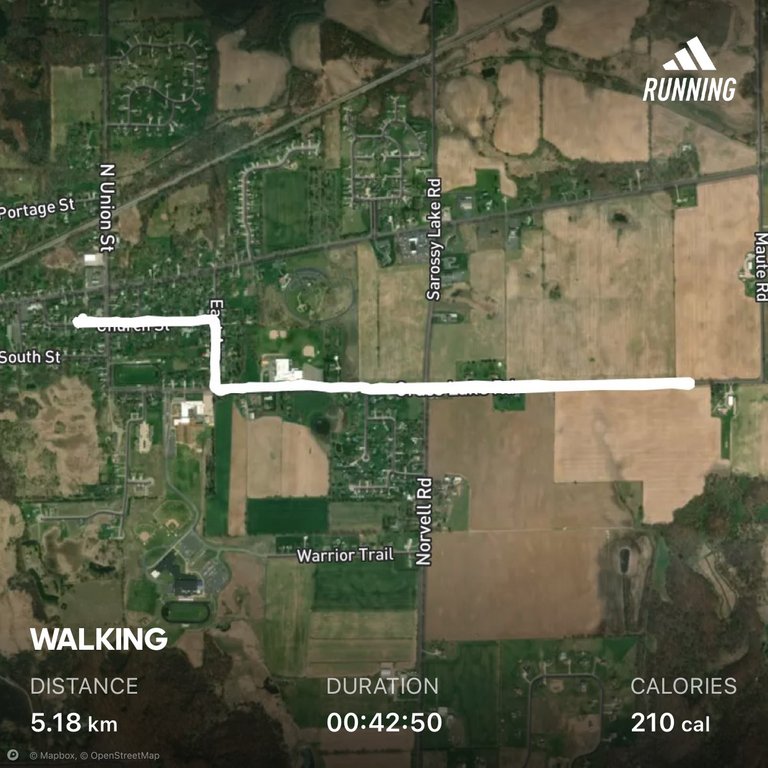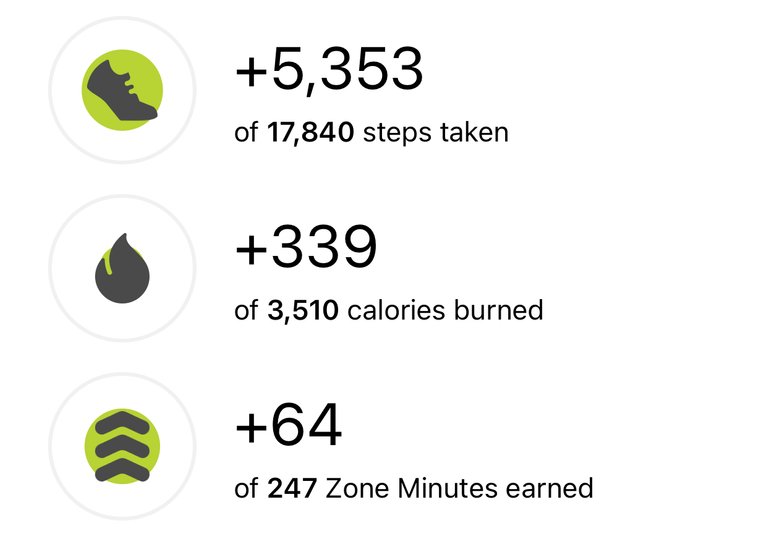 Not really too much happening with the storyline in today's run. We were exploring what was supposed to be an enemy hideout, but we searched the entire compound and the tunnels underneath and found nothing. I kept the pace at about seven thirty for most of the way, so thankfully there were only two zombies. I evaded them without warnings, though. 👍 I did kind of slow down the last kilometer or so and killed my pace, but it still wasn't bad and I got back with plenty of time to get lunch and get ready to head in for work.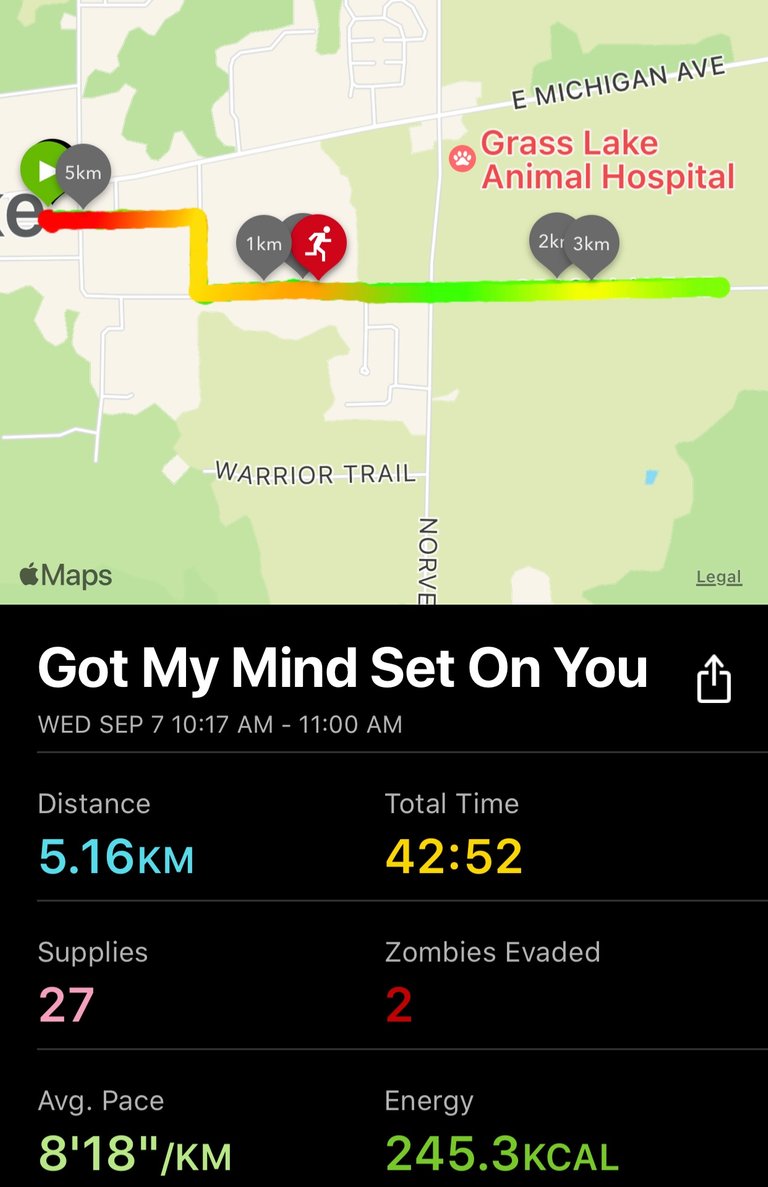 Still staying quite cool by comparison with how it has been, and I went with long clothes. The sun was shining, though, and with jogging and running I was pretty warm when I got home.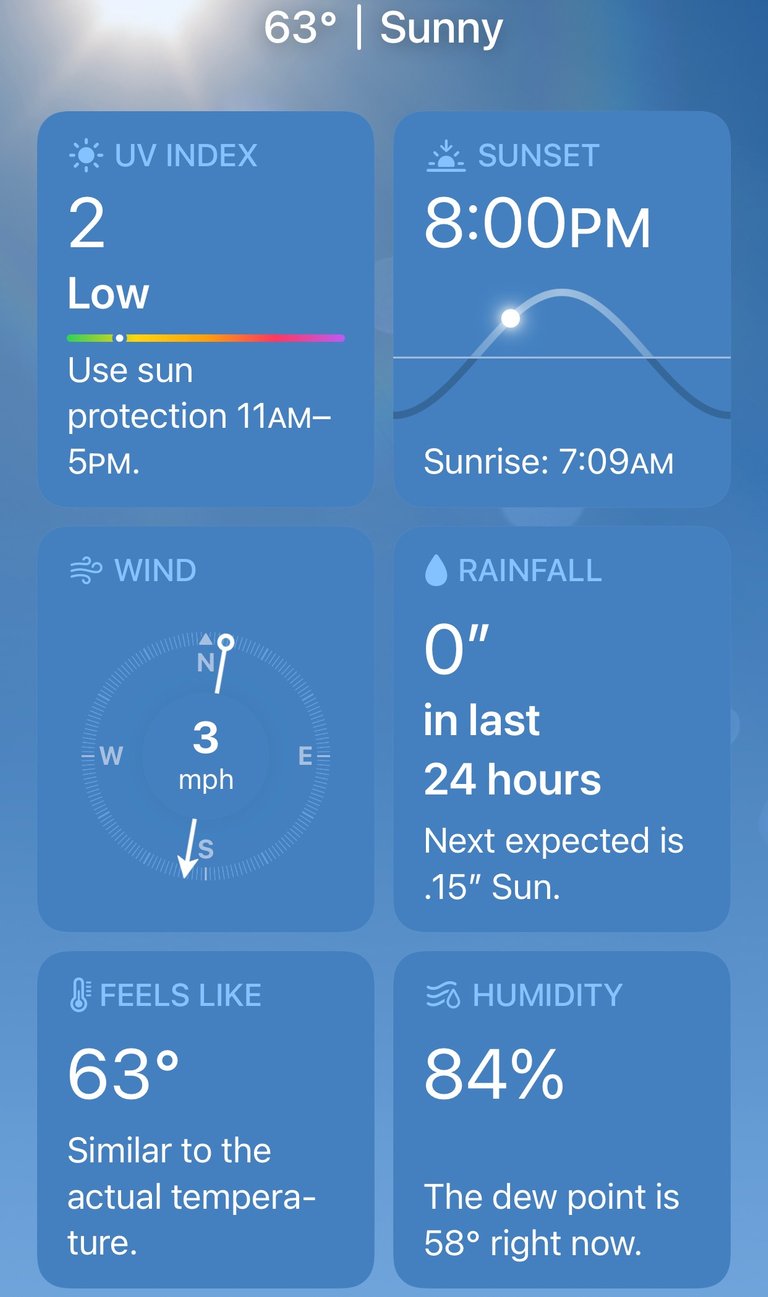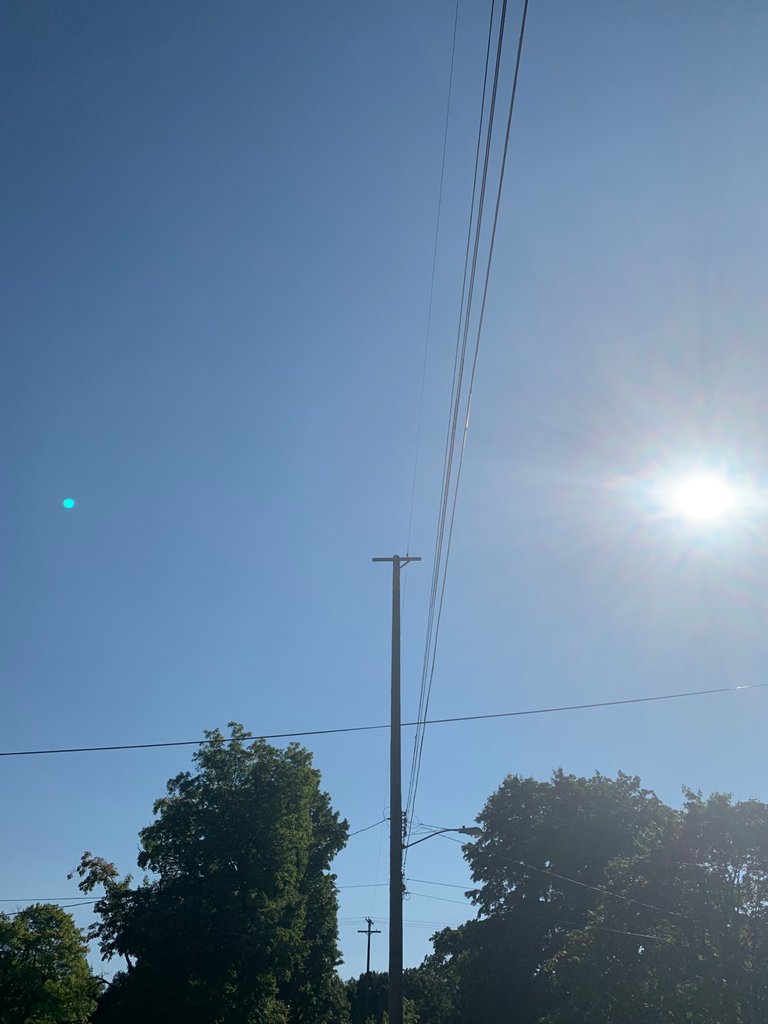 Was mostly focused on the run and thinking about teaching for today and doubting that the solution that I think I found for the website is going to work…but this little guy caught my attention: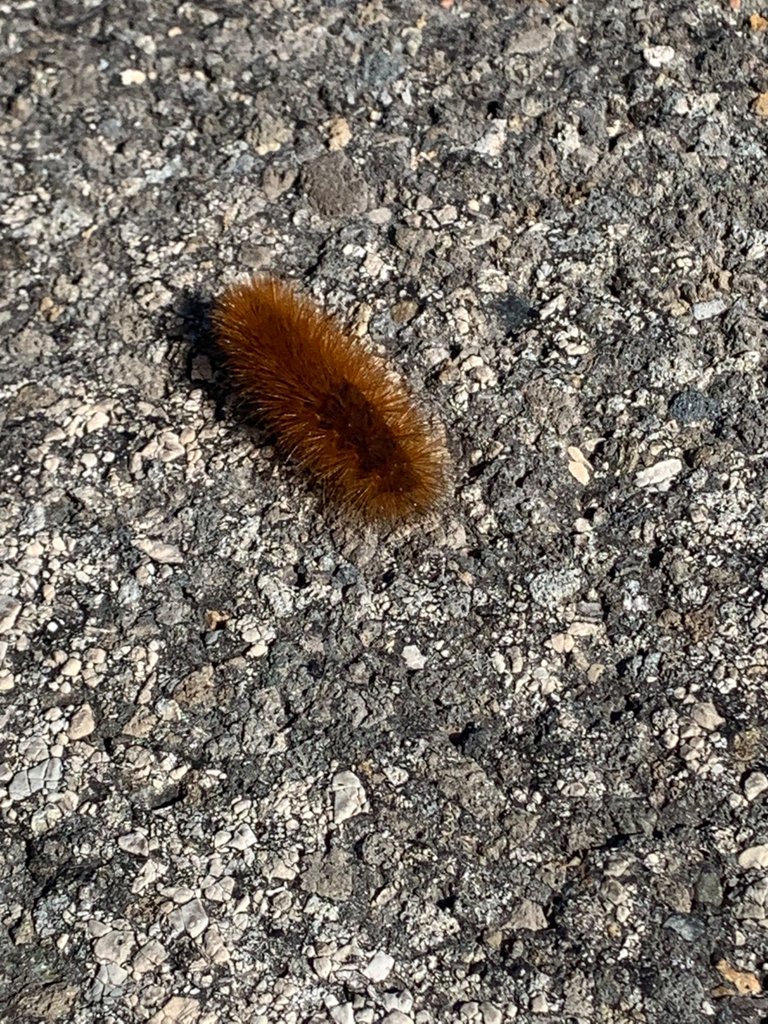 Had the usual sandwich for lunch, got a shower, and was out the door with a fifteen minute buffer. The drive in was pretty smooth and I was in class and ready to go about ten minutes early.
We finished up working with integer power rules (and I showed them the Principle of Non-Contradiction and the Law of the Excluded Middle) and then we worked through some example problems of the types of questions that they'll see on their first exams this weekend. Came up quick, but this first section is supposed to be mostly review, getting back up to speed.
Had one student stay after for a bit and ask a question and then got on the road. No problem on the drive home and I was back with about an hour before Wenche was meant to be home.
I was really nagging at myself to sit down at the computer, but I'm still scared of the frustration…was very tempted to bust out the Quest, but I'm on a pretty good roll of not wasting so much time in VR. Even so, I dinked around mostly anyway. I did get a couple chores done: emptied the dishwasher, took out the garbage, and then decided to start making dinner.
We had pasta and meat sauce for dinner and it was nearly done by the time Wenche got home and we had a relatively early meal. Pretty much just chilled after that. I played some Splinterlands and some WombPlay and we watched some more of The League until bedtime.
---
I do suppose that hovering in the twenties is better than the endless six SIM days on dShitty…been considering moving it all over to Solairitas again, maybe NFTMart has a bulk transfer now? 🤔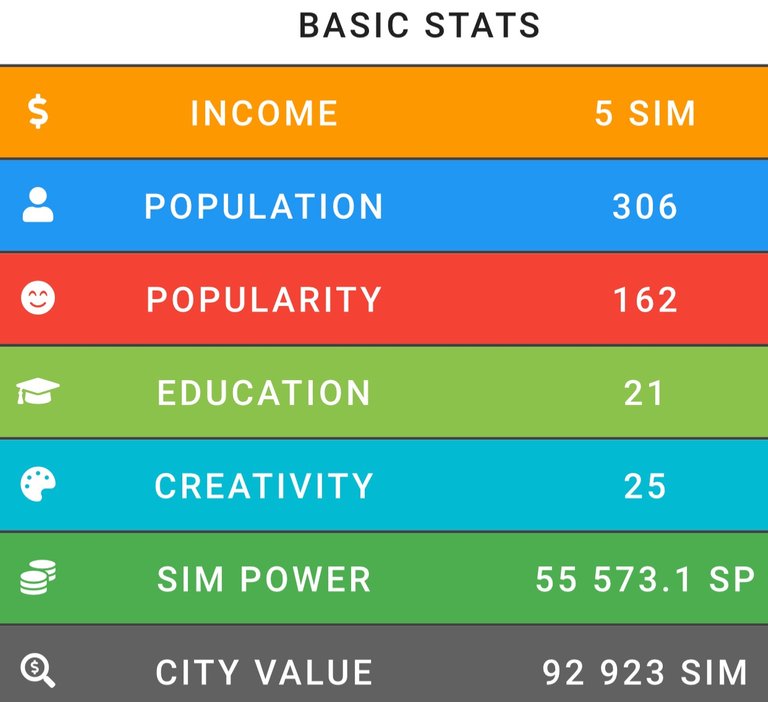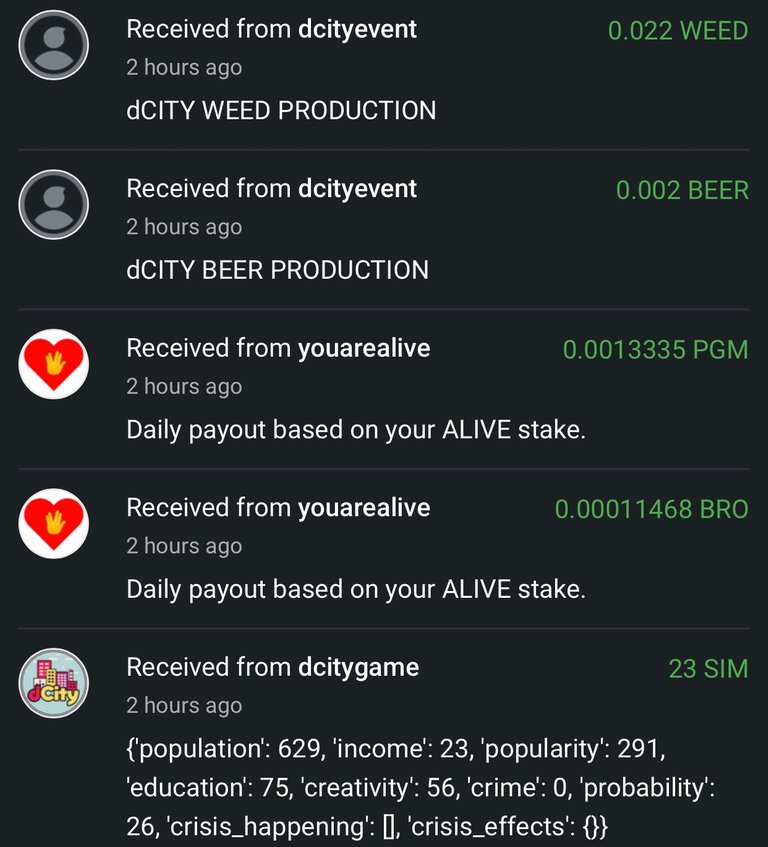 ---
I thought I'd done enough lessons on Rising Star to be at zero when my drunk fans expired, but for some reason I still had some residual (maybe the new cards?) and did another lesson to get it back down. Now it's missions again.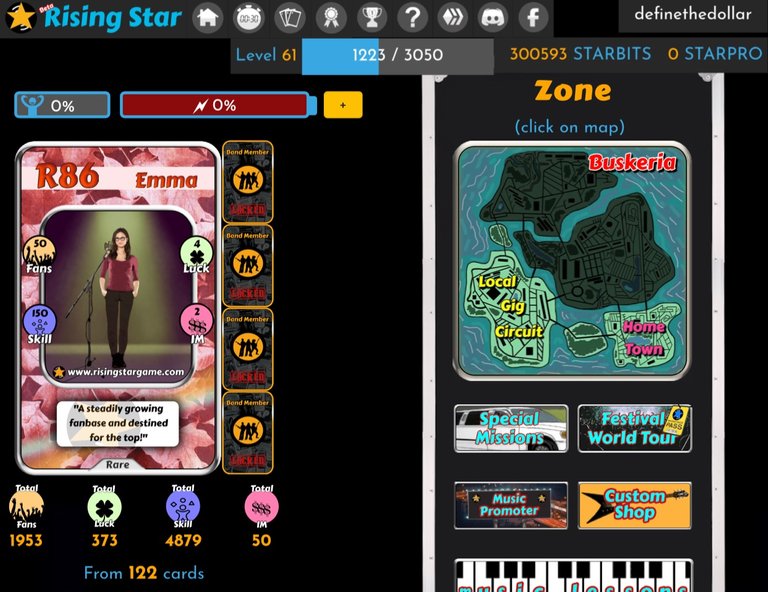 ---
Been a long time coming, but it's harvest time on HashKings again. Got some more BUDS and an avatar from the Pizza giveaways (still my only source of real progress on this game), but I'm not sure I see the point in burning them for experience, more Raid income? But I hardly ever do them, only when I'm forced to sit at the computer to take care of it.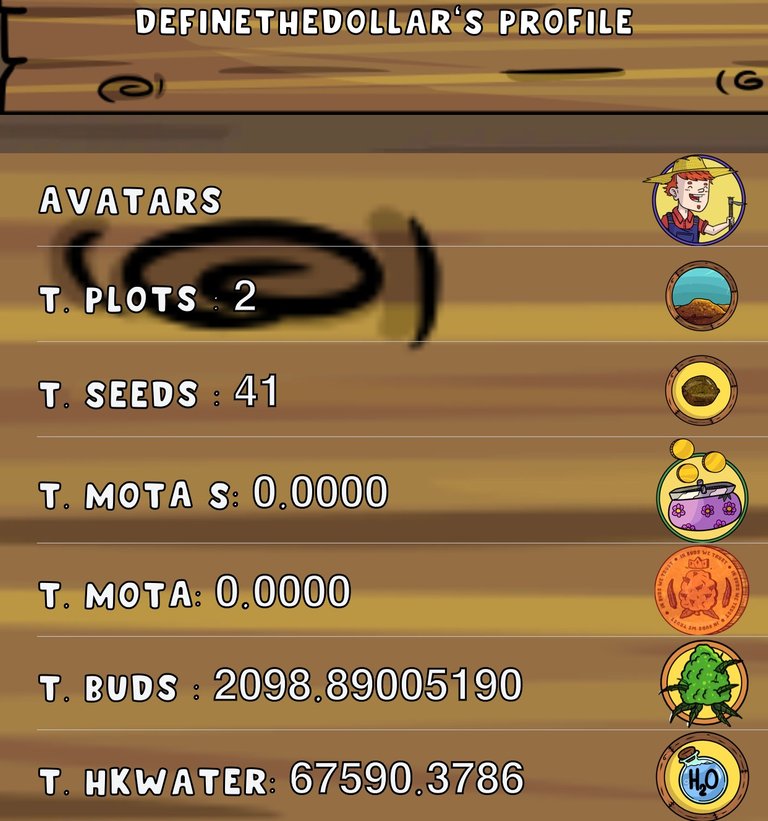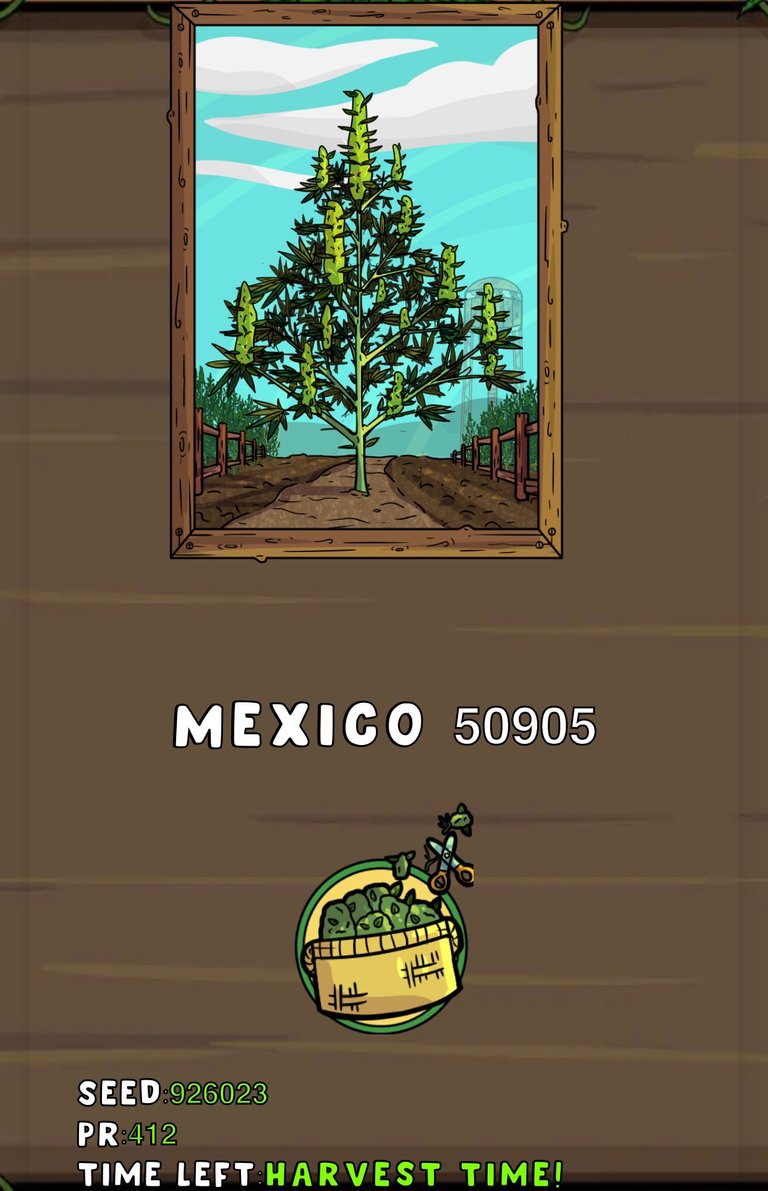 ---
Played some Splinterlands in the evening again today and finally got back into Gold. With a week or so left in the season, I'm seeing a glimmer of light at the end of the tunnel, but we'll see if my progress gets stymied as I expect it will…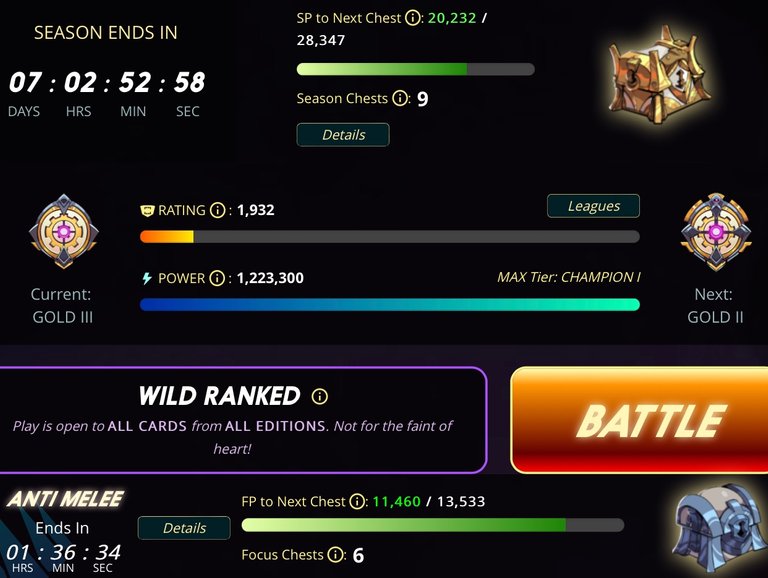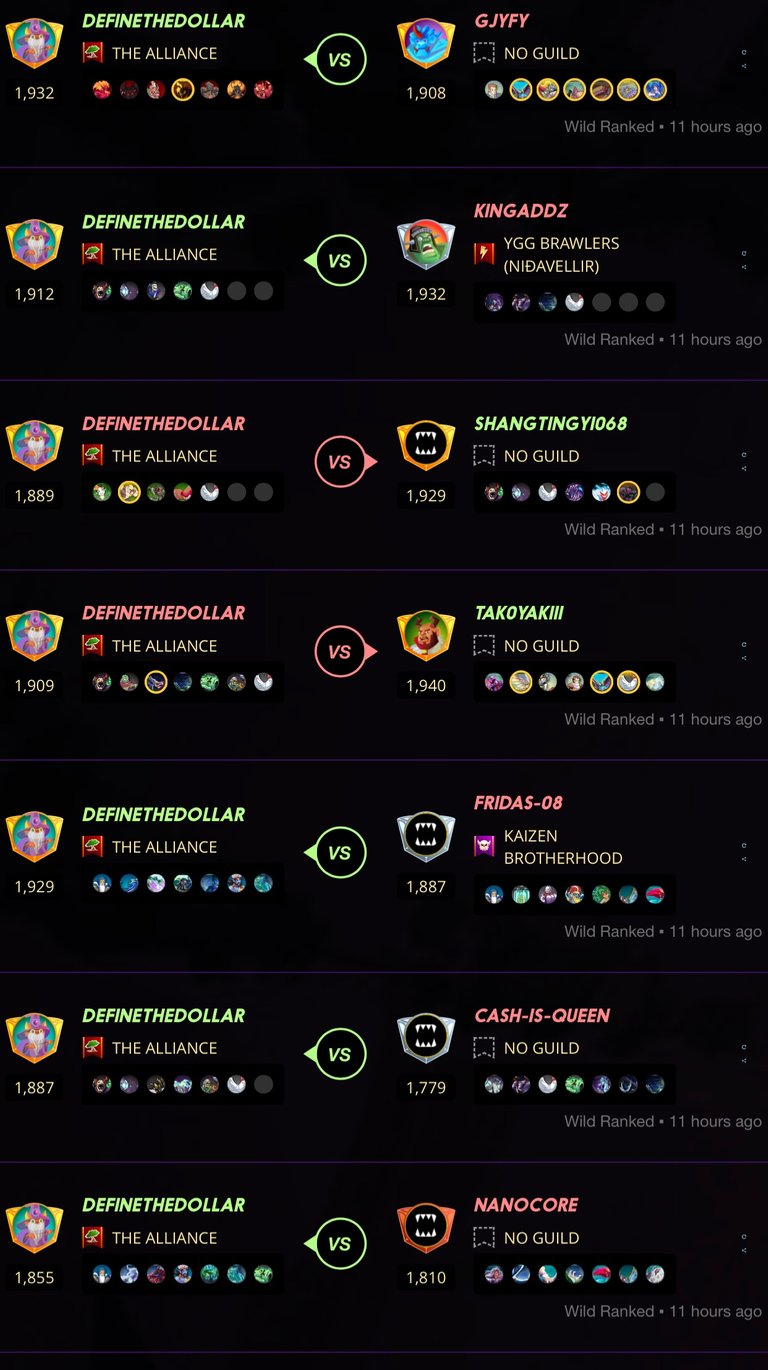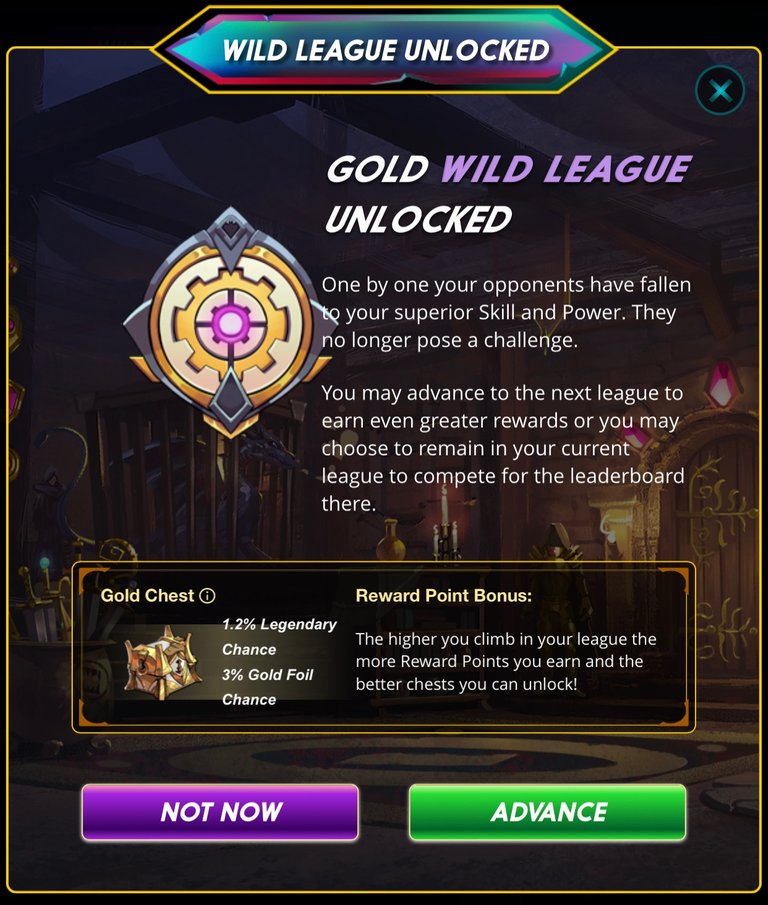 I staked my SPS interest yesterday and had enough rewards saved up to claim that stake today, so I left my interest liquid for now. Not sure whether to ride the pump (hopefully from tower defense) or leave it and buy some myself. I'm still sticking to not putting any more fiat into this game (years ago), but feeding some SPS interest back in to possibly earn some other rewards (and not be butthurt for missing out)? Might be a smart thing to do.
---
Average Last 7 Days: 13,129
Lifetime Average: 14,759
10k per Day Streak: 41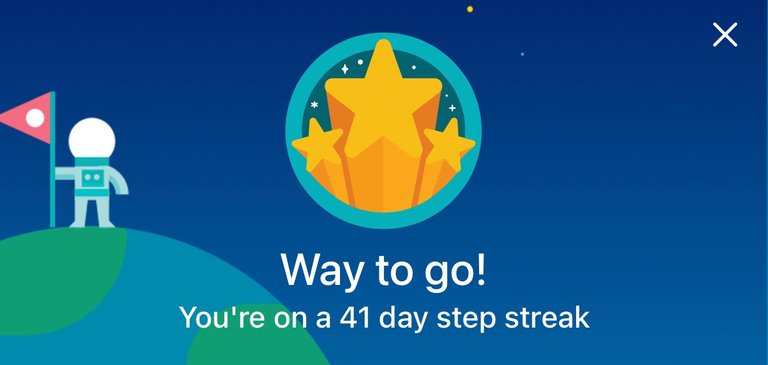 Longest Streak: 204

Distance on shoes: 975.73 km
Distance on hikers: 67.07 km
#AutomaticWin Tally: 424
#AutomaticWin Streak: 0
Longest Streak: 53
#TripleTen Tally: 118
#TripleTen Streak: 0
Longest Streak: 7
#DoubleDay Tally: 234
#DoubleDay Streak: 0
Longest Streak: 37
Highest Floors: 120
Highest Daily Steps: 41,528
Zombies evaded: 2/2
Mindfulness Diary:
Health: 88%
Satisfaction: 90%
Energy: 97%
Productivity: 78%
---
Referrals: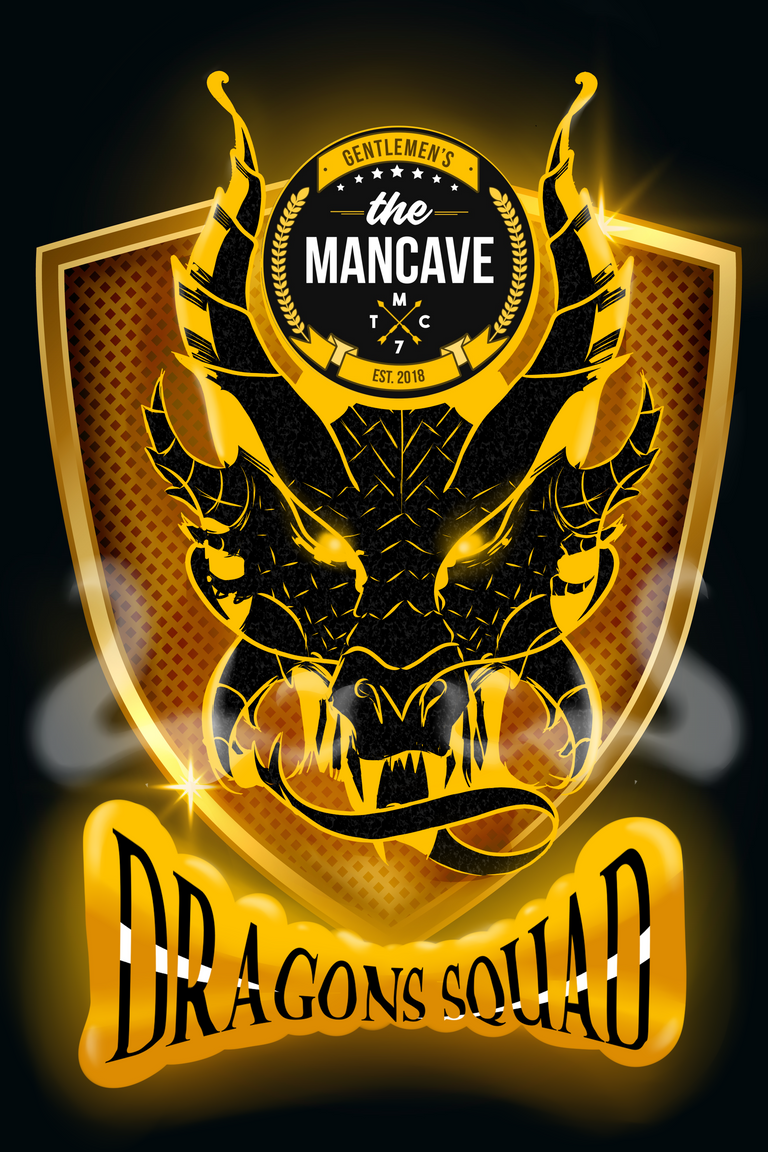 Power up and Hive on!
---
---