Sept. 8, 22: Routine, Fraud, Errands, Walking, Quick Nap, Teaching, TV, and Games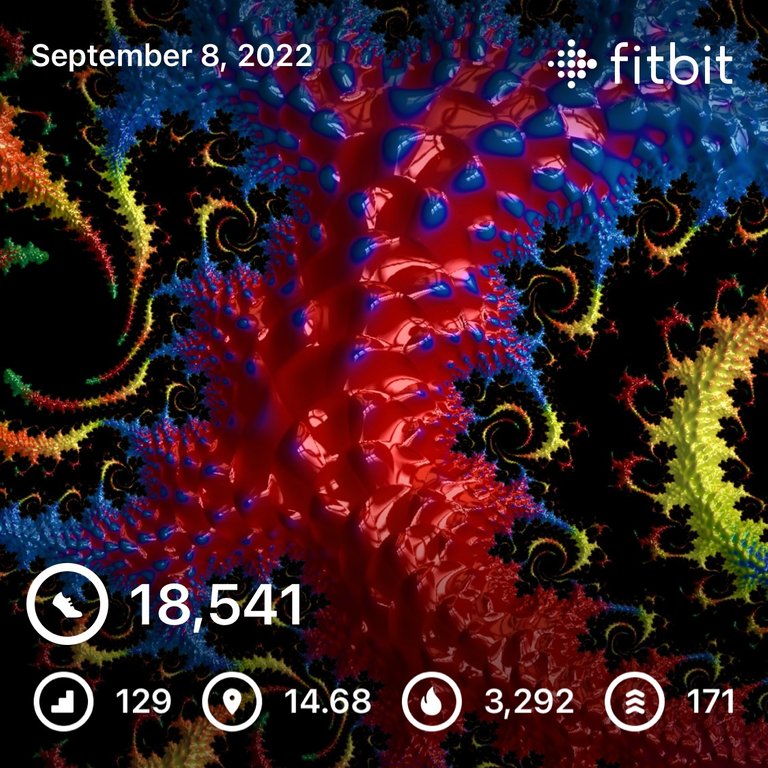 I do have to admit that the wife's snoring made for a rough night of sleep tonight. 😢 FitBit says I was a good three hours short, but it doesn't show me as going to bed until midnight, which I don't believe. Either way, I did feel it today and ended up passing out for a bit (for the first time in a while at least) in the afternoon.
Trying to recall if there was anything particularly interesting happening during the morning spiel…not really much that comes to mind. Checked the markets, shifted tokens, messed with Wombat, did some curation…just the usual. I did a little more review for teaching calculus in the evening and got to work on my post.
Pretty solid post done and in the books and then realized it was Thursday and I had my weekly errands to run. It was about that time that I received a robocall from my bank saying that there was suspicious activity on my account and to call them back. Obviously, that freaked me out, but I was also really skeptical of calling some random number and supplying any personal or banking details.
Went into my account and saw a $726 difference between my balance and available balance, but I couldn't see any pending charges or what what causing the discrepancy. I had to go to the bank to get cash anyway, so I went in and asked them.
It was charged for some concert ticket website, and I told them that I didn't buy any tickets. They gave me the website address and the phone number on the transaction and said it was best for me to try and resolve with them before the bank tried to dispute. Not really happy with the fact that I already had to do a trip to the bank (and cancel my card and get a new one) and now had more work to do calling and trying to get my money back, I headed into town to hit the puffity-puff store.
When I got back I grabbed some lunch and then started trying to get ahold of them, but when I called, it just rang a few times and hung up. 🤬 I looked up the website and it was for concerts in Istanbul and the contact number was Turkish. I tried calling the number the bank gave me a couple more times, but then gave up and went back to the bank to dispute the charge.
For now I just have to wait and worry about it. They said it could take up to eleven days to be refunded and if it isn't they'll call me. There was a hold on the transaction (and the dispute is in) but [as of this morning] they've now processed it and taken the money out of my account. 😡🤬😢😭. $726 isn't the kind of money I can just have stolen from me…ain't chump change. 😳🥺
Although that was bothering me, of course, I decided to take the dog out for a walk, get some exercise and fresh air, even if I knew it was unlikely to clear my head. We'd kind of gotten into a little rut going the same routes all the time, so I went out to the proper woods today and let him run without a harness/leash on.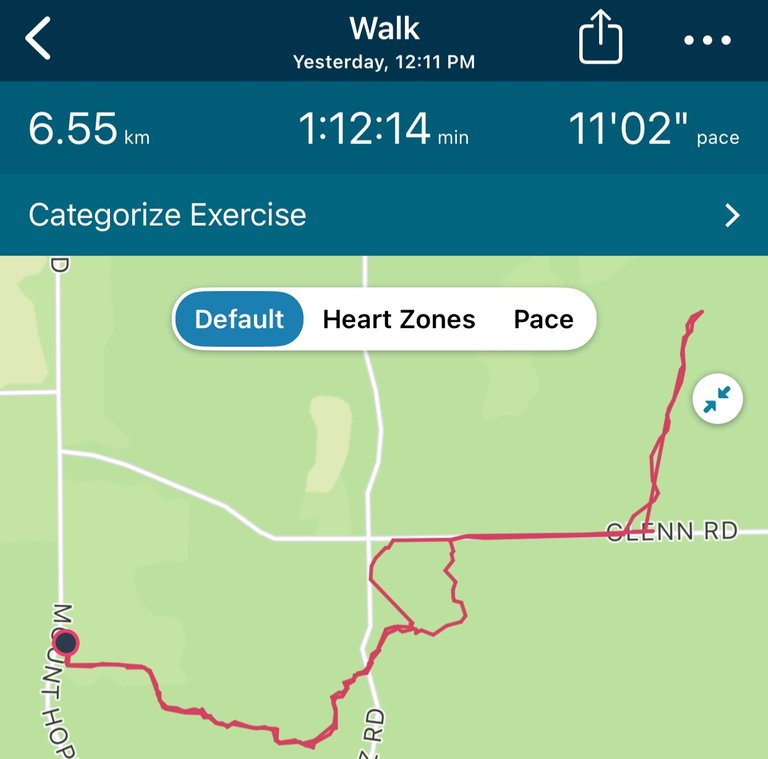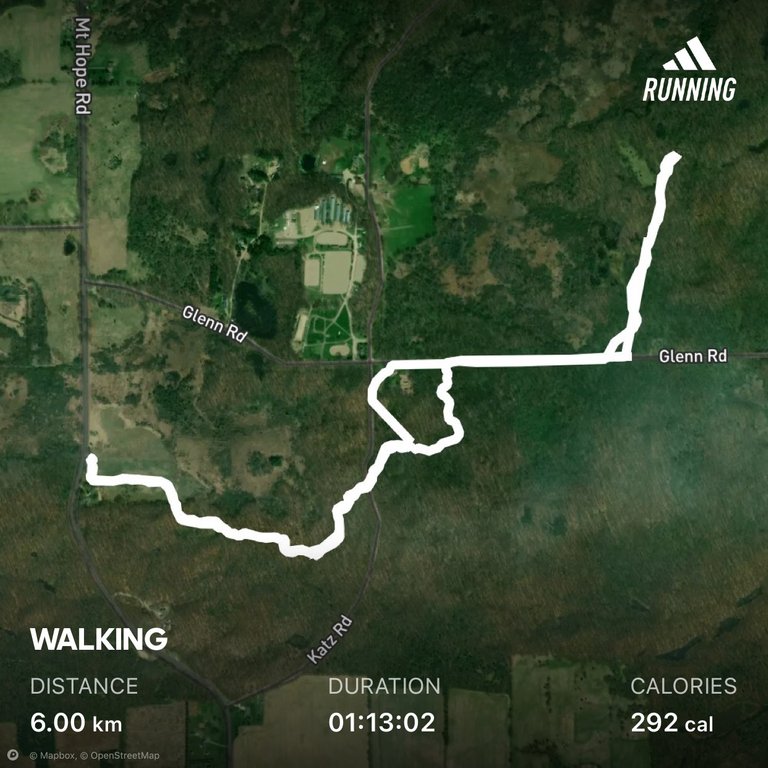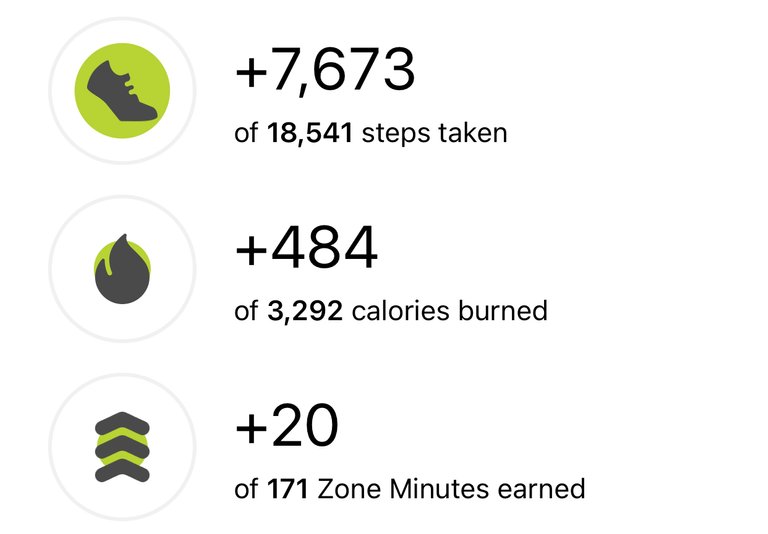 Not exactly sure what happened with the GPS there in the middle, but we put in six kilometers at least (of hilly terrain). 💪
Was really nice out, actually, and I was even a bit toasty in the sunshine. Thankfully, we were in the shade of the woods, so it was just about perfect. Although, I'll admit my mood was colored by all that was going on today, but it was really nice to get away from civilization for a while and just listen to the chipmunks getting angry at our presence and seeing nothing but green.
Well, that's not the complete truth. I saw six HUGE wild turkeys 🦃! They scared me as much as I scared them, I think. All of a sudden these massive birds came flying out of the underbrush…they were gone too fast for me to get a photo. 😢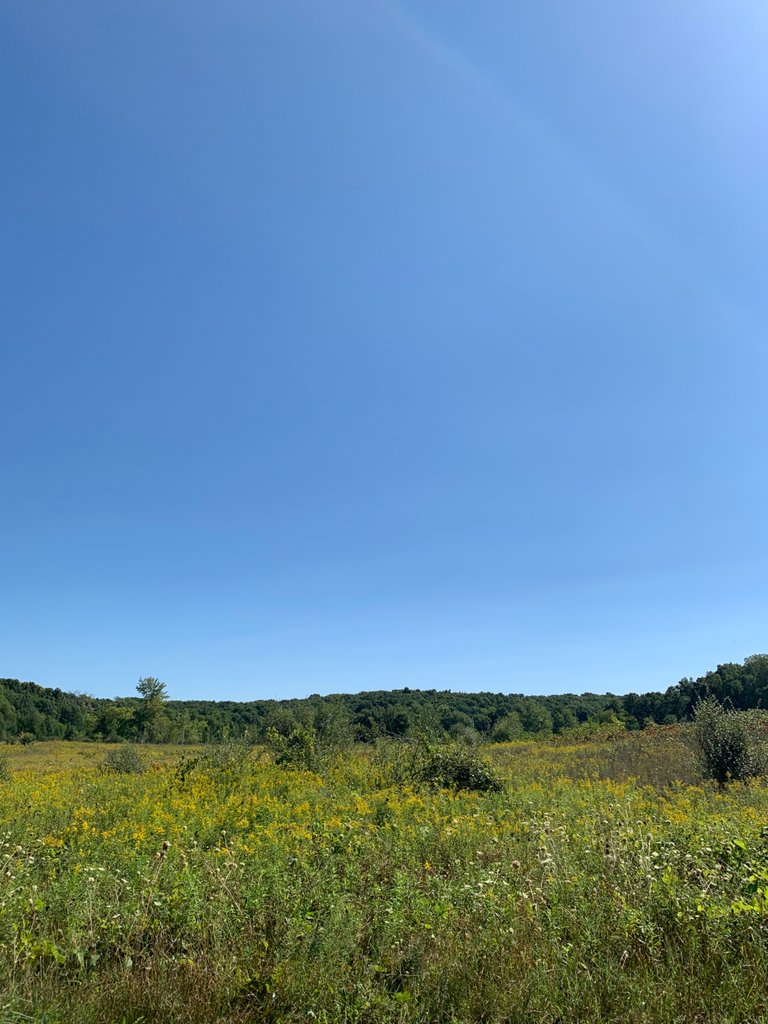 Got back, had a shower, and still had an hour and a half or so before class. Got some leftover pasta and meat sauce for dinner and then put on something random on TV and passed out for about a half an hour.
Got up, got set up for class, and then taught two hours of Calculus III. I had been worried about the time getting buried in algebra, but although I did run a little short at the end, we got through almost all of it. The only thing I didn't actually prove was that the cross product is perpendicular to the two vectors we crossed. Instead we did a couple examples with some actual numbers to see how the mechanics actually play out.
After class I pretty much just chilled watching some TV, got my daily Wombat challenges done after the reset, played a little Splinterlands, and then fell asleep.
---
Despite having a crisis in dShitty today, it seems we're still at five stated income and twenty-three actual; only like a twentieth of what I should be.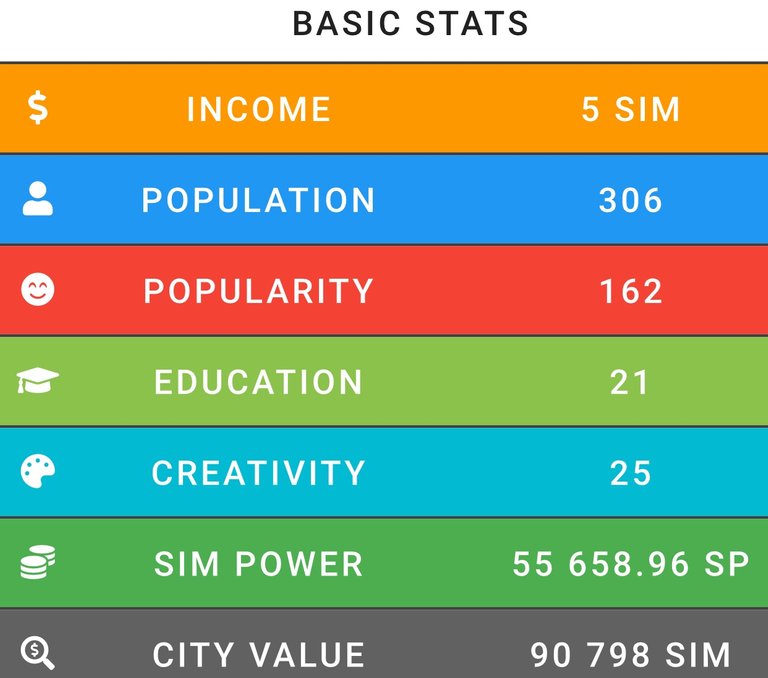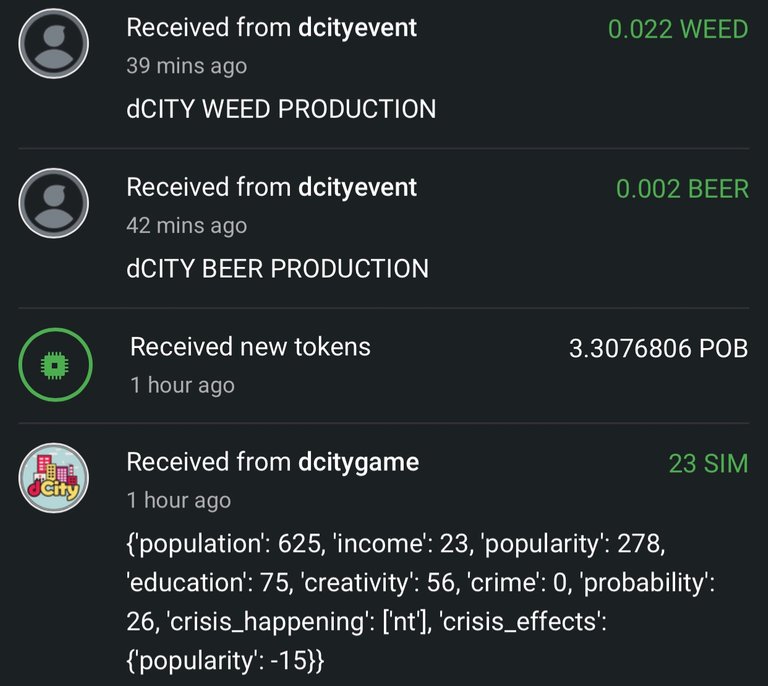 ---
My Ego is finally back under control on Rising Star and so it's back to slogging missions again.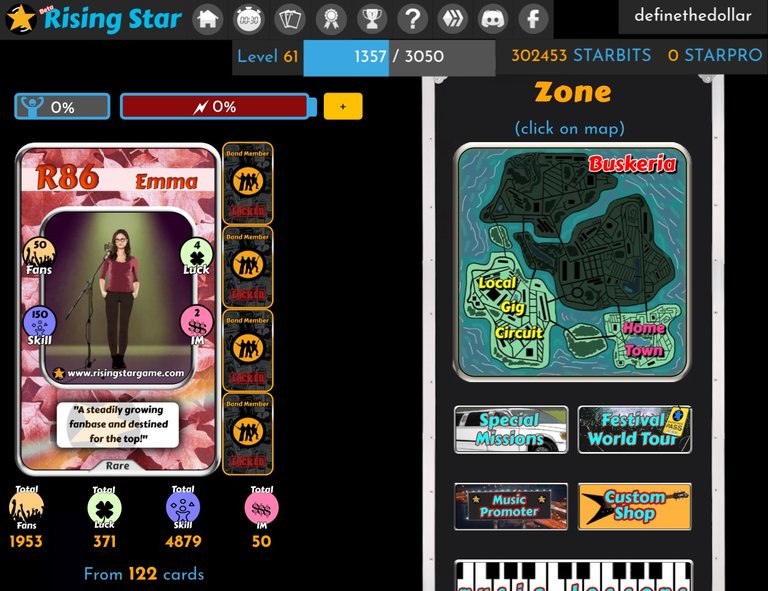 ---
Surprise, surprise. I did not sit down at the computer today and deal with HashKings. I suppose I could have rather than getting a nap, but the nap was clearly much better.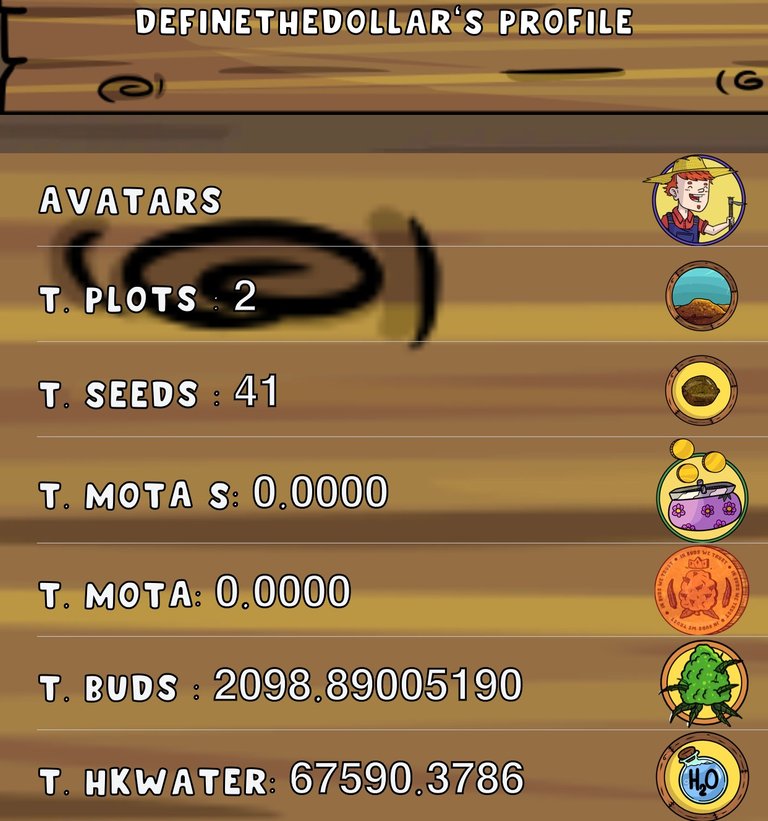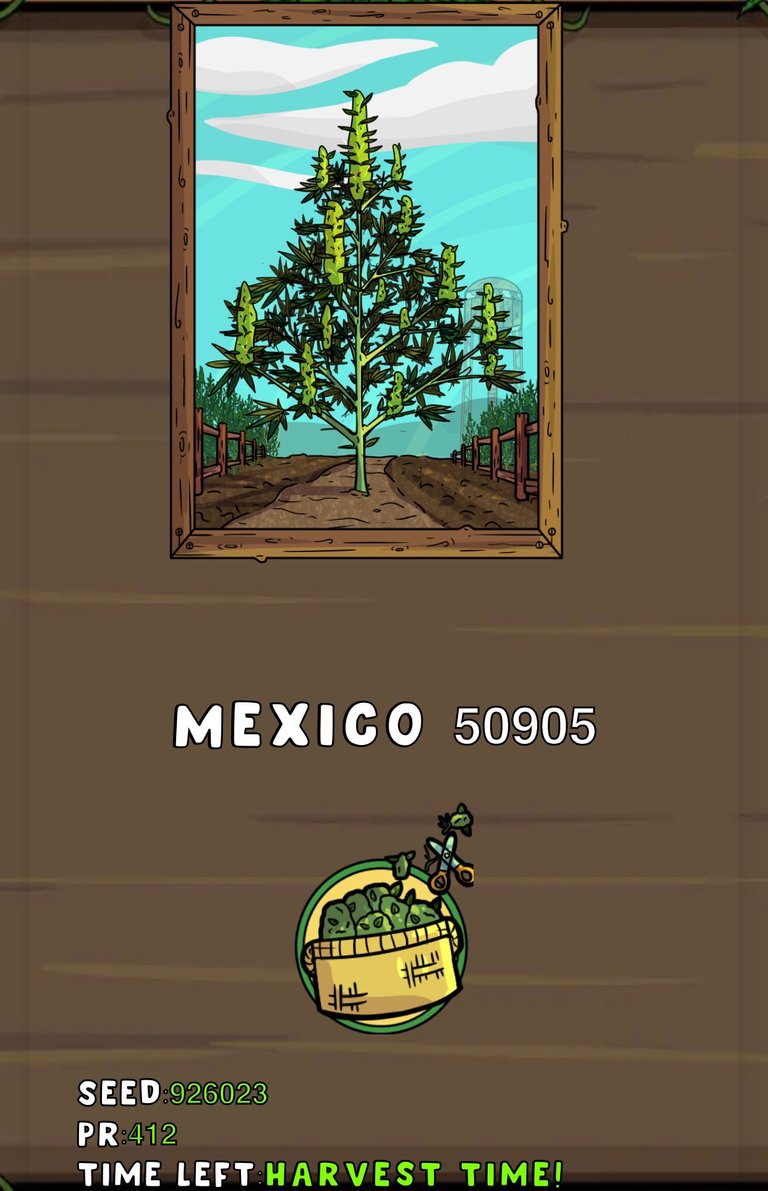 ---
I started off playing Splinterlands with the best of intentions, and I didn't do too bad, so it wasn't a rage quit…kinda' just lost interest and put the phone down.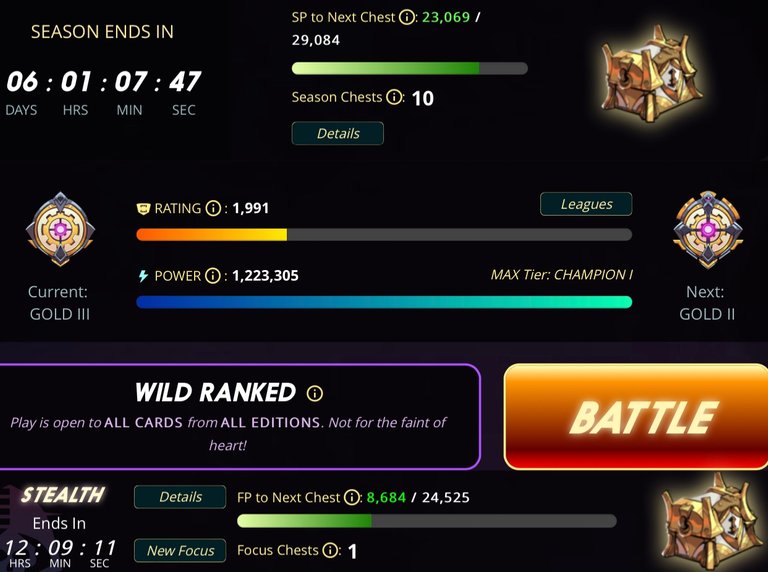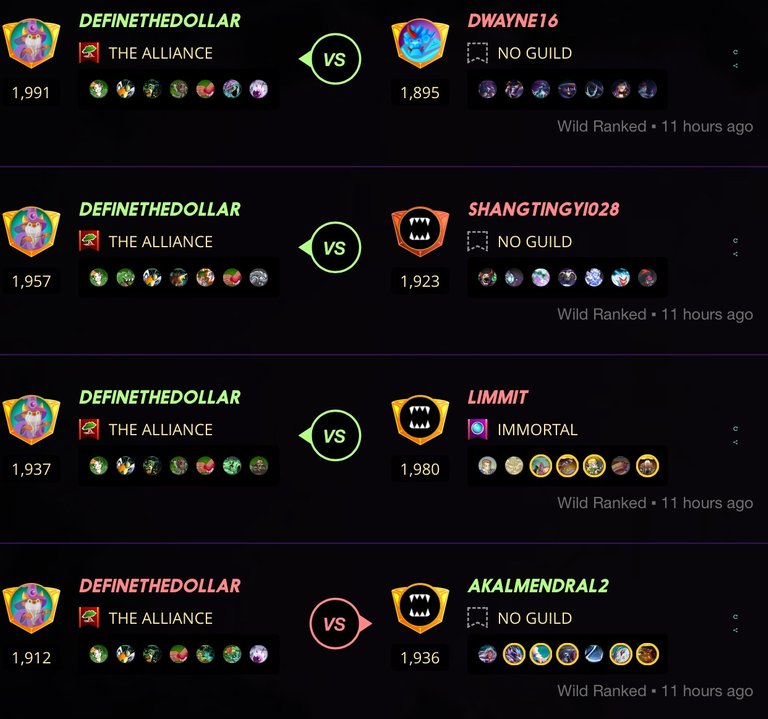 I'm just going to look past the piddly merits, SPS, and potions and say "Yay! I got a pack." Got several packs saved…hoping not opening them is smarter in the long run.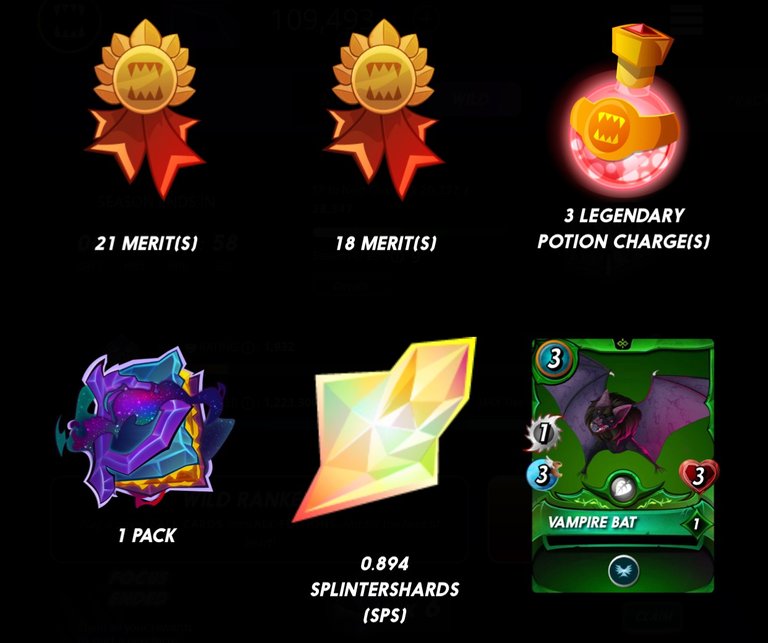 Claimed my vouchers and SPS interest for the day, as usual, but left the SPS liquid in anticipation of using some for the tower defense thing coming up. Still not totally sure how hard I want to go in on that…or try to take advantage of what will (hopefully) cause a spike in the price. 🤔
---
Average Last 7 Days: 14,343
Lifetime Average: 14,761
10k per Day Streak: 42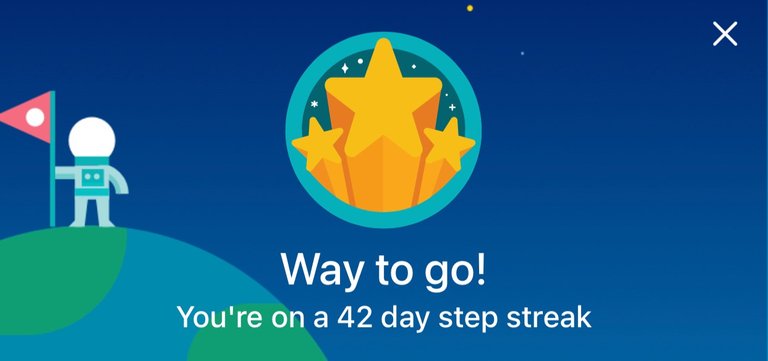 Longest Streak: 204
Distance on shoes: 981.98 km
Distance on hikers: 67.07 km
#AutomaticWin Tally: 424
#AutomaticWin Streak: 0
Longest Streak: 53
#TripleTen Tally: 118
#TripleTen Streak: 0
Longest Streak: 7
#DoubleDay Tally: 234
#DoubleDay Streak: 0
Longest Streak: 37
Highest Floors: 120
Highest Daily Steps: 41,528
Zombies evaded: 0/0
Mindfulness Diary:
Health: 88%
Satisfaction: 90%
Energy: 91%
Productivity: 80%
---
Referrals: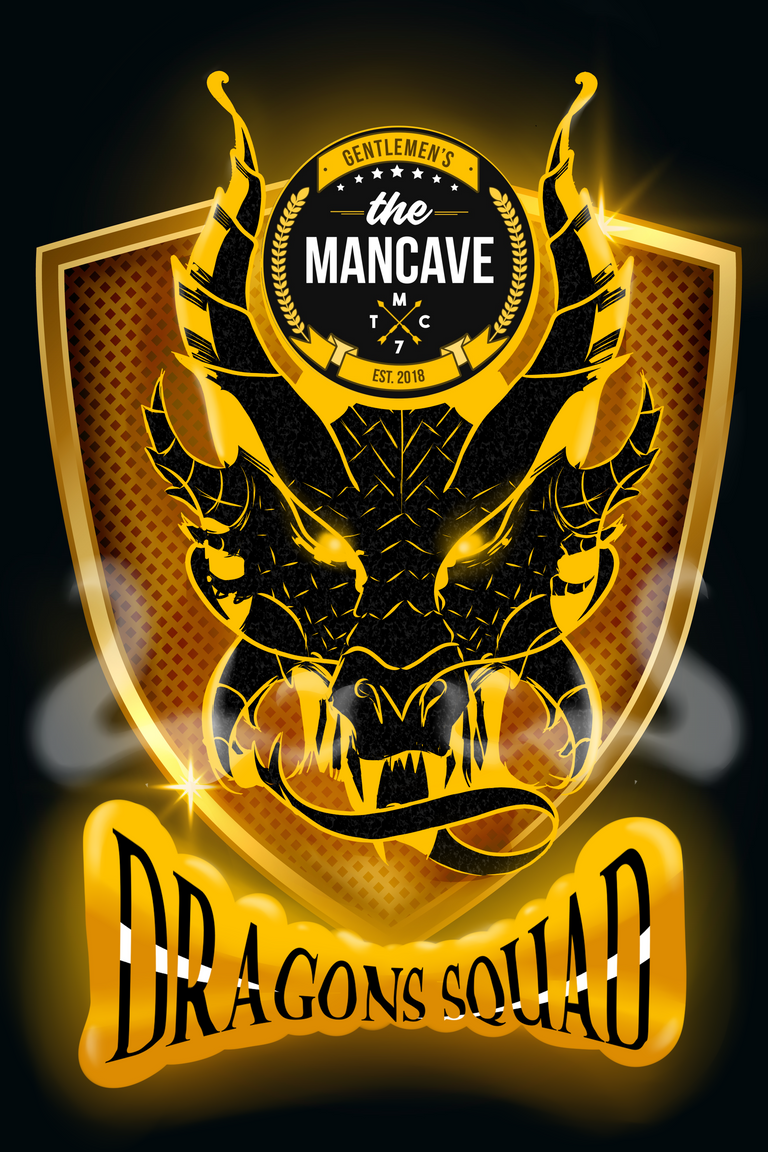 Power up and Hive on!
---
---