[ESP-ENG] Tyson fury VS Deontay wilder III
♛ _ Hola, amigos, amantes del boxeo ♛
♛ _Hello, friends, boxing lovers _ ♛
Hola, queridos amigos de esta hermosa comunidad, Tyson fury VS Deontay wilder III, lo que muchos aficionados del boxeo esperaban, una pelea de gigantes, que ya tiene fecha, este sábado 9 de octubre en las Vegas nevada, una rivalidad que hizo revivir el interés por los pesos pesados, dos grandes batallas que dejaron muy buen sabor de boca, la primera batalla, un empate y la segunda batalla, ganó por nocaut técnico en el séptimo asalto Tyson fury.
Hello, dear friends of this beautiful community, Tyson fury VS Deontay wilder III, what many boxing fans were waiting for, a fight of giants, which already has a date, this Saturday October 9 in Las Vegas Nevada, a rivalry that revived the interest in the heavyweights, two great battles that left a good taste in the mouth, the first battle, a draw and the second battle, won by technical knockout in the seventh round Tyson fury.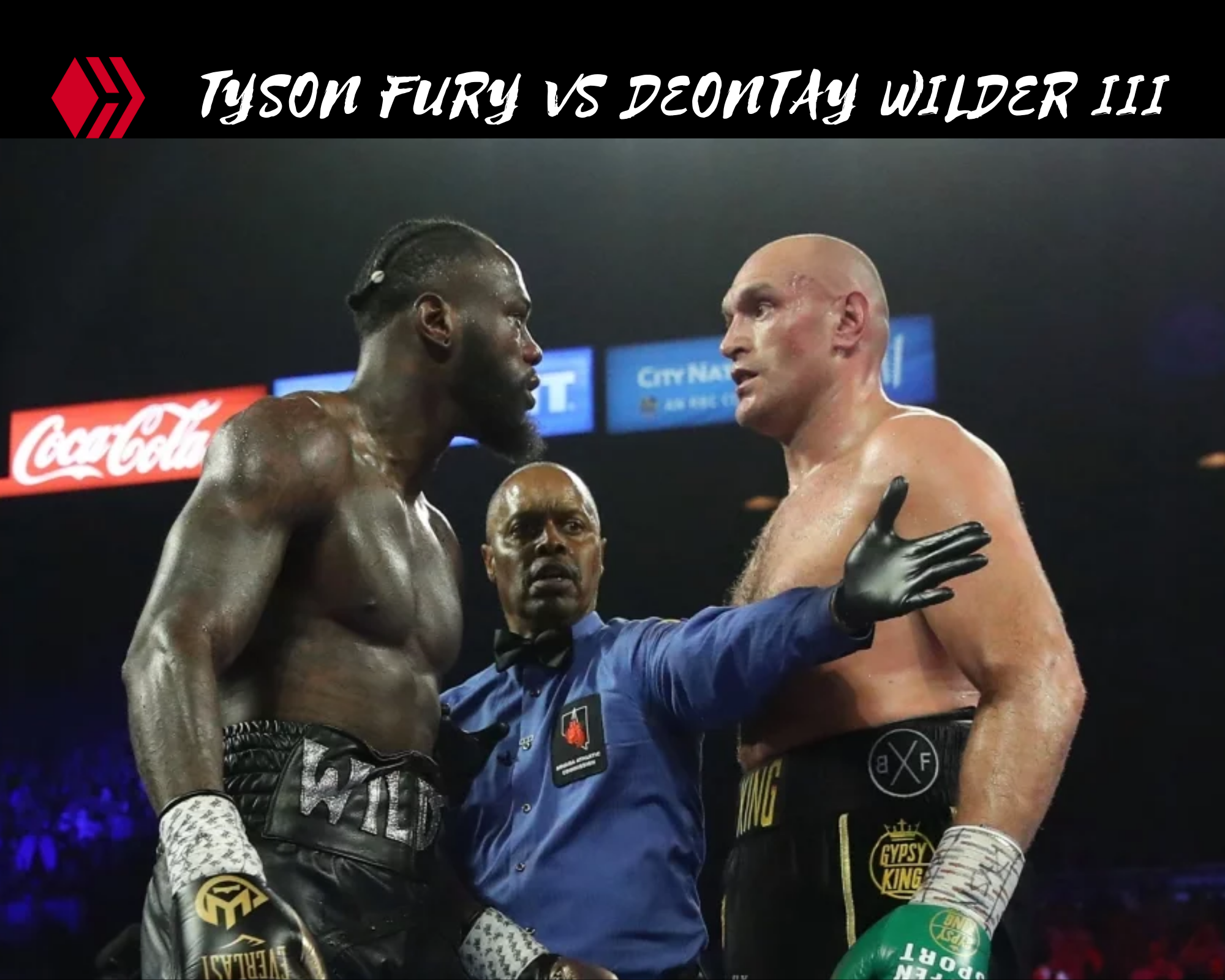 Fuente1
Editado desde Canva
♛ _1era pelea Tyson fury VS Deontay wilder _♛
♛ _ 1st fight Tyson fury VS Deontay wilder _♛
Una pelea con un dominio del inglés Tyson fury, desde inicio un juego de piernas envidiables, unas combinaciones majestuosas, el jab, todo le estaba saliendo a la perfección al inglés, hasta que llegó el noveno asalto y recibe los golpes de poder, Deontay wilder y cae al suelo Tyson fury y le hacen el conteo respectivo y se levanta y cambia el panorama de la pelea el león Deontay wilder tratando de terminar con su presa, en el último asalto conecta un golpe de poder y cae otra vez fury a la lona, todos piensan que no se levanta, pero nuevamente se pone de pie como el guerrero que es y sobrevive al acecho, ese último asalto y declaran los jueces el combate empate, conserva su título Deontay wilder.
A fight with a dominance of the Englishman Tyson Fury, from the beginning an enviable footwork, some majestic combinations, the jab, everything was going perfectly to the Englishman, until the ninth round came and receives the power punches, Deontay Wilder and falls to the ground Tyson Fury and they make the respective count and gets up and changes the picture of the fight the lion Deontay Wilder trying to finish with his prey, in the last round he connects a power punch and fury falls again to the canvas, everyone thinks he won't get up, but again he stands up like the warrior he is and survives the stalking, that last round and the judges declare the fight a draw, Deontay wilder keeps his title.
♛ _༄❄ ❆✺❄ ❆ ✺❄ ❆✺❄ ❆ ✺༄ _♛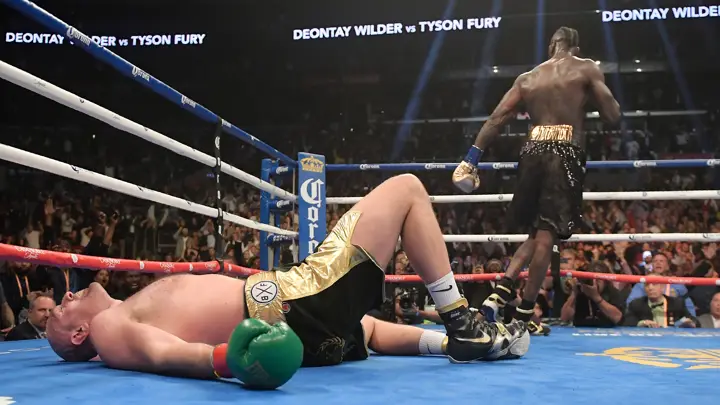 Fuente1
♛ _༄Segundo combate༄ _♛
♛ _༄Second bout༄ _♛
En el segundo combate, sigue en juego el cinturón del CMB, en poder del Norteamericano el bombardero de bronce Deontay wilder y comienza el combate como comenzó el primer combate con dominio del inglés Tyson fury, pero la diferencia es la ferocidad del inglés, queriendo noquear desde el mismo primer round, quien maneja el jab majestuosamente y mantiene en la distancia al Norteamericano; fury sigue dominado los asaltos siguientes, y conecta golpes de poder que hacen caer en varias oportunidades al norteamericano; en el Clint el referí se le hace difícil, separarlos, porque en ningún momento dejan de golpear, el tercero en el ensogado, con mucho trabajo para separar a los peleadores, en el séptimo asalto la esquina de Deontay wilder tiro la toalla al ver como el norteamericano, era golpeado en la esquina con varias combinaciones de poder y luego se desata la polémica, al ver Deontay wilder, que habian parado la pelea, reclamando la accion tomada por su esquina. Un triunfo claro de Tyson fury, una de las mejores peleas que he visto, por el grado de agresividad, sin round de estudios, solo un objetivo el nocaut.
In the second fight, the WBC belt is still in play, held by the American bronze bomber Deontay Wilder and the fight begins as the first fight began with the dominance of the Englishman Tyson Fury, but the difference is the ferocity of the Englishman, wanting to knock out from the first round, who handles the jab majestically and keeps the American in the distance; Fury continues to dominate the following rounds, and connects power punches that make the American fall several times; In Clint the referee found it difficult to separate them, because at no time did they stop hitting, the third in the ring, with much work to separate the fighters, in the seventh round the corner of Deontay Wilder threw in the towel to see how the American was beaten in the corner with several power combinations and then the controversy broke out, when Deontay Wilder saw that they had stopped the fight, claiming the action taken by his corner. A clear victory for Tyson Fury, one of the best fights I've seen, for the degree of aggressiveness, no study round, only one goal, the knockout.
♛ _༄❄ ❆✺❄ ❆ ✺❄ ❆✺❄ ❆ ✺༄ _♛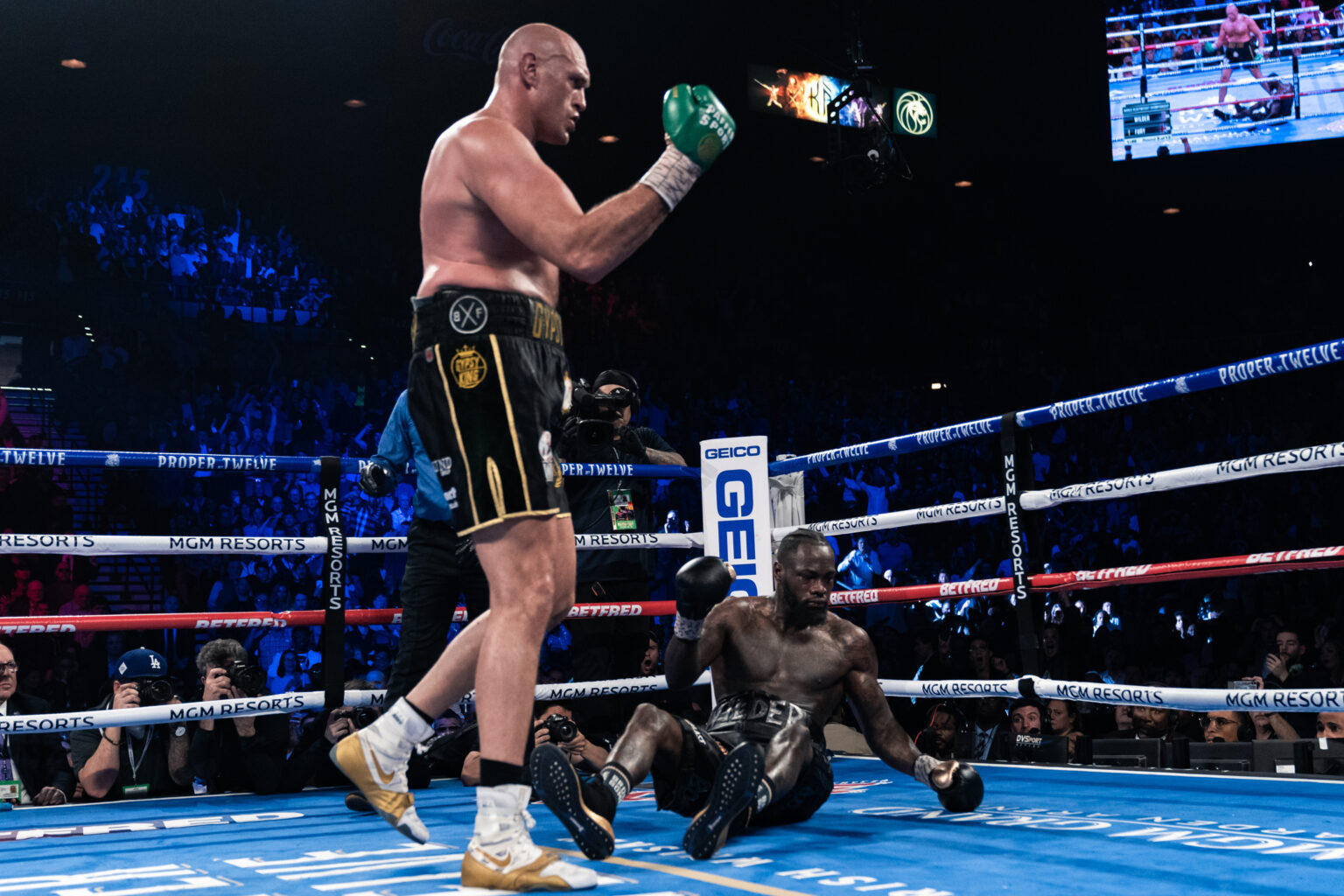 Fuente1
♛ _ La tercera es la vencida♛
♛ _ Third time's the charm _♛
Este sábado 09 de octubre se define en esta revancha, quién es el rey de esta trilogía, que ha captado a mucho público por el gran espectáculo que han presentado, no solo van a buscar el cheque de la paga, que es muy jugoso, sino que existe pólvora en el ambiente, ya que el norteamericano Deontay wilder, quiere tomar venganza, por la única derrota de su carrera y sabe lo que es tumbar al Rey gitano Tyson fury, los ingredientes están mezclados para un gran combate y se los aseguro en estas peleas no hay round de estudio esta pelea termina en nocaut, un gran combate.
This Saturday, October 9, this rematch will define who is the king of this trilogy, which has attracted a lot of public for the great show they have presented, not only will they seek the paycheck, which is very juicy, but there is gunpowder in the atmosphere, The American Deontay Wilder wants to take revenge for the only defeat of his career and he knows what it is to knock down the Gypsy King Tyson Fury. The ingredients are mixed for a great fight and I assure you that in these fights there is no study round, this fight ends in a knockout, a great fight.
♛ _༄❄ ❆✺❄ ❆ ✺❄ ❆✺❄ ❆ ✺༄ _♛
Espero que les haya gustado - I hope you liked it
---
---