HIVE FPL | Planning Ahead for GW9 - GW16

As the league leader (humble brag 😅), I am feeling the pressure of having to keep ahead of the pack. Simply put, I have to keep up the pace and try as hard as possible to keep widening the gap this early in the Premier League season.
With that in mind, you can't just look at the next game week without thinking ahead. The goal is to avoid getting stuck with players you have to move on and be forced to take point deductions.
Of course, GW12 is just around the corner where Arsenal and Manchester City players will have a blank. I suspect a bunch of people will be triggering their wildcards (if they haven't already) and more likely their free hit chips so that they don't lose the likes of Haaland and Cancelo.
Lucky FPL managers will claw back some points to climb up the table, while the unlucky once will falter. Regardless of where you fall, there will be other chances after the World Cup to make amends.
Teams to look out for!
---
If you are doing some long term planning till GW16, it is probably time to dump your precious Arsenal assets. Not to say that the likes of Jesus, Martinelli and Saka can't rake in points against Spurs and Liverpool.
But can you afford to take the chance when they also blank in GW13 while there are better alternatives? A question to keep in mind!
Here are some teams, highlighted in yellow, you might want to look at next week.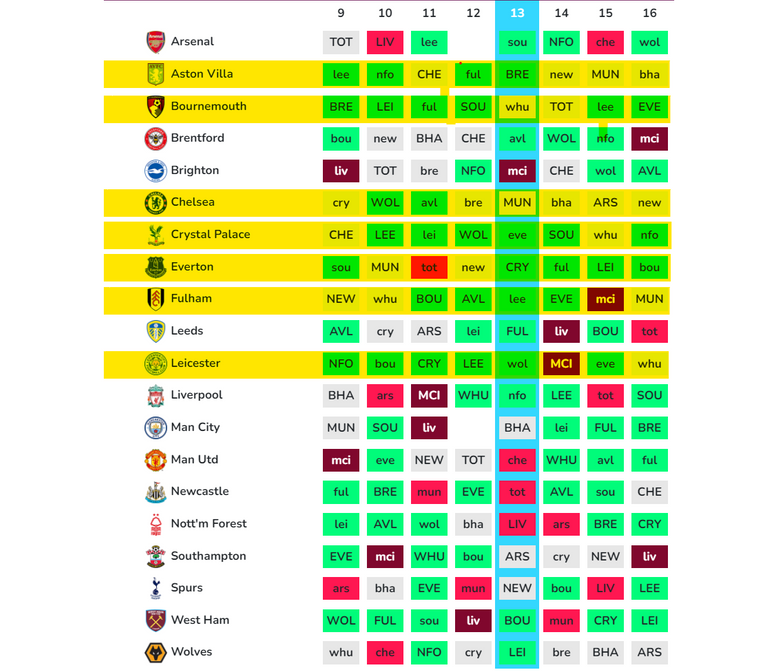 Conclusion
---
For those fortunate managers with free hit chips or wildcards, you have an excellent opportunity to create a fantastic team that will see you to GW16. The likes of Mitrovic, Sterling and even Anthony Gordon come to mind.
What other players could we bring in to maximise our GW9 points?
---
---