Manchester United | Ralph Rangnick was a massive mistake.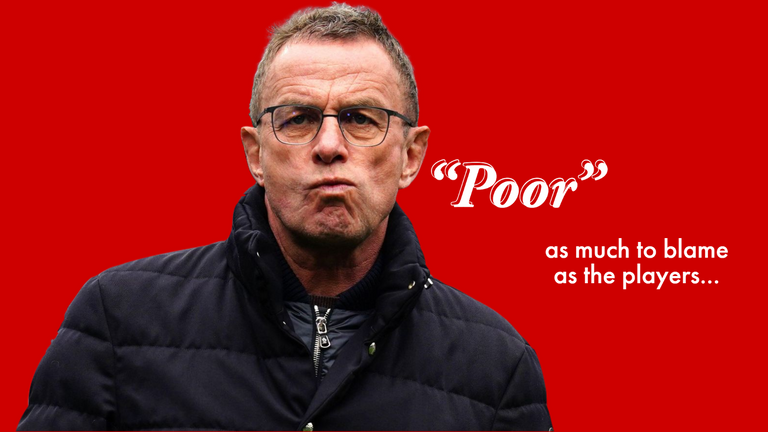 Two days ago I had the utter displeasure of watching United getting smashed 4 goals without reply and the saddest thing about it was we never even looked like scoring. Normally I wouldn't be caught watching Man United games ever since the fight left us, but the win at Brentford suckered me in.
You see, I was hoping for a strong three-game finish after the draw at Chelsea. The 3-nil win at home to Brentford really pulled me back in hoping for another win away to Brighton. However, as soon as the game began, it was clear we were going to lose. Brighton outplayed us. They breezed through the midfield as if it wasn't even there.
They used McTominay as a pressing trigger every time the ball was passed to him in midfield because he had no technical skills. He is a turn and run merchant.
To make things worse, every time we got the ball, we just passed it around without any penetration. It doesn't look like we are being coached at all. It was the exact same thing Ole was being accused of despite some high-octane football games and consistent top four finishes.
It is either Rangnick doesn't know how to set-up a team or he has made the players so disillusioned that they don't even care to play for him. He didn't make any proactive changes during the Brighton game either. He just stood there on the sidelines staring onto the pitch like a casual fan. I was infuriated by that to the point of turning the game off.
Mr Press Conference
---
Additionally, there is this narrative going around in the fanbase on Twitter that he has done a great job of exposing the rot in the team and in the club.
I know we have several divas in the squad but shouldn't the bare minimum be to get a tune out of the rest of the team?
Marcus Rashford in particular has suffered torrid games on the right wing while Sancho has put in poor to mid performances on the left wing. When did Rashford on the right become a thing?
Maguire is another. He has probably contributed to half of our conceded goals through defensive errors alone. Only recently was he taken out of the team after an unfortunate bomb threat at home.
Finally, De Gea has had such a torrid time at the back despite saving us on numerous occasions. He has conceded over 50 goals and that could be rough on the goal keeper. Dean Henderson has been rotting on the sidelines despite putting in impressive performances, especially with his distribution and command of his box.
All in all, Ralph Rangnick has been a spectacular failure. He lacks so much as a manager. I would go as far as calling him boring and archaic.
---
---