COMBINACIÓN DE PIERNAS Y CARDIO / COMBINATION OF LEGS AND CARDIO
---
Mayormente las rutinas basadas en Cardio, tienen entrenamientos exigentes para las piernas, pues, ésta no es la excepción.
Mostly the routines based on Cardio, have demanding training for the legs, well, this is no exception.
---
Hola mi gente de @fulldeportes y aquellos fanáticos del fitness en la plataforma de hive, espero tengan un excelente día. Quisiera compartir con ustedes una muy buena rutina, la cual se enfocara en la activación del sistema cardiovascular y en conjunto con el fortalecimiento de las piernas.
Hello my people from @fulldeportes and those fitness fans on the hive plataform, I hope you have a great day. I would like to share with you a very good routine, which will focus on the activation of the cardiovascular system and in conjunction with the strengthening of the legs.
---
Cuando nos concentramos en Ejercicios cardiovasculares, mayormente, el enfoque en cuanto a la exigencia, se la lleva en gran medida las piernas. Pues, esta rutina no es la excepción, y es por una sencilla razón.
When we focus on Cardio, mostly the focus on hard work is largely carried by the legs. Well, this routine is no exception, and it's for a simple reason.
Al trabajar nuestro tren inferior, derrochamos una cantidad de energía impresionante, pues, esos es lo que debemos aprovechar, y esto sucede porque los músculos del tren inferior son extensos y el esfuerzo para su desarrollo es mayor. Aunado a Esto, las rutinas con saltos, son movimientos de alto nivel, así que, te invito a realizar conmigo estos ejercicios.
When working our lower body, we waste an impressive amount of energy, because that is what we must take advantage of, and this happens because the muscles of the lower body are extensive and the effort for their development is greater. In addition to this, routines with jumps are high-level movements, so I invite you to perform these exercises with me.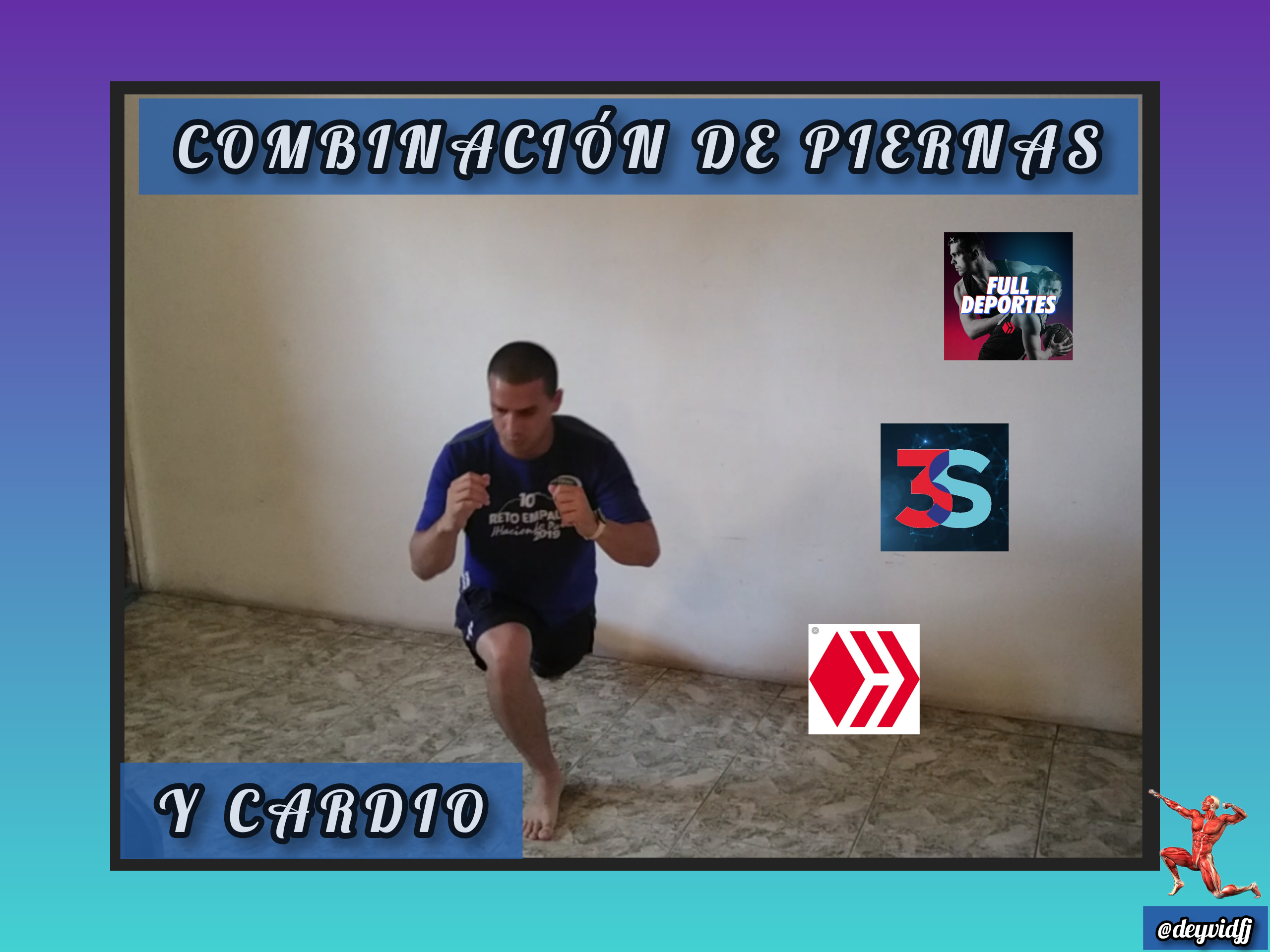 Imagen editada en la aplicación de InShot. | Por @Deyvidfj
Ahora bien, te recomiendo realizar un bueno calentamiento específico y cardiovascular, puesto que, vamos a realizar movimientos que involucran esfuerzos significativos para las articulaciones, tanto rodillas, tobillos, cadera, etc. Es importante este tipo de acondicionamiento porque te permitirá trabajar mejor la rutina y además, evitará alguna lesión.
Now, I recommend you do a good specific and cardiovascular warm-up, since we are going to perform movements that involve significant efforts for the joints, both knees, ankles, hips, etc. This type of conditioning is important because it will allow you to work the routine better and also, it will avoid any injury.
Nota: Los ejercicios de calentamiento tendrán una duración de 30 segundos cada uno. Además, te recomiendo realizar 2 series y así, estar mejor preparado y empezar con la rutina. La recuperación entre ejercicios será de 30 segundos y entre series de 2:00 Minutos.
Note: The warm-up exercises will last 30 seconds each. In addition, I recommend you do 2 series and thus, be better prepared and start with the routine. The recovery between exercises will be 30 seconds and between series of 2:00 minutes.
SALTOS DE TIJERAS
JUMPS OF SCISSORS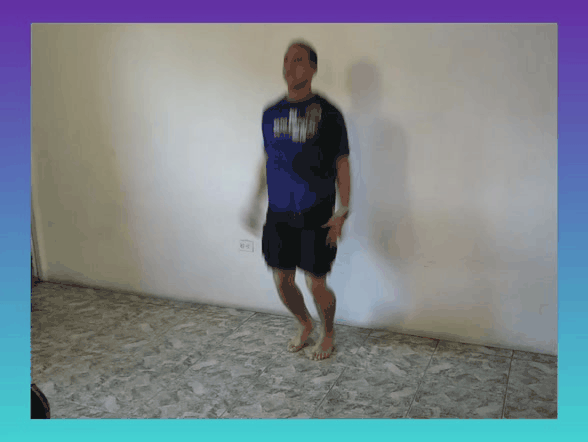 Imagen editada en la aplicación de InShot. | Por @Deyvidfj
CRUCE DE PIERNAS Y BRAZOS
CROSSING ARMS AND LEGS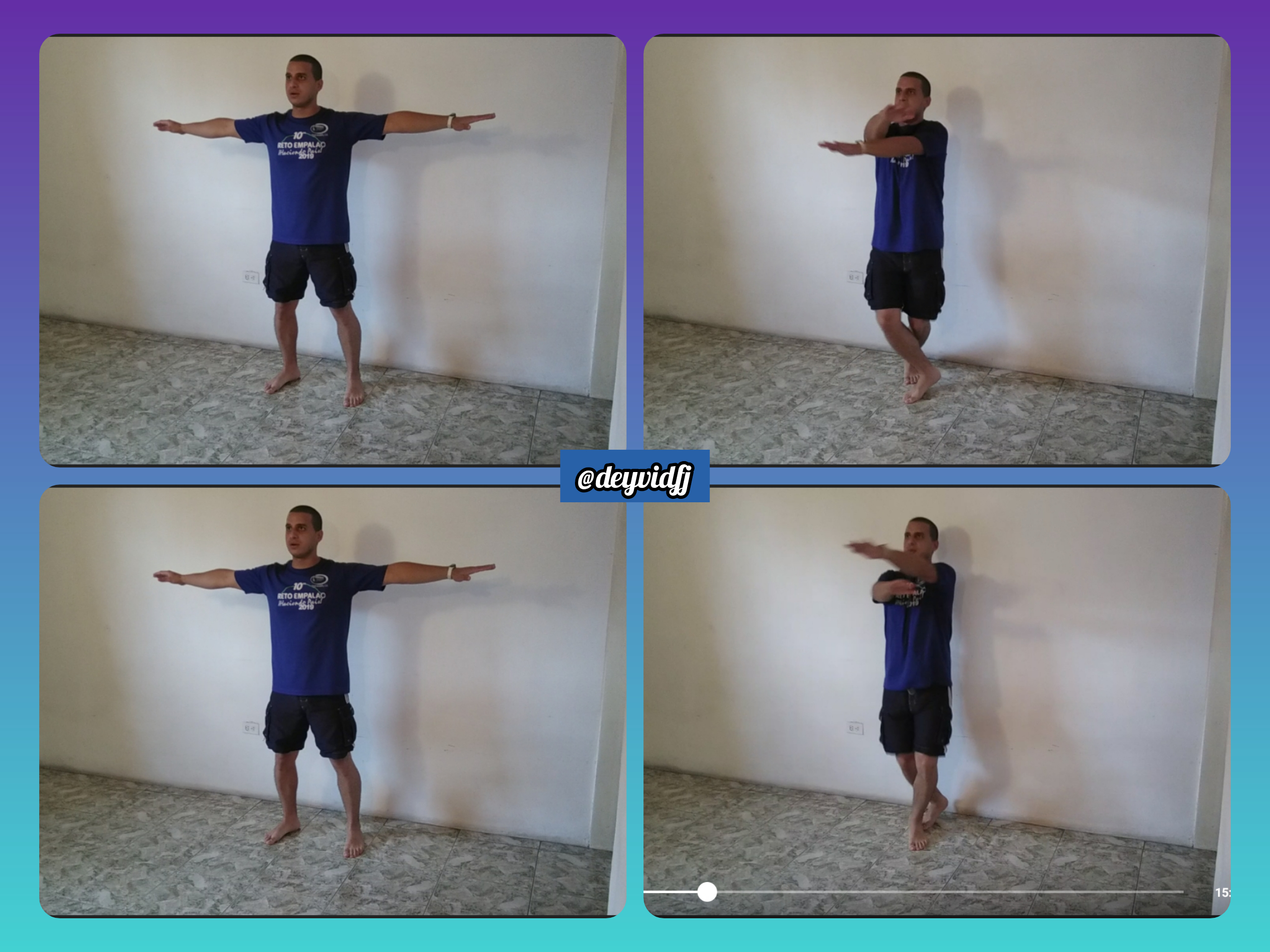 Imagen editada en la aplicación de InShot. | Por @Deyvidfj
TROTE ESTACIONARIO
STATIONARY JOGGING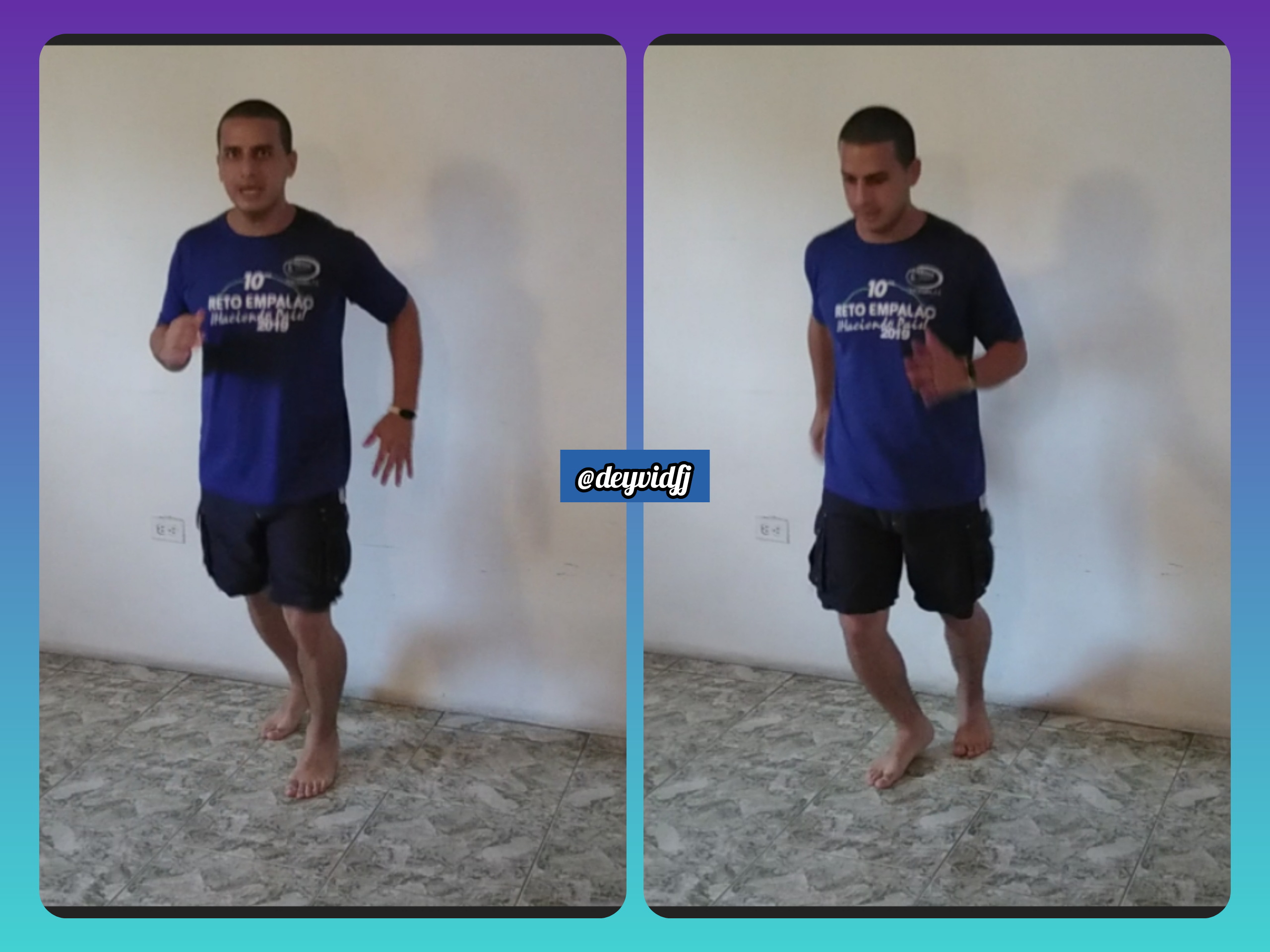 Imagen editada en la aplicación de InShot. | Por @Deyvidfj
Luego de realizar del calentamiento , es imprescindible acotar que, la ejecución de cada ejercicio es importante para obtener. Y es por ello, que te recomiendo realizar cada movimiento pausado y sin apuro. Y te aseguro que obtendrás excelentes beneficios.
After performing the warm-up, it is essential to note that the execution of each exercise is important to obtain. And that is why I recommend you to make each movement slowly and without haste. And I assure you that you will get excellent benefits.
No obstante, estos tipos de ejercicios son explosivos, por lo que el control de tu respiración es vital para el éxito de la rutina. Además, hay un punto que debe tomarse en cuenta, y, me refiero a la coordinación y equilibrio de tu cuerpo. Ahora bien, aquí te muestro estos 4 ejercicios estarán basados en tiempo transcurrido.
However, these types of exercises are explosive, so control of your breathing is vital to the success of the routine. In addition, there is a point that must be taken into account, and I am referring to the coordination and balance of your body. Now, here I show you these 4 exercises will be based on elapsed time.
Cada ejercicio tendrá una duración de 30 segundos minuto, una recuperación entre ellos de 45 segundos y un descanso entre series de 2:00 Minutos (puede variar dependiendo de tu capacidad, no hay problema).
Each exercise will have a duration of 30 seconds per minute, a recovery between them of 45 seconds and a rest between series of 2:00 minutes (it can vary depending on your capacity, no problem).
SENTADILLAS CON SALTO
JUMP SQUATS
En primer lugar, debemos conocer que este ejercicio, es una de las modificaciones que tiene una sentadilla convencional. Nos ubicamos con las puntas de los pies y realizamos una sentadilla (manteniendo las rodillas semiflexionadas), al mismo tiempo contraemos todo el cuerpo (obtener equilibrio), luego, nos elevamos con un salto, y al aterrizar, nos aseguramos de caer con las puntas de los pies, para nuevamente repetir el movimiento.
First of all, we must know that this exercise is one of the modifications that a conventional squat has. We stand on the balls of our feet and perform a squat (keeping the knees semi-flexed), at the same time contracting the whole body (obtaining balance), then we rise with a jump, and when landing, we make sure to land on the toes. of the feet, to again repeat the movement.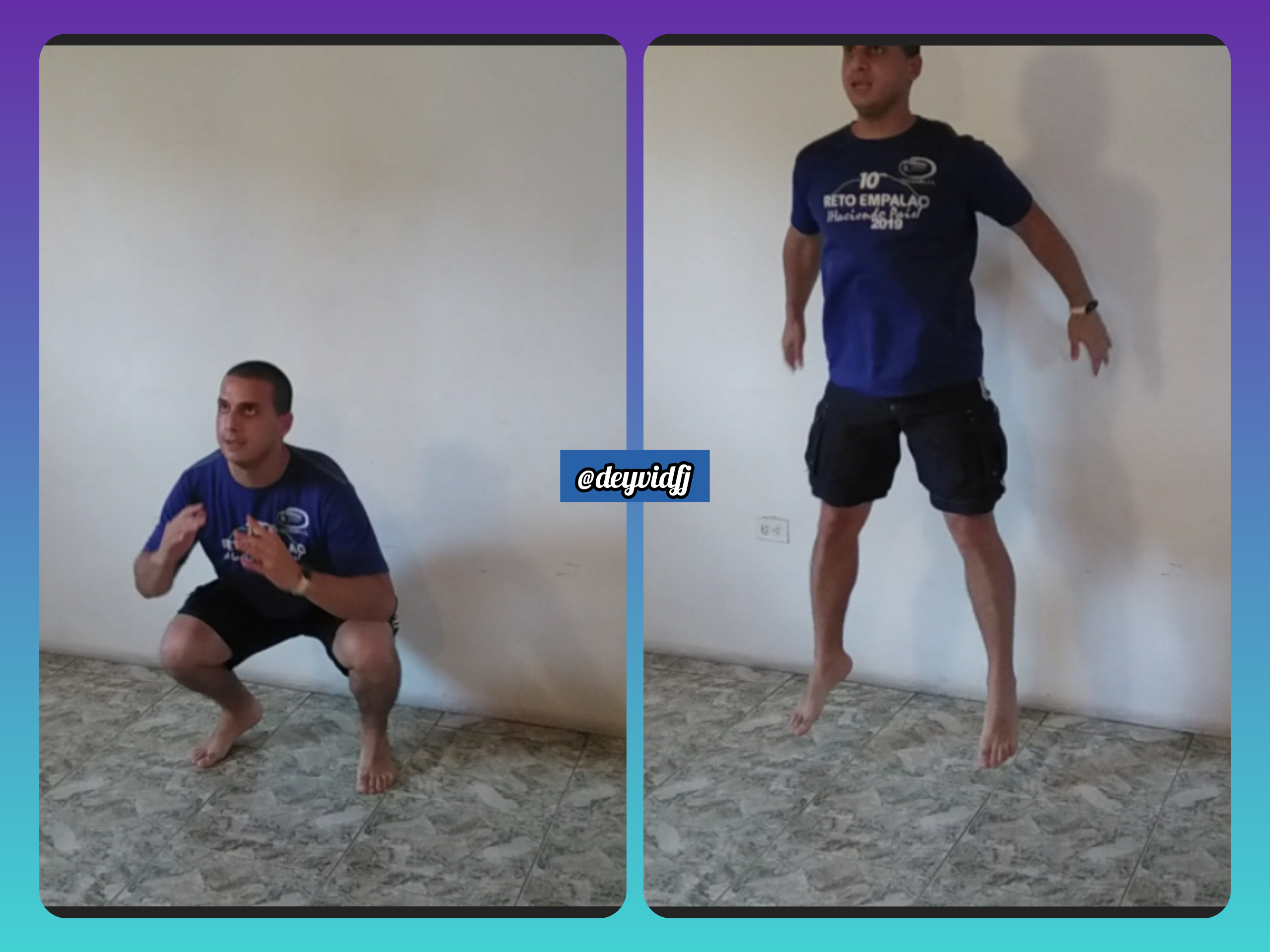 Imagen editada en la aplicación de InShot. | Por @Deyvidfj
ELEVACIÓN DE RODILLAS
KNEE RAISES
En primer lugar, nos ubicamos de pie, con las piernas a la anchura de los hombros, luego, dobla la rodilla y la cadera, y en el mismo momento, elevamos la pierna flexionada, tratando de llevarla lo más que pueda al pecho (repite el movimiento con la pierna contraria). Es importante, tomar en cuenta las oscilaciones y el movimiento de los brazos, puesto que esto te permite tener un mejor equilibrio y coordinación.
First of all, we stand up, with our legs shoulder-width apart, then bend the knee and the hip, and at the same moment, raise the bent leg, trying to bring it as far as possible to the chest (repeat the movement with the opposite leg). It is important to take into account the oscillations and movement of the arms, since this allows you to have better balance and coordination.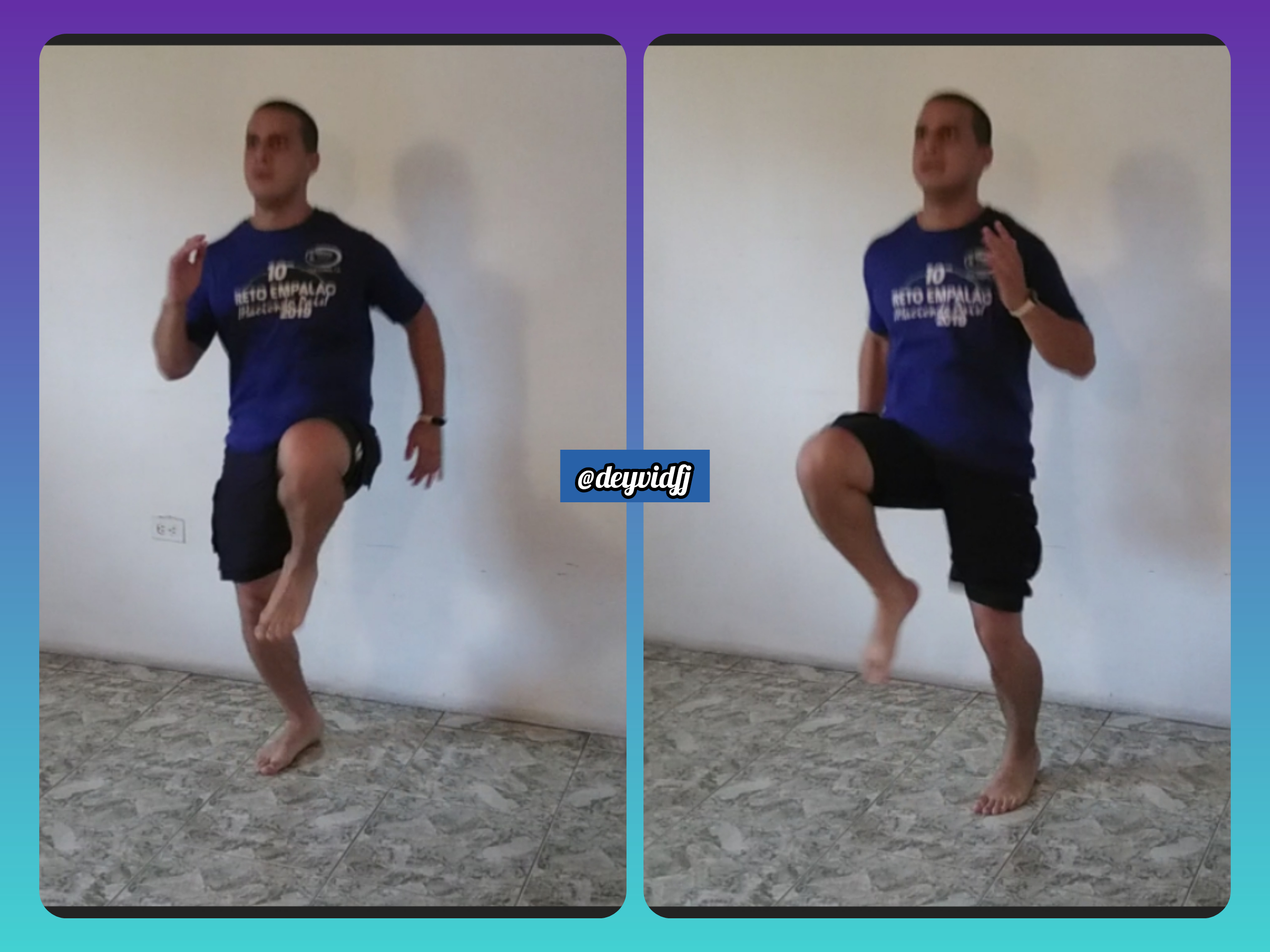 Imagen editada en la aplicación de InShot. | Por @Deyvidfj
BURPEES MODIFICADOS
MODIFIED BURPEES
Nuevamente, nos ubicamos de pie, con las piernas a la anchura de los hombros,
y nos preparamos para bajar a posición de plancha extendiendo las piernas, realizamos una flexión de codos. Luego, devuelve los pies a su posición original y realiza un pequeño salto vertical con los brazos hacia arriba, al caer (con la punta de los pies), realizamos nuevamente el movimiento.
Again, we stand with our legs shoulder-width apart.
and we prepare to go down to a plank position by extending our legs, we perform an elbow flexion. Then, return your feet to their original position and make a small vertical jump with your arms up, landing (with the tips of your feet), we perform the movement again.
Imagen editada en la aplicación de InShot. | Por @Deyvidfj
SALTO DE SKATER
SKATE JUMP
Al igual que la sentadilla con salto, este ejercicio es un modificación de las zancadas cruzadas, con la diferencia que realizaremos un pequeño salto al hacer la transición.
Like the jump squat, this exercise is a modification of the crossover lunge, except that we'll do a little jump as we transition.
Nos colocamos de pie y doblando doblando la rodilla, damos un paso hacia atrás con la pierna izquierda hacía la derecha, y al mismo tiempo nos agachamos (zancada) con la espalda recta. A continuación, hacemos un pequeño salto lateral , tratando de sincronizar el movimiento, realizamos el ejercicio con las piernas contrarias. (Contraer los glúteos es vital para el éxito de este movimiento).
We stand up and bend the knee, we take a step back with the left leg to the right, and at the same time we crouch (stride) with a straight back. Next, we do a small lateral jump, trying to synchronize the movement, we perform the exercise with the opposite legs. (Contracting your glutes is vital to the success of this move.)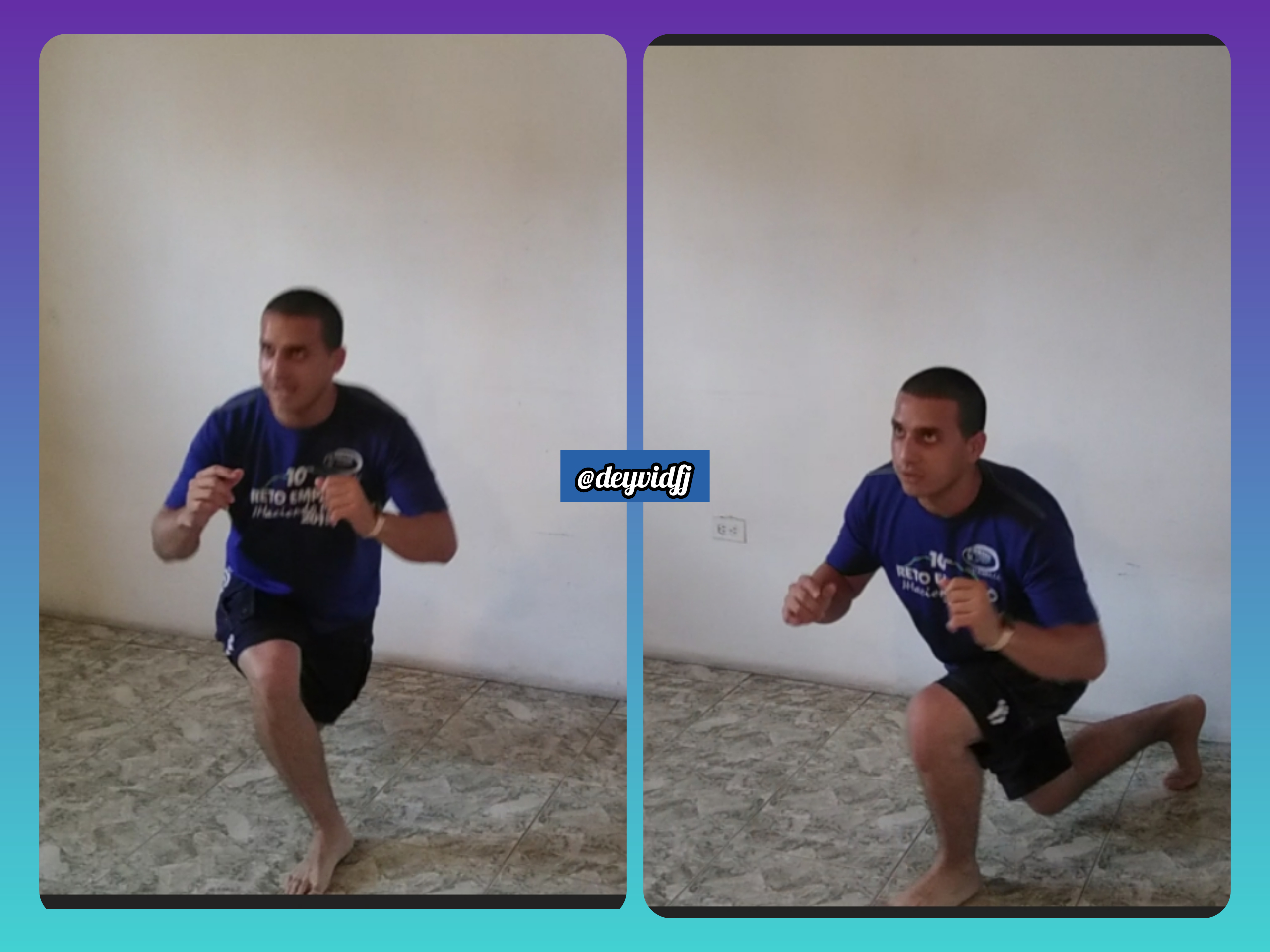 Imagen editada en la ñaplicación de InShot. | Por @Deyvidfj
ESTIRAMIENTOS
STRETCHES
---
ESTIRAMIENTO DE CUÁDRICEPS
QUADRICEPS STRETCH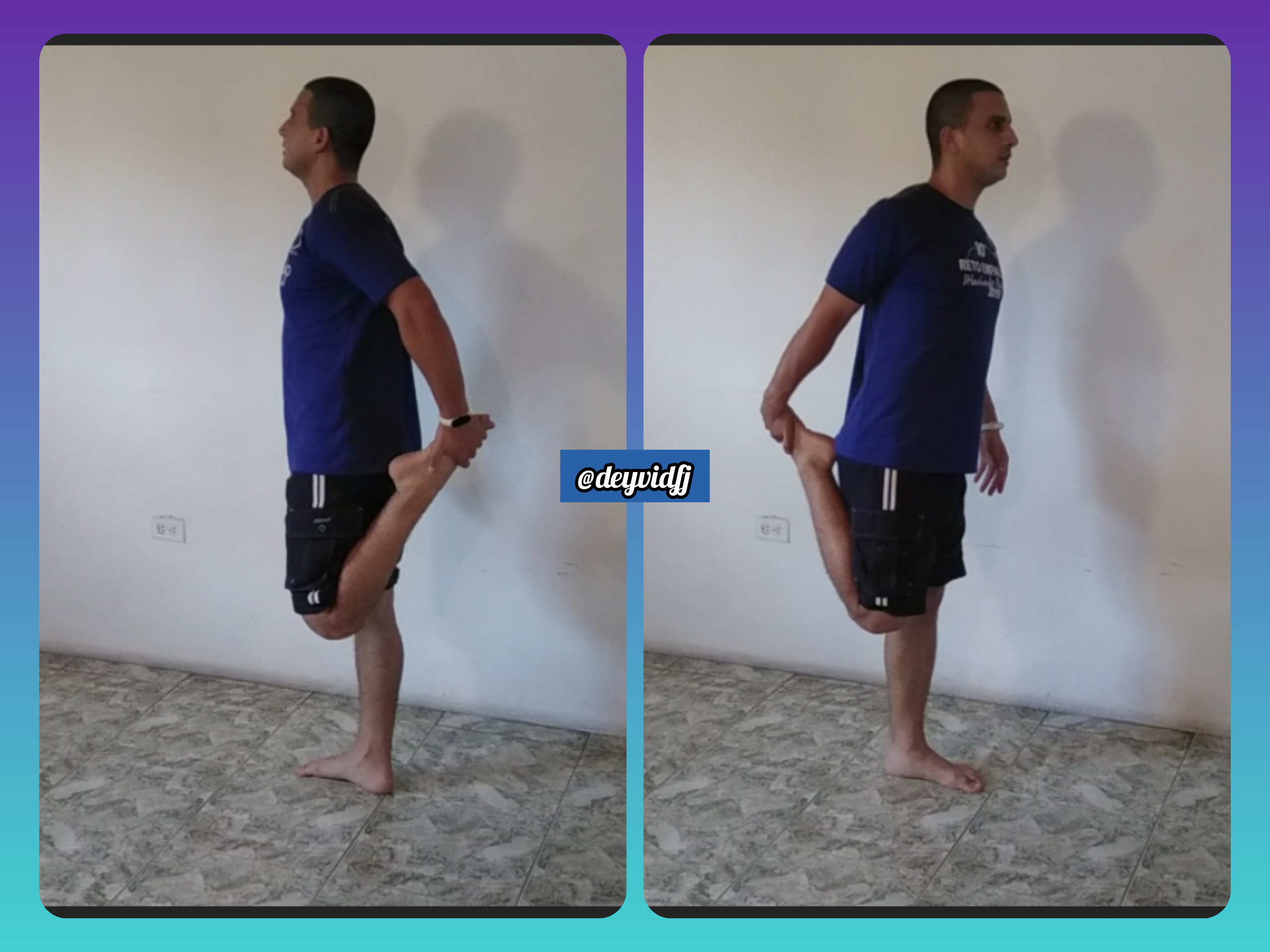 ESTIRAMIENTO, FLEXORES DE CADERA
STRETCHING, HIP FLEXORS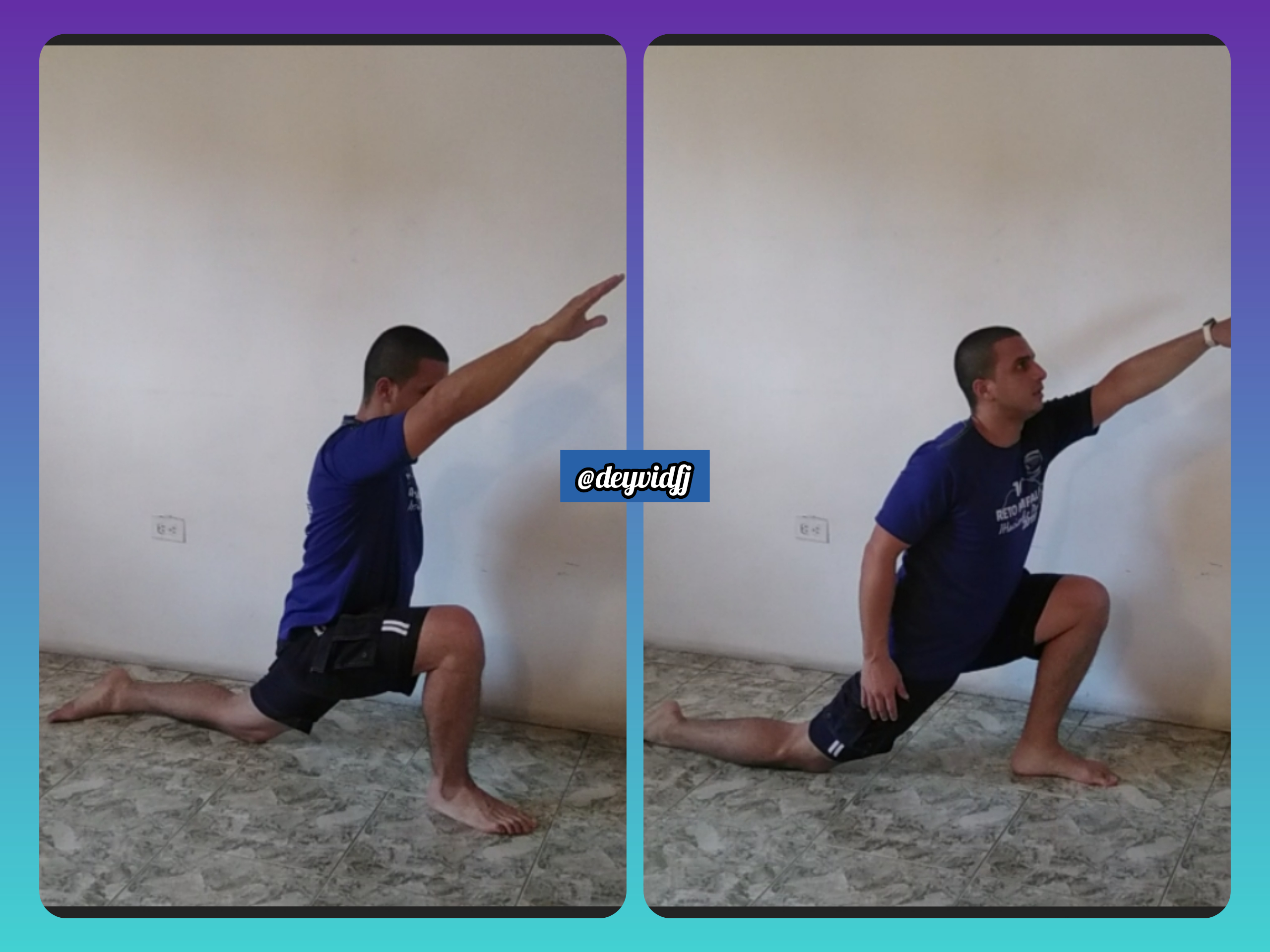 ESTIRAMIENTO DE COBRA
COBRA STRETCH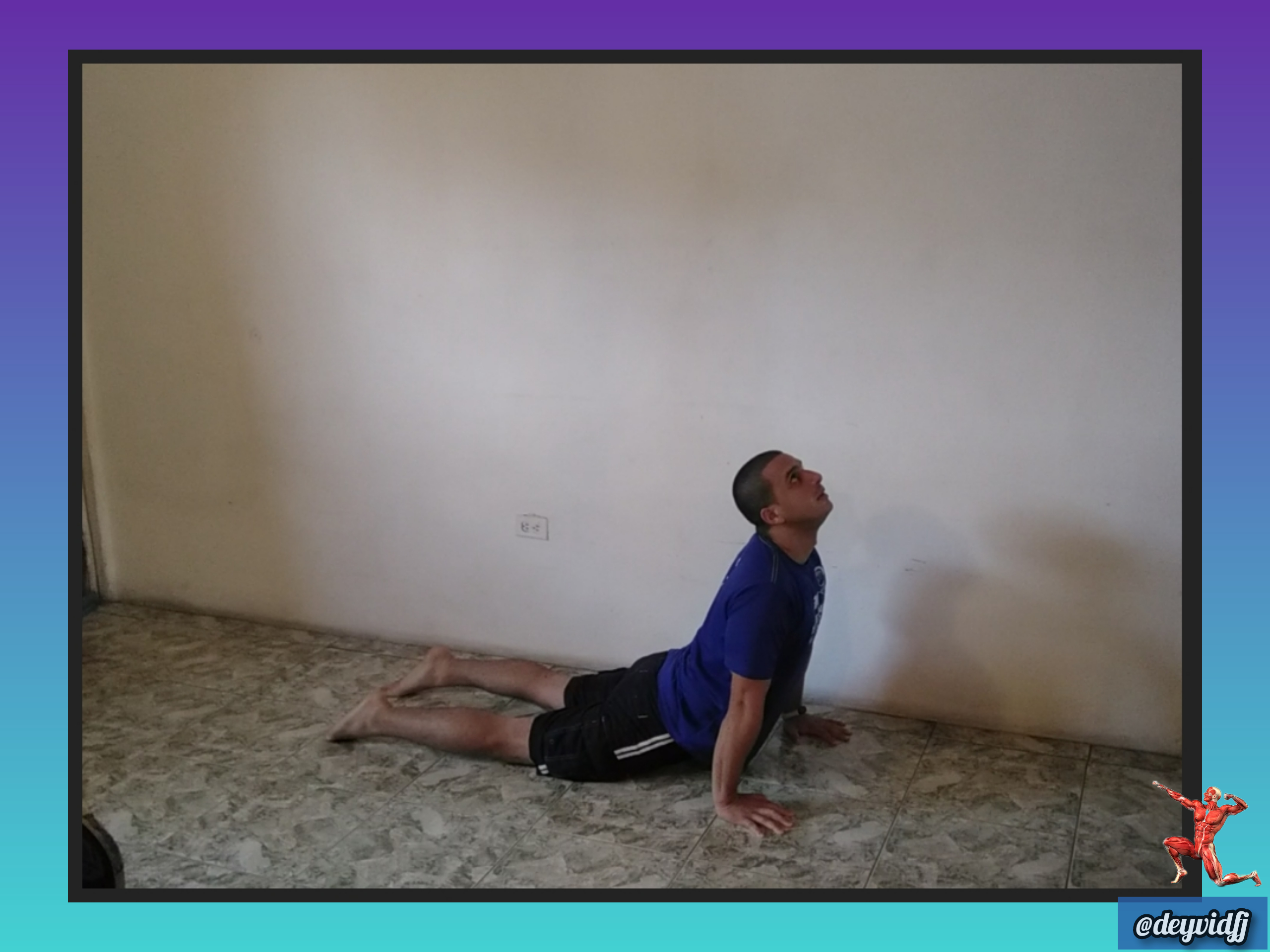 Imagen editada en la aplicación de InShot. | Por @Deyvidfj
Es importante que, luego de realizar los ejercicios, te tomes este tiempo de Estiramiento, para obtener una mejor recuperación de los músculos.
It is important that, after performing the exercises, you take this stretching time, to obtain a better recovery of the muscles.
---
---
Bueno amigos de fulldeportes, Espero que el vídeo les haya gustado y, sobre todo, sido de ayuda para mejorar su condición física. Pronto continuaré trayendo más contenido para ustedes. Así que, espero lo disfruten. Siempre fortalece tu mente y cuerpo. Muchas gracias por leer mi post, nos vemos en la próxima.
Well friends of fulldeportes, I hope you liked the video and, above all, that it was helpful to improve your physical condition. Soon I will continue to bring more content for you. So, I hope you enjoy it. Always strengthen your mind and body. Thank you very much for reading my post, see you in the next one.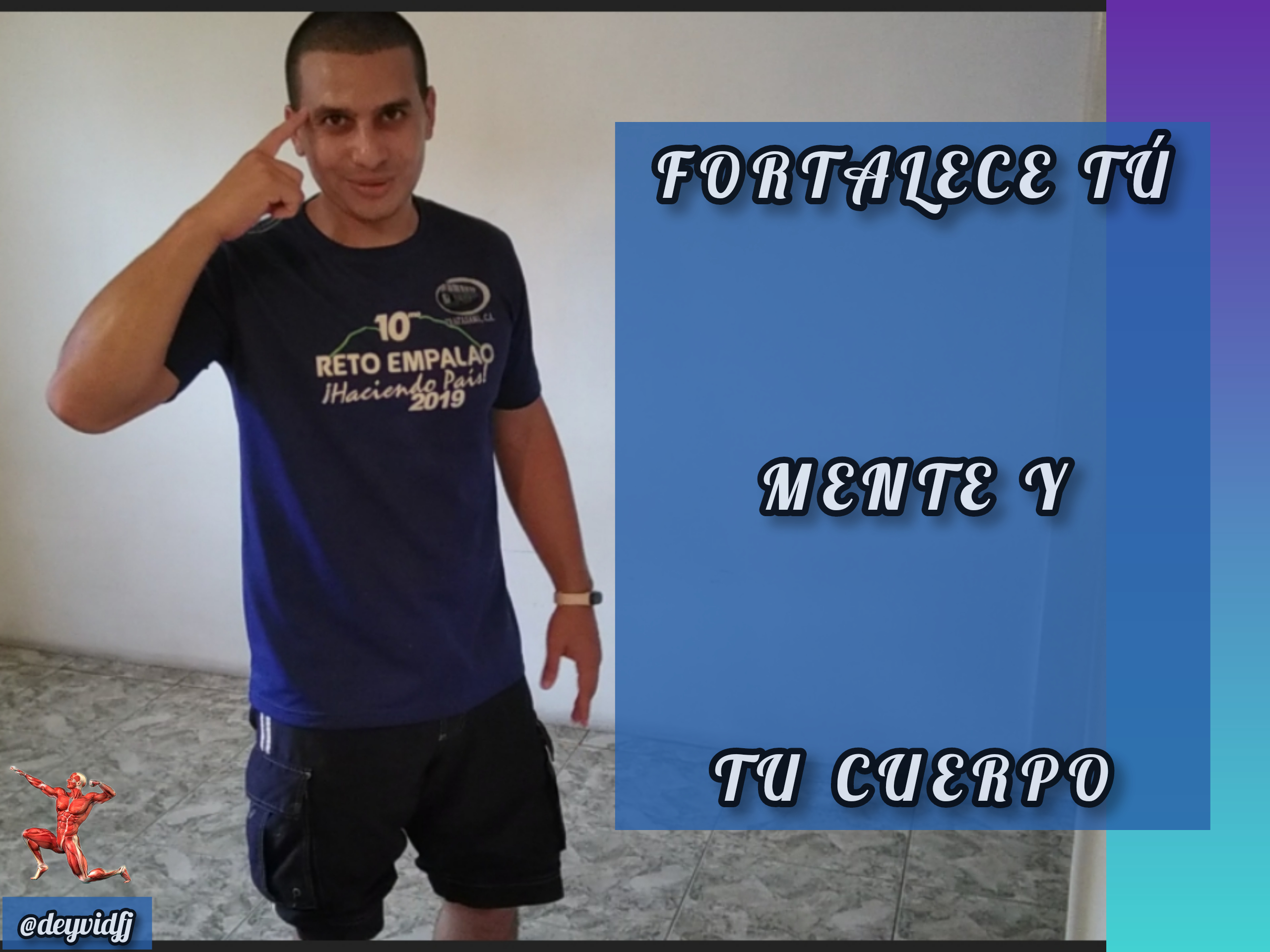 Imagen editada en la aplicación de InShot. | Por @Deyvidfj
---
---
Acreditación de la pista utilizada en el vídeo bajo las ediciones de la aplicación de InShot. Autor: LoveFine, Música: In My Room, Estilo dentro de la app: Ritmo, Género en la app: Party. La pista tiene una duración de 4:14 minutos, es repetida en todo el vídeo y la pueden encontrar en el siguiente link.
Crediting of the track used in the video under the InShot app editions. Author: LoveFine, Music: In My Room, In-app style: Rhythm, In-app genre: Party. The track has a duration of 4:14 minutes, is repeated throughout the video and can be found at the following link.
---
Foto tomada por mi novia Marilegny y editada por mi persona con la aplicación InShot, utilizando mi teléfono celular. El vídeo fue tomado por mi y colocado en una posición única para grabarme, y además editado por mi @deyvidfj.
Photo taken by my girlfriend Marilegny and edited by my person with the InShot app, using my cellphone. The video was taken by me and placed in a unique position to record myself, and also edited by me @deyvidfj.
---
▶️ 3Speak
---
---