¡No hay Excusa!. Rutina De Bíceps En Casa / There is no excuse!. Biceps Routine At Home
---
¿Sueles poner excusas para entrenar tus bíceps?. Pues, aquí está la respuesta. ¡EN CASA!.
Do you usually make excuses to train your biceps? Well, here is the answer. AT HOME!.
---
Hola amigos de hive y @fulldeportes, bienvenidos una vez más a este espacio, dónde te puedes divertir, entrenar y sobre todo mantener tu cuerpo saludable. Recibe un cordial saludo, espero se encuentren muy bien, el día de hoy he venido a mostrar, una rutina auténtica para fortalecer los Bíceps, y si, como dice el título. ¡SIN EXCUSA! y desde casa. Así que, ¡Vamos!.
Hello friends of hive and @fulldeportes, welcome once again to this space, where you can have fun, train and above all keep your body healthy. Receive a cordial greeting, I hope you are very well, today I have come to show you an authentic routine to strengthen the Biceps, and yes, as the title says. NO EXCUSE! and from home. So let's go!.
---
En muchas ocasiones, no le prestamos atención a los músculos de los Bíceps, ya sea porque no tienes acceso a un gimnasio, o, sencillamente porque no posees mancuernas. Particularmente, me ocurría en repetidas ocasiones está situación, pues hoy, romperemos ese paradigma, y empezaremos a fortalecer ese músculo tan importante de tu brazos, y lo mejor de todo, es que, lo haremos desde nuestro hogar.
On many occasions, we do not pay attention to the biceps muscles, either because you do not have access to a gym, or simply because you do not have dumbbells. Particularly, this situation happened to me repeatedly, because today, we will break that paradigm, and we will begin to strengthen that important muscle of your arms, and best of all, we will do it from our home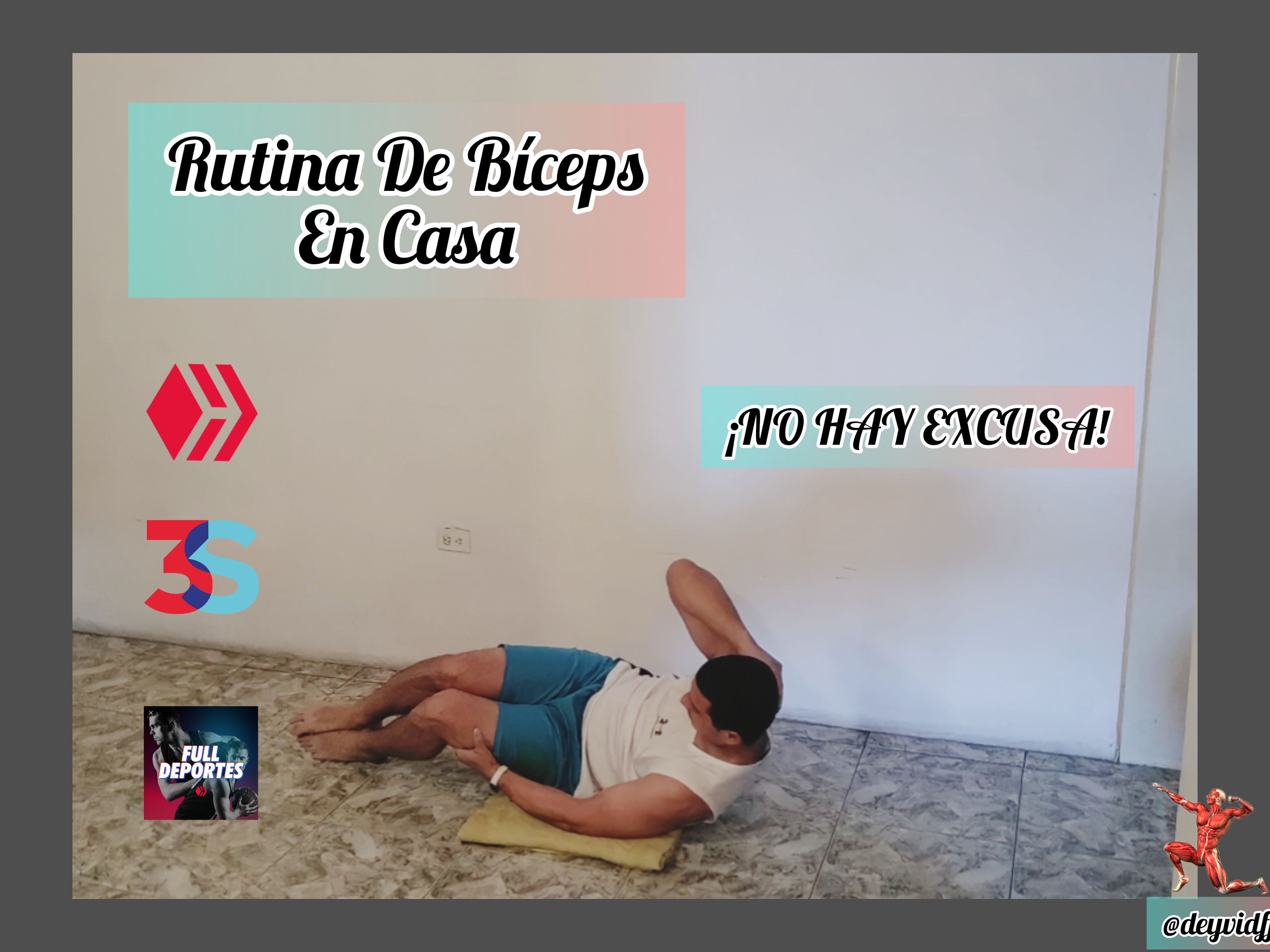 Imagen editada en la aplicación de InShot. | Por @Deyvidfj
Para lograr un buen incremento de masa muscular en esta zona, debemos contraer, mantener, y extender el músculo a trabajar, y como no tenemos mancuernas o alguna máquina que nos permita realizar ciertos movimientos, podemos sustituir con ejecuciones creativas (sin atrofiar) y con nuestro peso corporal.
To achieve a good increase in muscle mass in this area, we must contract, maintain, and extend the muscle to work, and since we do not have dumbbells or any machine that allows us to perform certain movements, we can substitute creative executions (without atrophy) and with our body weight.
Ahora bien, te recomiendo realizar un bueno calentamiento específico antes de comenzar la rutina, especialmente, Movimientos que activen la articulación de los codos. Esto minimiza el riesgo de alguna lesión, y además, al realizar una preparación de los brazos con movimientos, mejora tu rendimiento de la rutina. Recuerde que son 2 Series de Calentamiento. Así qué, ¡COMENCEMOS!.
Now, I recommend you do a good specific warm-up before starting the routine, especially Movements that activate the elbow joint. This minimizes the risk of injury, and also, by preparing the arms with movements, it improves your performance of the routine. Remember that there are 2 Warm-up Series. So, LET'S BEGIN!
---
---
GIRO DE HOMBROS
SHOULDERS TURN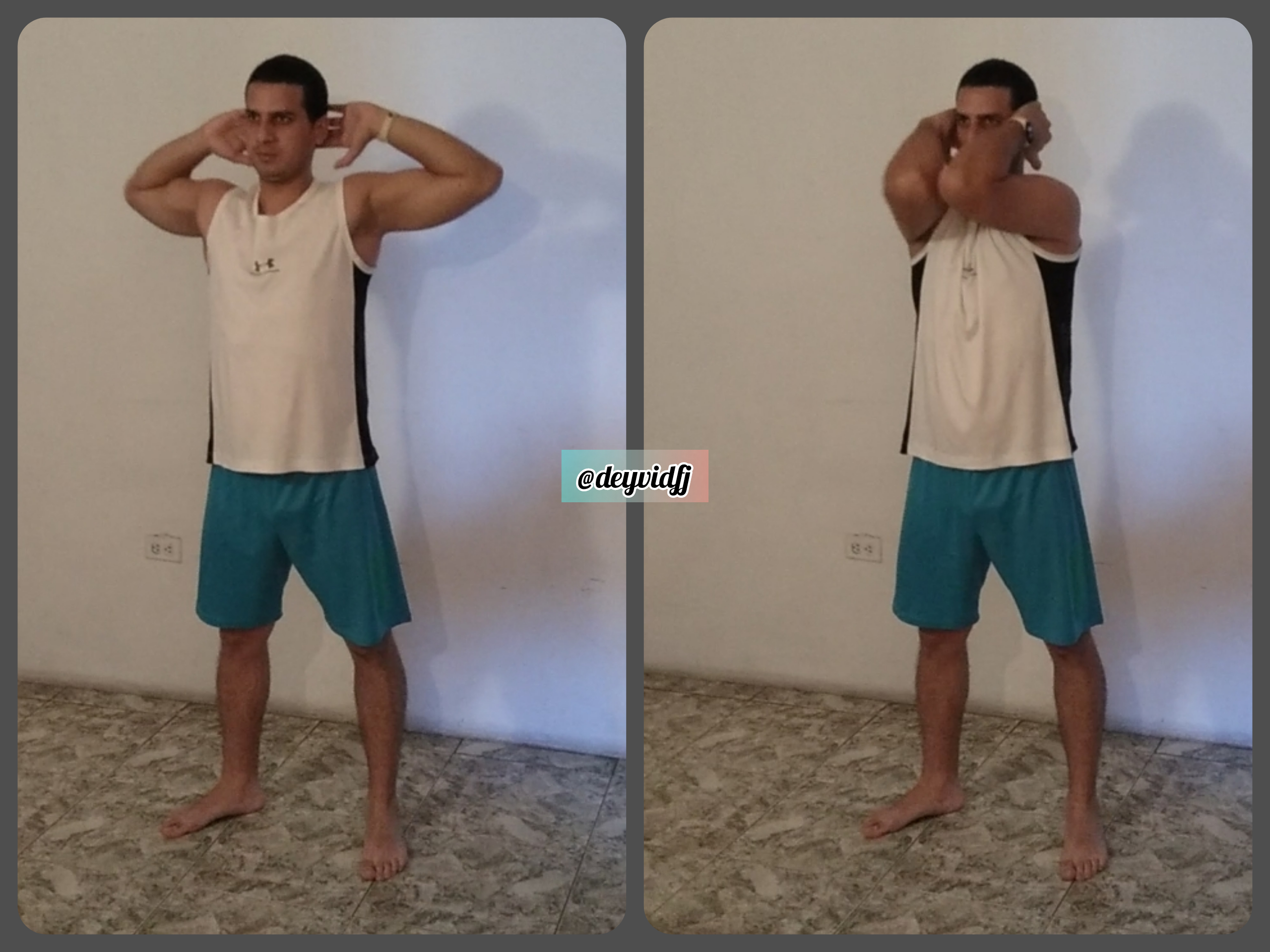 Imagen editada en la aplicación de InShot. | Por @Deyvidfj
GOLPES FRONTALES (JAB)
FRONT PUNCHES (JAB)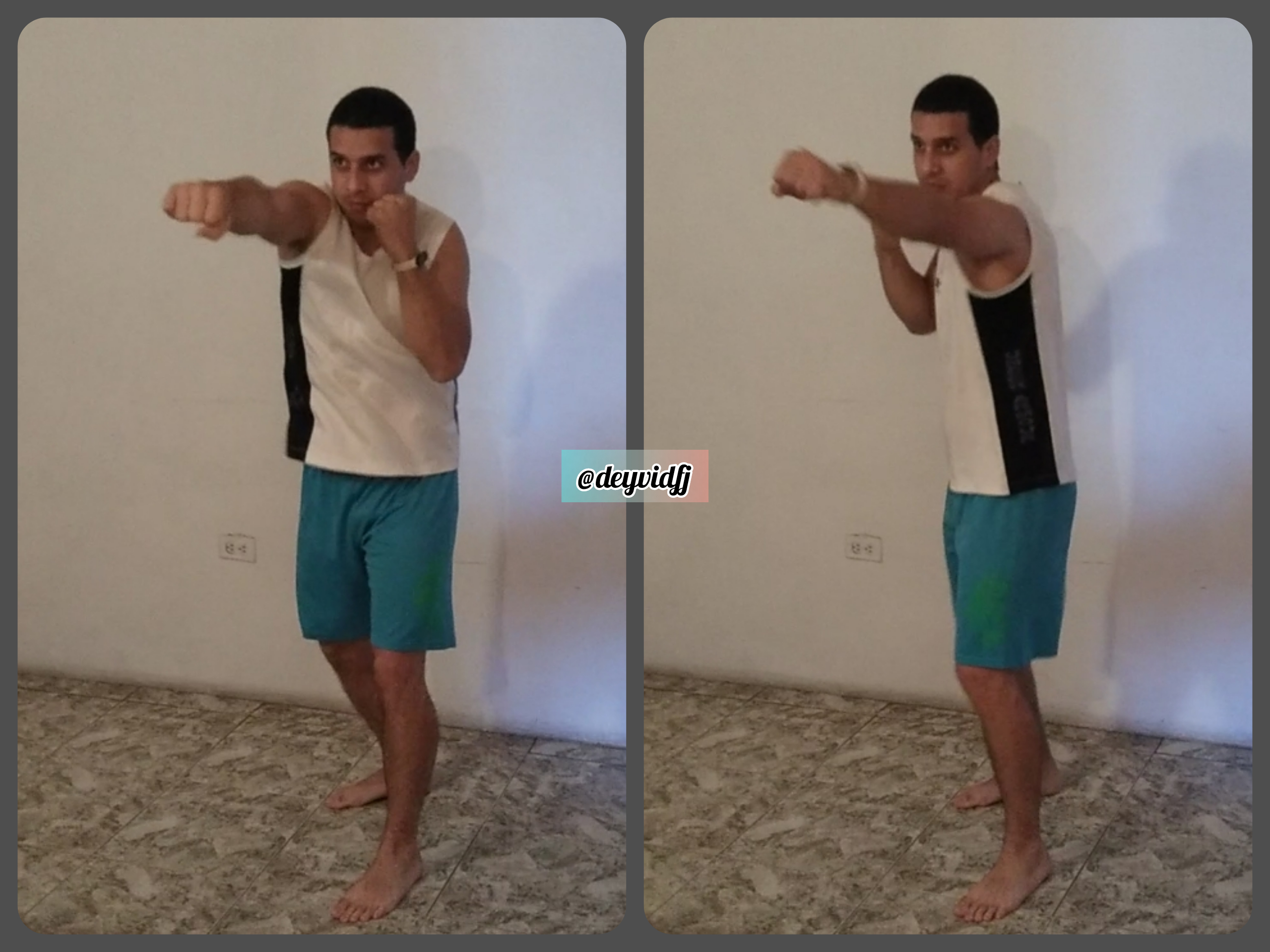 Imagen editada en la aplicación de InShot. | Por @Deyvidfj
CÍRCULOS DE BRAZOS
ARMS CIRCLES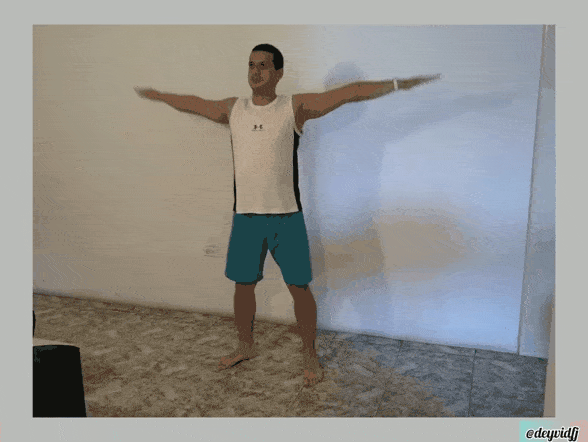 Imagen editada en la aplicación de InShot. | Por @Deyvidfj
Por otro lado, debo señalar que, en cada ejecución, debes contraer el músculo, concéntrate solamente en eso. Esto hace, que el movimiento sea preciso y trabajes correctamente. También, no te preocupes de las repeticiones, si siente, que puede dar más, solo incremente el tiempo estipulado.
On the other hand, I must point out that, in each execution, you must contract the muscle, concentrate only on that. This makes the movement precise and you work correctly. Also, don't worry about the reps, if you feel like you can do more, just increase the time allotted.
Ahora bien, basaremos la rutina en tiempo transcurrido, cada ejercicio tendrá una duración de 30 segundos y un recuperación de 30 segundos, y además, un descanso entre series de 2 Minutos (depende de su capacidad).
Now, we will base the routine on elapsed time, each exercise will have a duration of 30 seconds and a recovery of 30 seconds, and also, a rest between series of 2 minutes (depending on your capacity).
CHIN UP CON APOYO EN ISOMÉTRICO
CHIN UP WITH SUPPORT IN ISOMETRIC
Este primer ejercicio, es una sustitución de las dominadas en barra fija en isométrico (Isometric Chin Up), sin embargo, como estamos entrenando desde casa. Solo necesitamos algunos implementos. Los cuales serán: 2 bancos de la misma altura, un banco más pequeño (opcional), y una barra que soporte tu peso.
This first exercise is a substitution of the fixed bar pull-ups in isometric (Isometric Chin Up), however, as we are training from home. We just need some implements. Which will be: 2 benches of the same height, a smaller bench (optional), and a bar that supports your weight.
Ubicamos la barra sobre los 2 bancos del mismo tamaño, ahora, nosotros estaremos por debajo de esa barra y los pies apoyados en el banco más pequeño (o en el suelo), colocamos las manos en posición Supina ( El Amigo @yeral-diaz Explica los tipos de agarre ) Luego, subimos el torso con la fuerza de los bíceps, y mantenemos la posición por el tiempo estimado.
We place the bar on the 2 benches of the same size, now, we will be below that bar and the feet resting on the smaller bench (or on the ground), we place the hands in Supine position ( El Amigo @yeral-diaz Explain the types of grip ) Then, we raise the torso with the force of the biceps, and we maintain the position for the estimated time.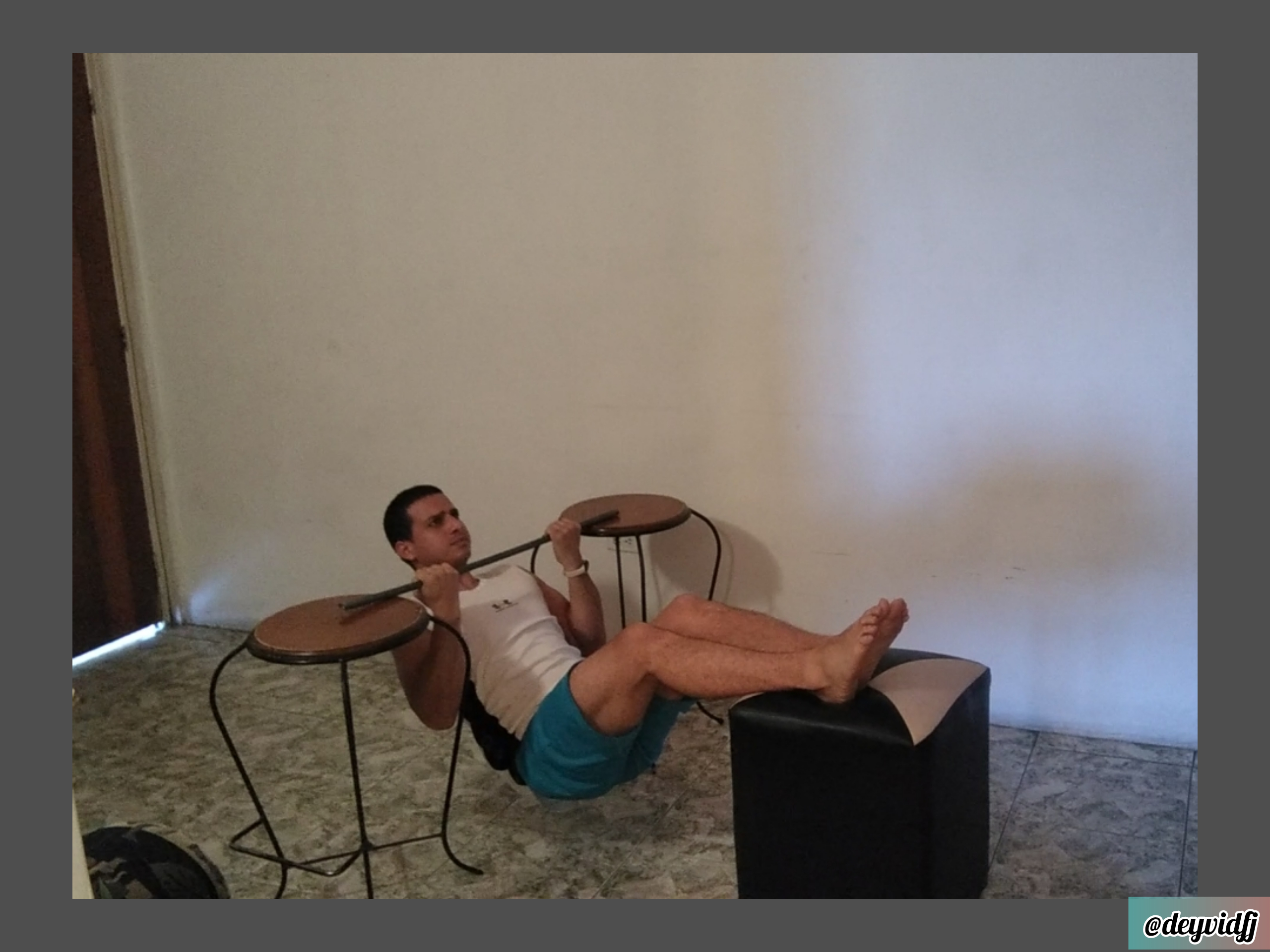 Imagen editada en la aplicación de InShot. | Por @Deyvidfj
FLEXIONES DE BÍCEPS
BICEPS CURL
Nos colocamos en el suelo acostado y de costado, con las rodillas flexionadas y semi-elevadas. Luego, agarra con tu mano, el músculo de la pierna para después, elevar tu torso con la fuerza de tu brazo (no con tu abdomen). Repite el movimiento pausado, y siempre en Contracción del bíceps.
We place ourselves on the floor lying on our side, with our knees bent and semi-raised. Then, grab the leg muscle with your hand and then raise your torso with the strength of your arm (not with your abdomen). Repeat the movement at a leisurely pace, always on Biceps Contraction.
Imagen editada en la aplicación de InShot. | Por @Deyvidfj
FLEXIÓN DE BÍCEPS CON PIERNAS COMO MANCUERNAS
BICEPS CURL WITH LEGS LIKE DUMBBELLS
Para este ejercicio, necesitaremos alguna toalla o liga. De pie, y de espalda a una pared, agarrará con la toalla su tobillo, y tratara de elevar lo más que pueda con su brazo la pierna, una vez arriba, mantenga por 2 segundos, y, extienda el brazo y repita el proceso.
For this exercise, we will need a towel or rubber band. Standing with your back to a wall, grab your ankle with the towel, and try to raise your leg as much as you can with your arm, once up, hold for 2 seconds, and extend your arm and repeat the process.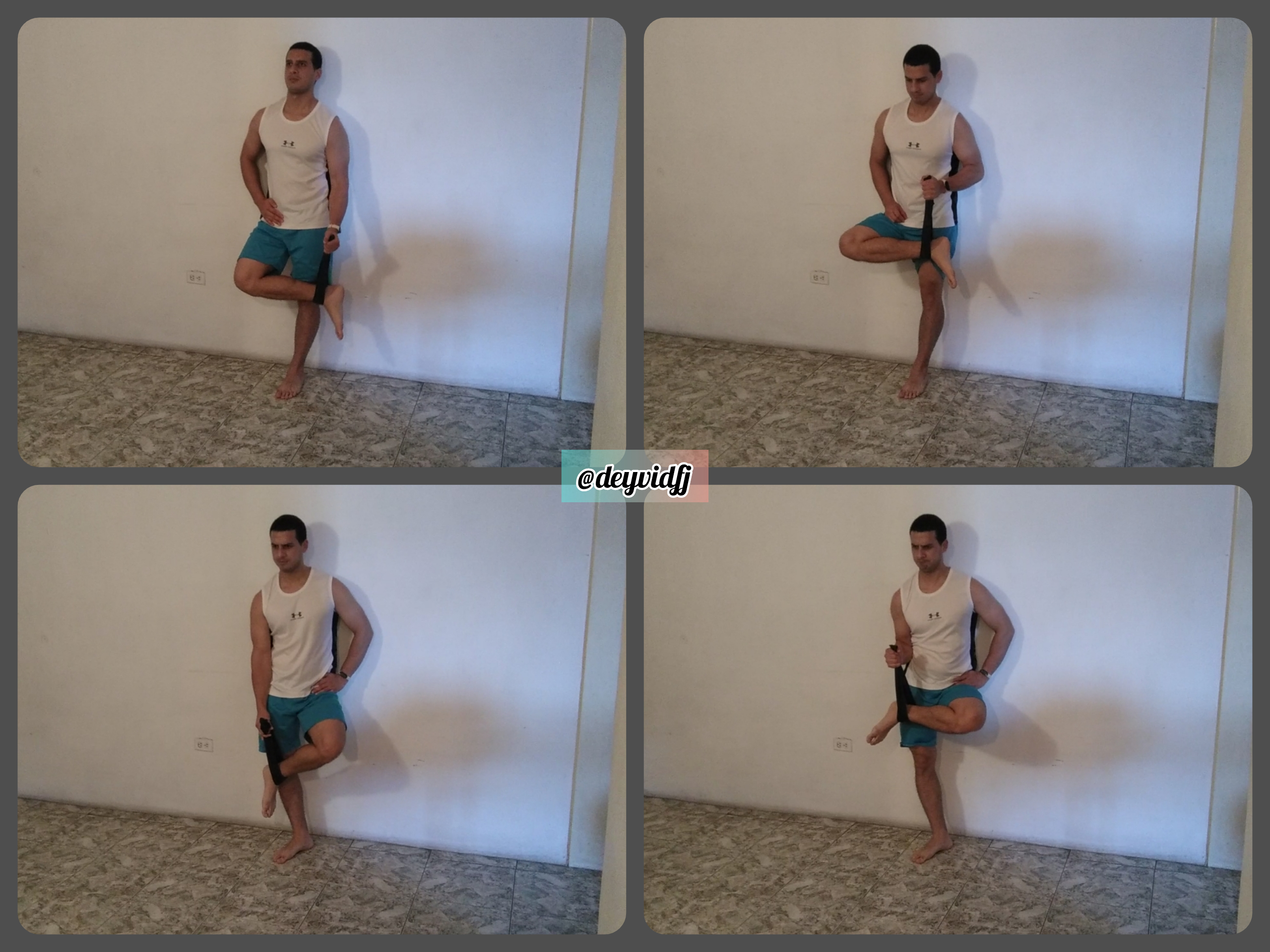 Imagen editada en la aplicación de InShot. | Por @Deyvidfj
---
---
---
---
Bueno amigos de fulldeportes, Espero que el vídeo les haya gustado y, sobre todo, sido de ayuda para mejorar su condición física. Pronto continuaré trayendo más contenido para ustedes. Así que, espero disfruten lo disfruten. Siempre fortalece tu mente y cuerpo. Muchas gracias por leer mi post, nos vemos en la próxima.
Well friends of fulldeportes, I hope you liked the video and, above all, that it was helpful to improve your physical condition. Soon I will continue to bring more content for you. So, I hope you enjoy it. Always strengthen your mind and body. Thank you very much for reading my post, see you in the next one.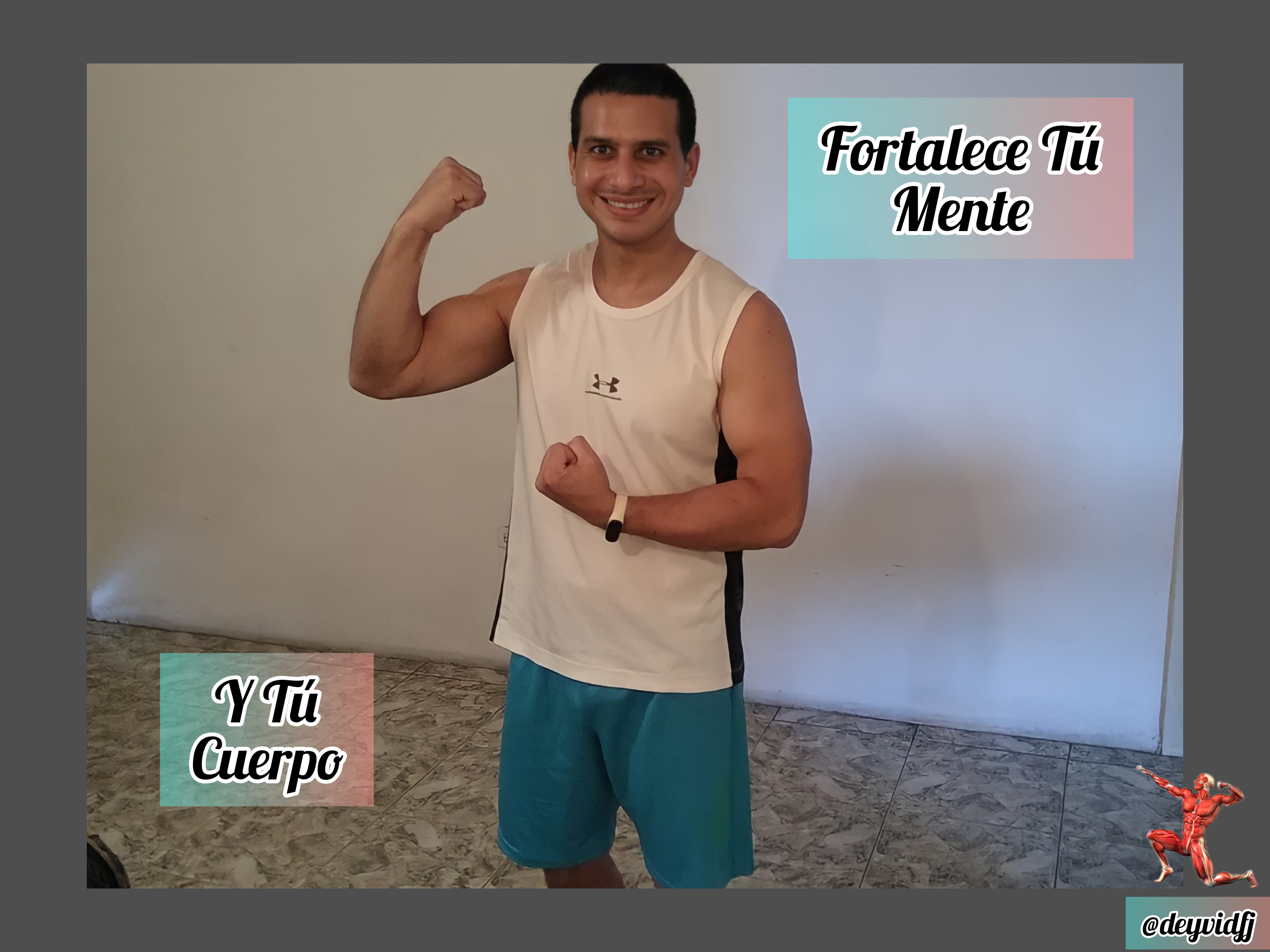 Imagen editada en la aplicación de InShot. | Por @Deyvidfj
---
---
Acreditación de la pista utilizada en el video por: Autor: Pharrell Williams , Música: Happy from Despicable Me 2 - Pharrell Williams (2013) - Universal Pictures Film Music, Album: Despicable Me 2. La pista tiene una duración de 4:00 minutos, es repetida en todo el vídeo y la pueden encontrar en el siguiente link.
Credit for the track used in the video by: Author: Pharrell Williams , Music: Happy from Despicable Me 2 - Pharrell Williams (2013) - Universal Pictures Film Music, Album: Despicable Me 2. The track has a duration of 4:00 minutes , is repeated throughout the video and can be found at the following link.
---
Foto tomada por mi novia Marilegny y editada por mi persona con la aplicación InShot, utilizando mi teléfono celular. El vídeo fue tomado por mi y colocado en una posición única para grabarme, y además editado por mi @deyvidfj.
Photo taken by my girlfriend Marilegny and edited by my person with the InShot app, using my cellphone. The video was taken by me and placed in a unique position to record myself, and also edited by me @deyvidfj.
---
▶️ 3Speak
---
---