Decentralized Football Academy (DFA) Social Account Growth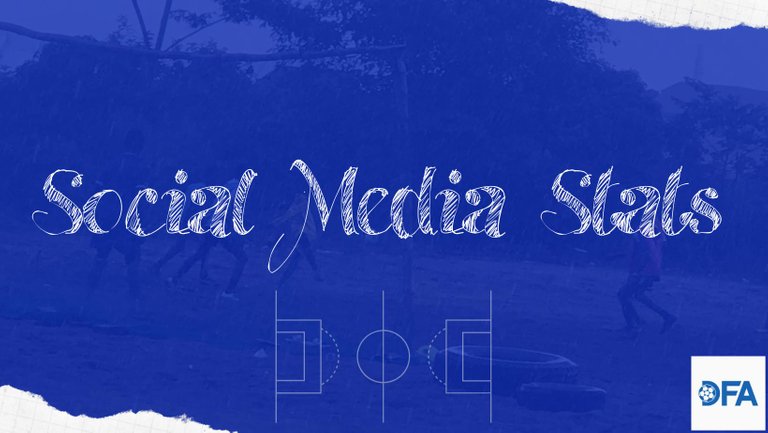 There is little improvement when compared these stats with the last stats.
One of the best ways to promote content is to share it on these social platforms because of their large user base. All our accounts on these platforms have been running since or closer to the inception of the academy and we are trying our best to be active as much as we can.
We would like to say a big thanks to everyone following us on these social channels and a very big thank you to each of our fans for the support!
We use these platforms to promote the academy, share blockchain and crypto knowledge, football, activism, psychological, TED talks, motivations..., and as people come across these channels, they'll surely come across the platforms we leverage on.
It's no longer news that Facebook, Instagram, and Whatsapp were down for more than 5 hours in the middle of the week, and even 2 days ago the tag instadown started trending on Twitter again when people couldn't access their profiles. This is the right time for the people to pave their way to decentralized social platforms like Hive where a single entity has no full control of it. Other than that Hive also offers exclusive benefits like rewards that cannot be gotten elsewhere.
We all know these three platforms are owned and controlled by Mark Zuckerberg, and they are likely hosted on the same server and that was why the three platforms were down at the same time. There are billions of users the downtime will affect especially those running their businesses via any of the three platforms. Very soon, it might take time but the Decentralized platform will grow to billion rs and will compete with the already known social platforms. Most people would not believe it if they were told BTC will surpass 50K this year.
While these platforms were down in the middle of the week, stocks were also plummeting but Bitcoin held strong. Some people were expecting a dump on Bitcoin in reaction to the stock market but Bitcoin did the opposite and mooned above $55K and also hive experienced a sudden rise to $1.5. With BTC and other tokens skyrocketing after the China Ban it has shown that no country or anyone can stop the decentralized assets.
---
Twitter
---
Since the last update, we gained 5 new followers and two of them are coaches from other teams outside the country.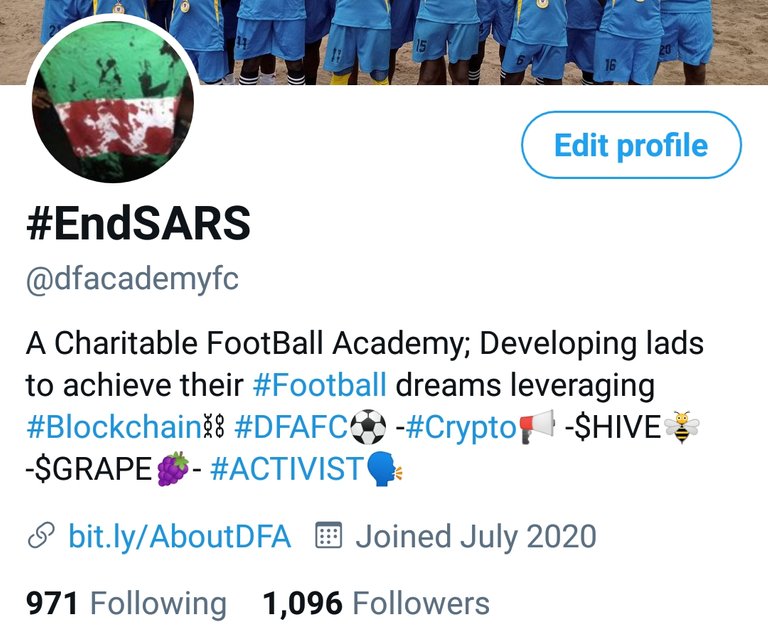 We changed our account name and DP in remembrance of the peaceful souls massacred by the governments during the Friday night on 10-10-20. This day last year was hell and everywhere in the country was full of riot after the Governments murdered the people that did nothing but demanding for the peaceful and economical country. Many people lost their lives on this day. There were battles with the police and most of the police stations were burned down. RIP to all the fallen heroes, and we pray that all their killers will not go impunity. We will always remember this date!
---
Instagram
---
We gained 4 new followers this week following our activities and sharing some training photos in one post.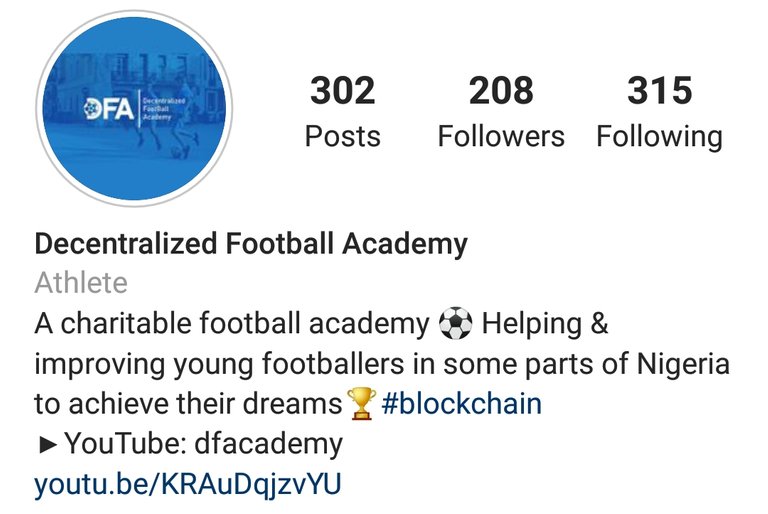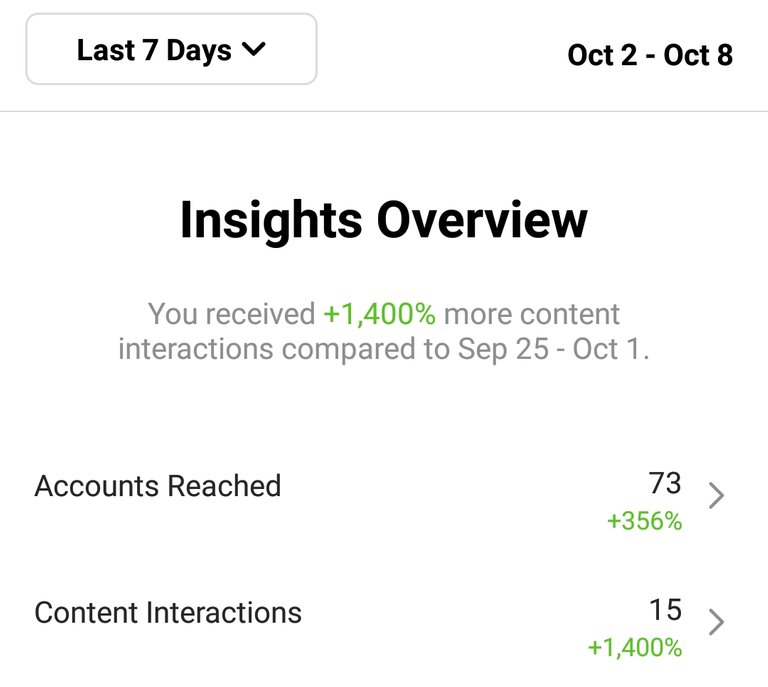 ---
Medium
---
The total traffic indicates one visit from the last report with the same traffic location as the last report. The traffic is 53% from the USA, 6% from Sweden, 6% from Nigeria, and 33% from other countries.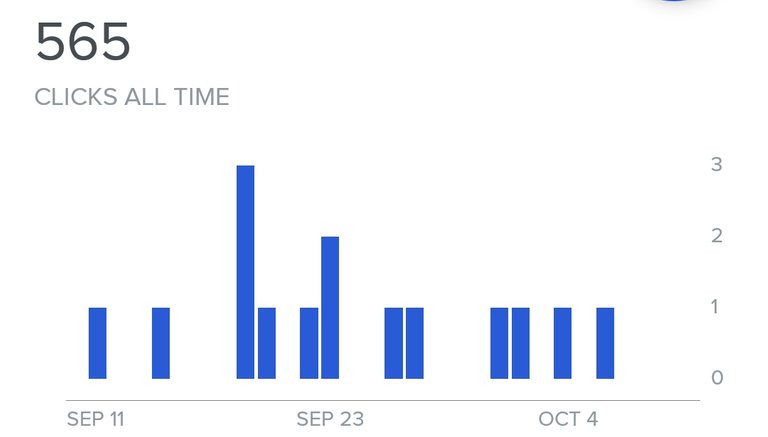 ---
Youtube
---
There are no new subscribers on YouTube but the views on the latest uploaded videos are up some numbers.


---
FaceBook
---
Our Facebook page is growing massively, it gained 23 new users last week and this week it added another 12 new followers.



We are active on these channels to promote the boys' talent to the world and lift the Academy to the top. It's our mission to push the academy to the Top-1 Spot by providing the team members everything they need freely. We will not stop until we achieve this mission.
Thank you for reading! ♥
~ DFA Team!
---
ƊFA, Ɗecentralized Foot₿all Academy 💪
---
About DFA
If you are stumbling upon DFA (Decentralized Football Academy) for the first time, please check out our Introduction article and this Medium article to see our achievements.
PS: The reward from this post will be used to provide the footballers with full kits, new gear, partake in competitions, visit sports events, excursions, food accommodations, camps, and management for the team.

A Great Thanks to All Our Supporters!!!

Handles







---
---