BRIDGING THE GAP ON DIFFERENT FRONTS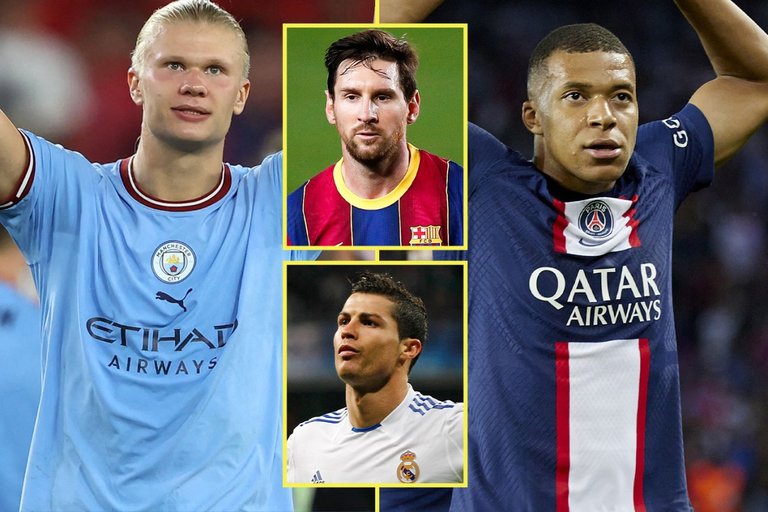 Source
Football over the years has morphed from an entertainment spectrum to that of business. Club owners are now much more concerned with the amount of money they can make off player sales, merchandise and endorsements. Even on the field of play, the quality has dropped a long way below what was attainable 10-15 years ago.
The biggest change though has been in the amount of money being thrown around by clubs both in players acquisition and salary packages. These has shifted the corridor of power from the occupants of the dugout to those on the field of play.
Players are now paid astronomical sums of money in salaries, a chunk of which has been enjoyed by the duo of Lionel Messi and Cristiano Ronaldo. In the last 8 years, no player has earned more than the two goal machines, who have made it a point of duty to share the top two positions in everything regarding football.
But with every other thing that has a beginning, there must be an end. With both players beginning to show signs of slowing down due to nature, and the likes of Neymar and Hazard failing to capitalize, it seems a new star has emerged. On the footballing aspect, both Kylian Mbappe and Erling Haaland are expected to take the goal scoring baton from both Ronaldo and Messi.
But on the financial side of things, it seems that Kylian has edged his counterpart by usurping him and the legendary duo to the top as highest earning football player. According to Forbes Magazine, Kylian has emerged as the world's highest paid football player. These best his counterpart could do was debut in the top 10 after signing from Borussia Dortmund and enjoying a blistering year so far.
Forbes estimates states that the French superstar is on track to pocket $128m before taxes and agent fees. That's a whole lot of money for a player who's only 23 years of age. The first time both Messi and Ronaldo pocketed up to $100m dollars was in 2018 and they were both in their 30s. That means Mbappe has bettered his more illustrious colleagues with 7 years to spare.
If we want to do a quick math and multiply that sum with the number of years before he turns 30, which is 7 (128*7), that would = $896m in earnings for Kylian. Considering that he'll definitely play beyond his 30th birthday, then we might be seeing him surpass Ronaldo as an active player billionaire in record time from earnings. Ronaldo achieved his at age 35.
He might still have a long way to go on order to close the gap on the two idols in terms of achievement, goals, titles, awards and records, but he's definitely closing the gap on them financially.
Erling Haaland on his own makes his debut on number 6. Not a bad position as he earns more than his club mate Kevin De Bruyne, Eden Hazard, Robert Lewandowski and Barça legend, Andres Iniesta. Mbappe and Haaland are the only players on the list below the age of 30.
This is obviously a clear shift in the footballing power to the newer generation. The two youngsters are currently arguably the two best players in the world. Erling Haaland has been the focal point of a rampant City attack, more like the last piece of the puzzle and looks completely unstoppable. He's completely owned the year 2022 and if City were to complete a league and UCL double, I don't see why he wouldn't be a serious Balon D'or contender.
Over in France, Mbappe has remained the focal point and arguably the most influential figure in the PSG attack despite the arrival of Messi and his friend Neymar. The French superstar has maintained an unbelievable standard, tormenting defenders with his speed and trickery.
Perhaps the Mbappe vs Haaland era is approaching faster than we thought.
Forbes' list of highest-paid footballers 2022
Kylian Mbappe ($128m)
Lionel Messi ($120m)
Cristiano Ronaldo ($100m)
Neymar ($87m)
Mohamed Salah ($53m)
Erling Haaland ($39m)
Robert Lewandowski ($35m)
Eden Hazard ($31m)
Andres Iniesta ($30m)
Kevin De Bruyne ($29m)
Source
Welcome to my blog, you can relax and be rest assured of quality content on diverse topics. You're free to air your views and opinions in the comments section, and It'll be my pleasure to learn and engage

---
---