GOOD RIDDANCE TO TALENTED RUBBISH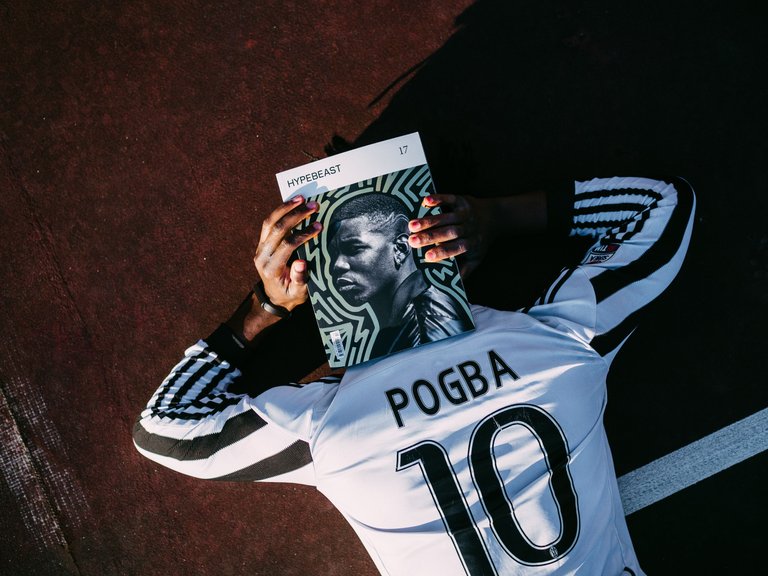 Source
So I was engaging with a friend sometime ago about the situation at Manchester United and after a lot of back and forth, he made an assertion that the biggest issue about the club is acquisition and retainment of players who offer a lot of promise but very little to no tangible results to move the team forward. It's true that one of the biggest problems at man utd is the recruitment policy. The club's management are more concerned about winning on the business level than the winning on the pitch. Step in Paul Pogba...
Paul's signing was supposed to be the return of the prodigal son, who's sojourned through to other shores and gained valuable experience. His job description was simple, to come save his desolate home who were going through a rough patch after the departure of their godfather. The godfather who did not have enough belief in him in the first instance. This was his opportunity to show the whole world that the godfather was wrong for not believing in him in the past. This was his opportunity to show everyone that he's the price jewel that slipped through the club to go fulfill his purpose, so he can return to occupy his throne.
I remember when in December 2012, in a match against Blackburn Rovers, the Man Utd midfield was depleted with the like of Scholes and Carrick ruled out due to injury. The godfather decided to play both Rafael and Fabio (twin fullbacks) in midfield ahead of a promising and burgeoning Paul who was left on the bench for the duration of the match. Needless to say that Man Utd lost that match 2-3, and Paul decided that enough is enough, that he needed to move elsewhere or he'll never be appreciated. Off he went to Juve in the summer, and for free.
Fast forward to 2016 and the Paul Labile Pogba is back, or you can easily say Pogback. There was so much fanfare, so much hope, and so much promise. Paul is a class act, a supreme talent of this generation and one who's not shy of the media and showoffs. He started off in grand style with flicks and tricks, looking majestic in his red royal attire. He mesmerized and bamboozled opponents, delivering highlight-eque quality. All these at the beginning, and this generated a lot of hope and promise. Some even thought that we've finally found Paul Scholes' permanent replacement.
Fast forward again 7 years to 2022, and what we still have from Paul Labile Pogba is just hope and promise. He's grown into one of the most divisive figures in the club. Paul has flattered numerous times to deceive. His work rate is poor, his body language is discouraging and speaks of disinterest, his defensive work is none existent and he just seems to find new ways to disappoint. I remember particularly at the beginning of this season when Paul racked up 7 assists in the first 3 matches. He was playing with freedom and swagger, and it seemed like this would finally be the season that he takes the team by the horn and drag it forward. But then he started dwindling and eventually became injury prone.
Paul seems to always perform well when the whole team is performing well, and that's not what Man Utd needs at the moment. What man utd needs is a midfield maestro to dictate the play and tempo of the team and above all, someone to drag the team forward when they're not performing as they should. It is an indictment on the Frenchman that the like of Maguire and Fernandez, who just came into the team could be trusted with the armband ahead of him.
Year after year and Paul keeps deceiving us with flashes of quality and class without any serious consistency or indication of change for the better. He is one of the most talented players of his era, but one who hasn't really fulfilled his potential. It's obvious that he won't do so at Manchester United. A player of his quality, with the amount he's earning should be setting the pace for his teammates to follow. Instead he's being the one being carried by his less talented teammates. He's the epitome of this man utd era, a bunch of talented players who just don't know how to perform to their potential.
History might be repeating itself with the prodigal son leaving again for free to sail Italian waters with the old lady. But just that this time around, he doesn't have anybody to blame for not believing in him. He only has himself to blame for not being able to deliver on his promise despite all the belief and chances he's been given. Ask me and I'll say it's good riddance to talented rubbish.
Welcome and thank you for visiting my blog, you can be rest assured of quality content on diverse topics. Please do well to engage in the comments section, and it'll be my pleasure to reply.

---
---